October 2, 2017 /
Wedding
The Windy Mountaintop Wedding Sampler
We did actually take a helicopter from Lone Pine Ranch to the top of a fairly tall mountain to get the perfect photographs, as the photo suggests. It was worth it. The views were intoxicating, as was ...
T
W
We did actually take a helicopter from Lone Pine Ranch to the top of a fairly tall mountain to get the perfect photographs, as the photo suggests. It was worth it. The views were intoxicating, as was my enthusiasm. Below is my runner-up image for this sampler. This old 1976 Ford f150 played a pretty important part of this wedding.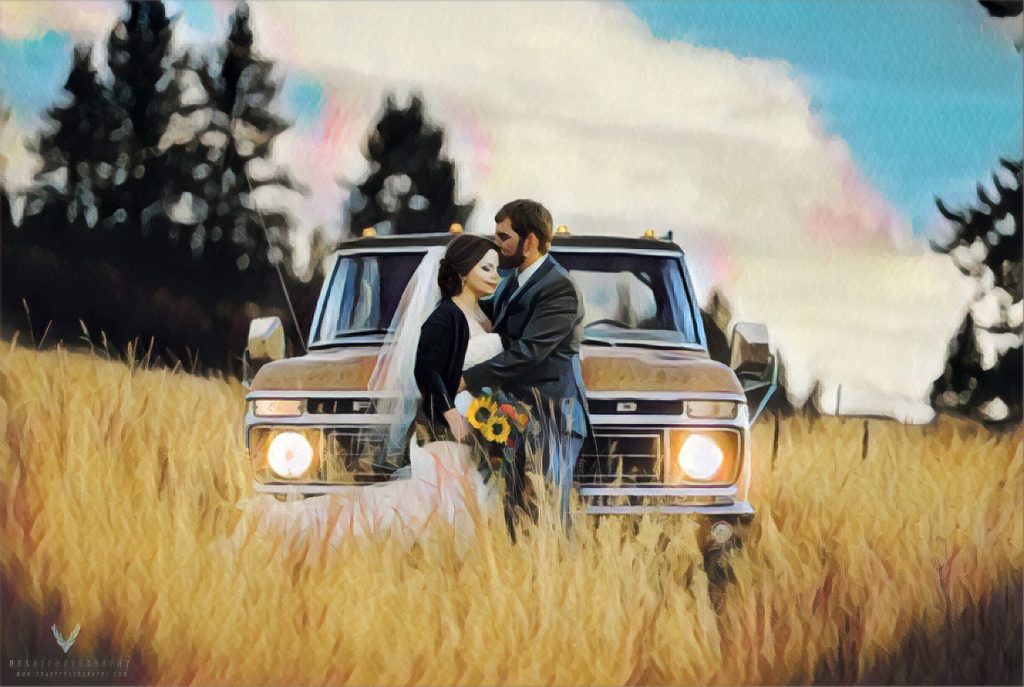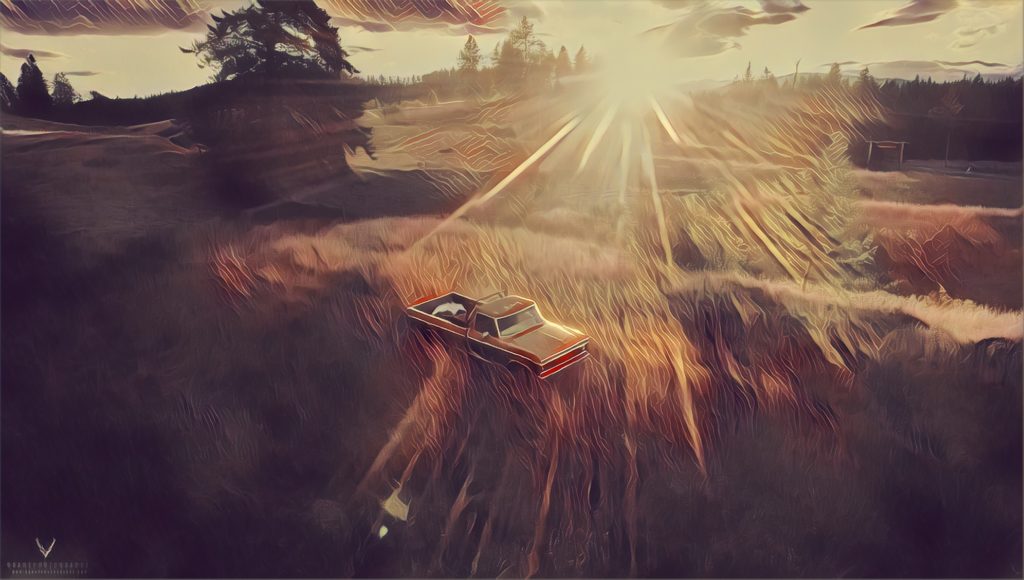 We start at one of the best possible places to begin this story – the lush and green Predator Ridge Cabins. More specifically the Falcon Point Villas. If you're staying at predator, that's where you and your bridal party want to be. Tall green trees, twisted paths through well tended gardens, and of course the pool and hot tub. It gives me a lot of options when it comes to bridal party photos, first looks, and of course dress shots.
The ring photo, though, we had a plan for that.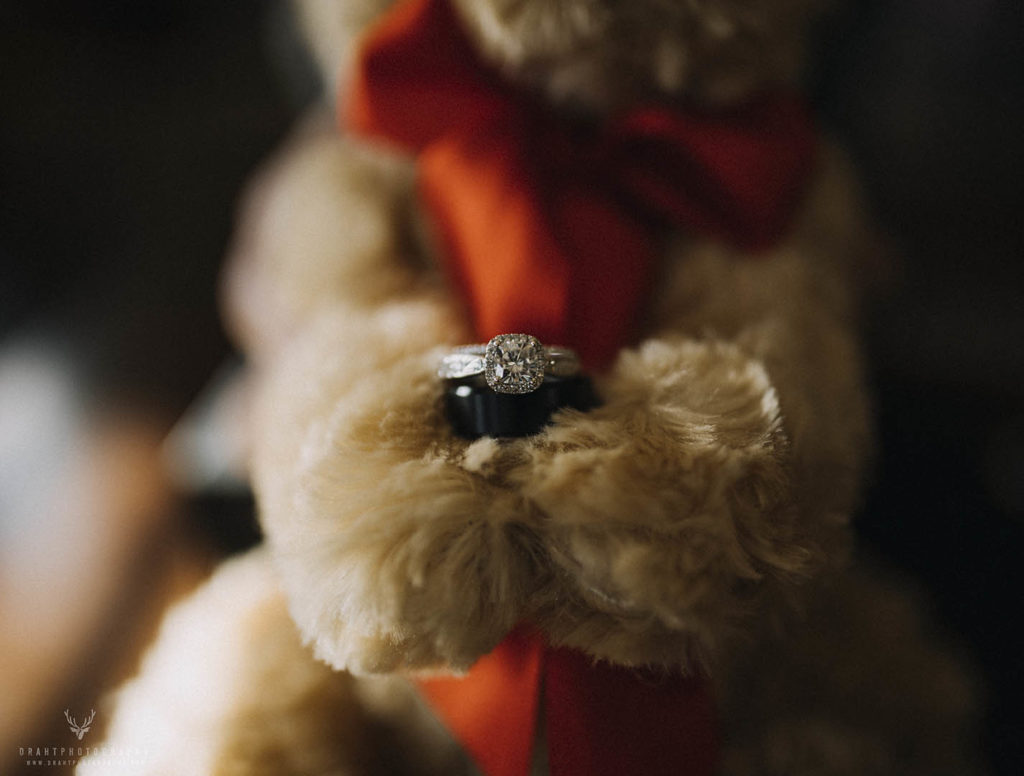 It's all in the details. The bouquets consisted of a lush fall medley.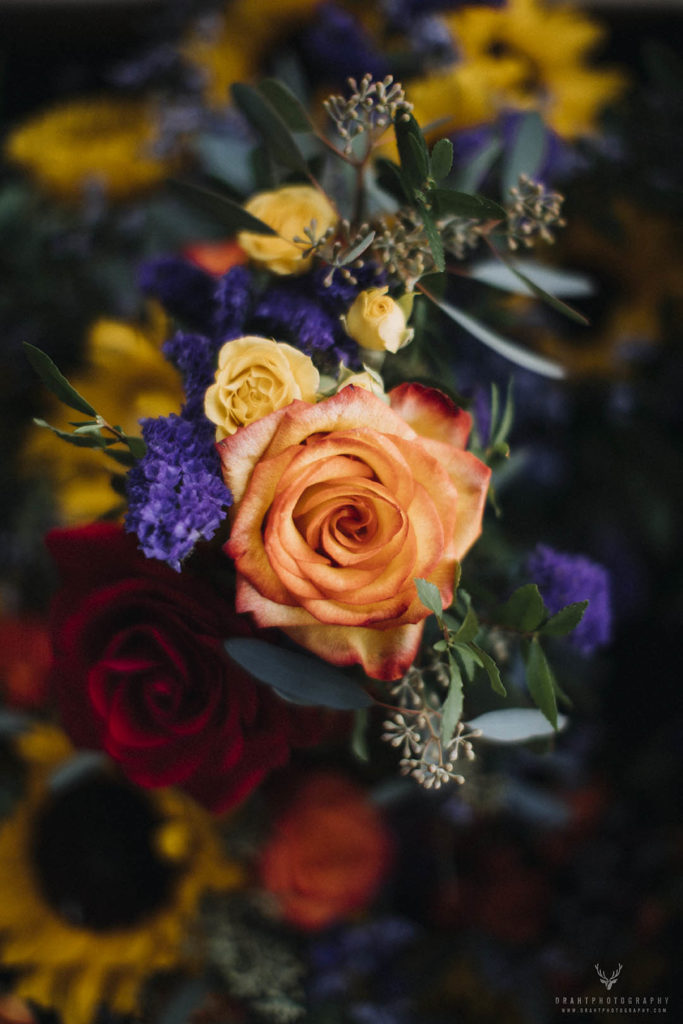 Outside, the bridesmaids were worried about rain. I wasn't, as I know for a fact Draht Photography weddings are always perfect. And the rain makes for some pretty neat photos.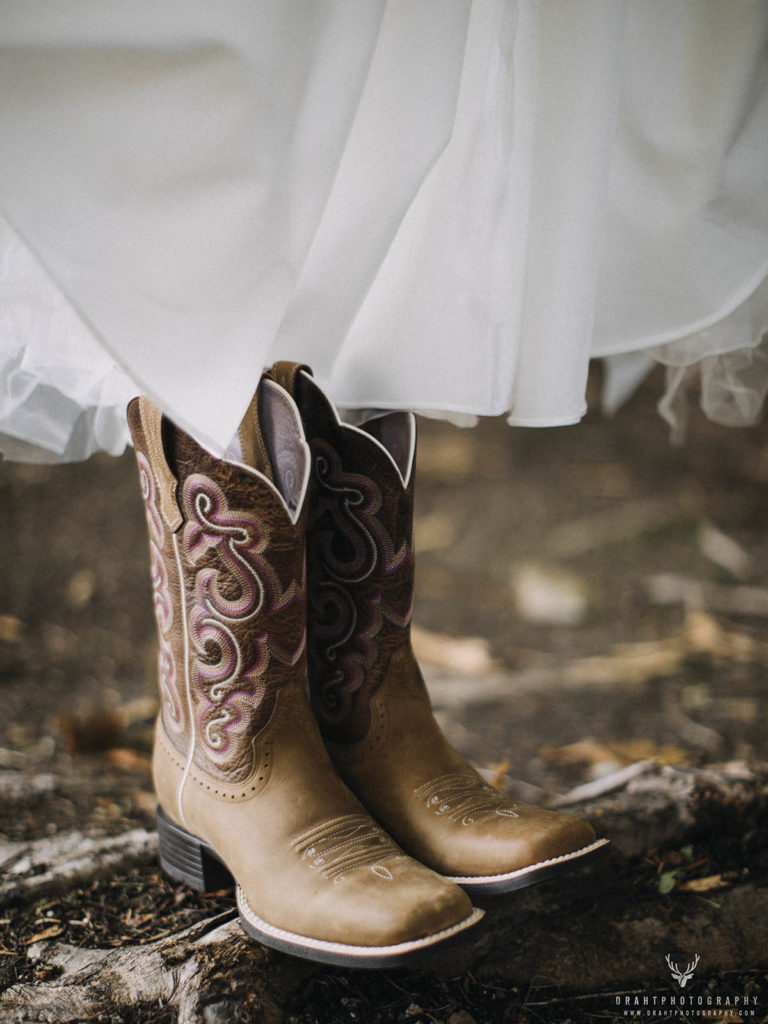 I had a bit of help setting up the wedding dress shots, from a very eager helper of my own.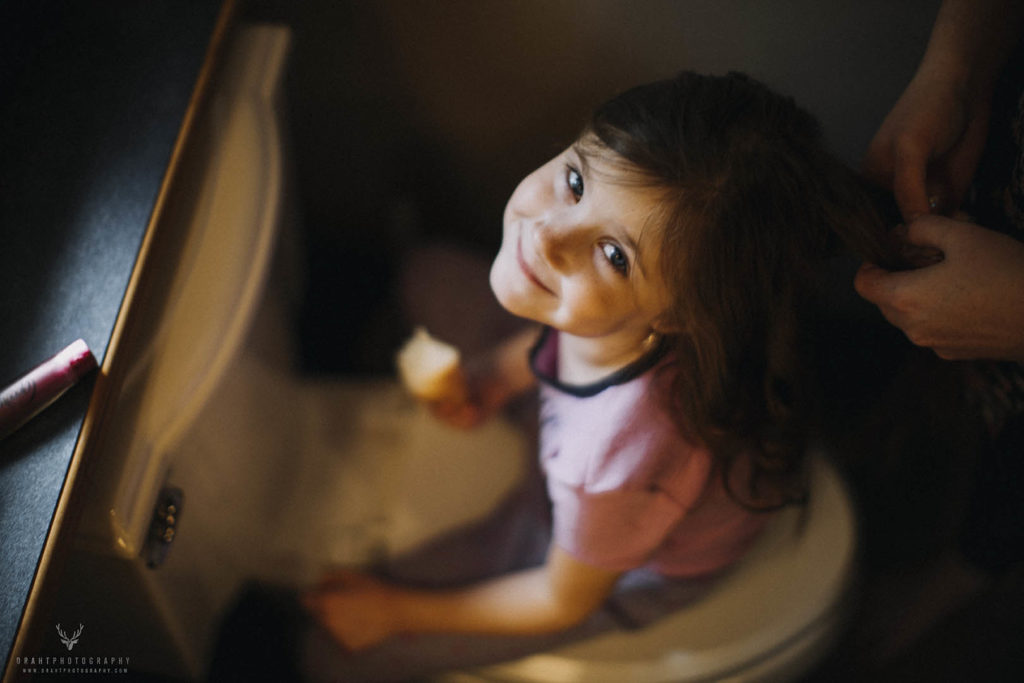 She was extremely protective of this wedding dress. I caught her admiring it more than once. I wonder what she was thinking right then.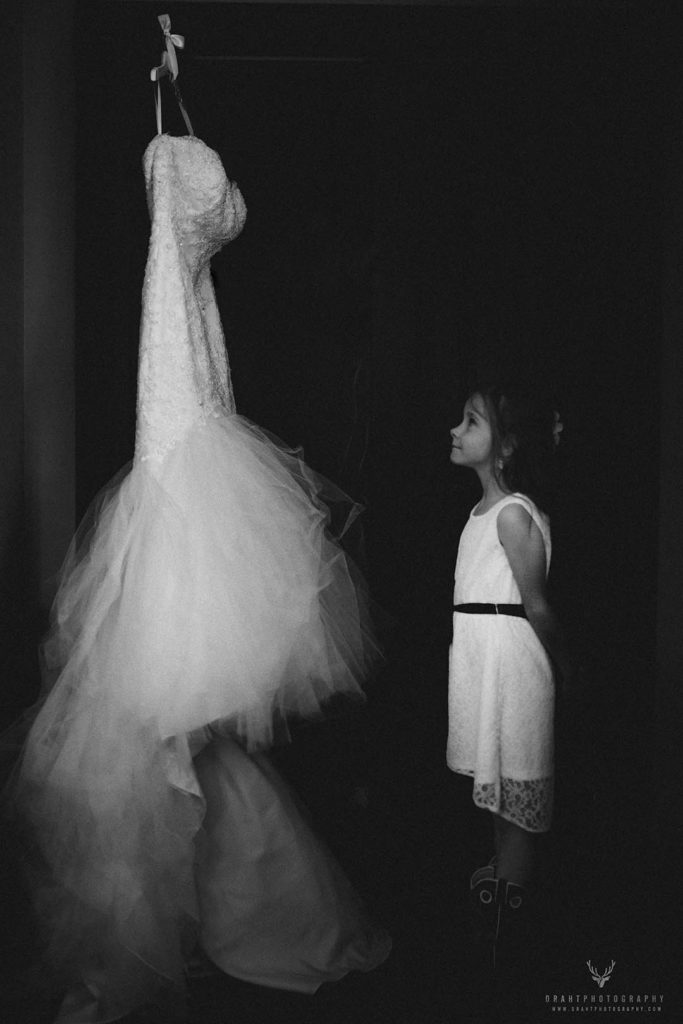 She didn't have to admire for long, though. Soon, it was time to get dressed. The bridesmaids get to work making sure it fit just perfectly, even my little helper got involved fluffing.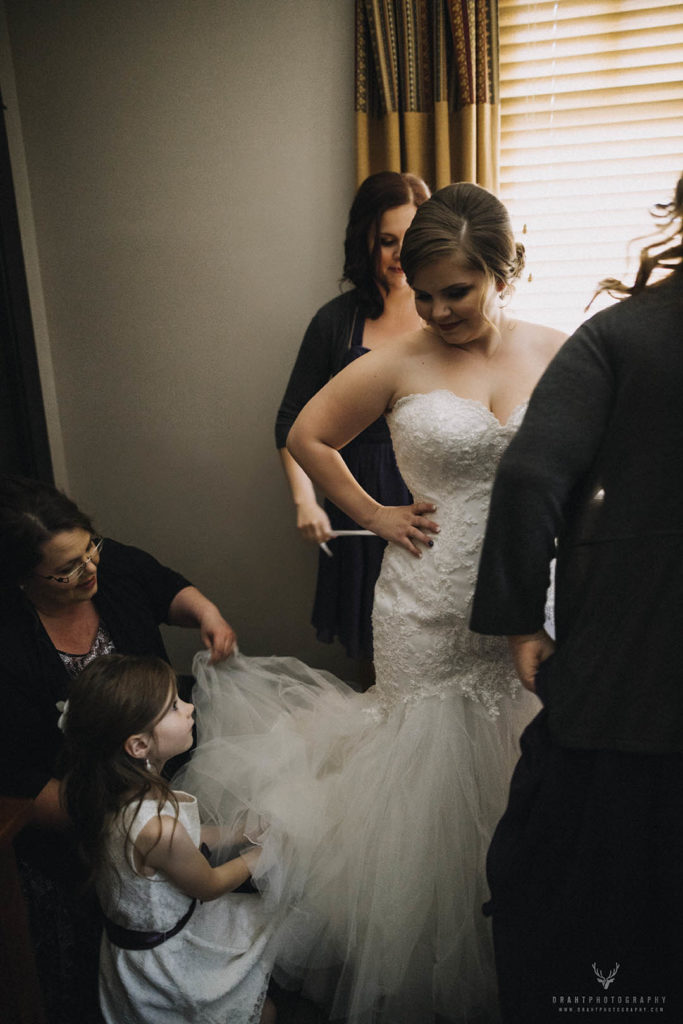 We were ready. Papers, with hand-written vows written on them were grabbed. It was time for the first look.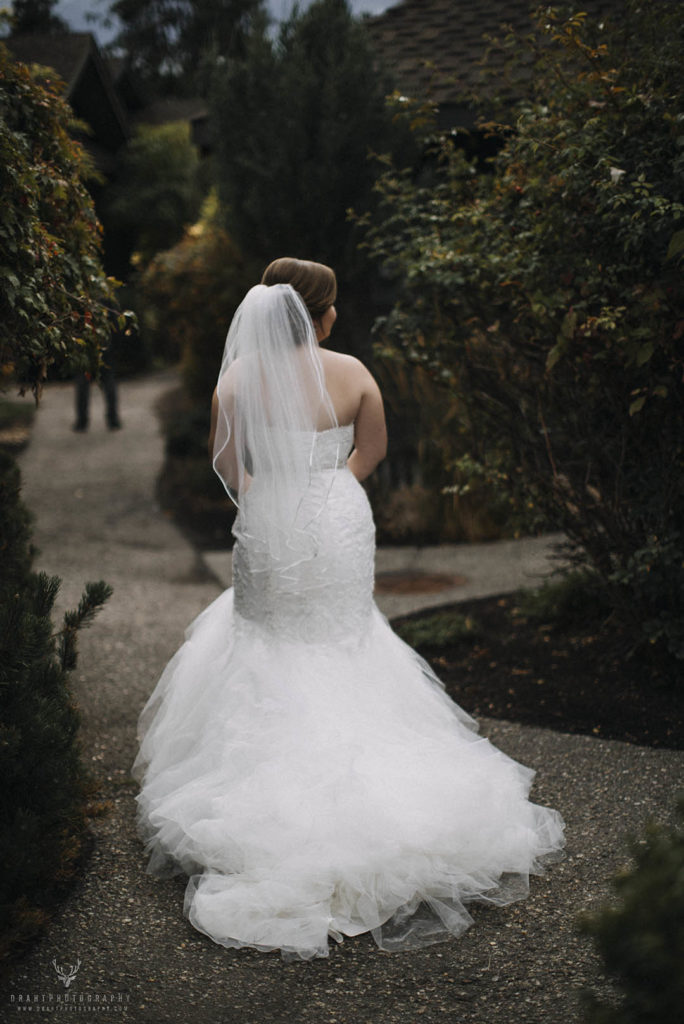 Our bride trundled down the garden path, and stopped just short of our groom.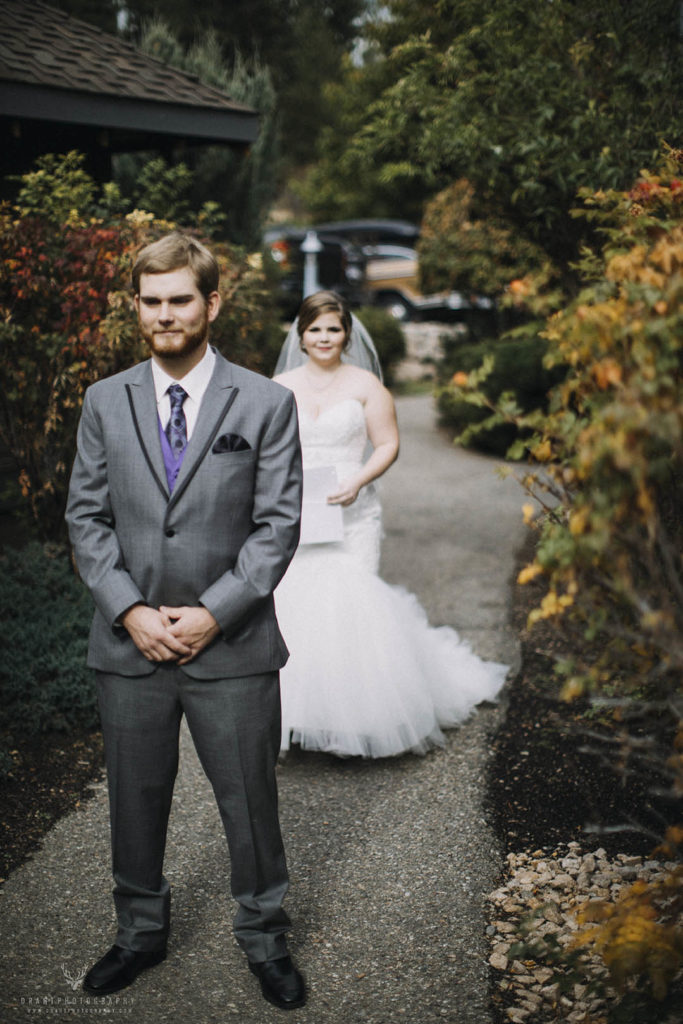 The mood was tense. They read their vows in silence, only pausing briefly to wipe the tears from their eyes. They turned around to face each other.
Sometimes couples pause, other times they just hug. These two went in for a kiss. If there's a word I'd use to discuss them both, I'd say passionate. They were always holding hands, always finding ways to crack each other up. And they sure did like to kiss.
In the bushes, the we had some spies witnessing the whole event.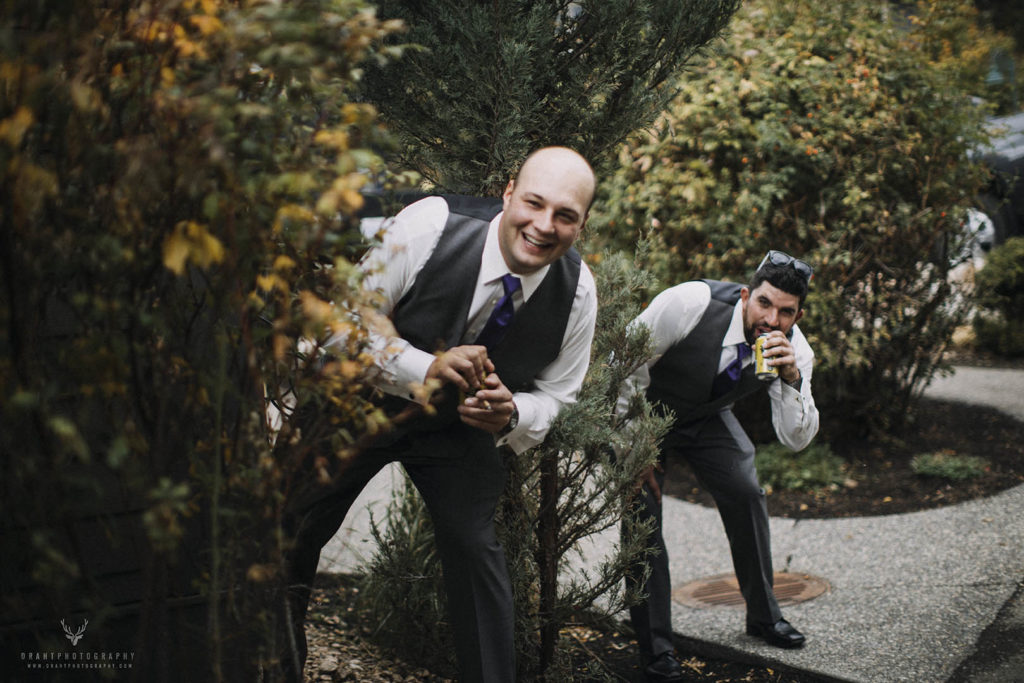 I'm not sure what it is about first looks, but the guys always seem to just love them. They cheers their beers, have cigars, and pat each other on the back. This was no different, they were shouting out encouragement to our groom, while drinking beer and smoking their cigars.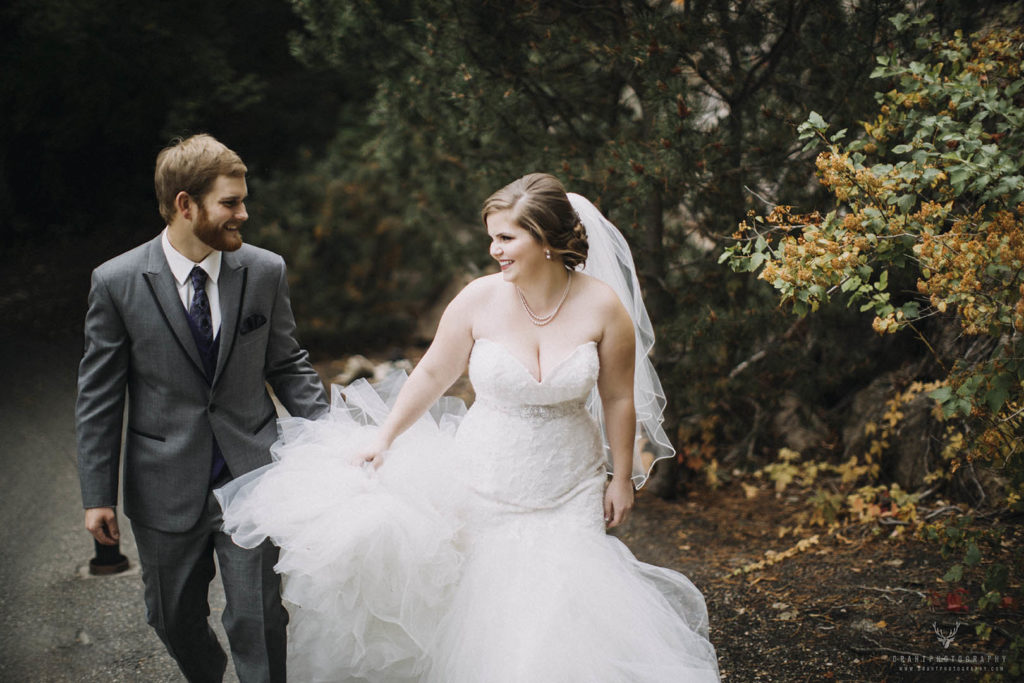 Lone Pine Ranch was ready for us, with all of the lovely details they are becoming famous for.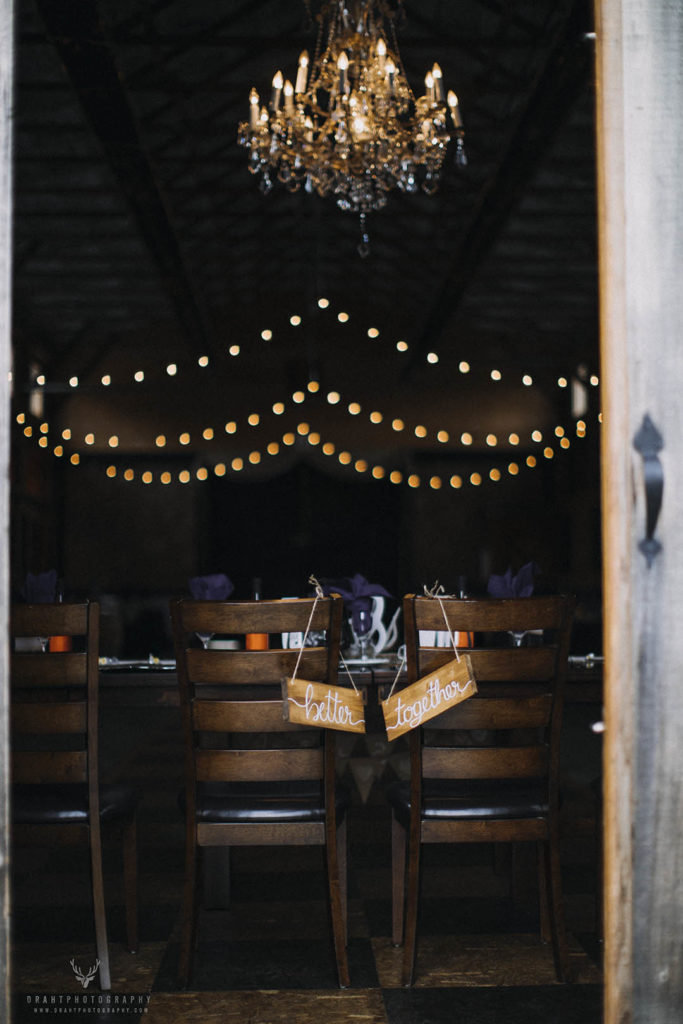 We had the lovely Esther Peterson officiating. I found myself 10 feet away from a steely-eyed father and a starry-eyed daughter. Our groom stood up straight, his eyes fixed on his bride.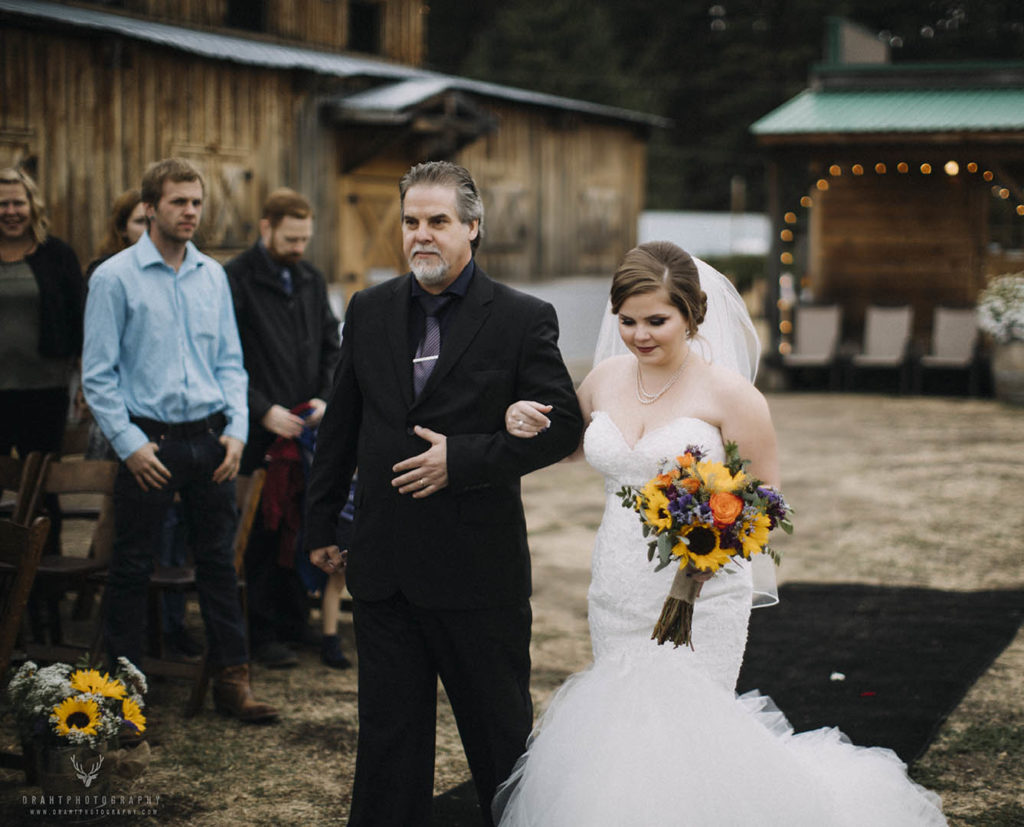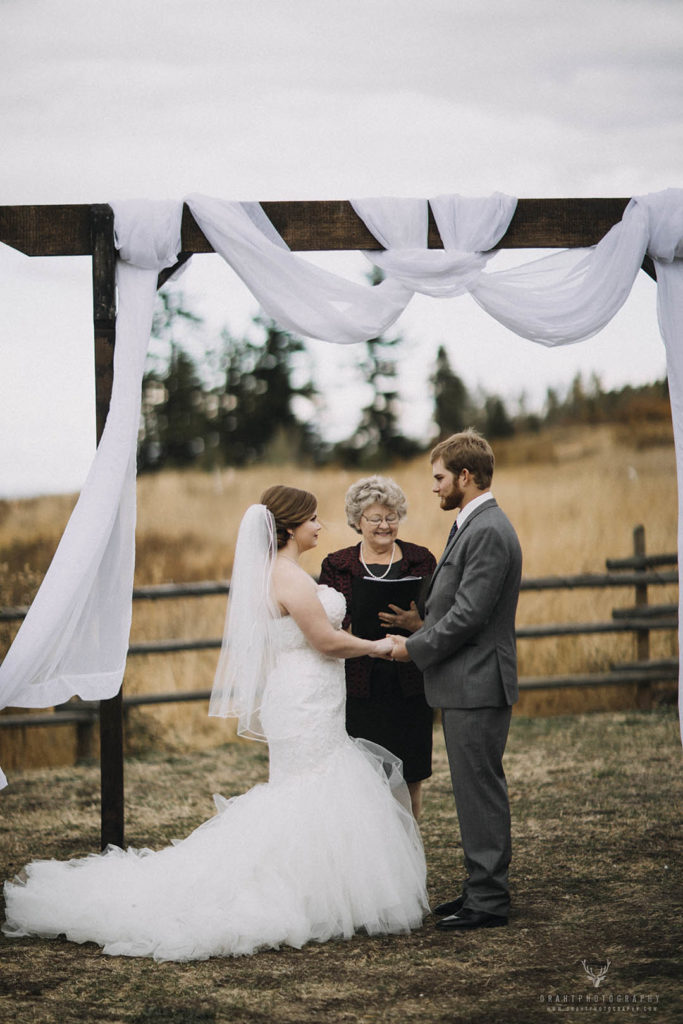 And then, the recessional.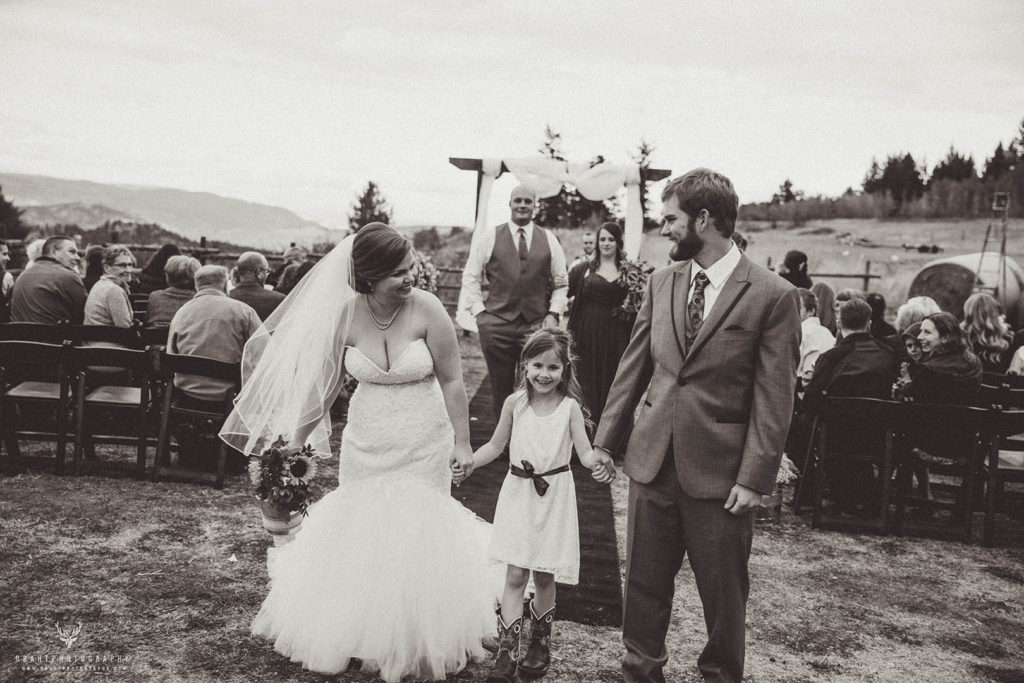 Normally, in these samplers, I give a bit of advice to our future brides and grooms to be. A helpful tip, if you will. Today's tip is, rent a helicopter for an hour. This helicopter.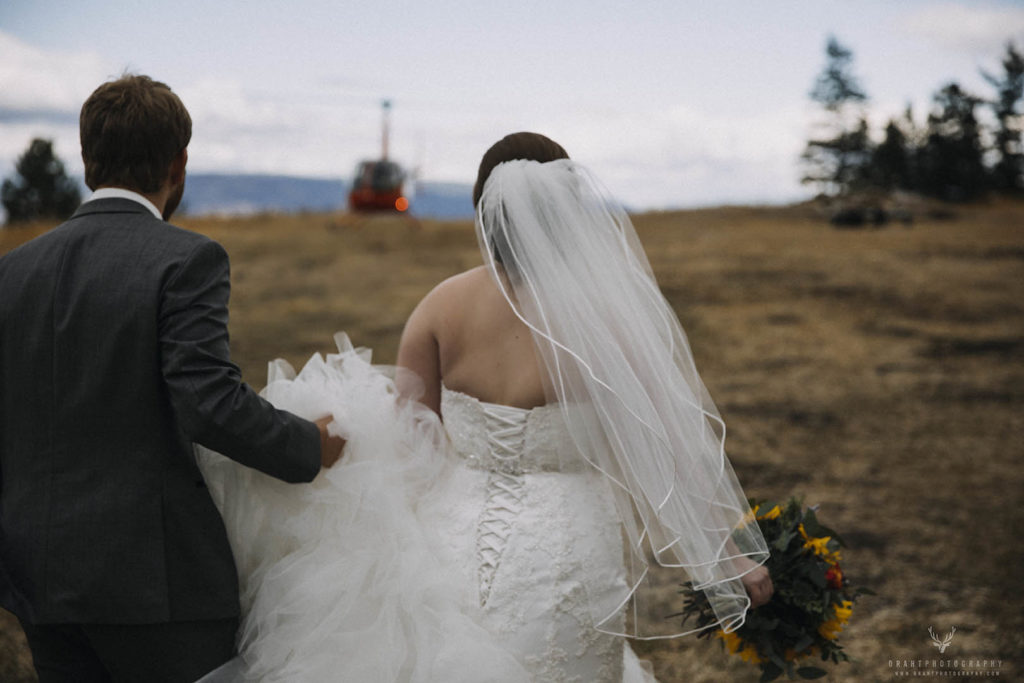 The pilot walked out and greeted us. "I've never flown in a plane or helicopter.", Our bride confided.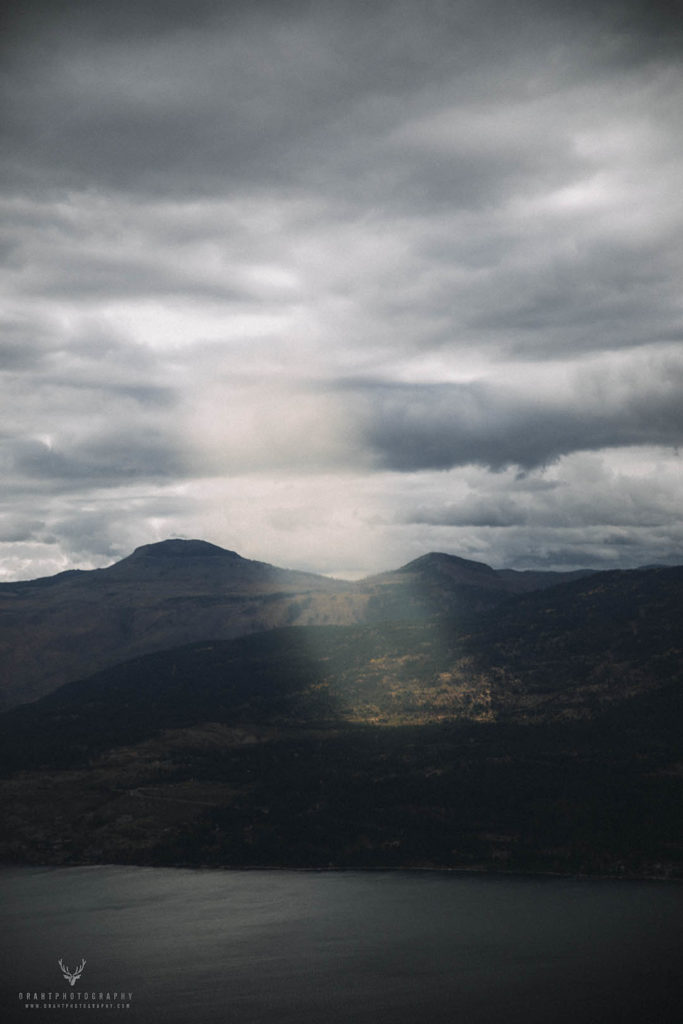 Turns out there was nothing to be worried about. The ride was smooth. We could see for miles in every direction, and even where it was raining. The views were absolutely breathtaking. I spend hours and sometimes the whole day driving around and trying to scout out locations with a view, when the answer really is just get a helicopter.
The pilot leaned towards me. "We've got three peaks." he said, point straight ahead. You can see those three peaks in the photo above. "The tall one will be windy – we've got northbound winds at about 30 knots. Right beside it, there's a slightly lower peak. That will give us views of the lakes in every direction, but it's still windy. There's a lower peak as well. It looks like that's where the sun is centered."
I cast my vote for the slightly lower peak. I want views in every direction, to give the album variety. Everyone seemed agreeable.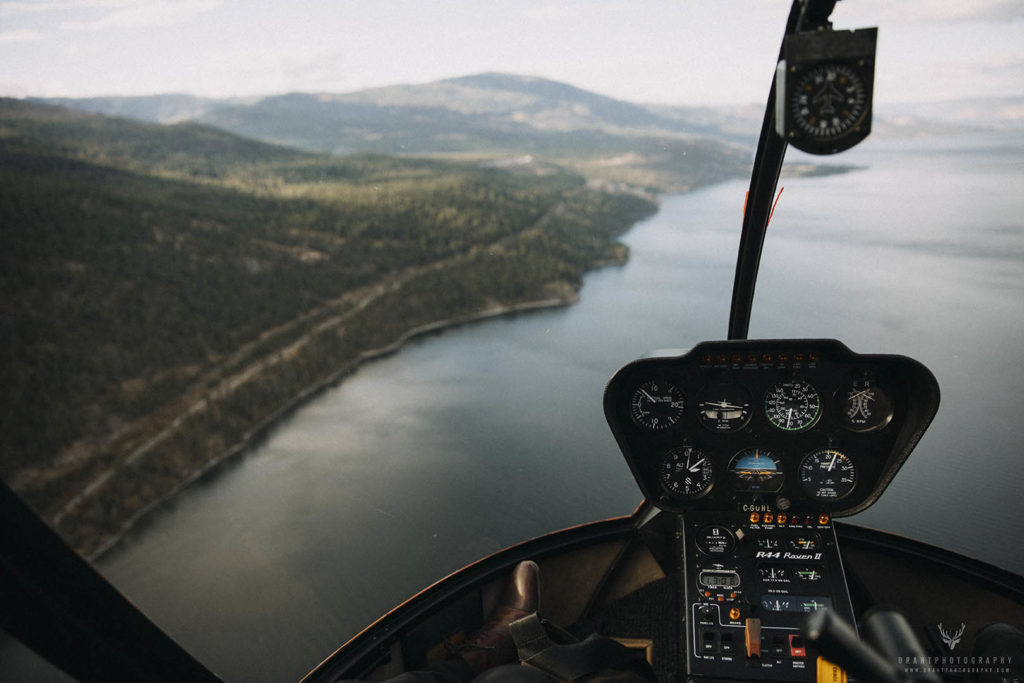 It was a smooth landing. I got out to set up my equipment and take light readings. The clouds were spotty, and the cliff face was sheer. This is exactly what I was looking for.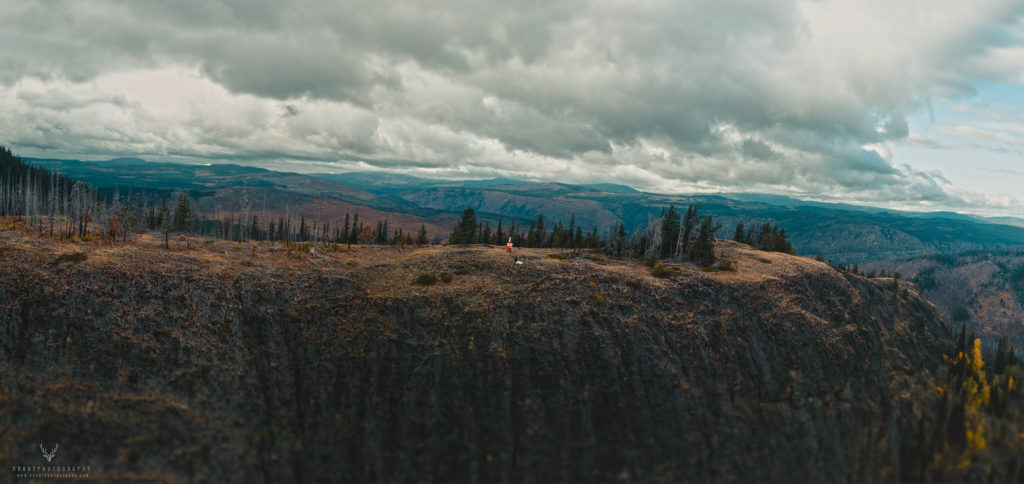 You can see our little orange helicopter, and our bride's white dress.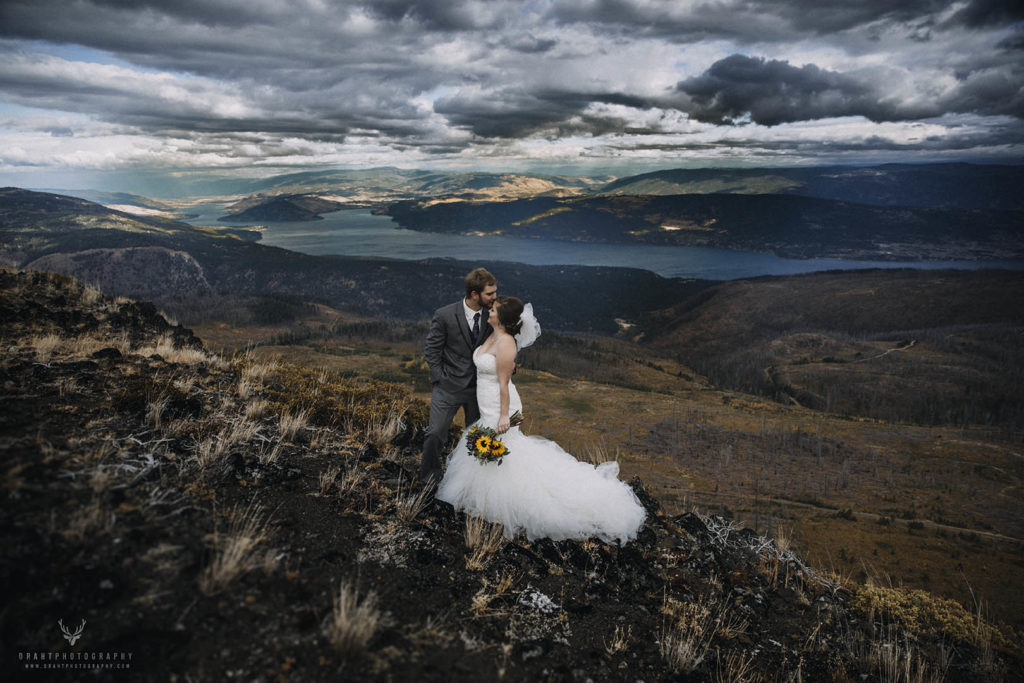 The photos were more than worth it. I could see, in the distance, where it was raining in the okanagan, and where the sun was shining.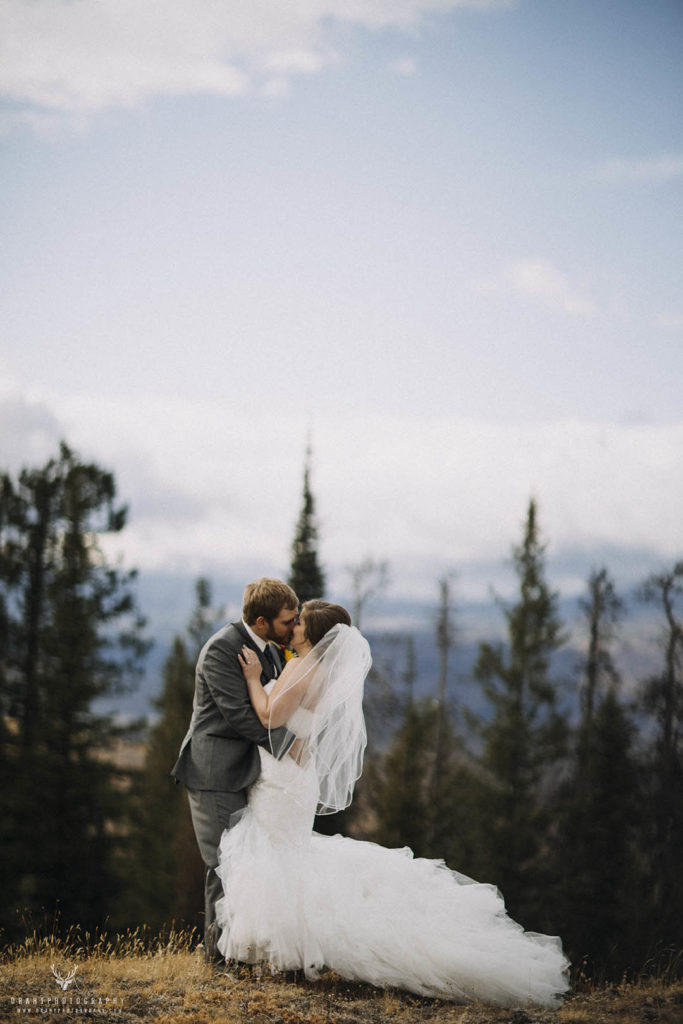 From the peak of this mountain, we could see the tops of the tallest trees. There was one photo I wanted, though. Our groom led the bride, and I switched my lens to a lower aperture lens, in order to capture the colours accurately.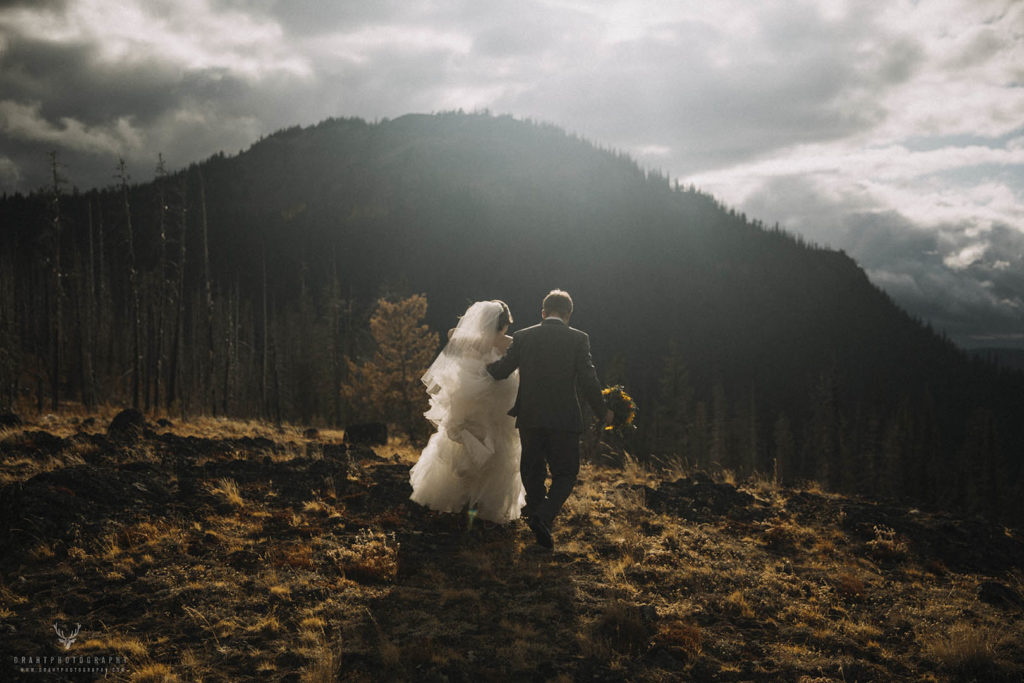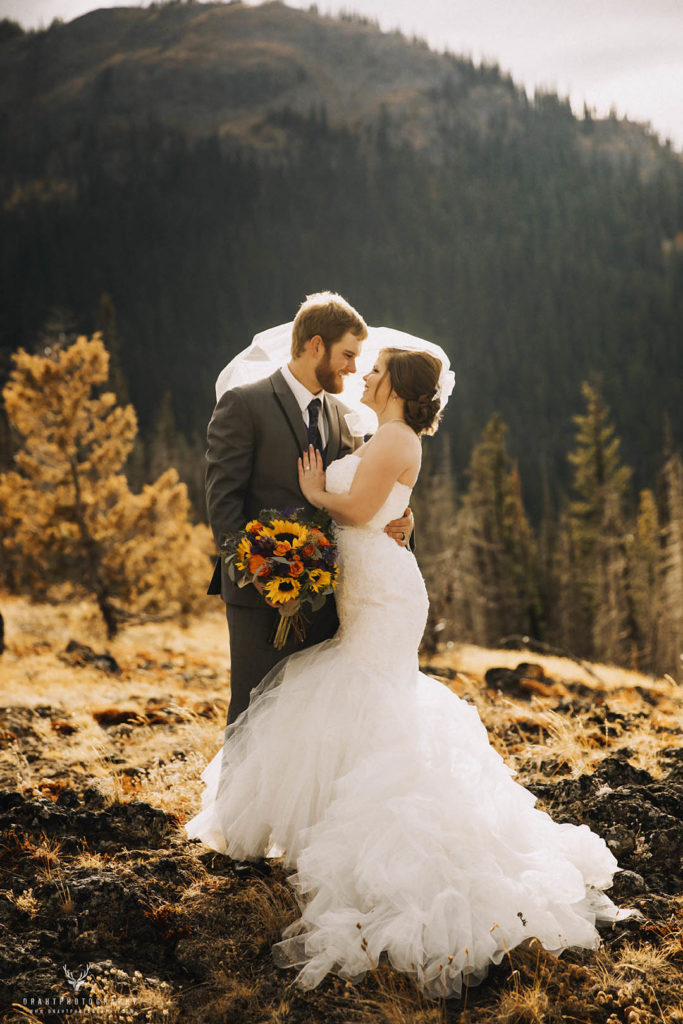 The photo turned out exactly as I had hoped. The veil blew in the wind, and the dress has never looked better. Having spent over half an hour taking photos, we made our way back to the chopper. Fun fact, you don't actually get billed for time you're not in the air. You can stop in any location as long as you like.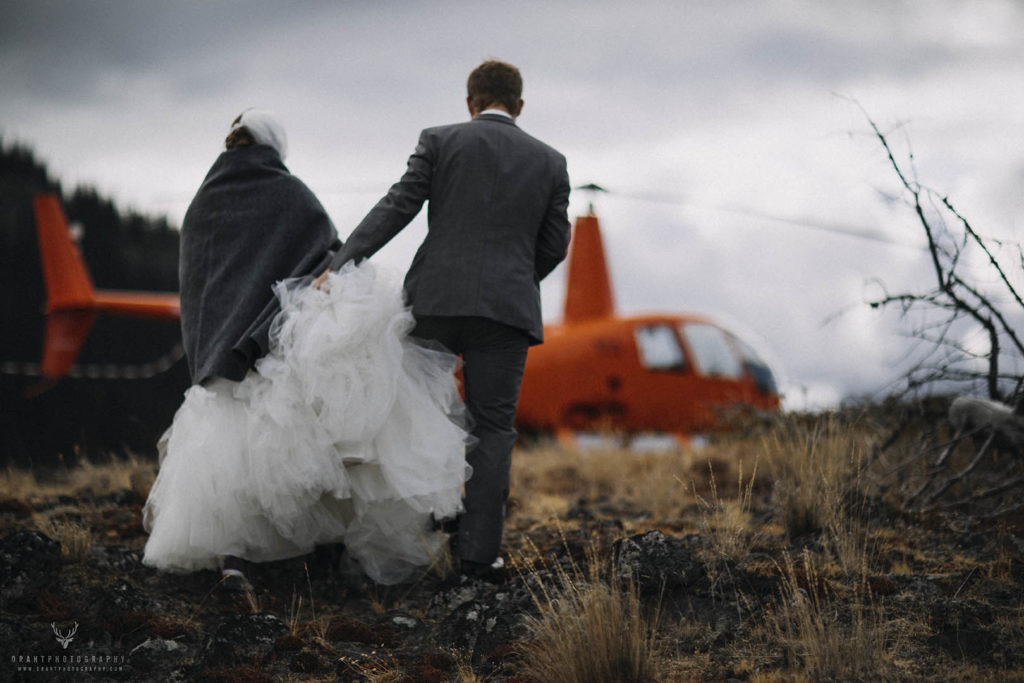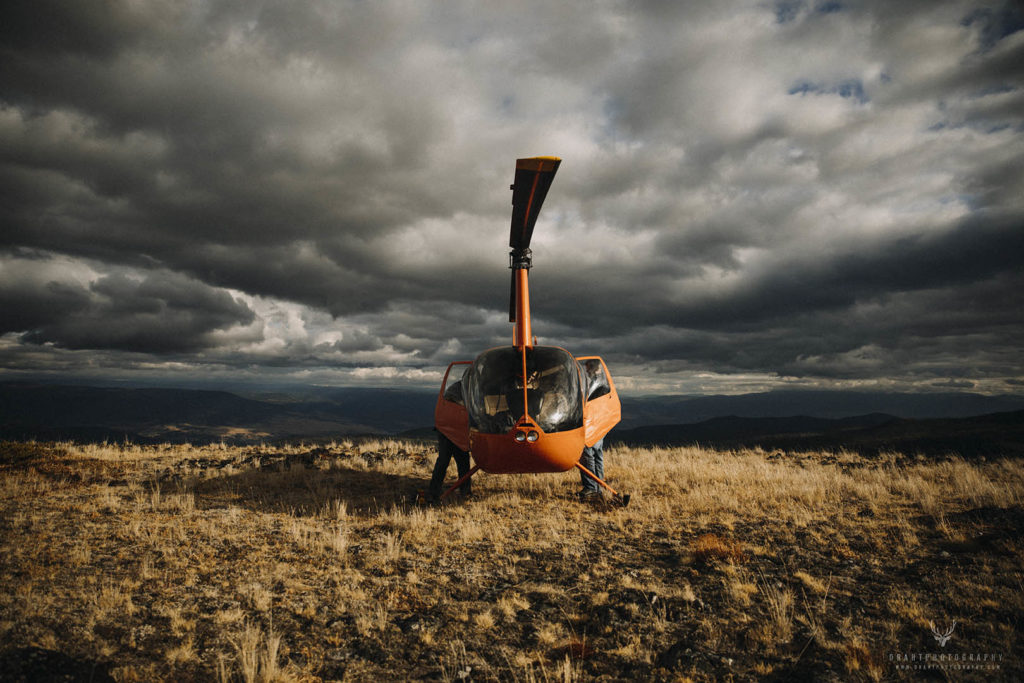 Our pilot took us over Okanagan Lake and Fintry. It was an exhilarating experience, adding to the thrill of an already epic wedding day.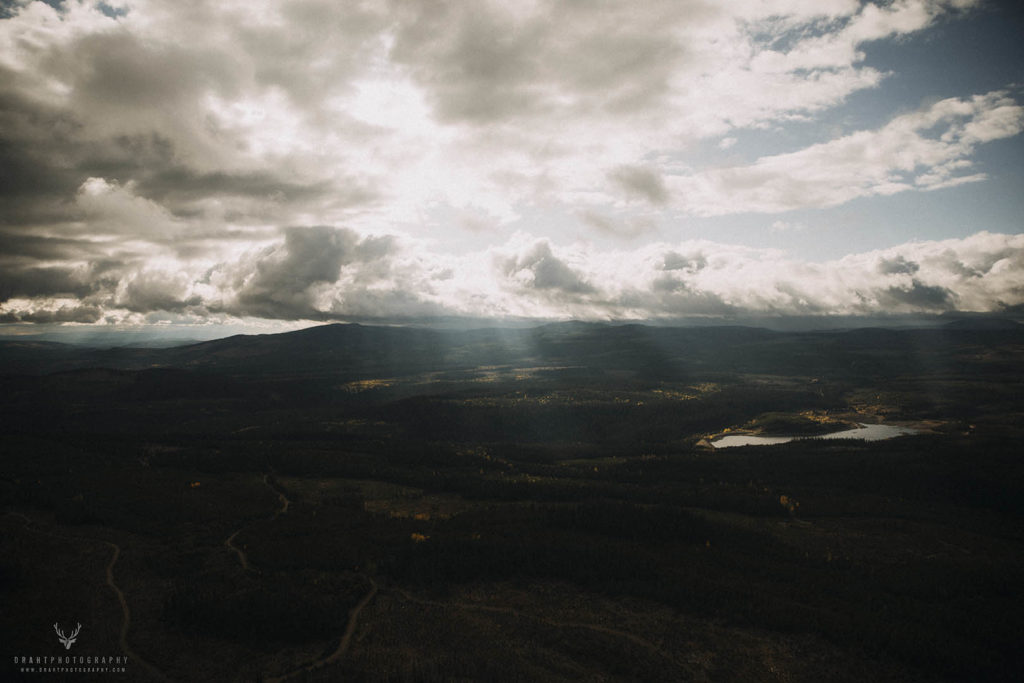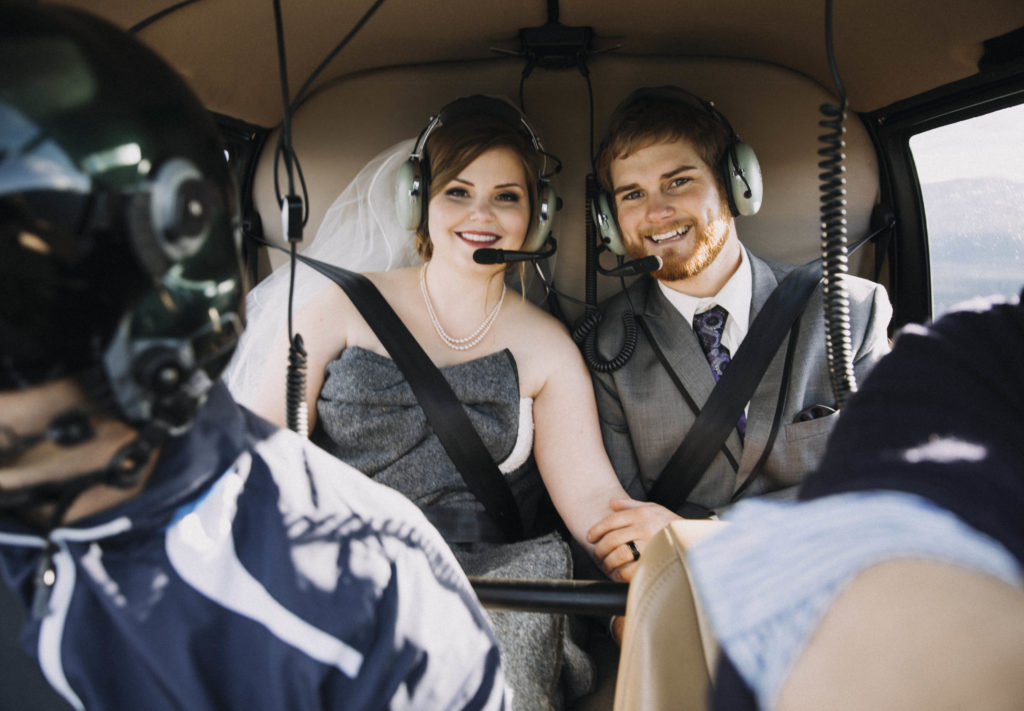 And before we knew it, it was back to Lone Pine. It looked especially amazing in the setting sun.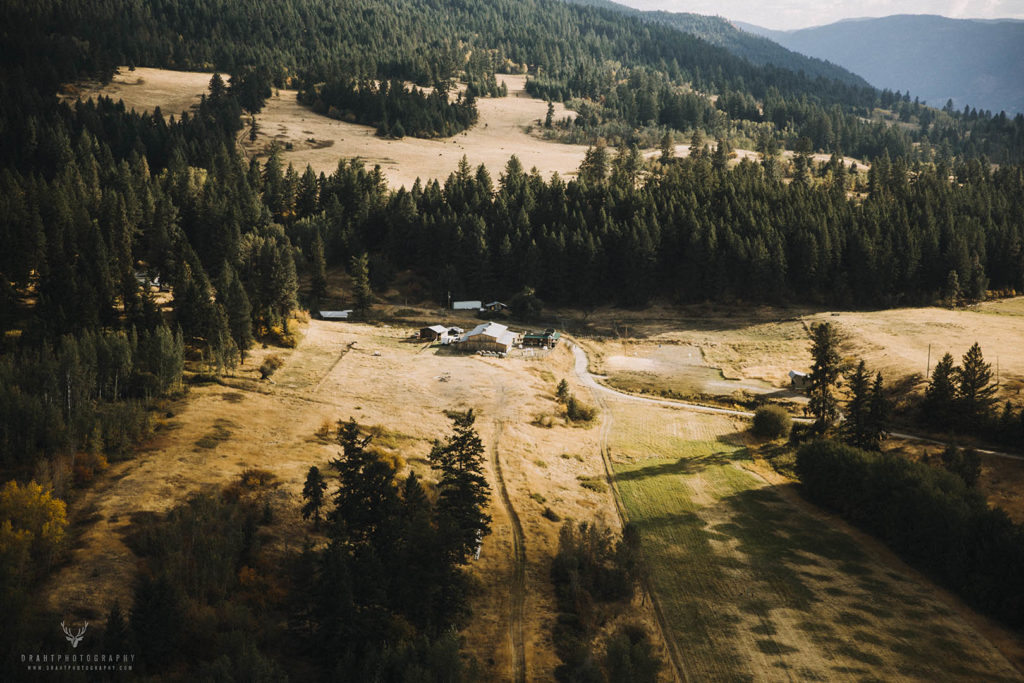 Although our Bride and Groom were enjoying themselves, I was nowhere near finished. For every wedding, I have an epic and fresh photo plan. This one involved Dad's old 1970's Ford F150. I told them to lie down. Exhausted, they both agreed this was a pretty great idea. Note to wedding photographers out there, give your couples rest time. But also find a way to utilize that rest time. We're still on the clock.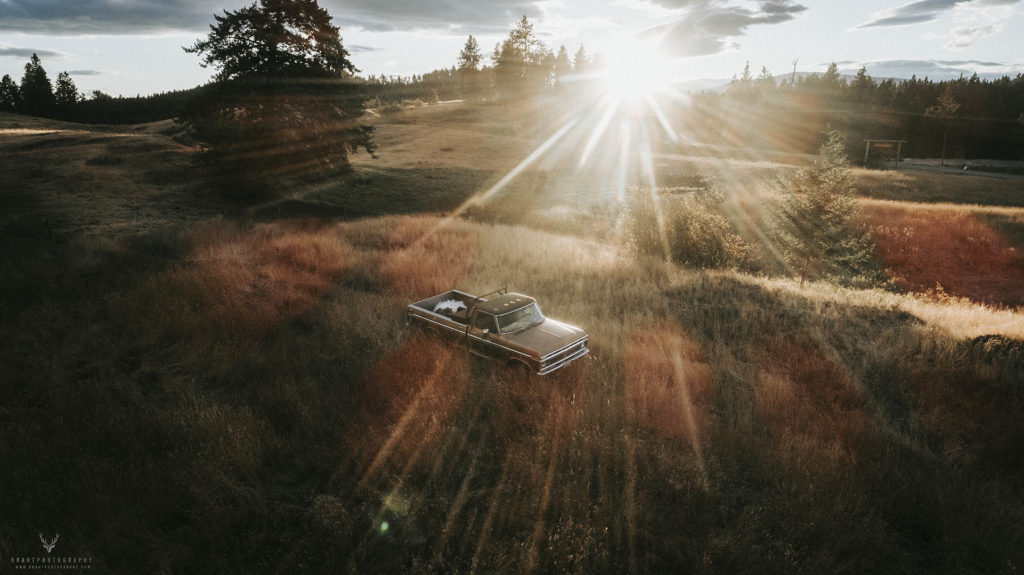 The tall grass gave me exactly what I was looking for. A old pickup with the setting sun in the background. These old trucks, they've got personality and stories. This comes through in the photos.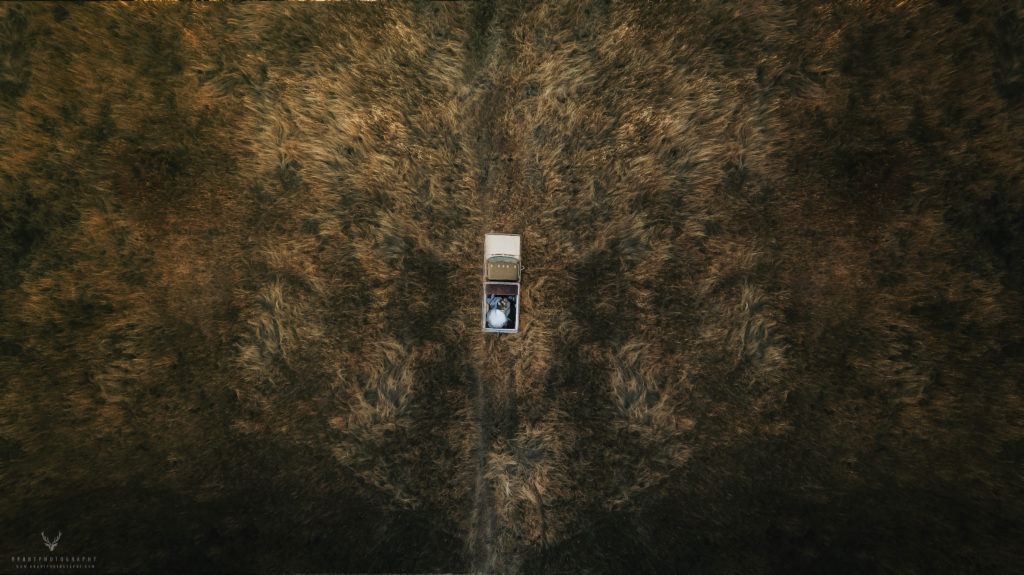 We popped out the tailgate. If I feel things are getting a bit too intense, if our couples are becoming disconnected from the moment, I'll set up a shot where I stand a couple dozen feet away. I tell them to just talk. Of course, these two flirted. I relaxed, and they did what they always do, try to crack each other up.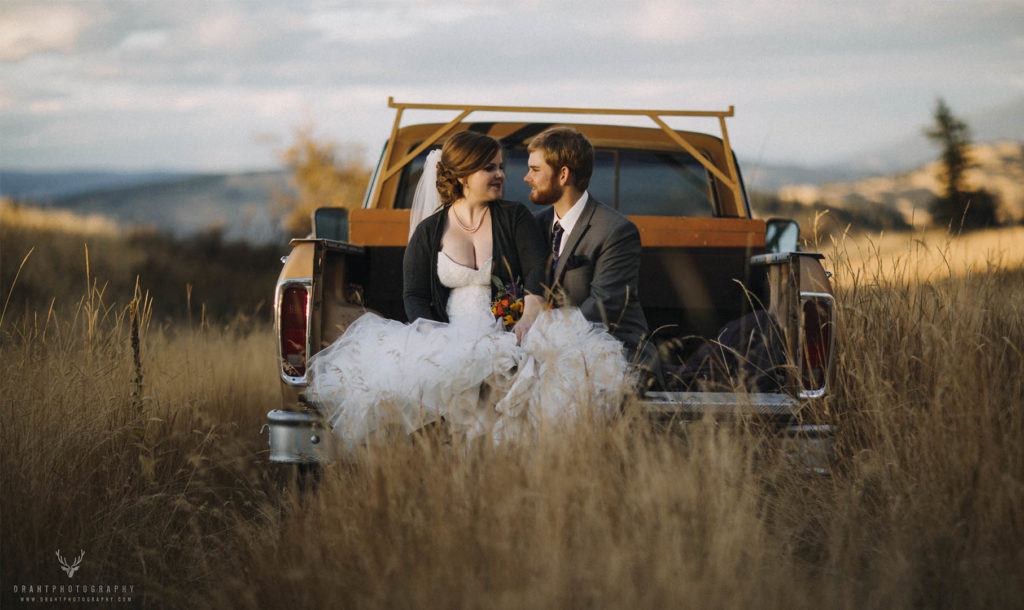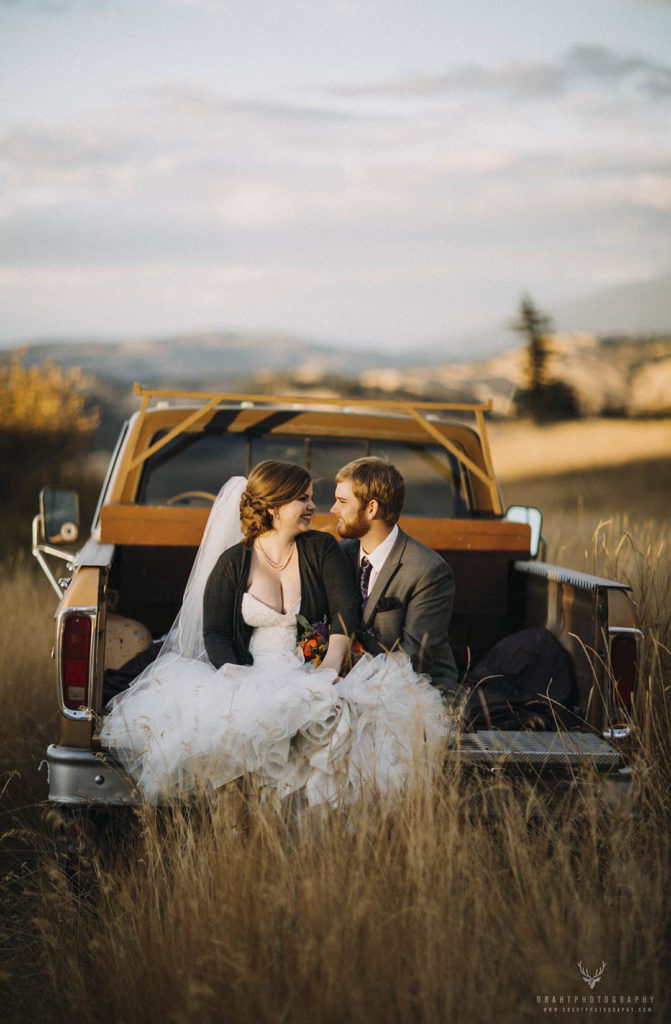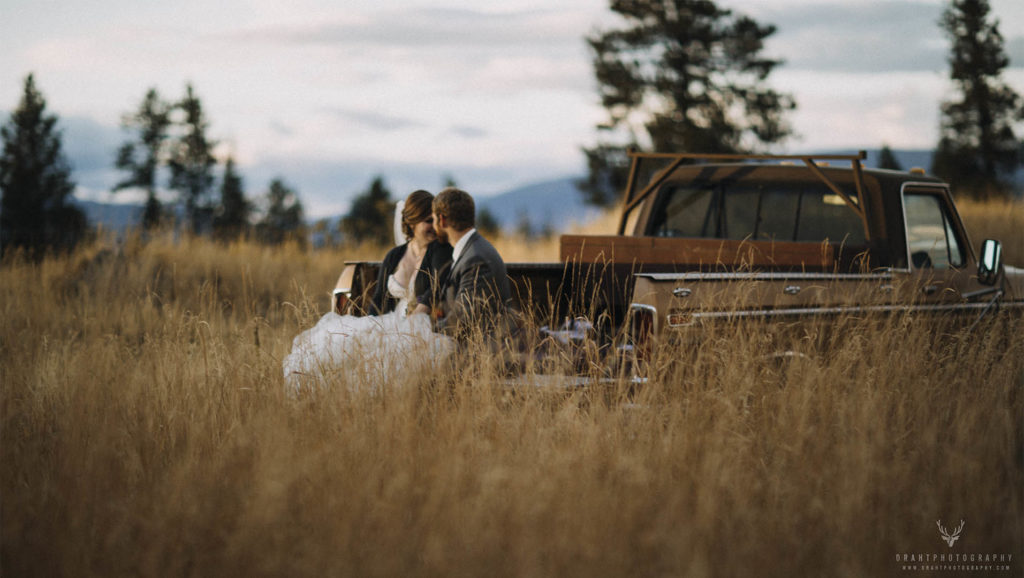 It started to rain slightly. I knew I had to finish up soon, but I had plans for this old truck.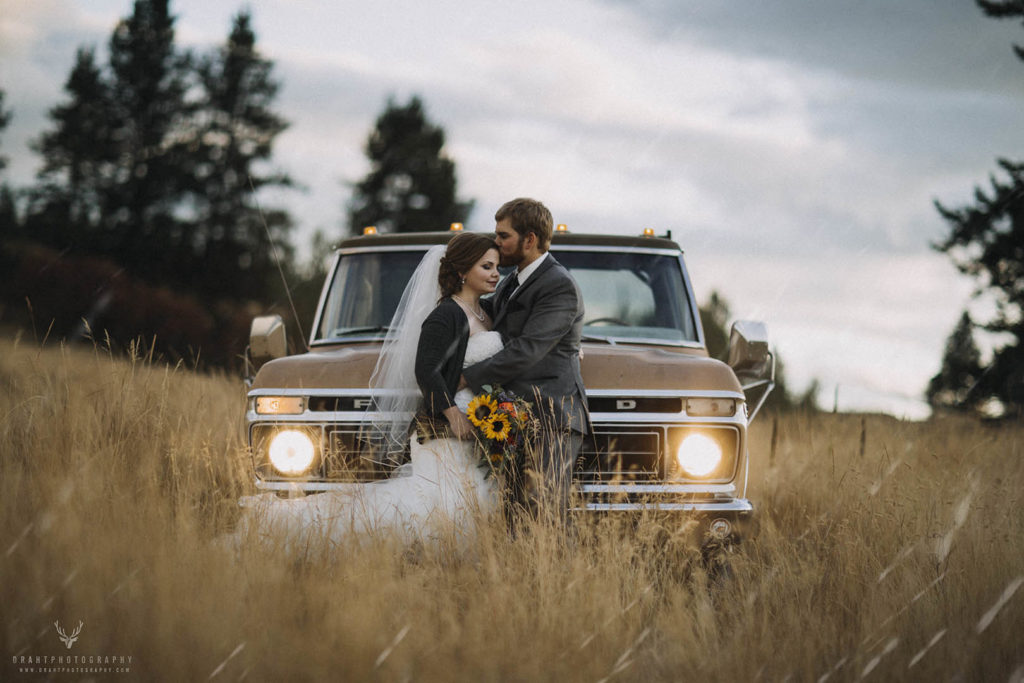 Recalling our first look, I checked over my shoulder to make sure no groomsmen where hiding in the grass with their beers and cigars. This wasn't the case.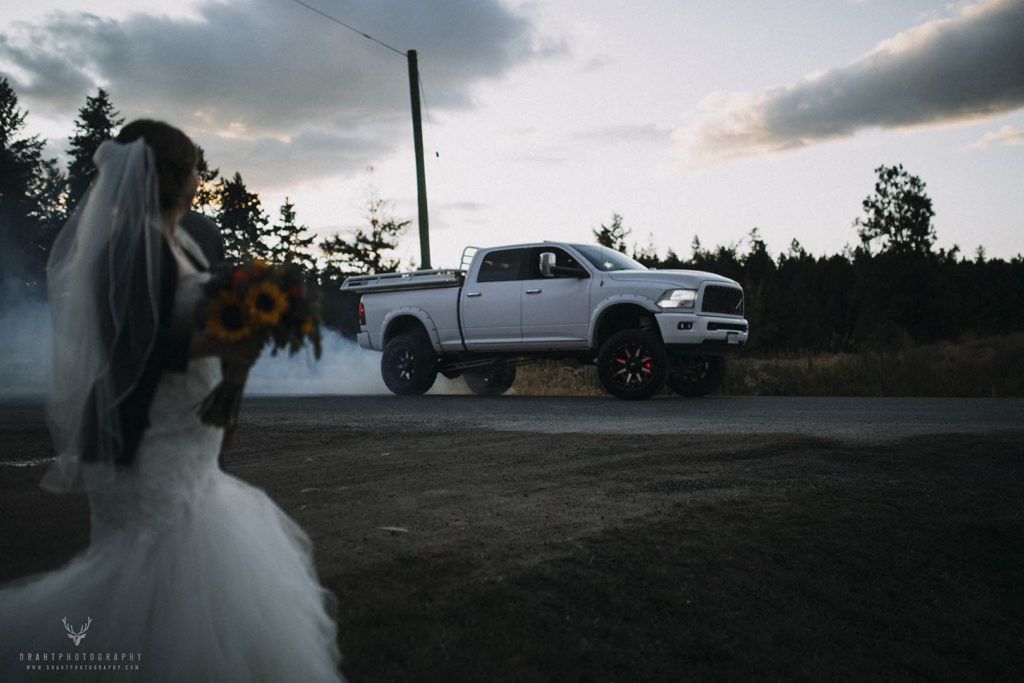 Instead, they were doing burnouts to signify their enthusiasm and approval for this special day and lovely couple. This is one of the languages of love, my friends.
Later, we made our back to this old truck for one last dance. The headlights illuminated every spin.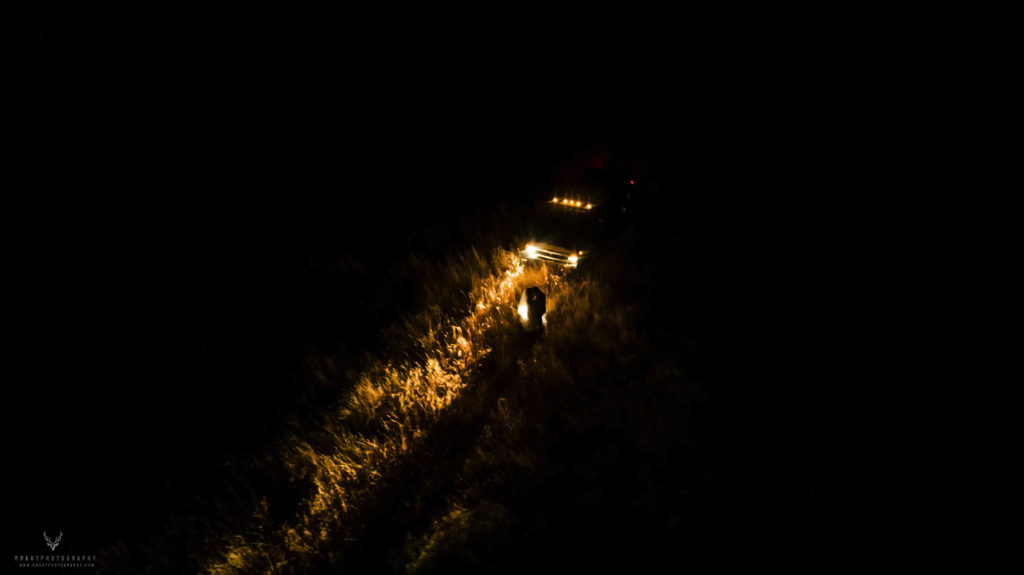 Keep in mind, this isn't all the photos. This is a sampler, and at 43 photos, the biggest I've ever put together.
There's a full album coming out in about 3 weeks, though. It's a wonderful story I can't wait to put together for you. The views are incredible, and the moments are mesmerizing. This is simply a sampler, a selection of a few favourites throughout the day to show you.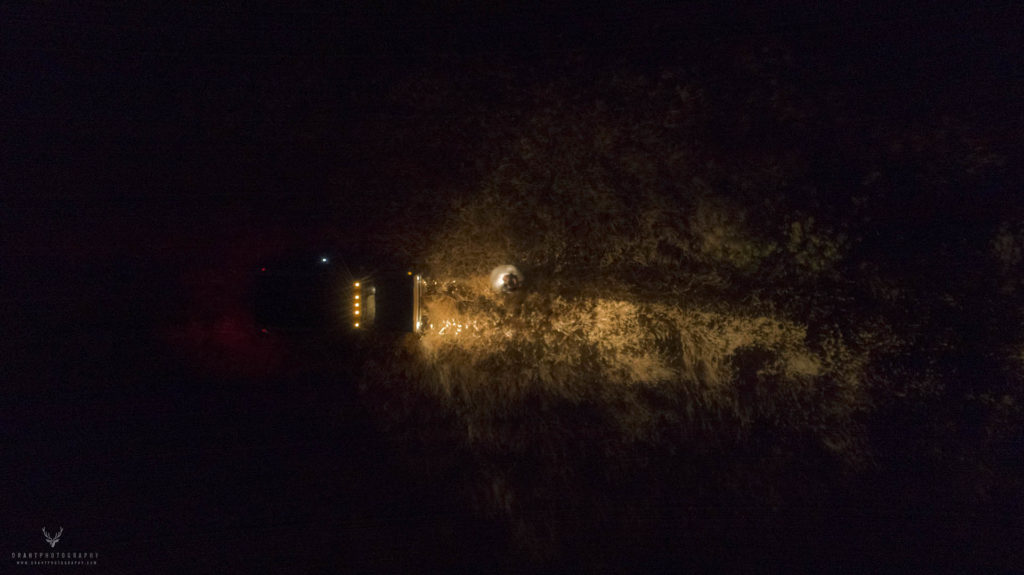 If you personally know the bride and groom, feel free to contact me by clicking here. Let me know who you are, along with the bride and groom's name, and I'll make sure you get a link to the finished album!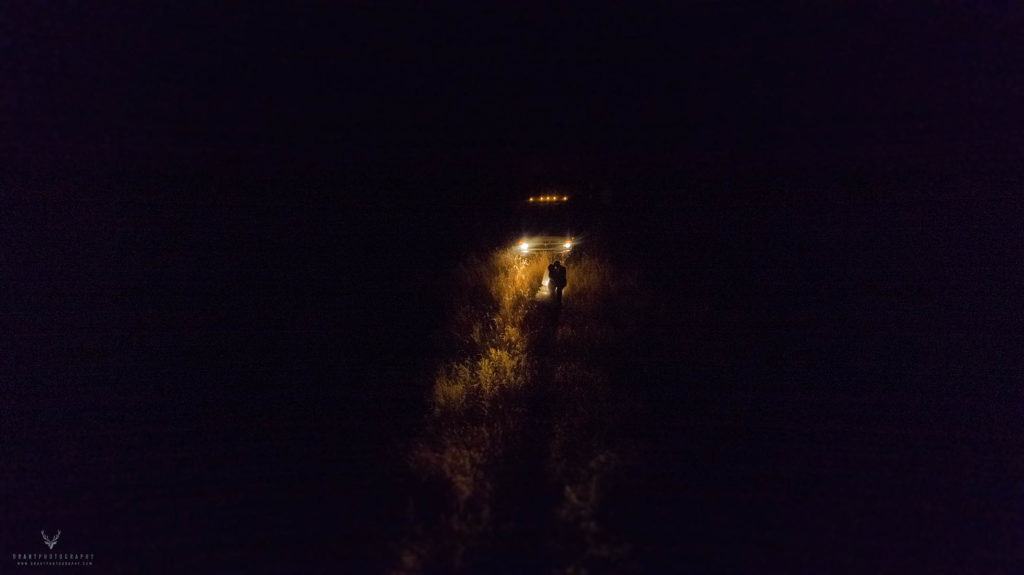 If you know someone who'd like to see this sneak peek, feel free to click one of the share buttons on the top or  bottom of this entry, to share and tag them! Although I try to get the word out, a lot of family members and amazing bridesmaids and groomsmen don't know about these samplers!
Thank you for reading this far. I put a lot of time and work into these sneak peeks so it's great that you've taken the time to read all this!
If you'd like to keep a picture, even on mobile, just click it and it will open in a separate window. You can save it from there.
Lastly, if you'd like to stay updated, feel free to follow me on Instagram, facebook, twitter, or Tumblr for frequent updates. Talk to you all in a few days!