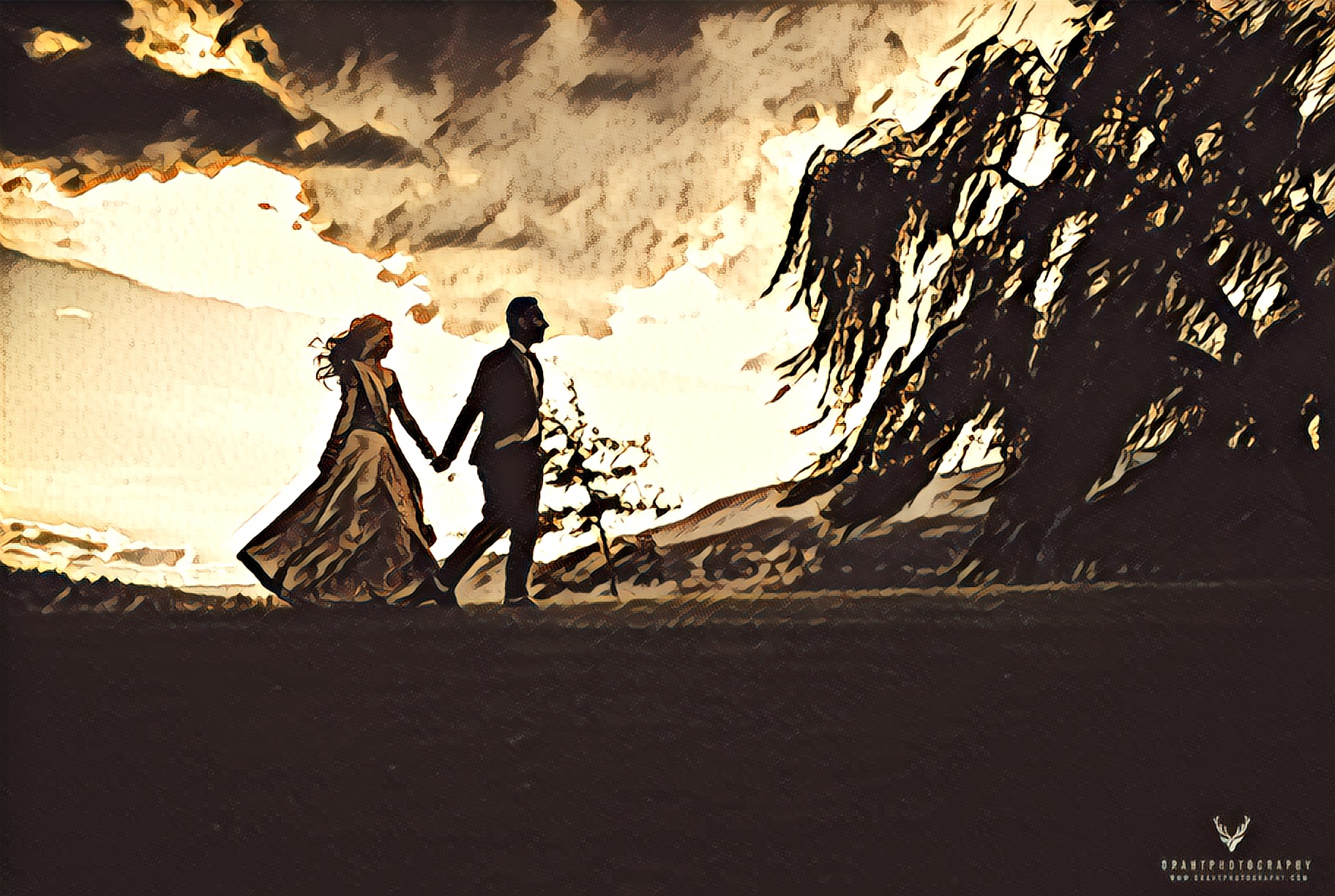 October 4, 2017 /
Wedding
The Colourful 3 Day Wedding Sampler
Most of the time, I've got a wedding sampler up the night of. This one is a little different - as it's about the size of three of my usual weddings, so it took me a little longer. And I had this great...
T
M
Most of the time, I've got a wedding sampler up the night of. This one is a little different – as it's about the size of three of my usual weddings, so it took me a little longer. And I had this great idea to schedule a wedding on Sunday.
Day 1
We start out with our Mendhi ceremony.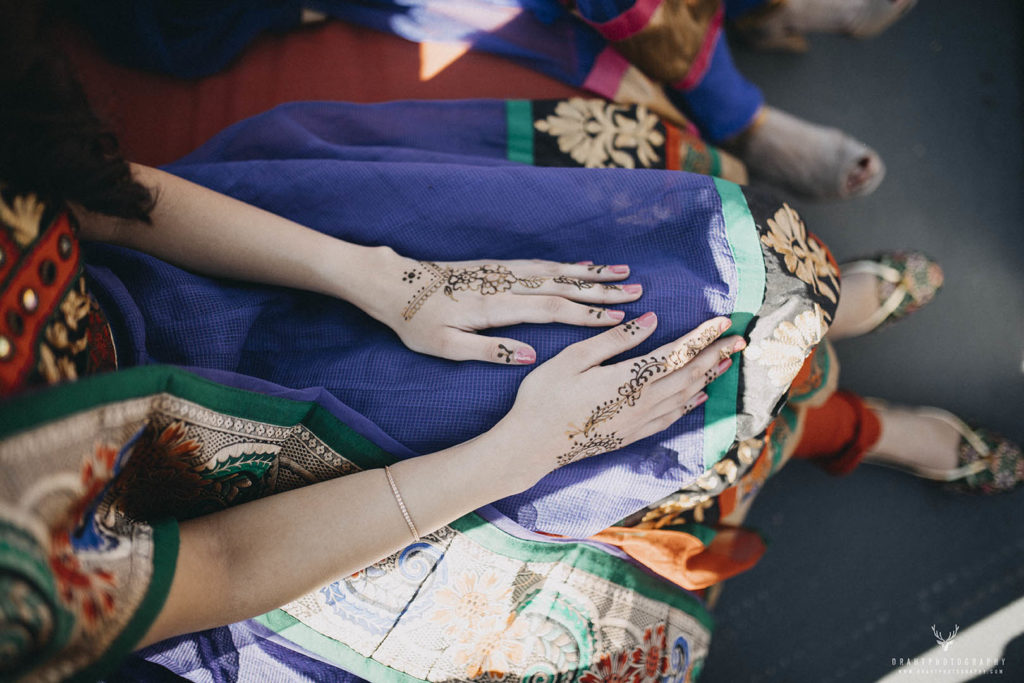 This is a traditional and exciting pre-wedding ceremony. Fun fact, the Hindi and Arabic word Mehendi is derived from the word, "Mendhika." – the reference to the henna plant itself. The girls were hard at work making sure everyone was intricately decorated.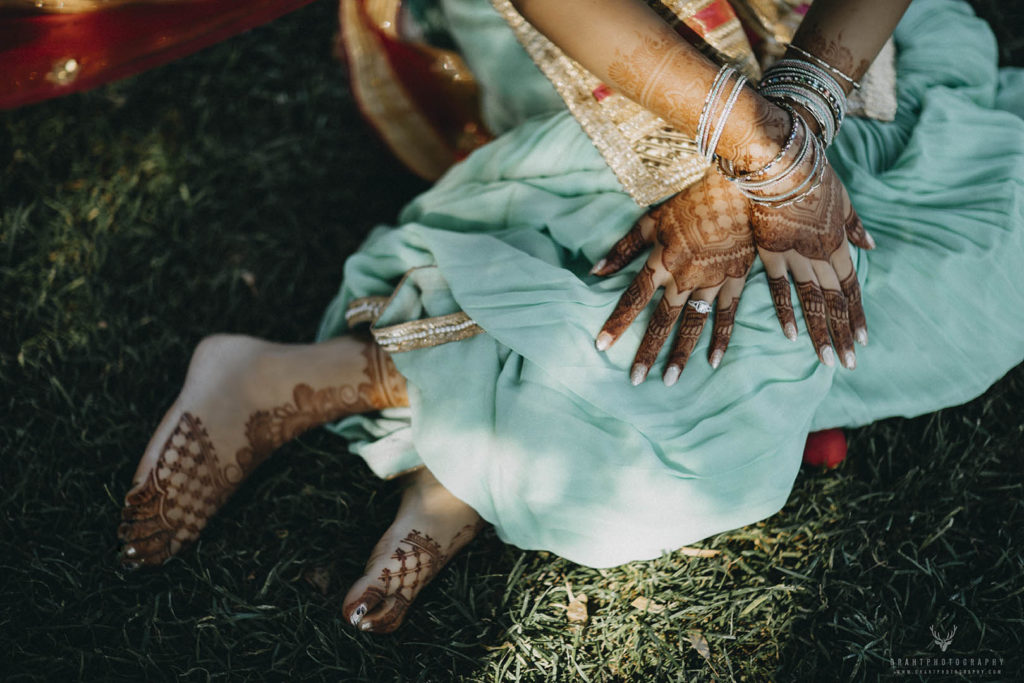 Next, we have our Haldi ceremony. The Haldi paste is put on five places: the feet, knees, arms, hands, and sometimes the face. Generally they start from the feet going up.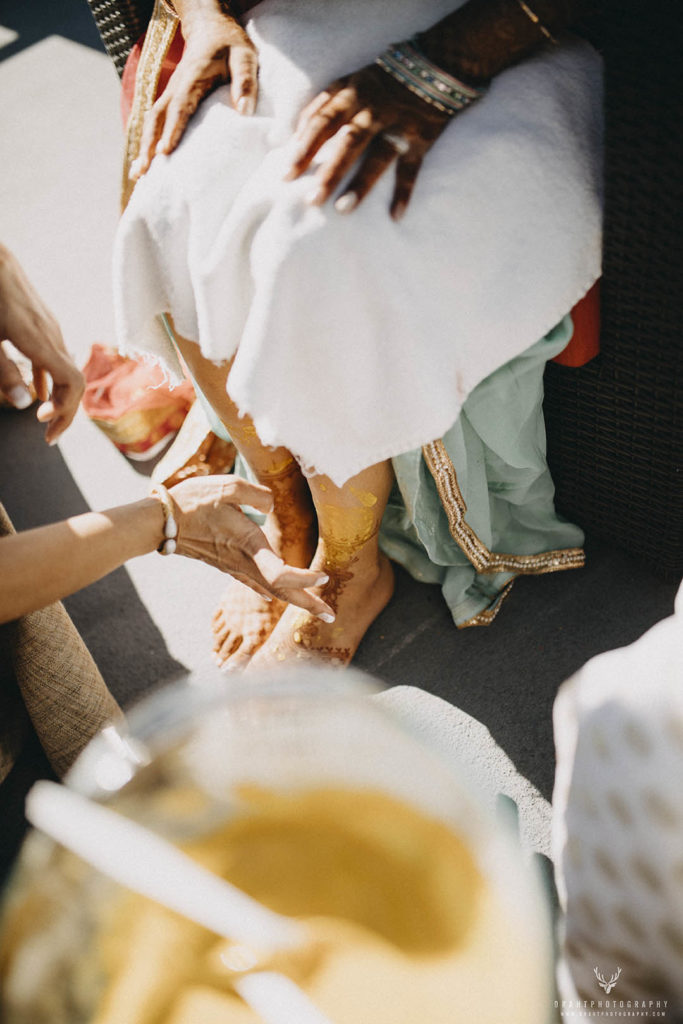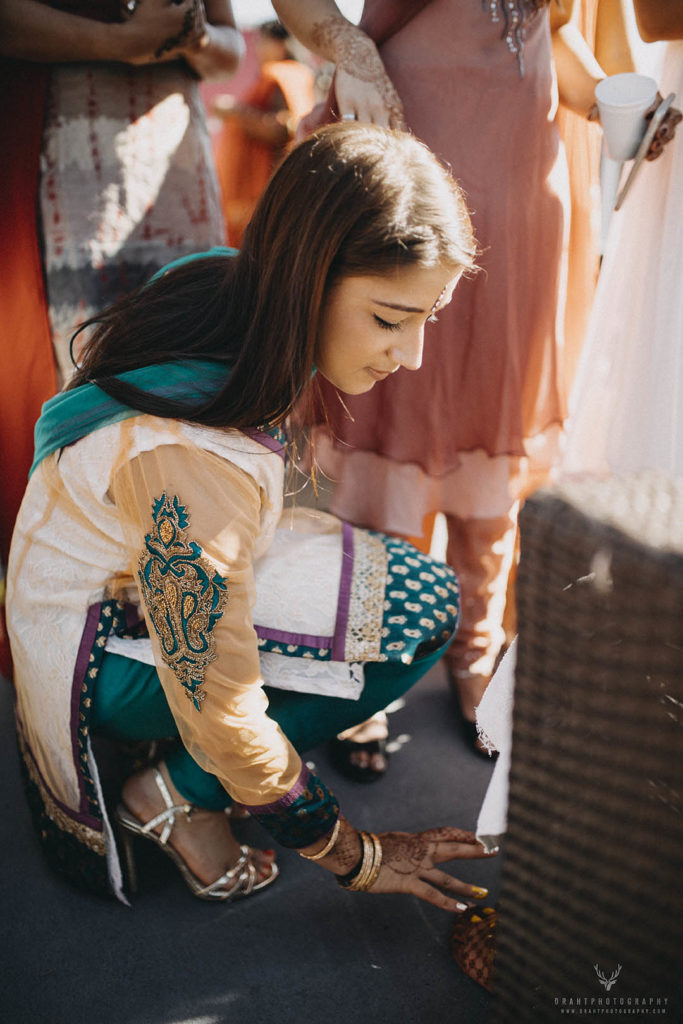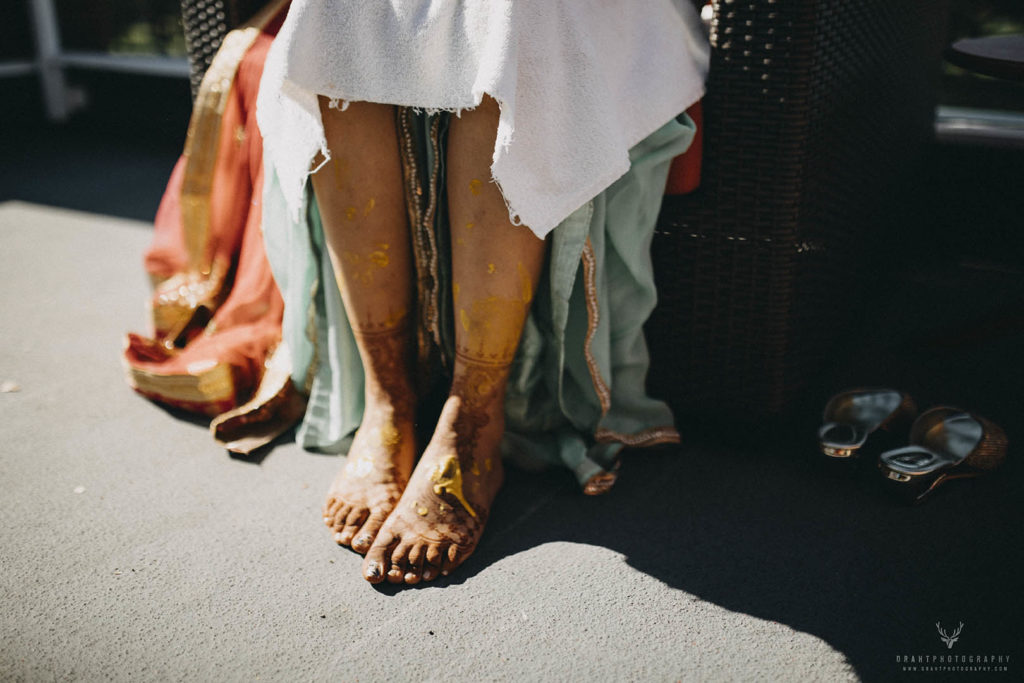 A brief break, and then it's time for the Sangeet!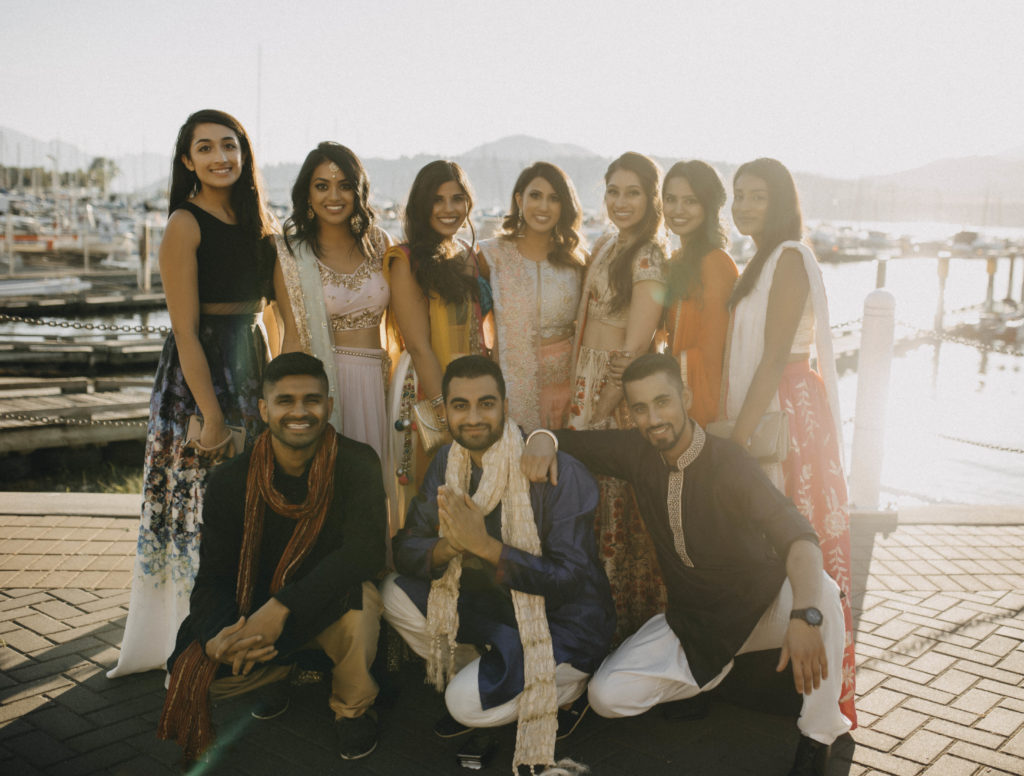 I arrived at Rose Pub at 5:30. The setting sun will often give us the best light of the day. I set up guests against the waterfront right away – in gatherings like this, the goal is to get photos of every guest attending. Fortunately, we had about 150 people, so it wasn't too difficult. I think several guests ended up being photographed for or fives times by me!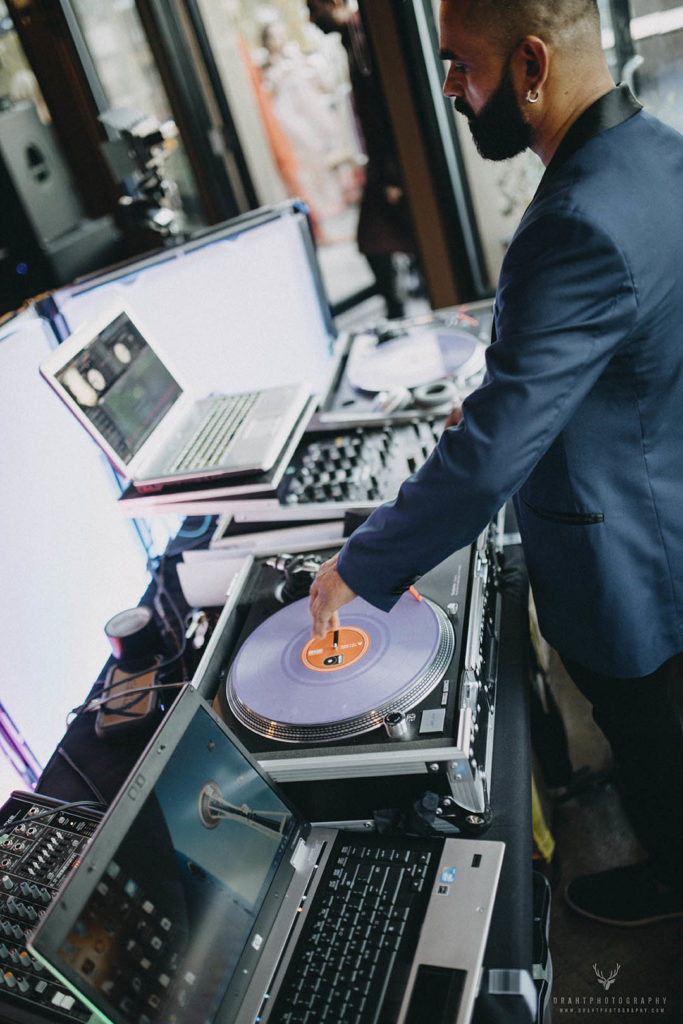 On the dance floor, we had the amazing DJ Sandy. Throughout the weekend, I was completely impressed by him. He had the lights, fog machines, and lasers. Every moment, he was on top of the crowd, keeping the music flowing.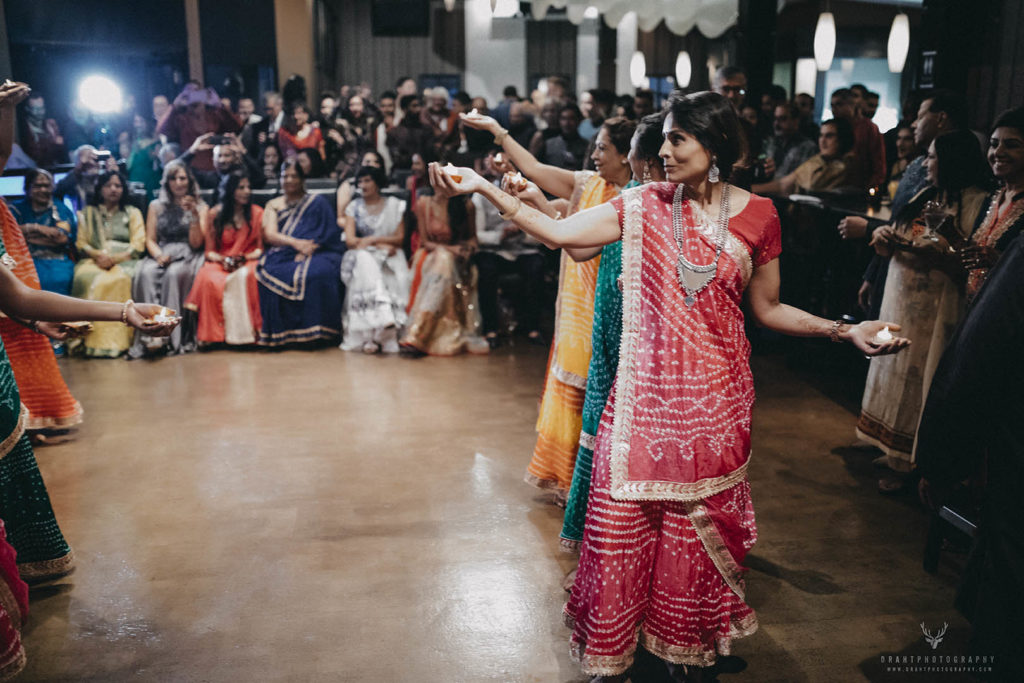 And the music flowed. The rest of the sangeet consisted of wild dances, hugs, and some of the best food I've ever had in my life.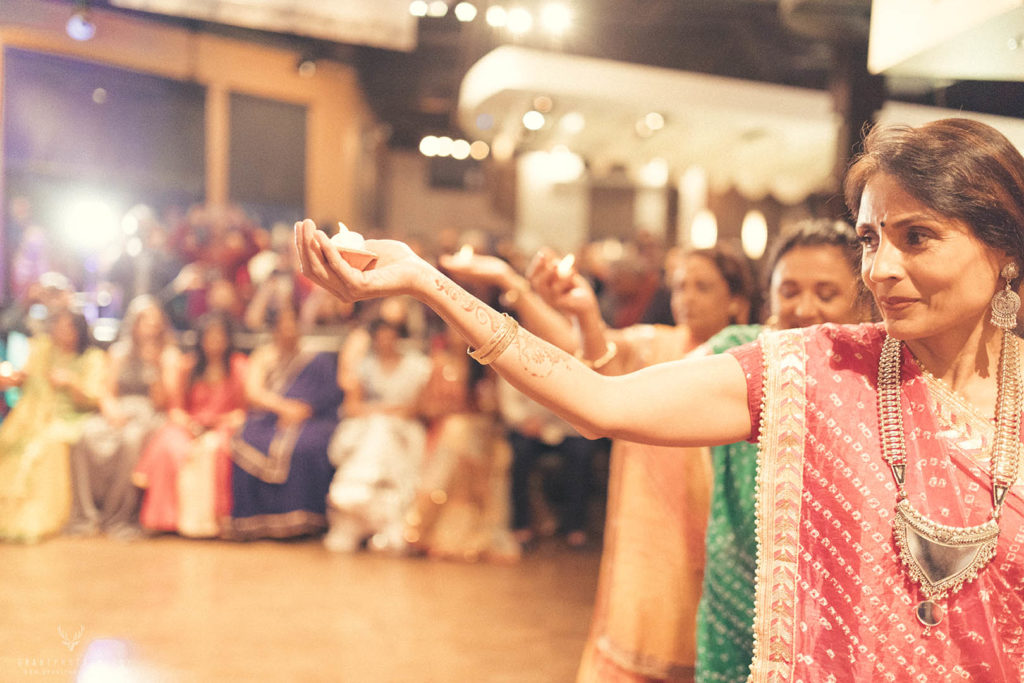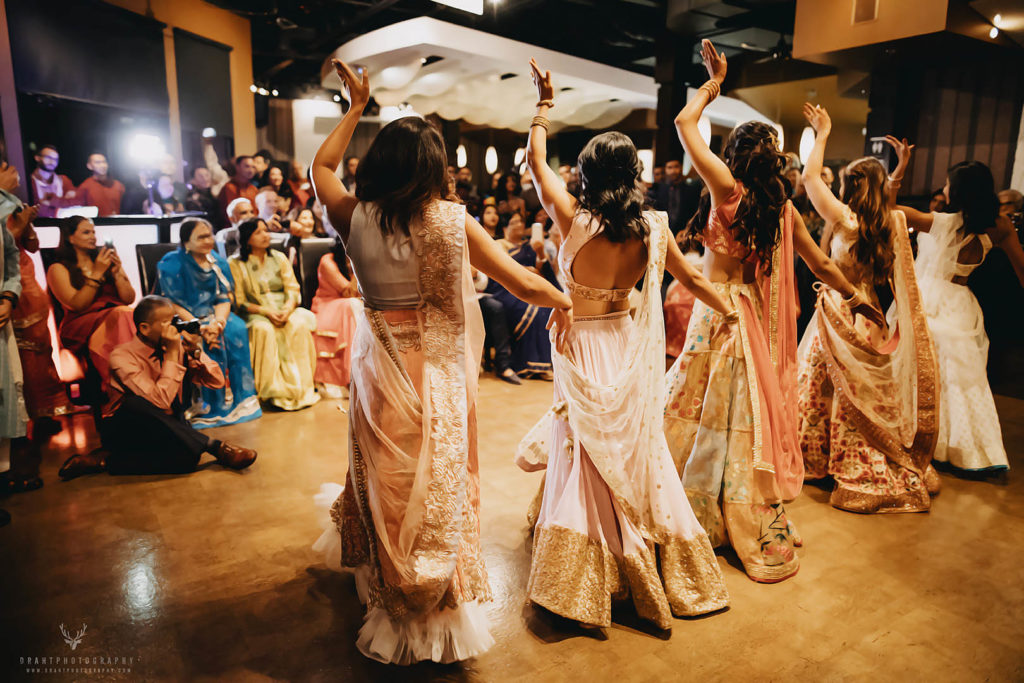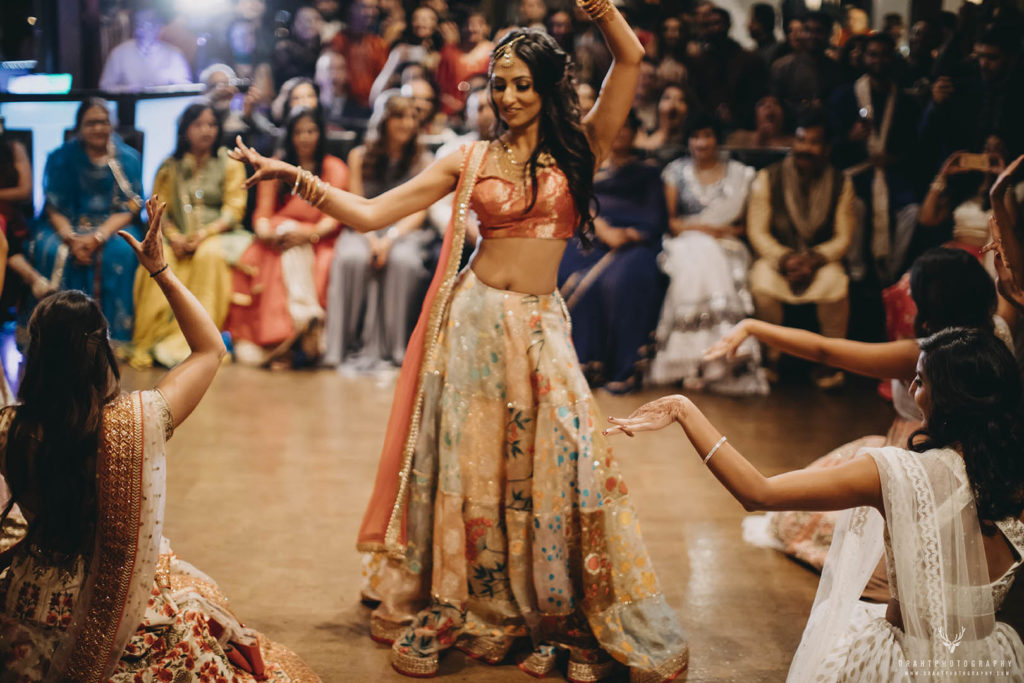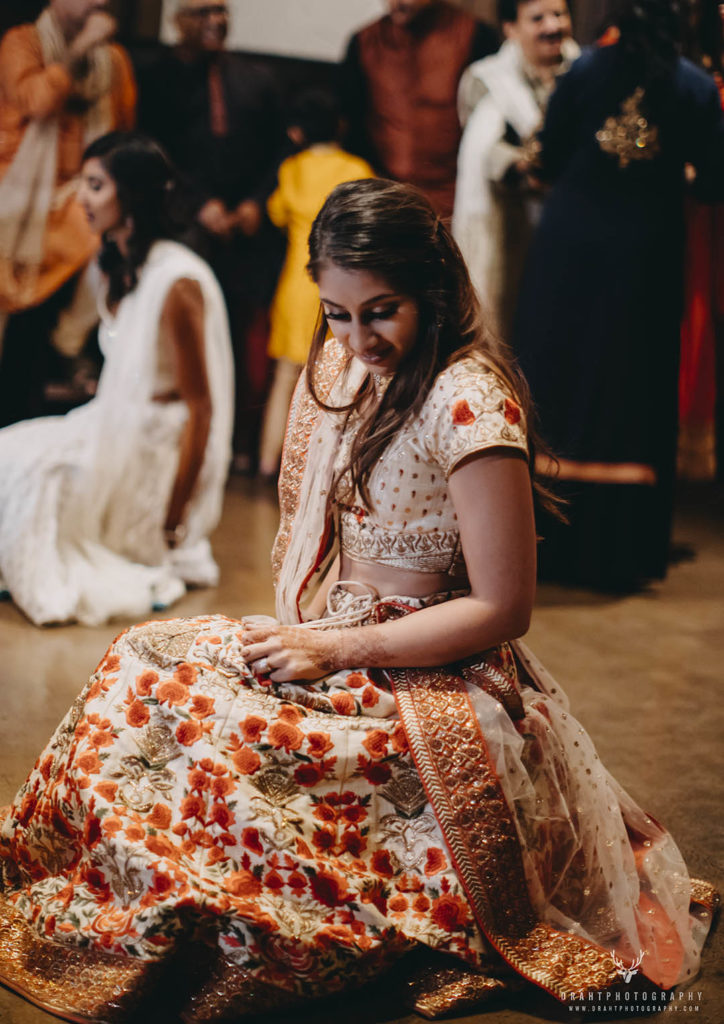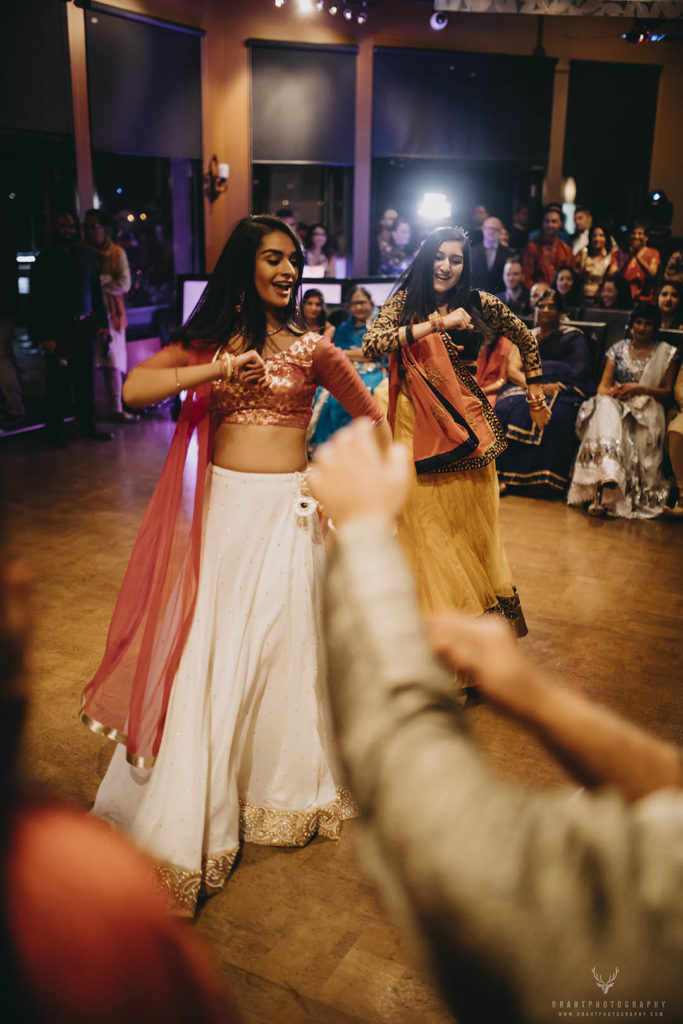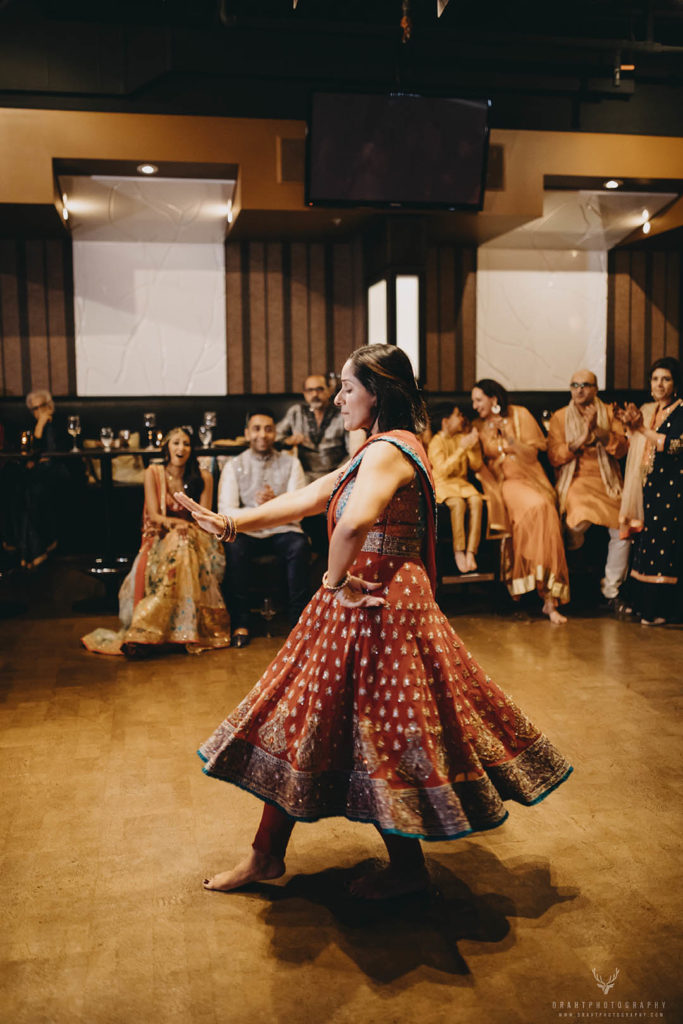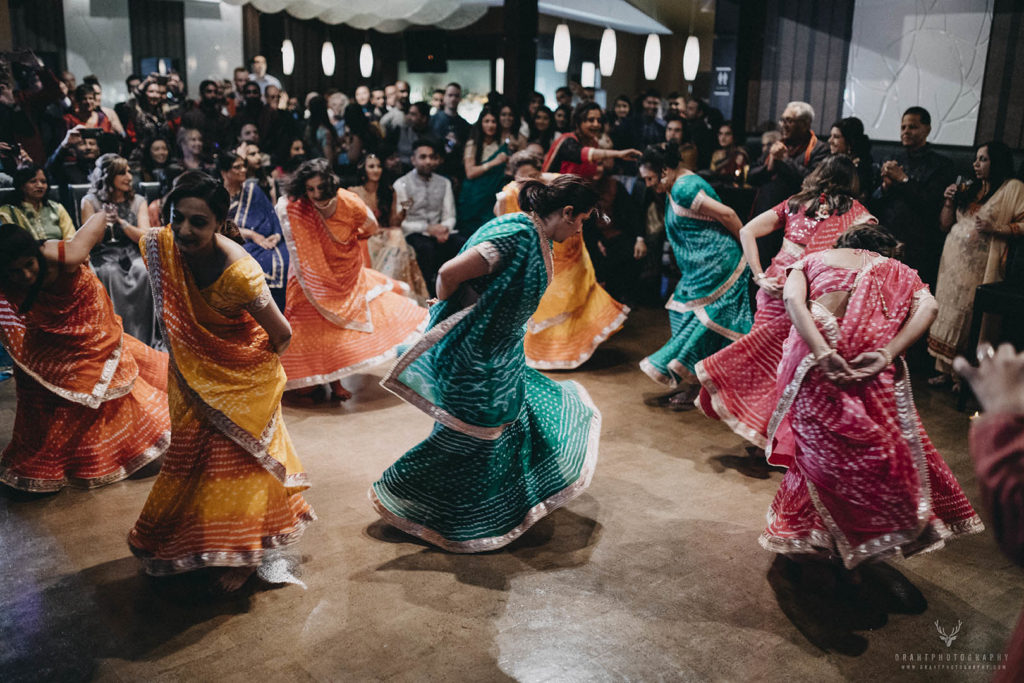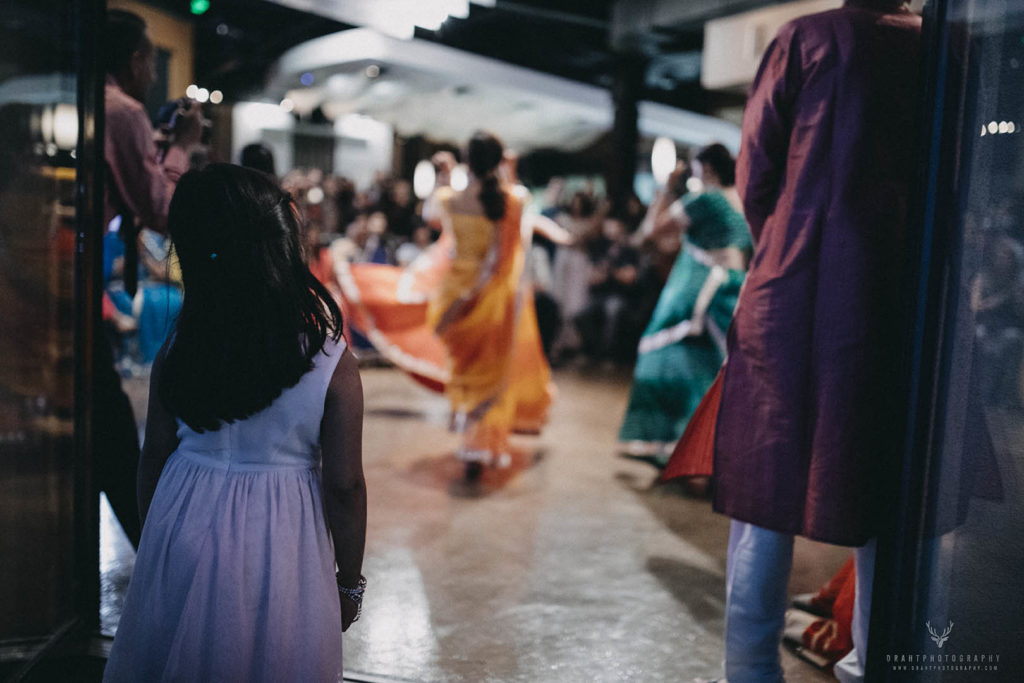 A little past ten, I packed my gear up. It was time to get ready for a wedding day.
Day 2
At 9am I found myself at Mirror Mirror Salon in Kelowna.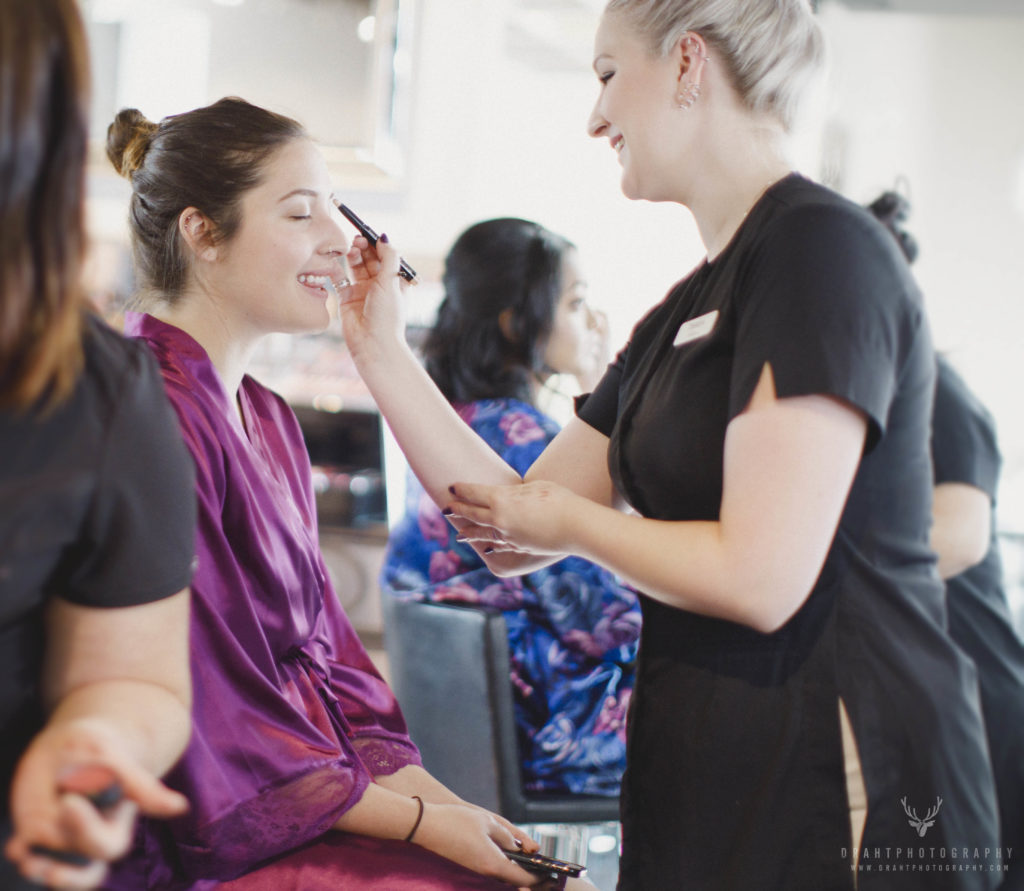 I absolutely love the staff. Not only is the salon rather roomy, but they have a way of making you feel like you're at home.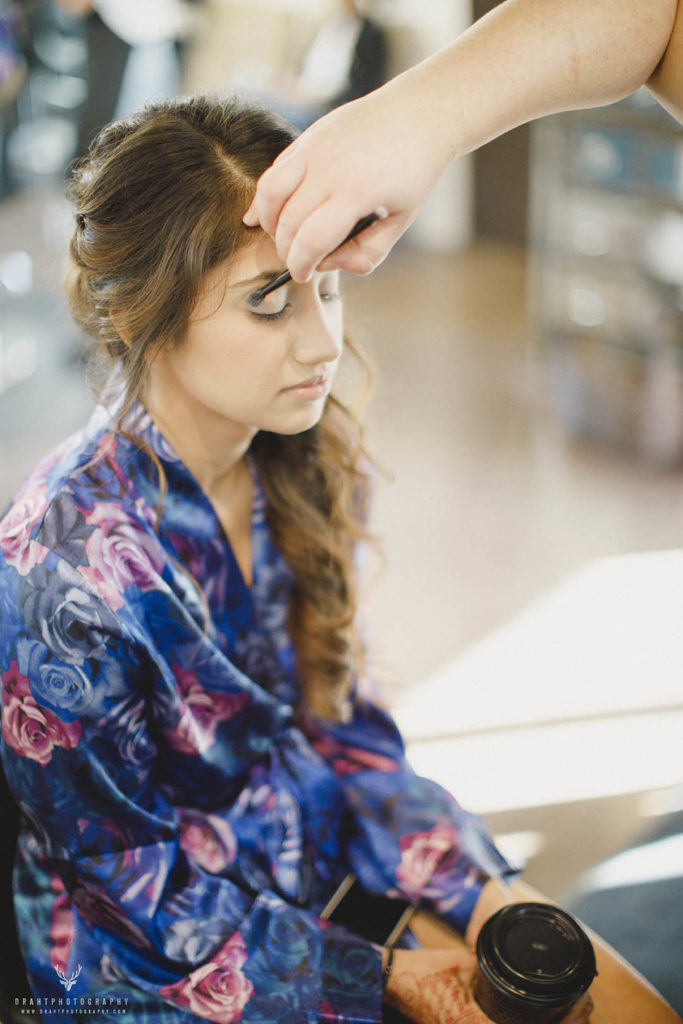 I got to work photographing the details. The makeup artists chatted away, and our bride's mother started readying the jewelry.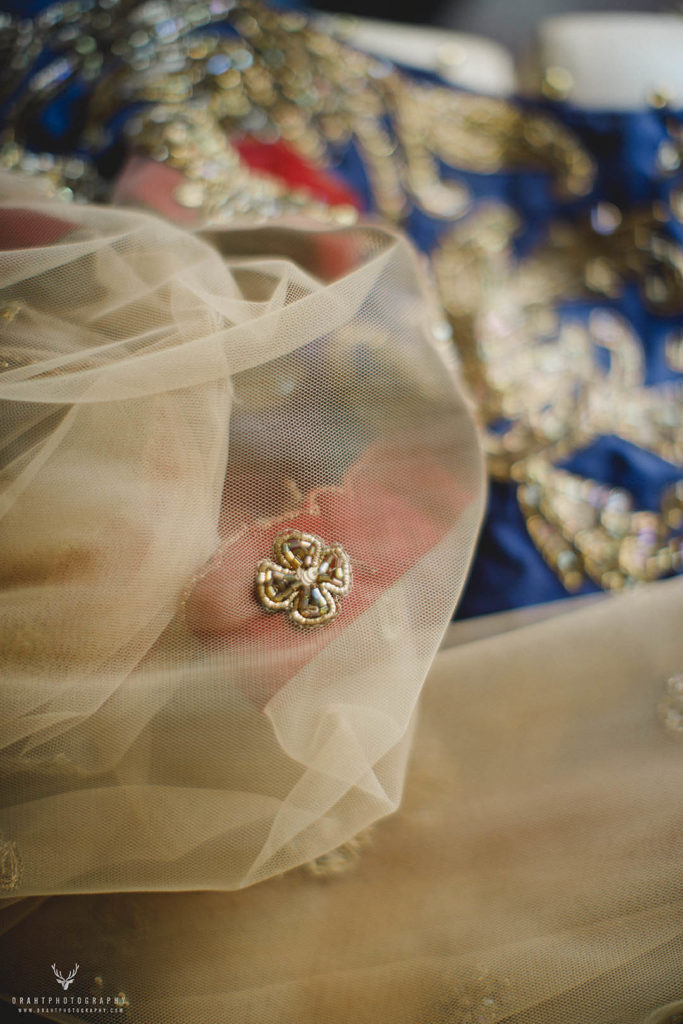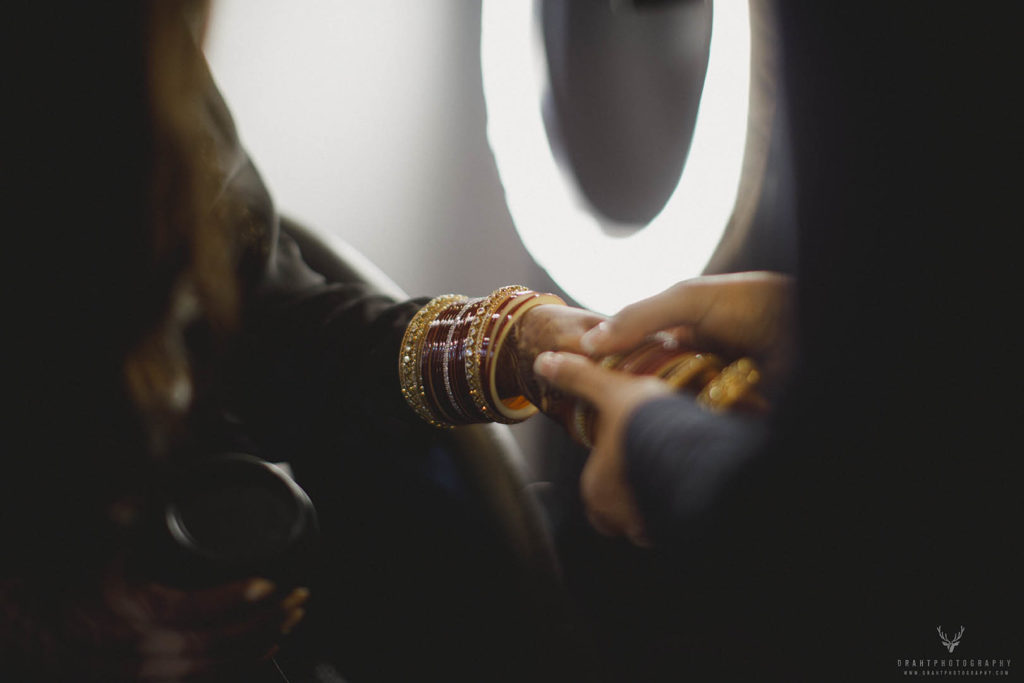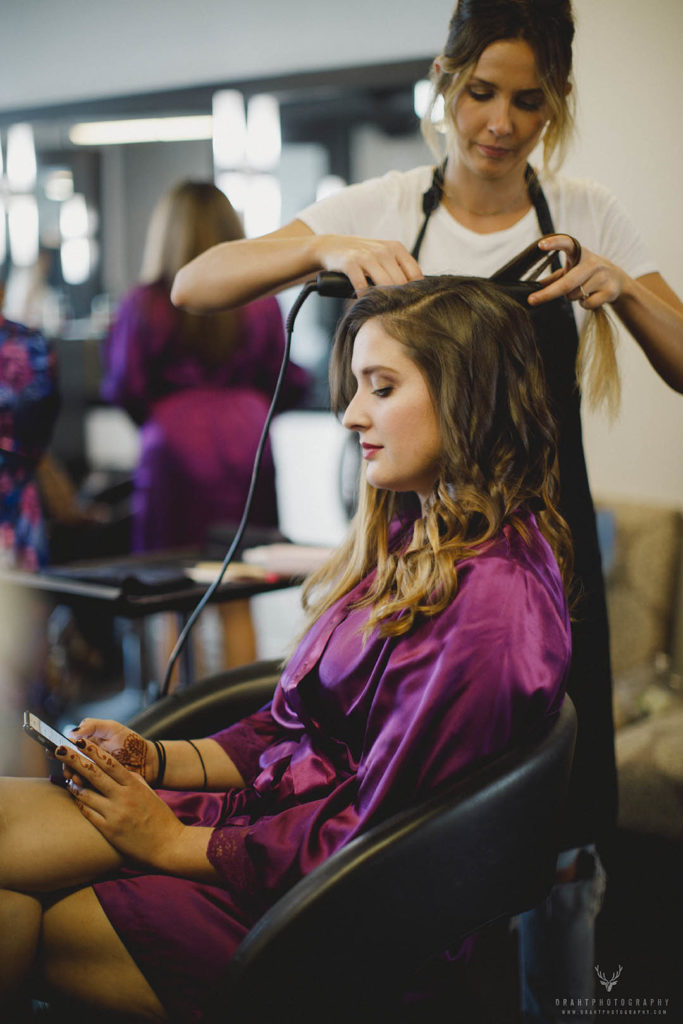 We were almost ready. Hats off to Mirror Mirror for getting all 7 bridesmaids ready on time!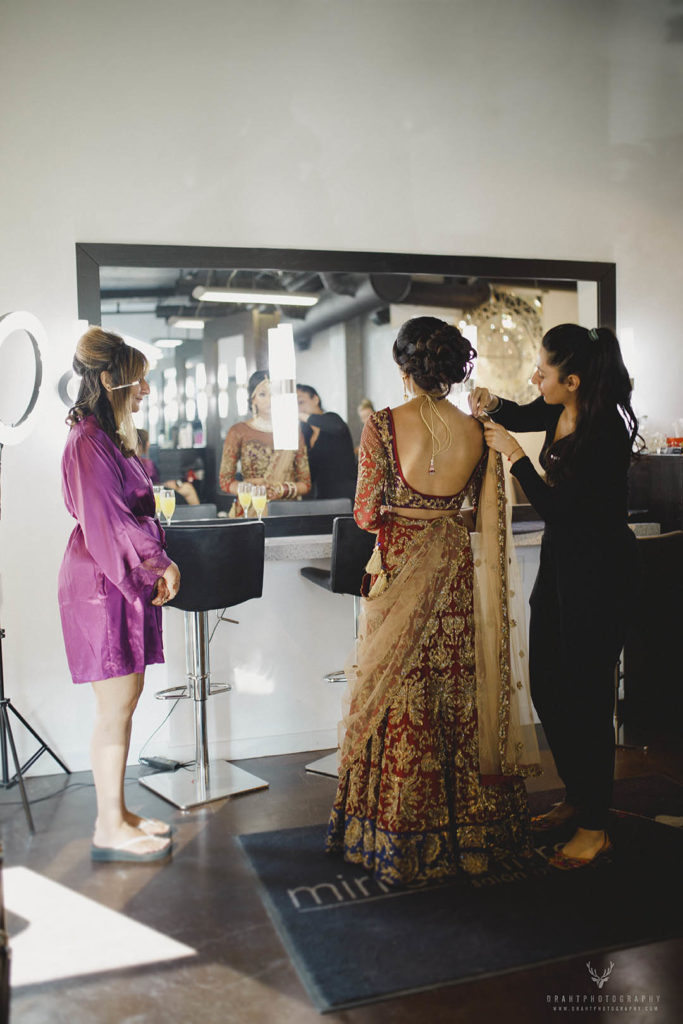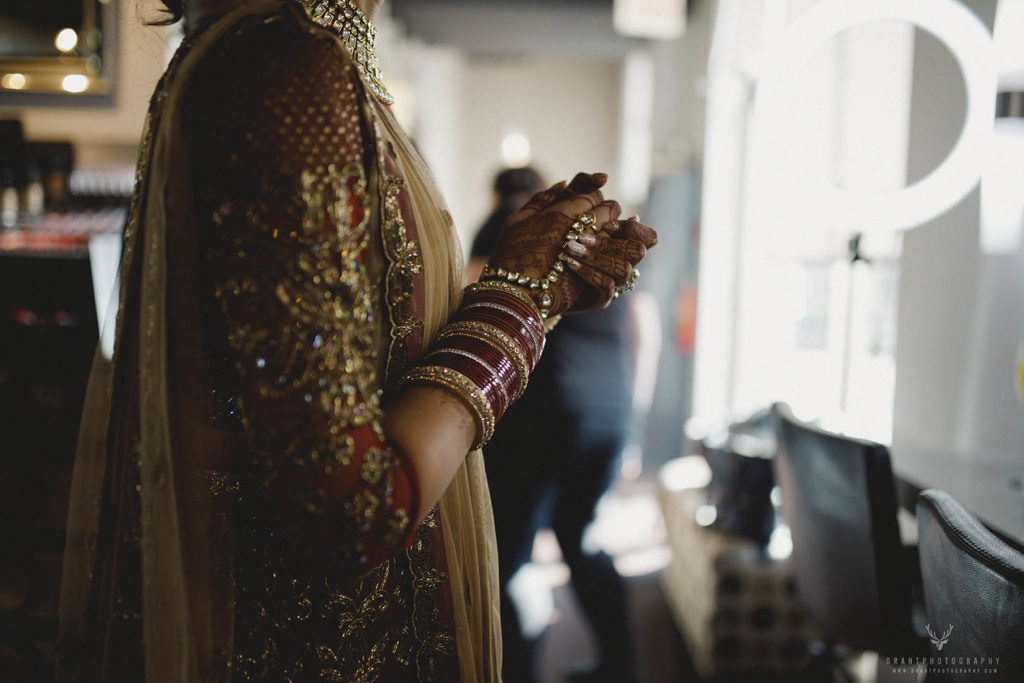 I found myself in a familiar place. We had a gorgeous bride, and a slightly nervous groom ready for a first look,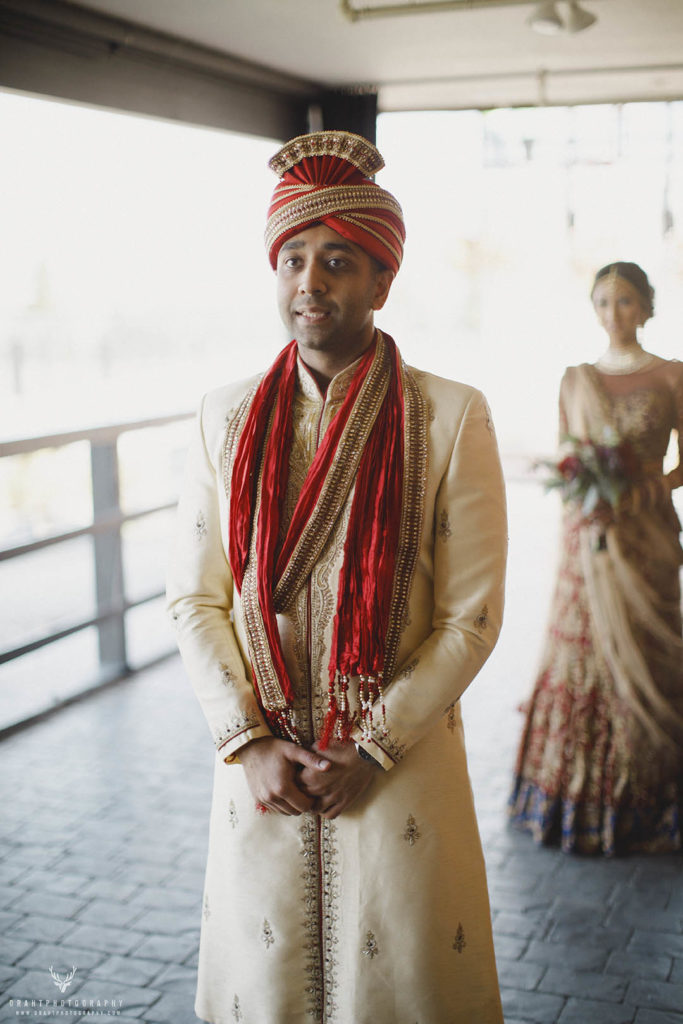 Although she looks amazing, I think we need to take a moment to soak in this outfit.  Just look at this.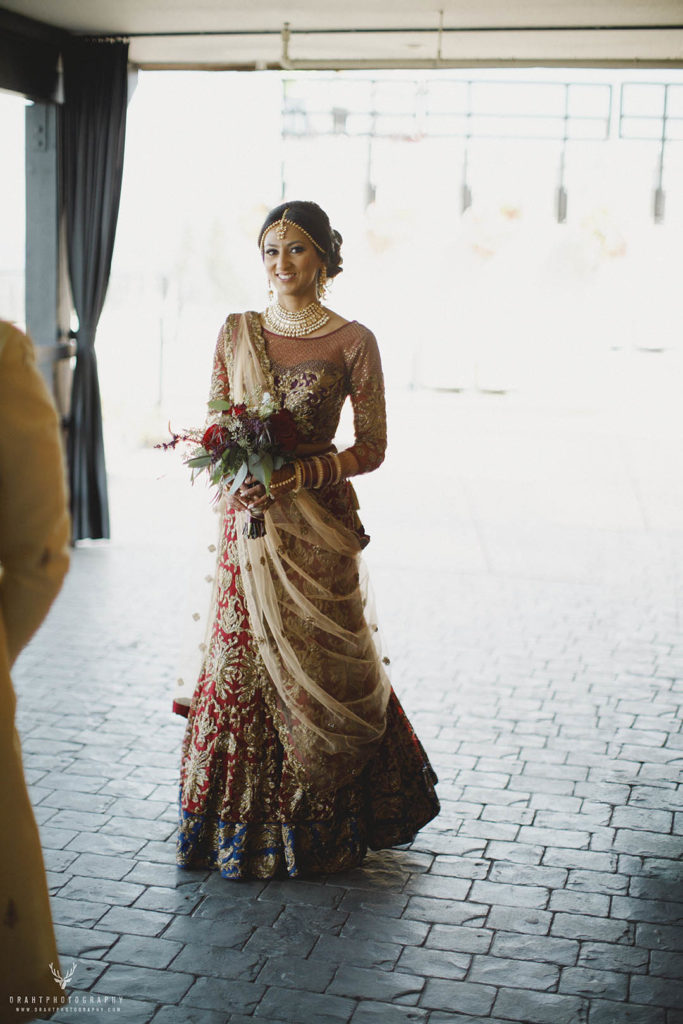 He turned around quickly, and immediately hugged her.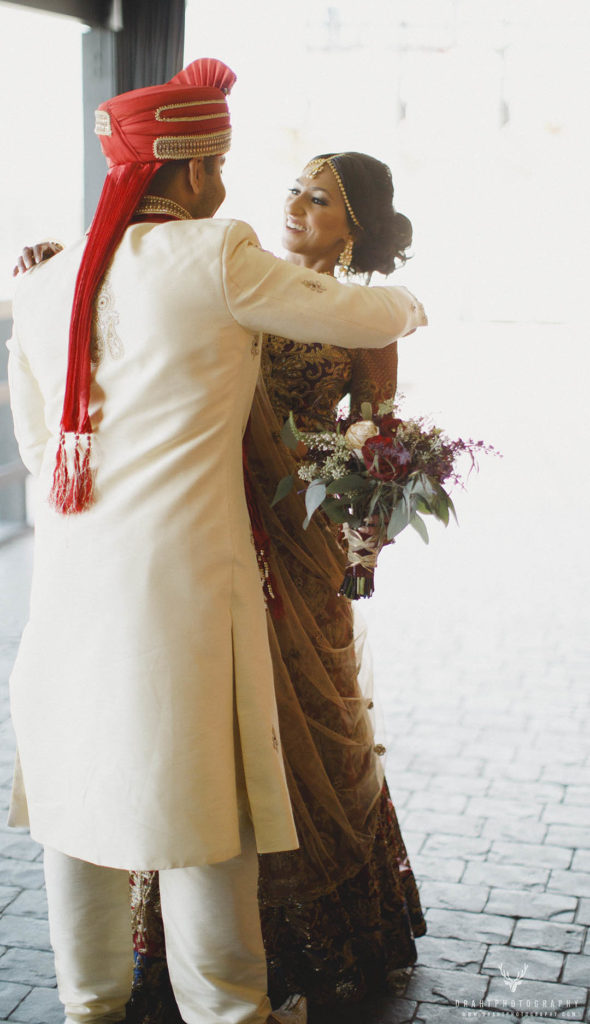 She couldn't stop looking at him. Even as I took their first portrait of the day together, I caught her stealing a glance.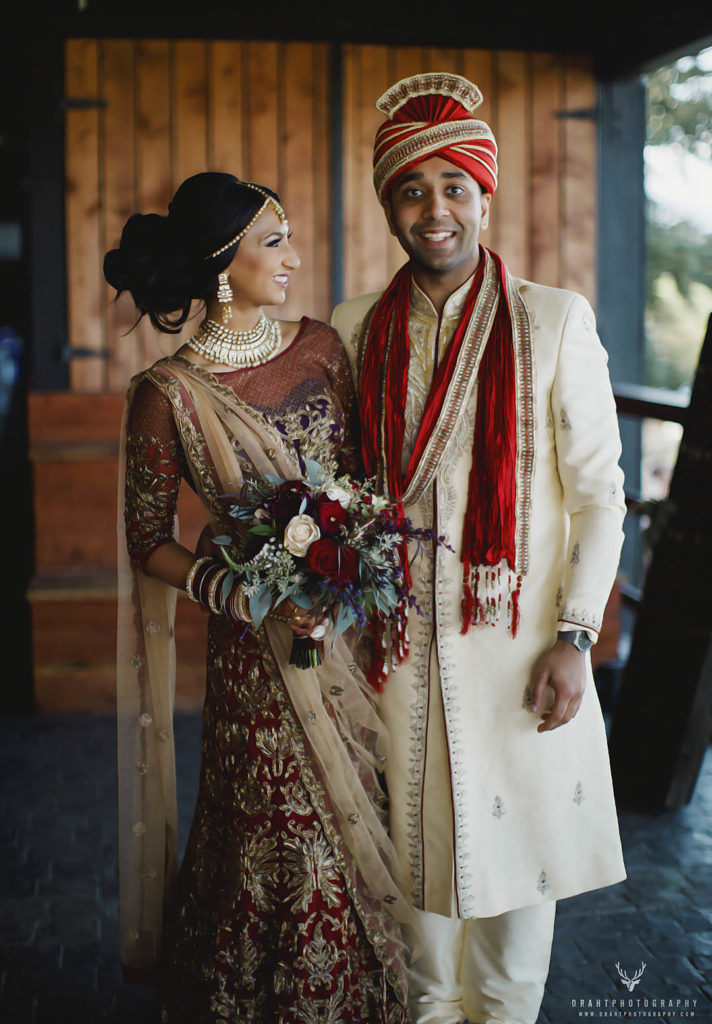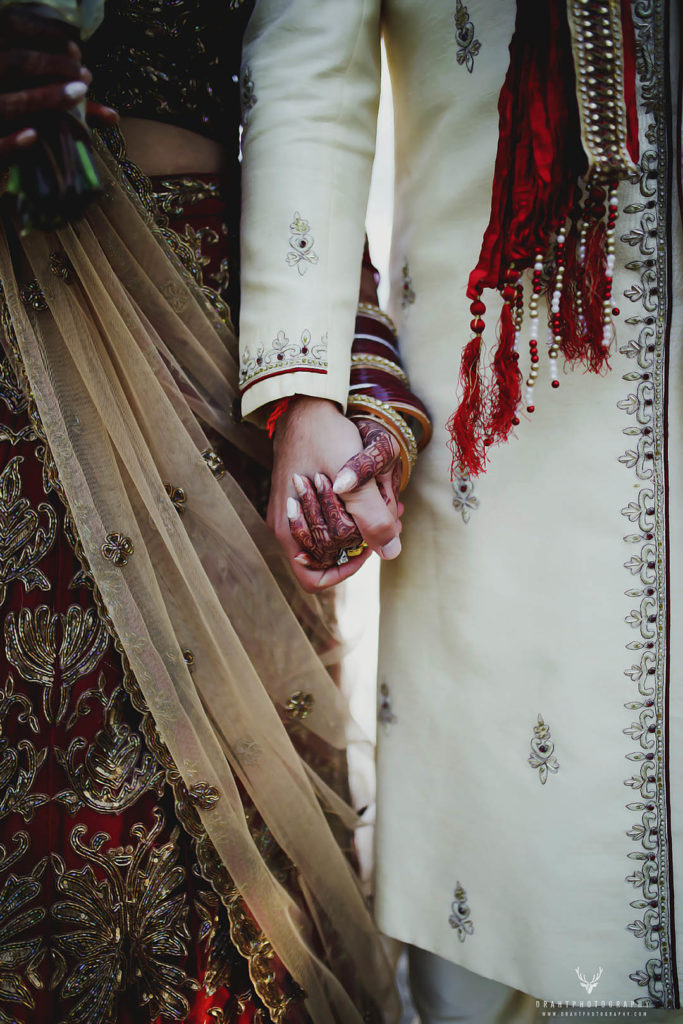 "This will make a great teaser shot." I said to myself, completely unaware I'd take a much better one the next day.
After, it was time for bridal party formals. The colours made it easy, and everyone was pitching in with great ideas. First off, though, the details and the umbrellas.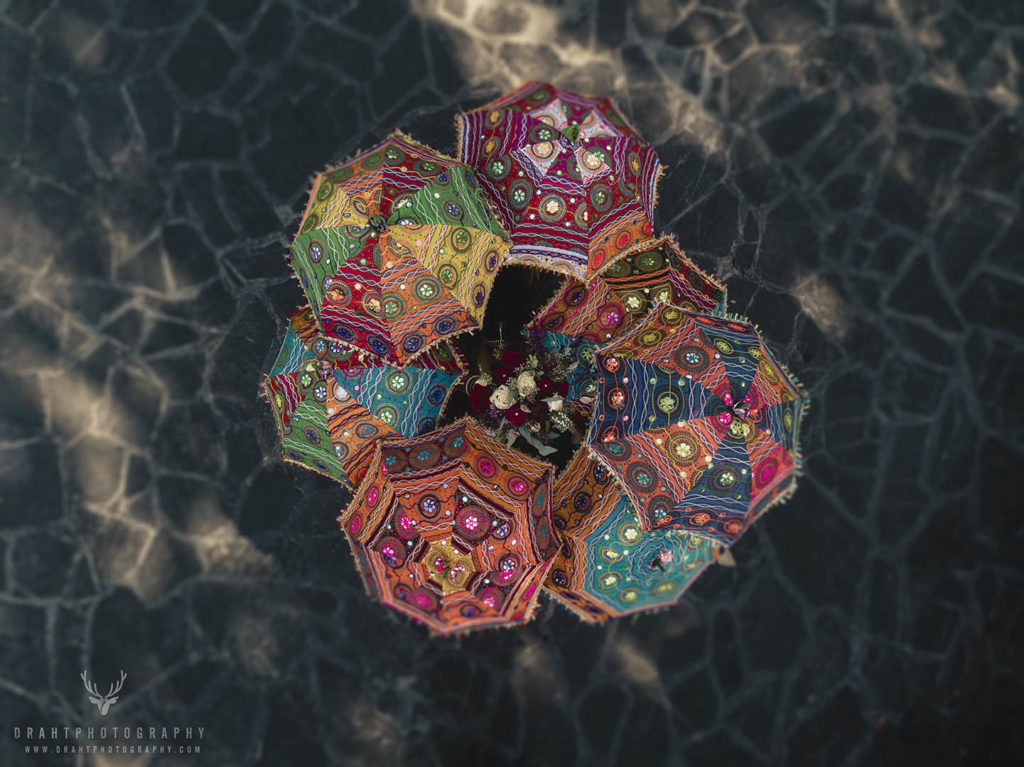 Our amazing videographer, Pixel Pro Productions, caught incredible drone footage from above.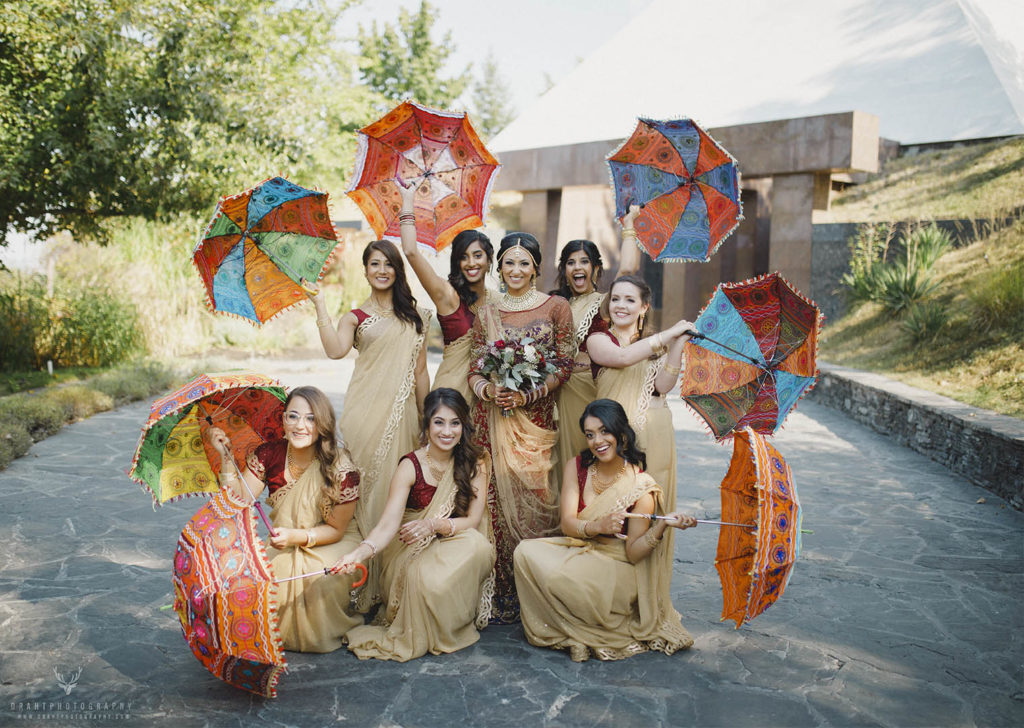 I concentrated more on the footage below. With such a big bridal party, it was easy to find fun poses.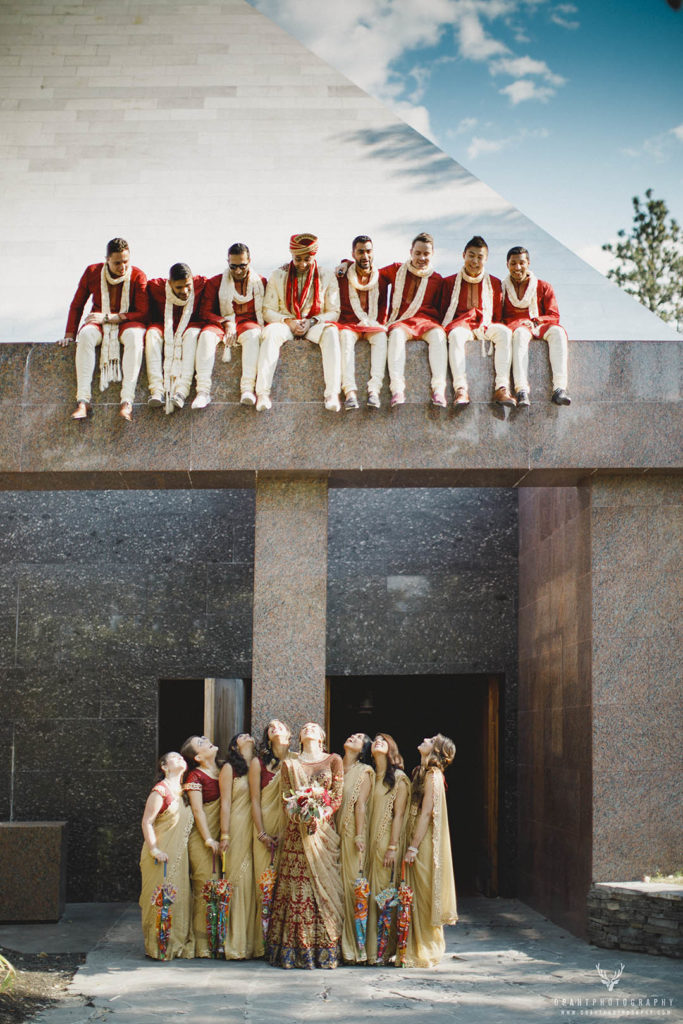 Our time went quickly. We had a ton of fun – getting a good mix of serious, formal photos and fun goofy photos. Our groom took off, he was about to make a much bigger entrance.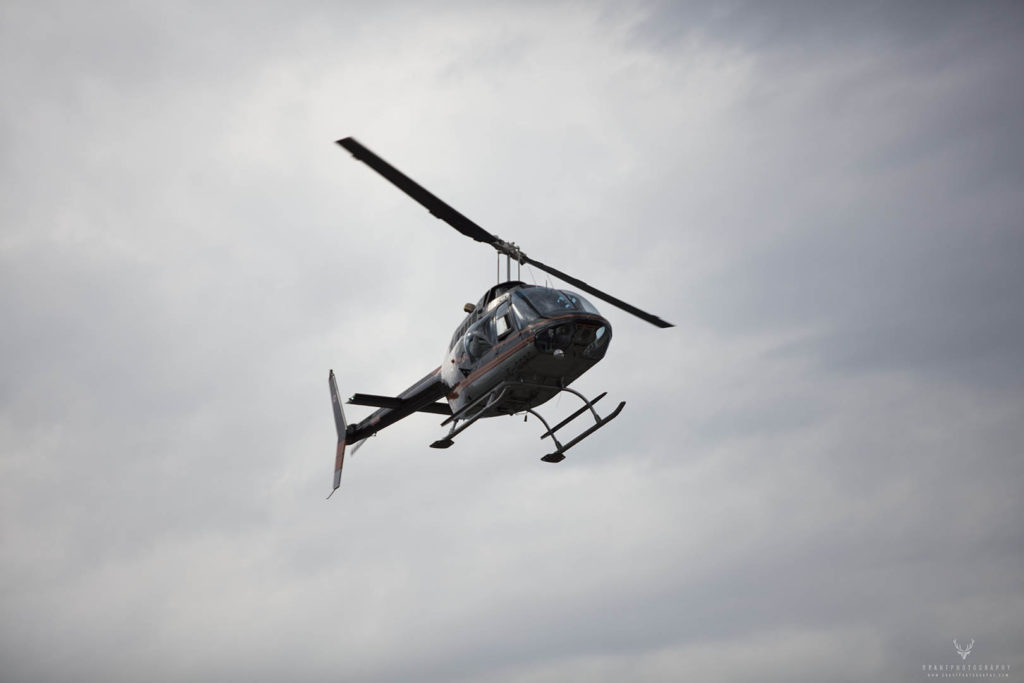 The helicopter landed, kicking up a lot of dirt. It was one heck of an entrance.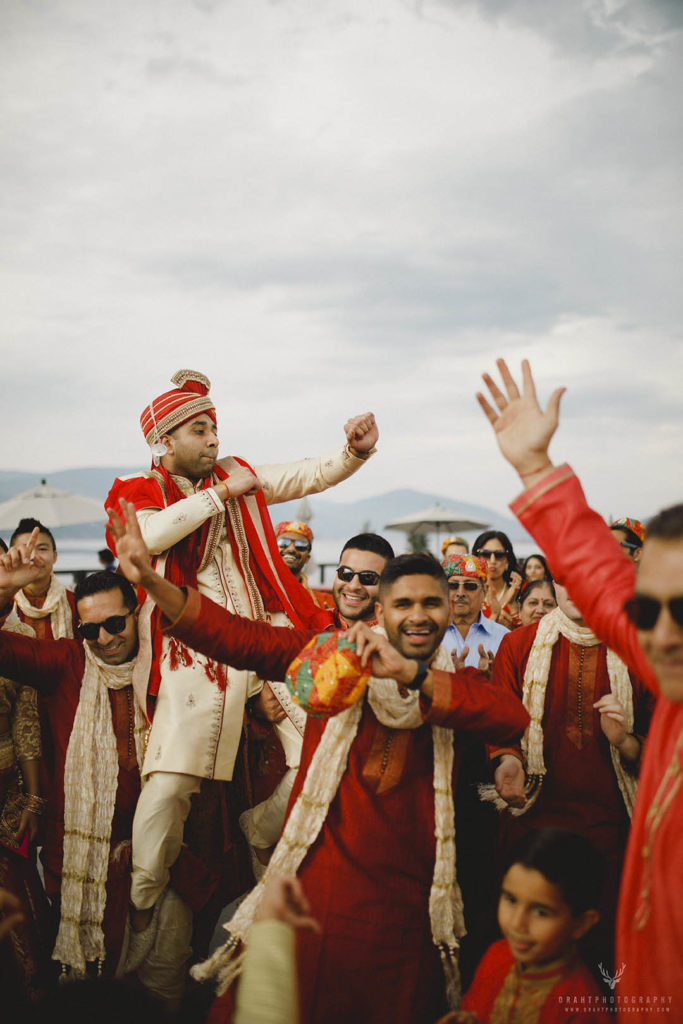 Wild is the word I'd use to describe it. On both the bride and groom's side, everyone was dancing and laughing.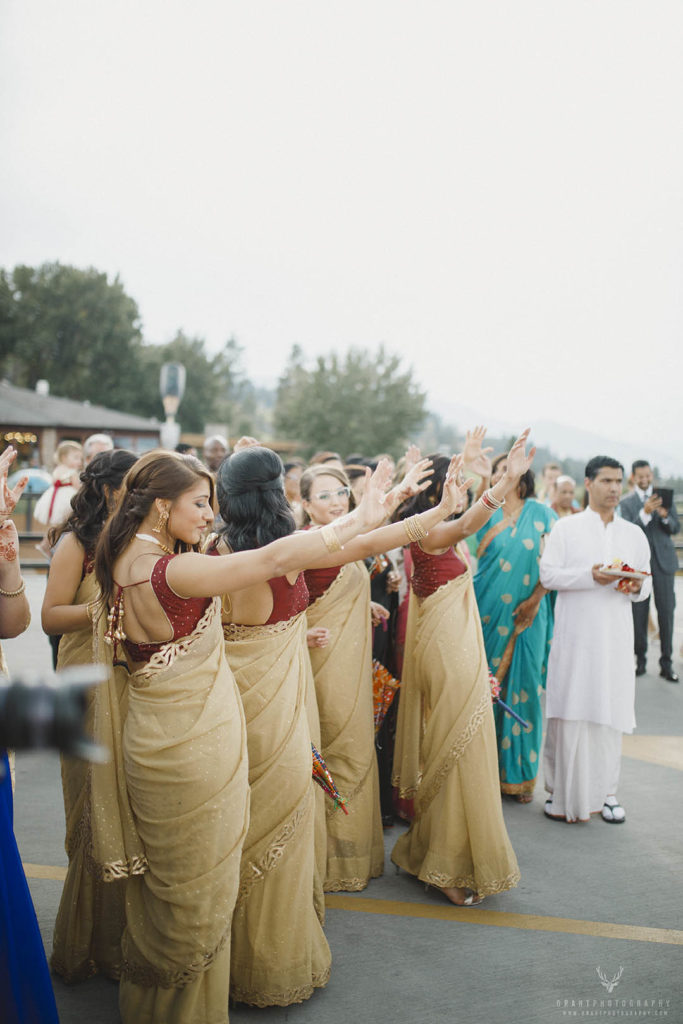 The ceremony was quick – about 45 minutes. It was beautiful. A lot of symbolism and tradition. Next, we had my favourite time. When I get to spend a bit of time with the couple of the weekend. And I had some plans.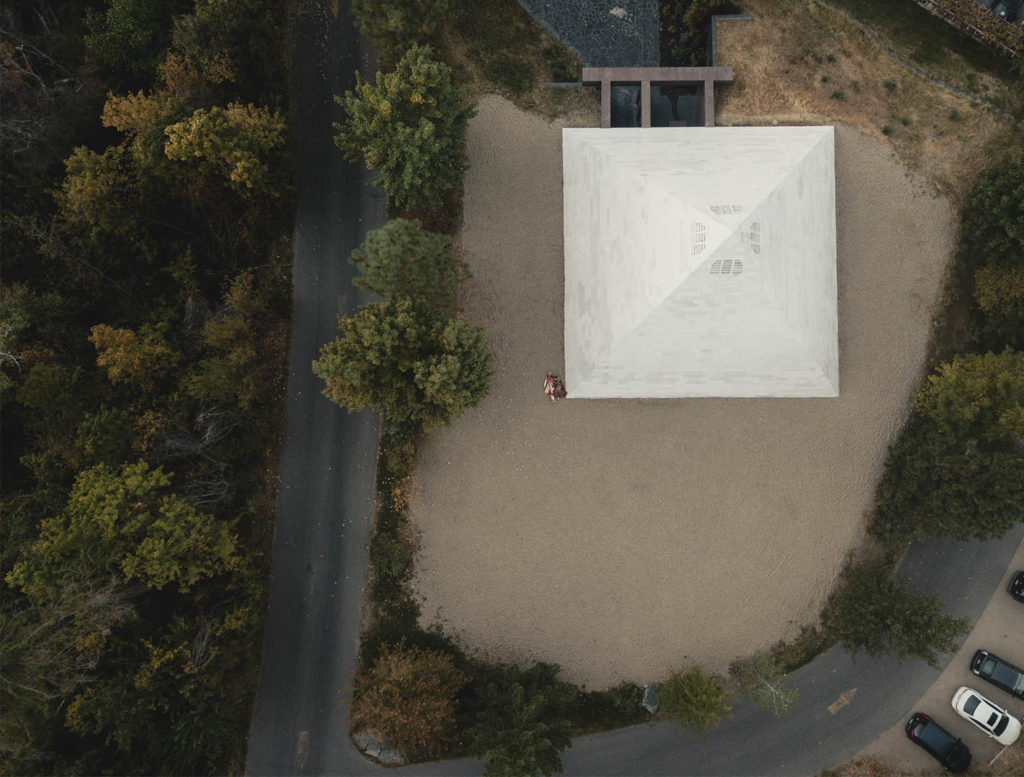 First, a little background. The celebration took place at Summerhill Pyramid Winery. When you've got a massive pyramid, you tend to want to take advantage. I was hoping for some strong sun, so I could get them to lie in the shadow. However, I got an even better idea.
Nerd note, in photography, we have a rule called the rule of symmetry. I knew right off the bat, I could get a pretty symmetrical image out of both sides of the pyramid if I took the photo from just the right angle. Next, the trees to frame them, and we've got an eye catching composition. Although it is a landscape composition, used to establish context.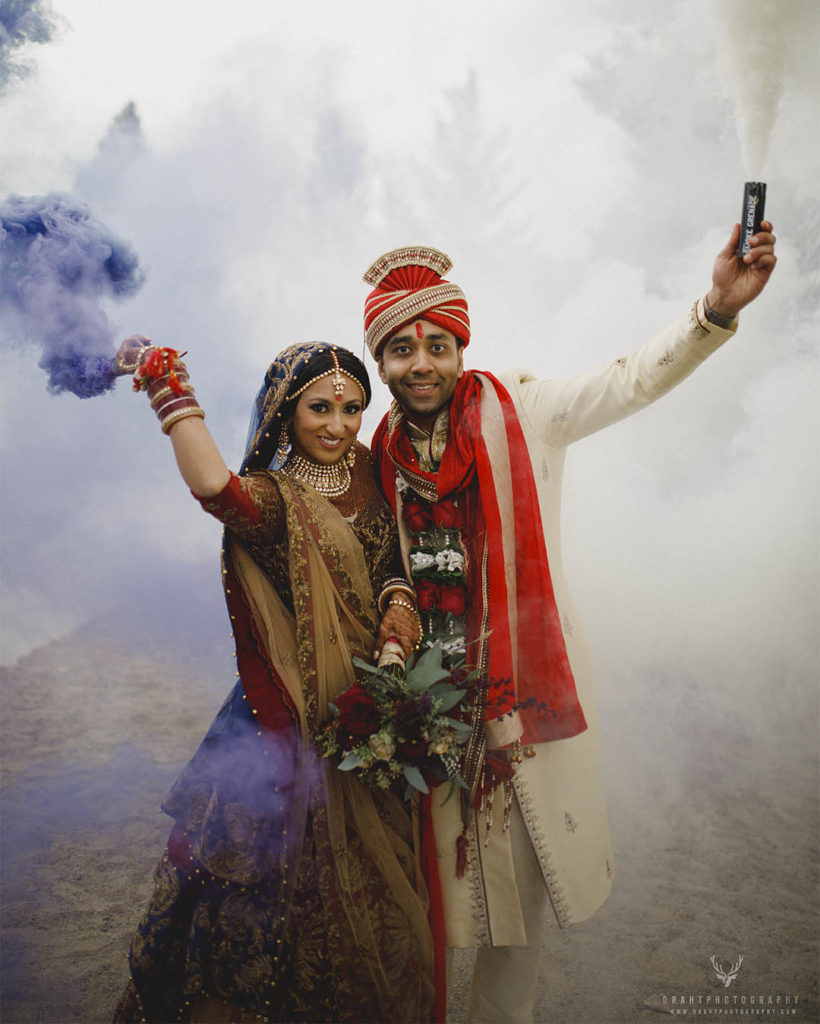 After a few serious compositions, we ended our shoot with our smoke bombs. In my instagram, I made a fun cinegraph.
Day 3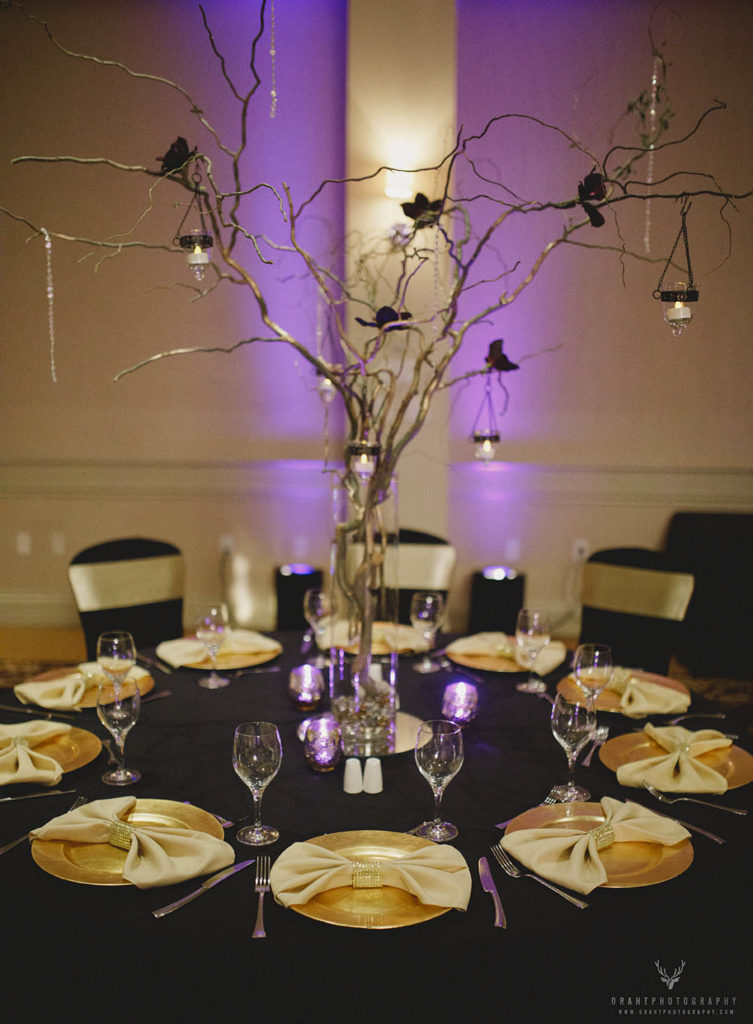 For a late September evening, it was a little windy. I walked into the ballroom at the Delta Grande, and saw one of the most stunning setups I've ever witnessed. TTM Events had put together something amazing. After taking a few detail photos, I headed outside to greet the bridal party.
I felt confident, as our groom had let me know in no uncertain terms he was all about the photos.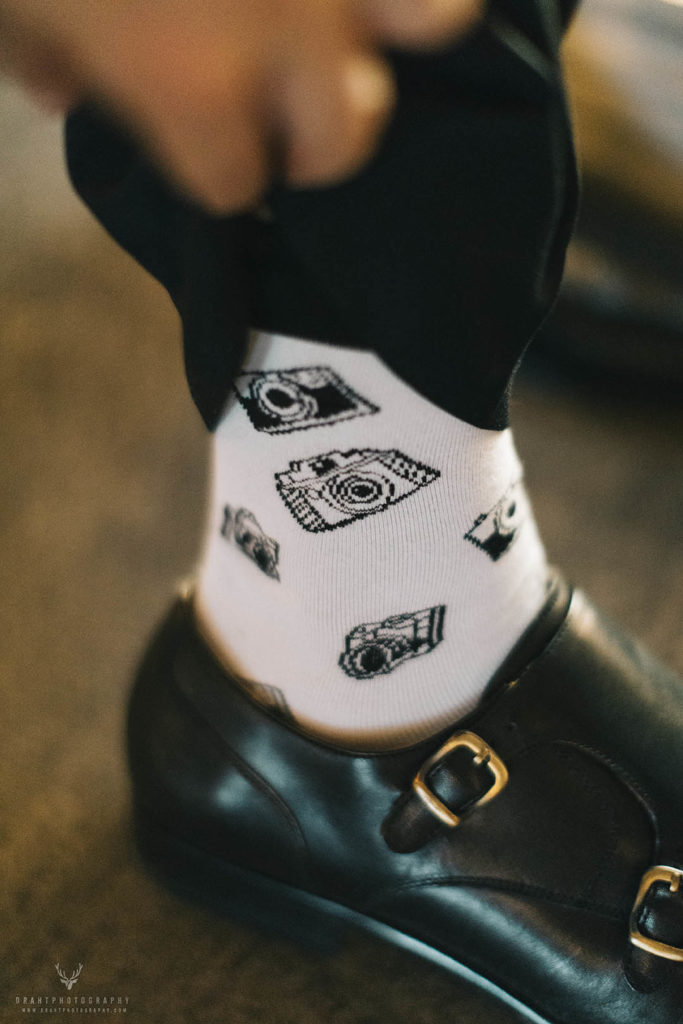 Near the waterfront, we had some great backdrops. This couple had given me quite a bit of freedom, and I already had some incredible spots picked out.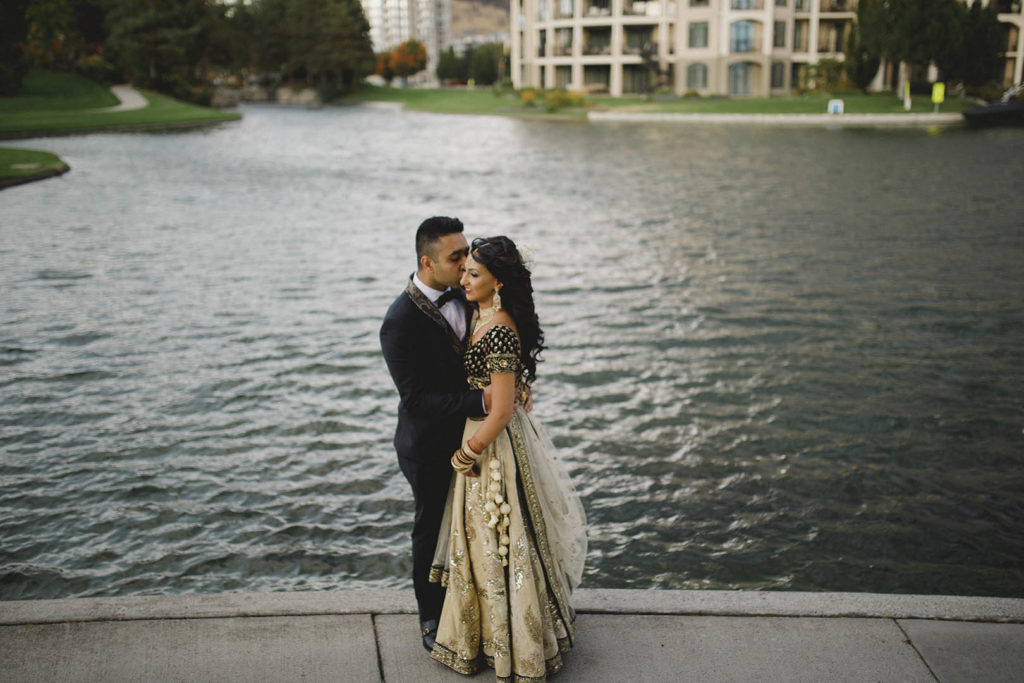 This is our bridal party. You can see it was a little windy that day. I personally love the effect – dresses billow, and hair flows unpredictably in the wind. Just behind us, the sun had began to set.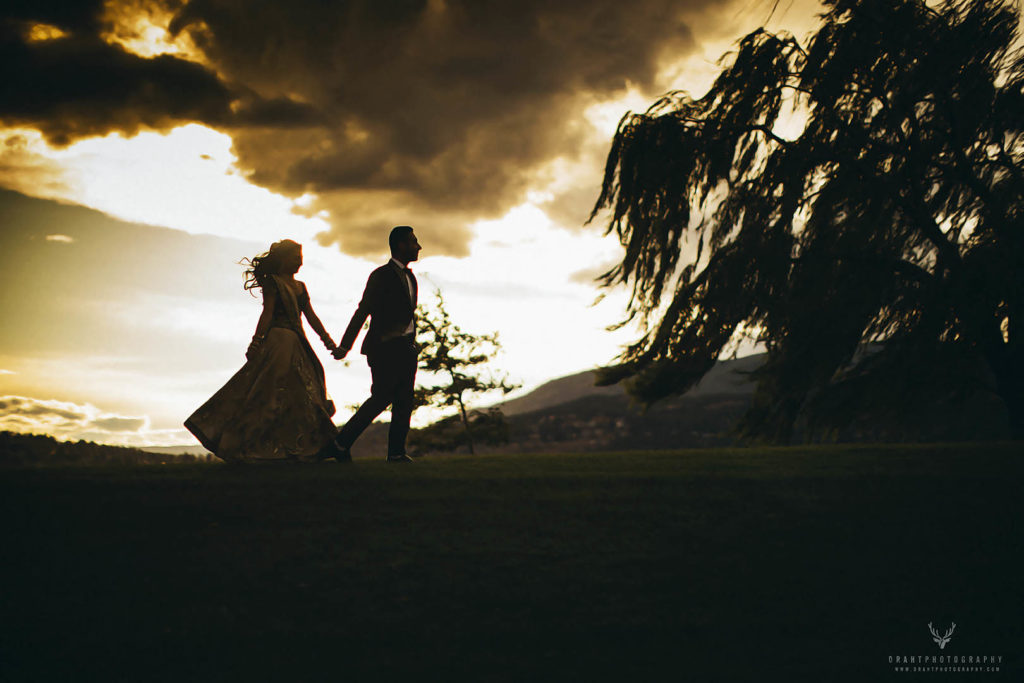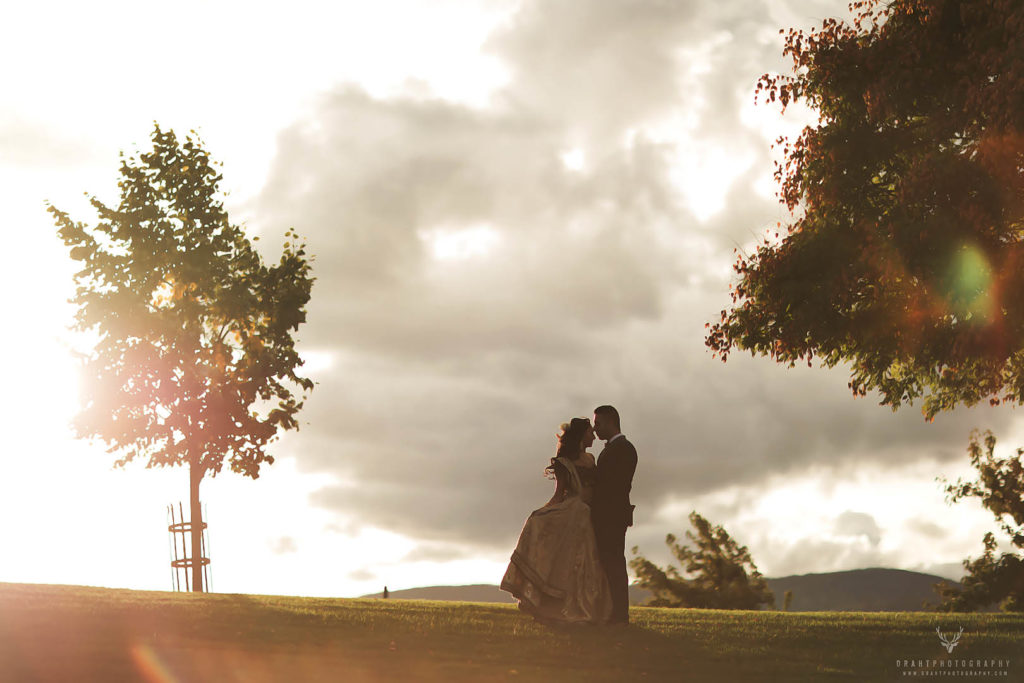 The setting sun, almost looked like something from Gone with the Wind. After getting pretty artsy, we made our way to the veranda to finish up.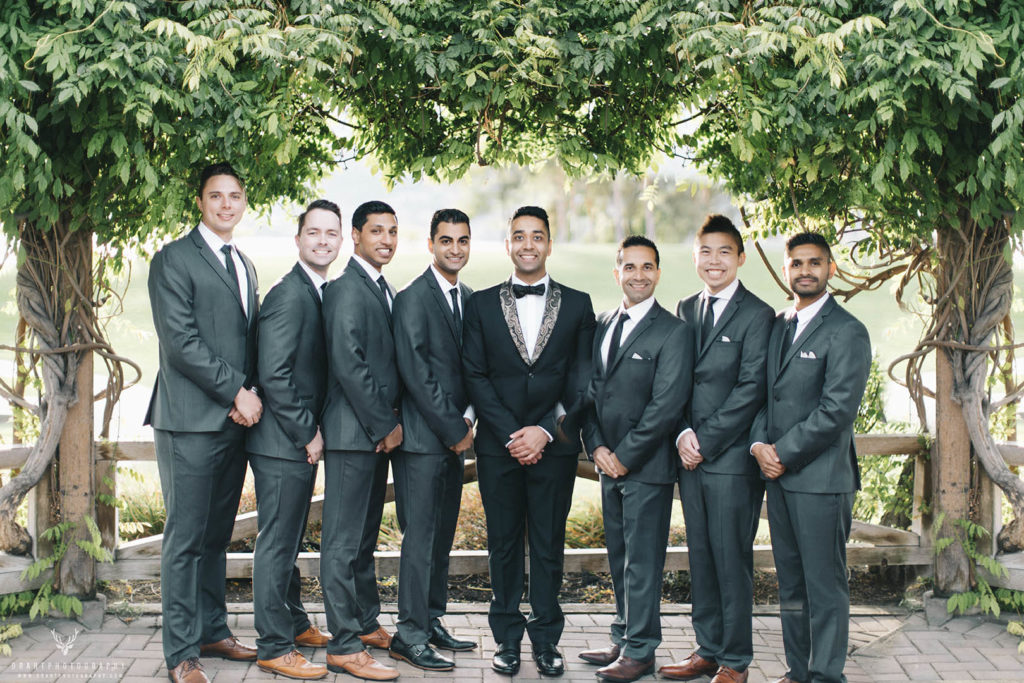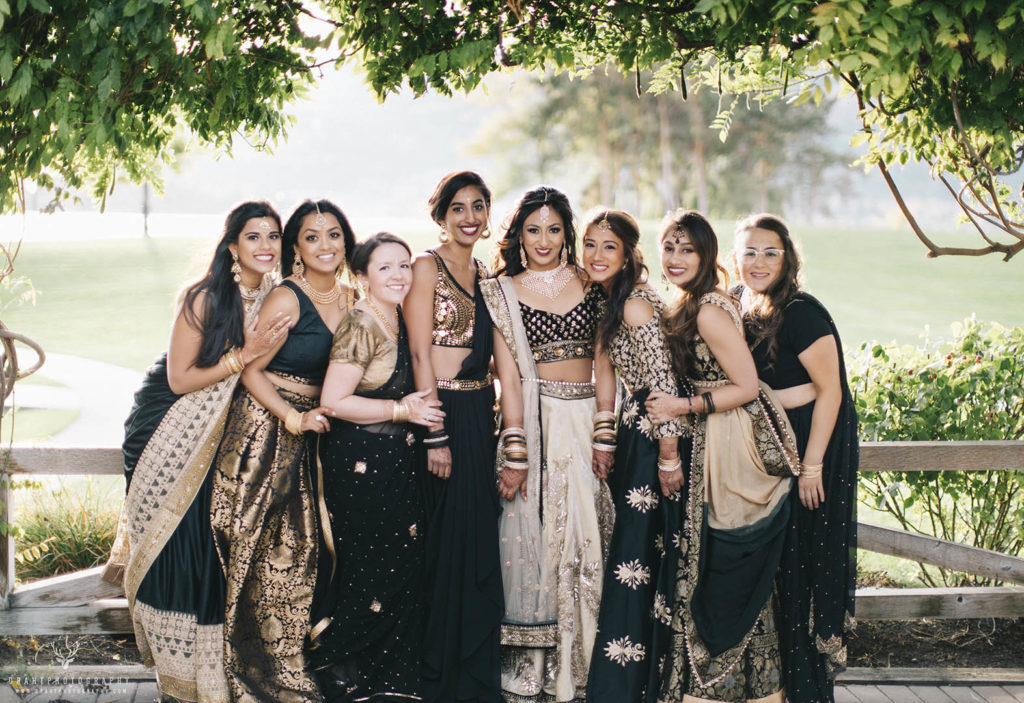 The sun provided the perfect backdrop. The lush greens and rustic fall tones made for the exact composition I had pictured in my head.
But we weren't done showing off. I had one last shot in mind, one I had been planning for several weeks.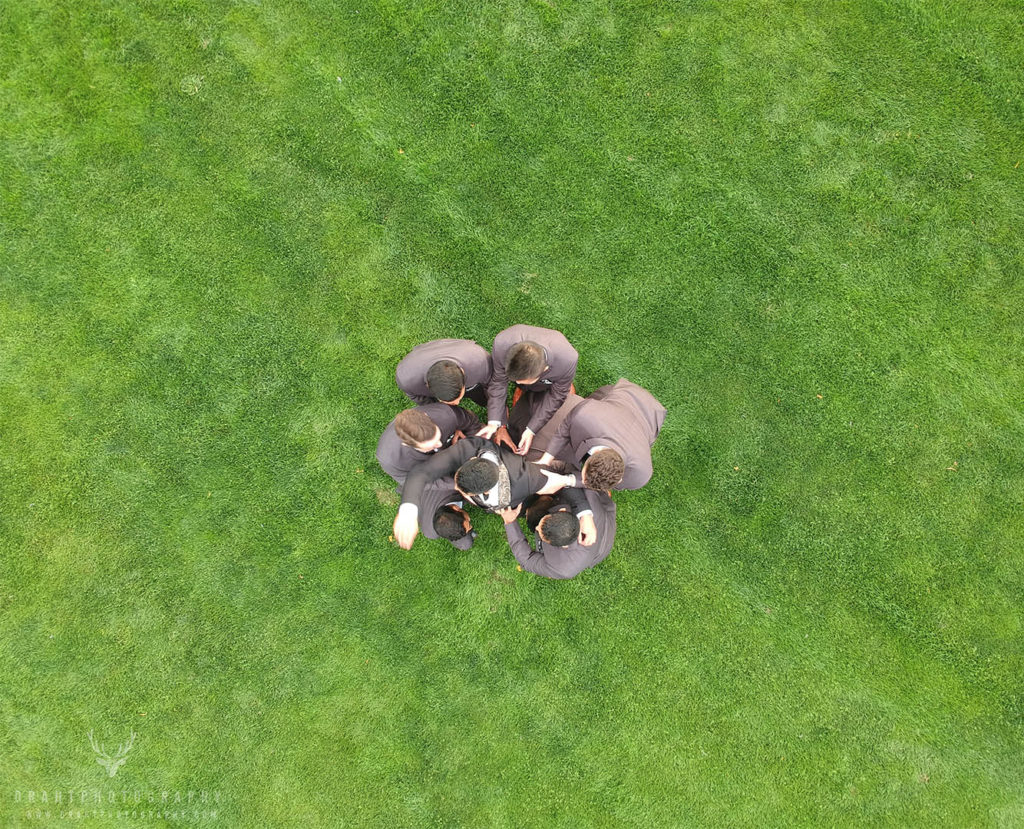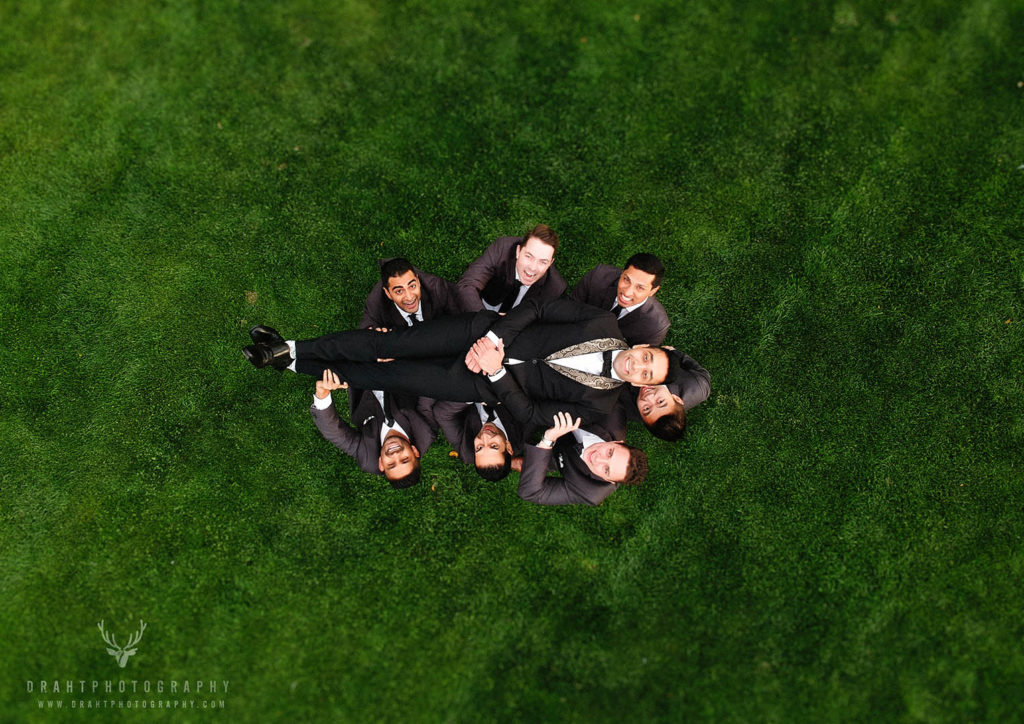 The guys pulled it off perfectly. We walked along the waterfront, excited for dinner and dancing.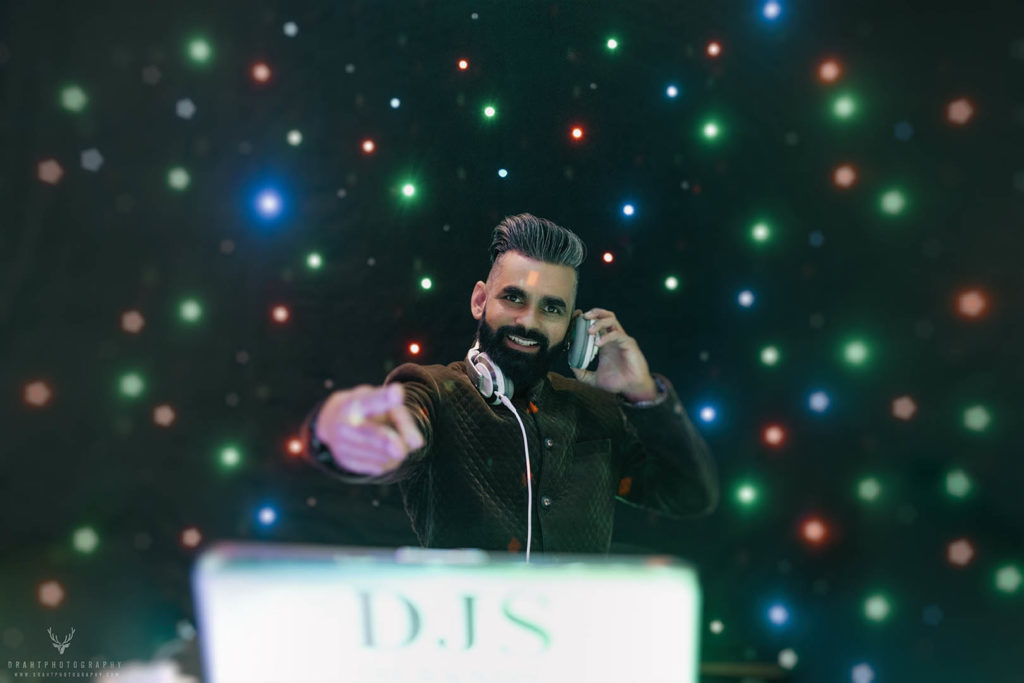 DJ Sandy was ready for us! The whole room was bumping the entire night. I have special respect for those DJ's who use fog and laser lights. They just look incredible.
And speaking of incredible, I photographed hour after hour of dancing. Fast songs, slow songs, and dances where everyone joined in. The choreography was out of this world. The bridesmaids and groomsmen even had a choreographed dance that detailed our Bride and Groom's life up to this point. Props were used.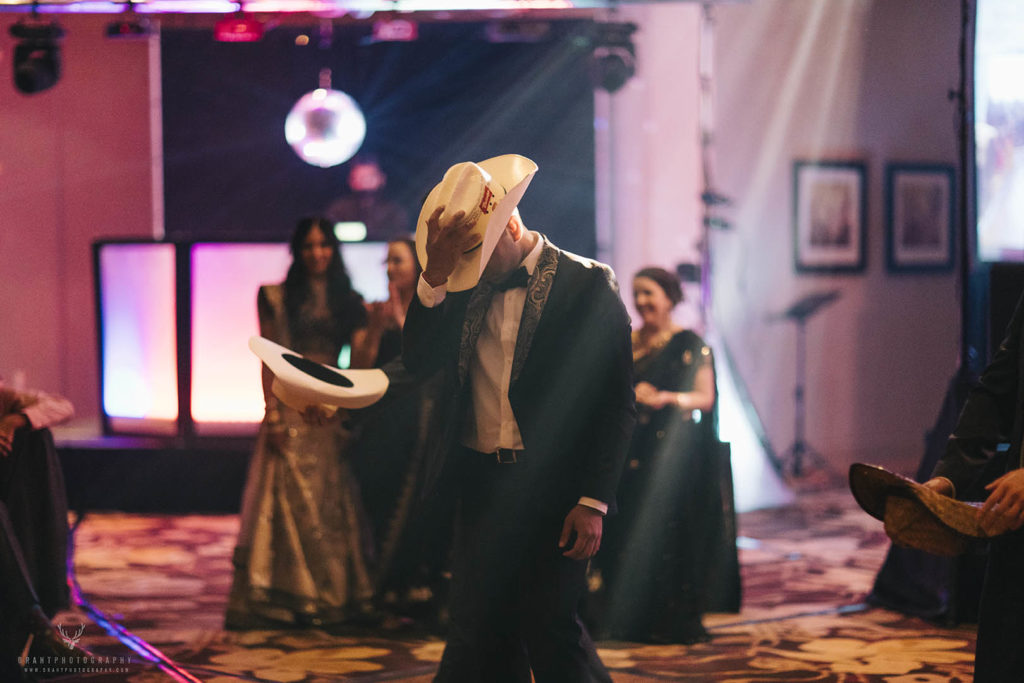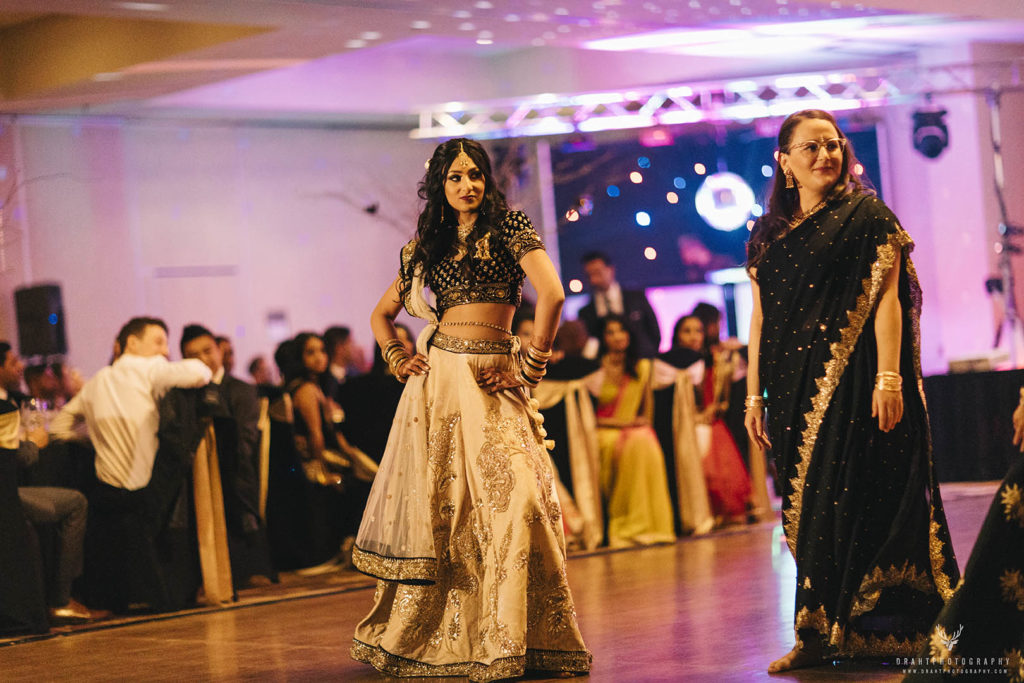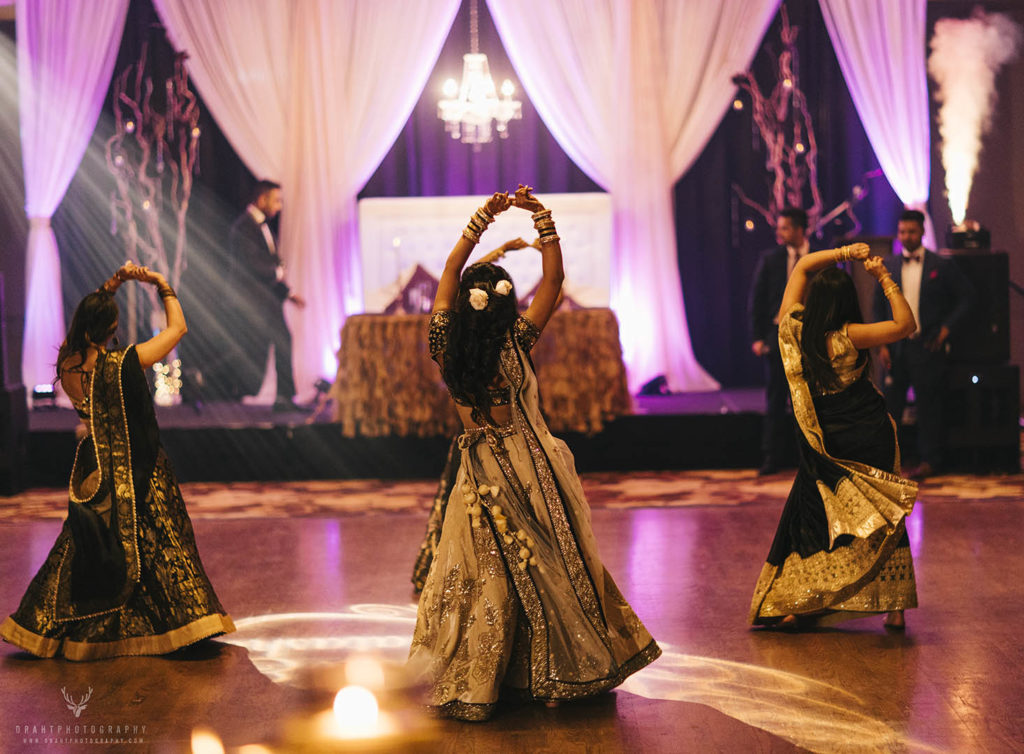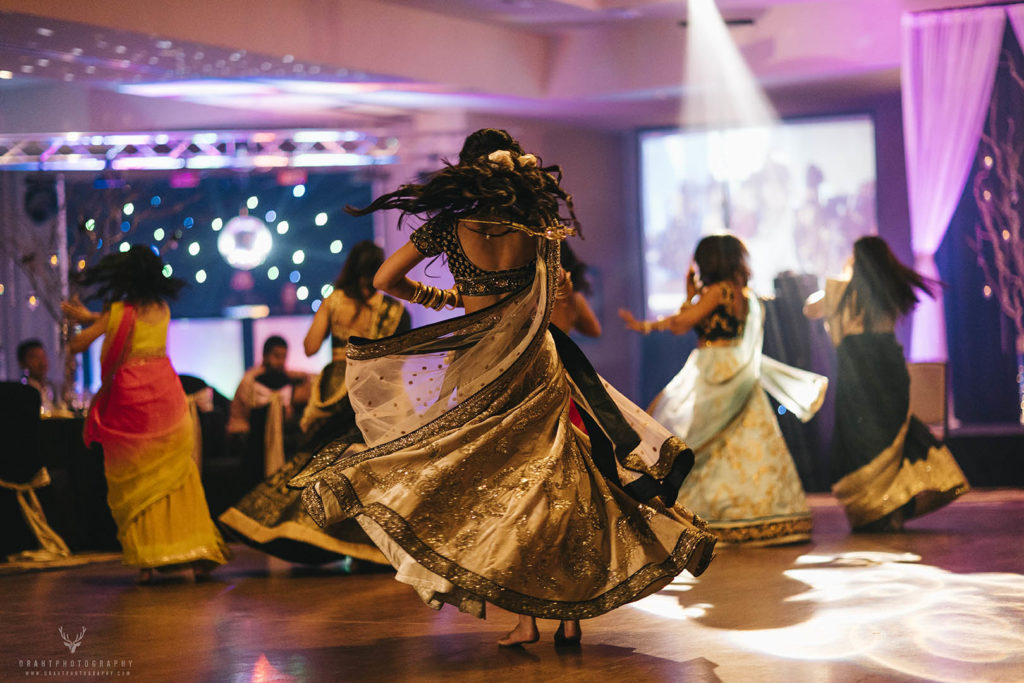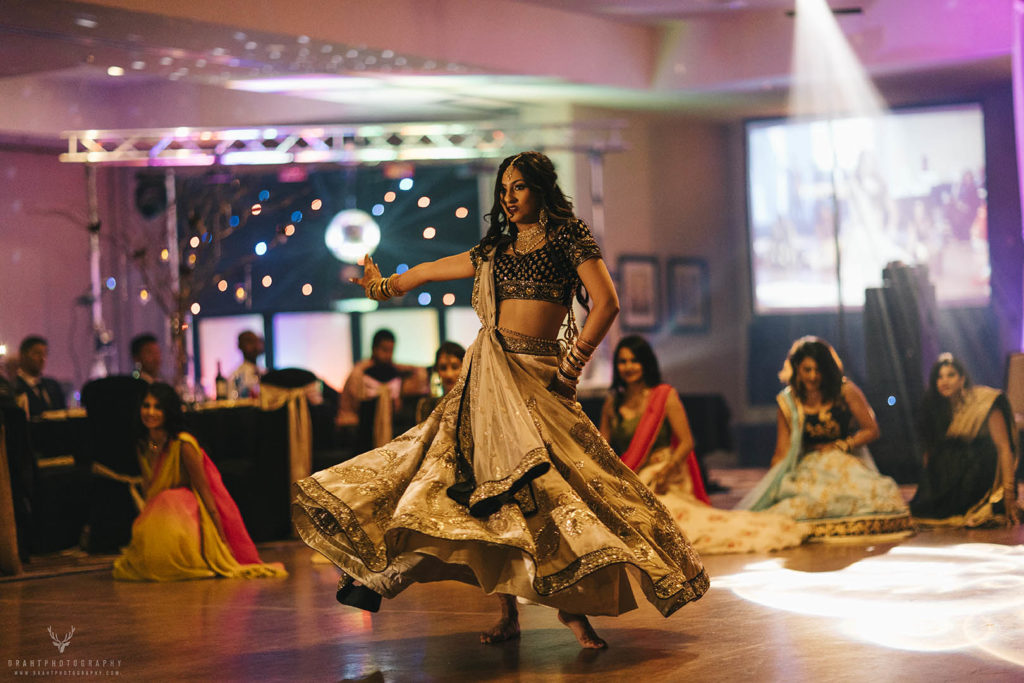 Look at that setup from TTM. Just astounding.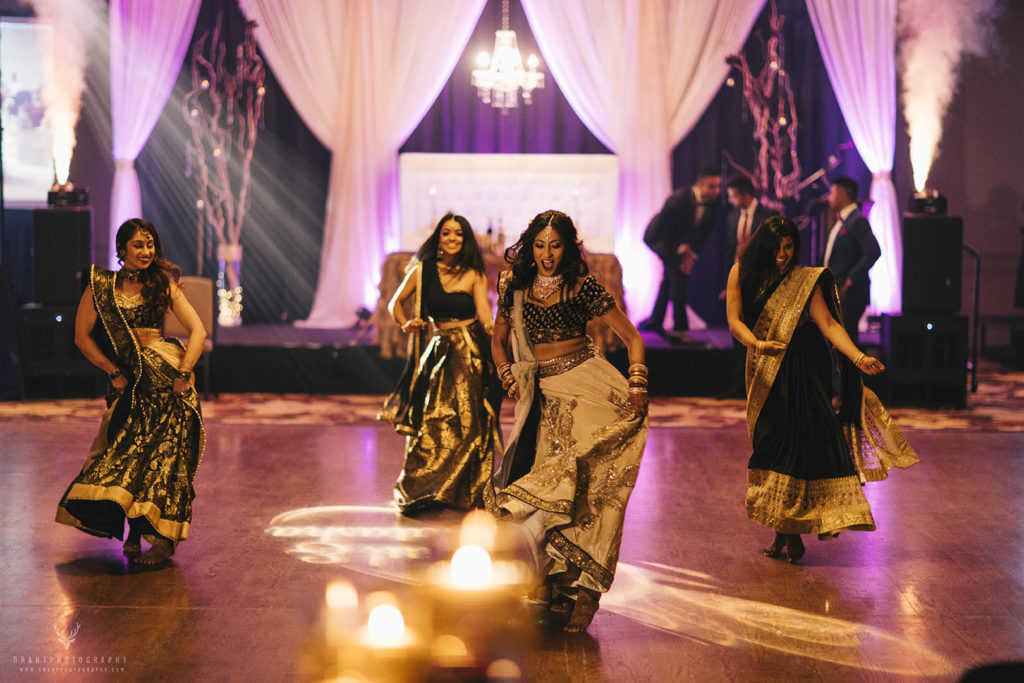 Keep in mind, this isn't all the photos. This is a sampler, and at 60 photos, the biggest I've ever put together.
There's a full album coming out in about 3 weeks, though. It's a wonderful story I can't wait to put together for you. The views are incredible, and the dances are mesmerizing. This is simply a sampler, a selection of a few favourites throughout the day to show you.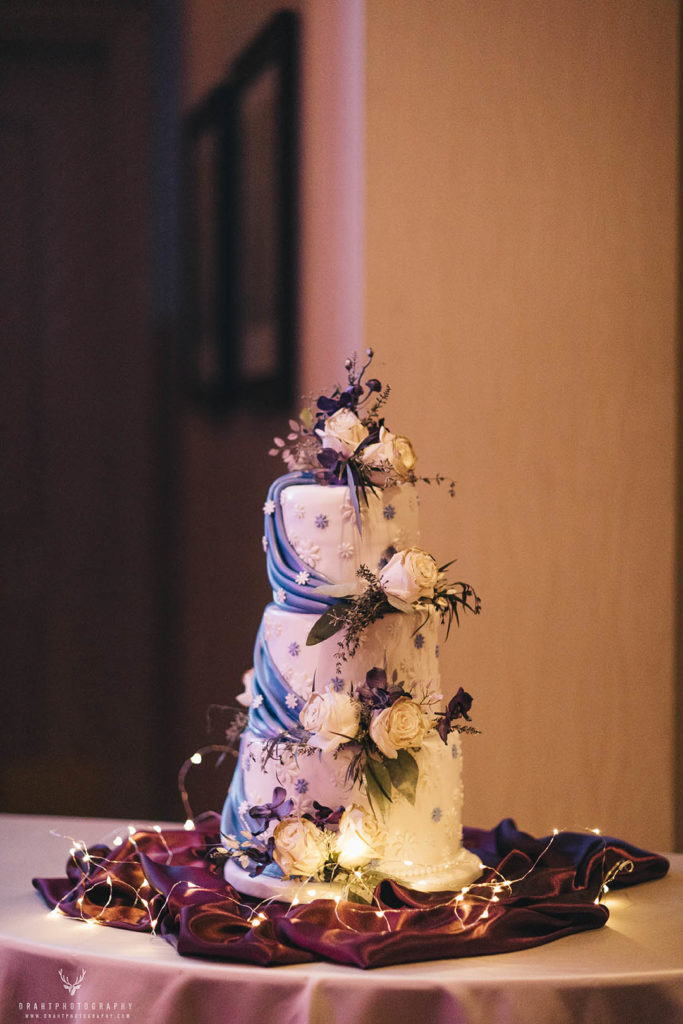 If you personally know the bride and groom, feel free to contact me by clicking here. Let me know who you are, along with the bride and groom's name, and I'll make sure you get a link to the finished album!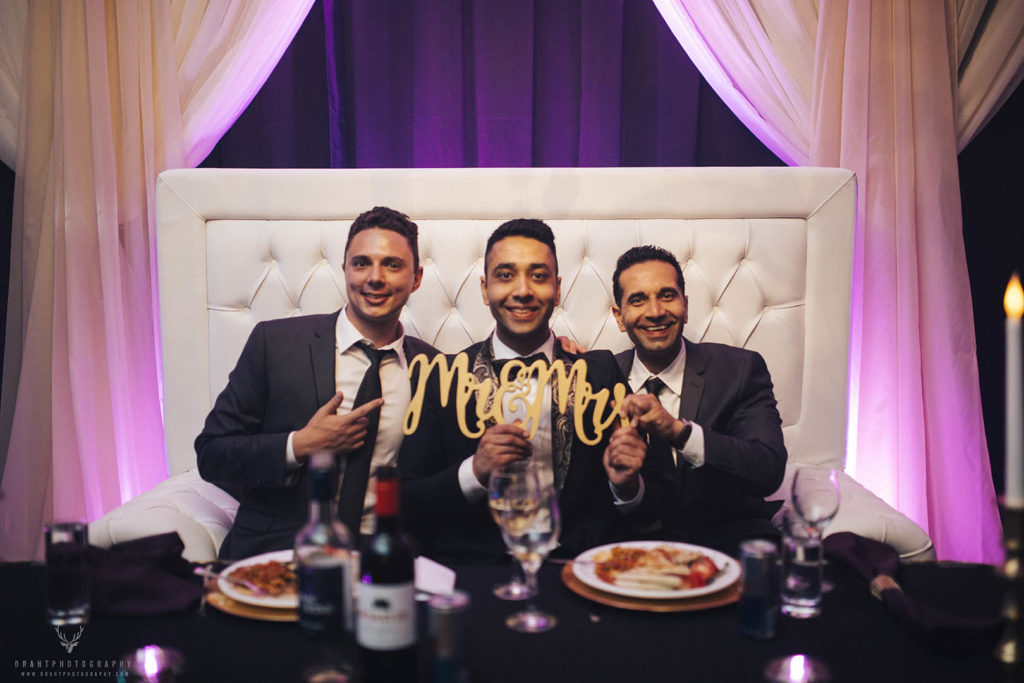 If you know someone who'd like to see this sneak peek, feel free to click one of the share buttons on the top or  bottom of this entry, to share and tag them! Although I try to get the word out, a lot of family members and amazing bridesmaids and groomsmen don't know about these samplers!
Thank you for reading this far. I put a lot of time and work into these sneak peeks so it's great that you've taken the time to read all this!
If you'd like to keep a picture, even on mobile, just click it and it will open in a separate window. You can save it from there.
Lastly, if you'd like to stay updated, feel free to follow me on Instagram, facebook, twitter, or Tumblr for frequent updates. Talk to you all in a few days!