Y
Yup, that's our cover image, though it was a pretty tough choice. When you've got a header like this, you want to show it off: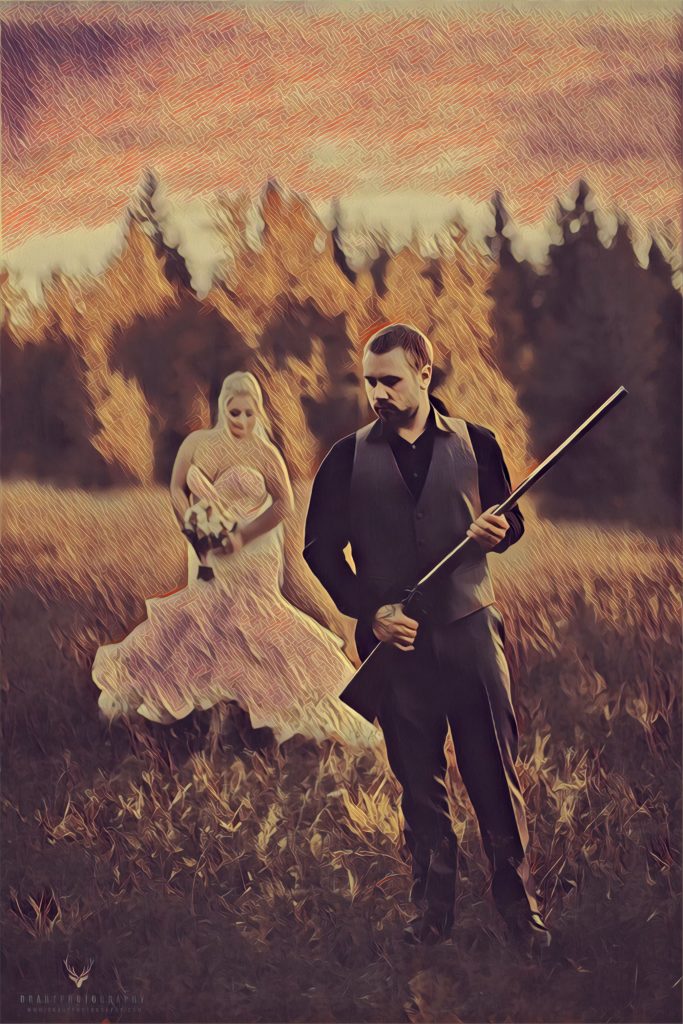 We're lucky today. I got to shoot at the amazing Camo Events. It's huge and right by Lumby, so you can really party. And forest is just everywhere. On the grounds, there's a giant love sign, tall trees, and surprisingly enough, tanks. Yup, in this venue you can ride in on a tank if you want to.
So that's where we begin, with dress shots.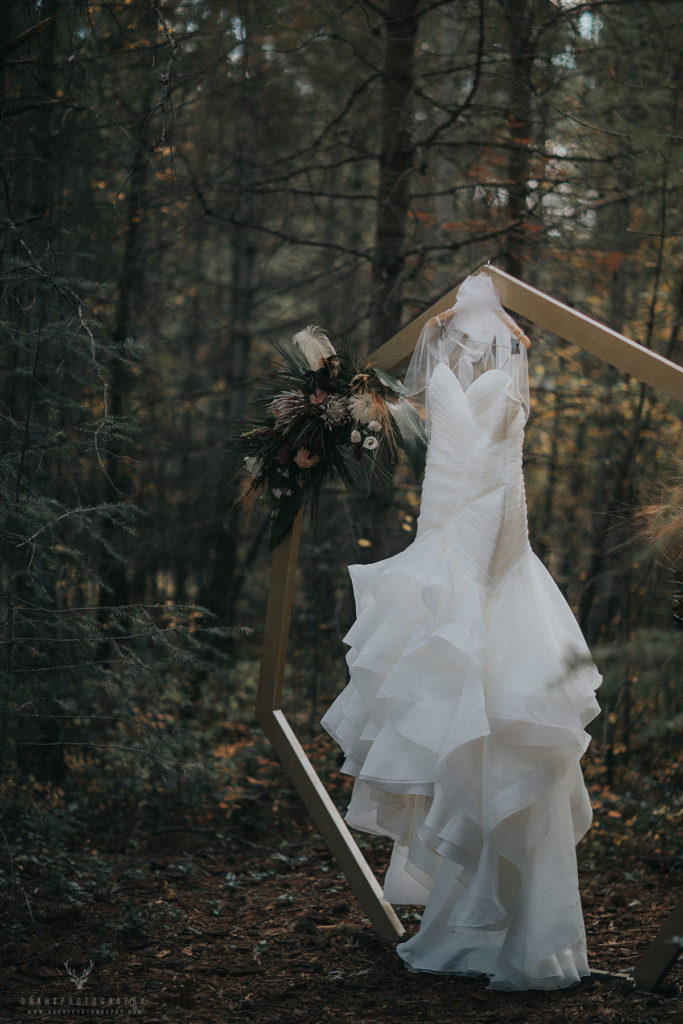 I fell in love with it immediately. Look at the hand-folded patterns right above the train.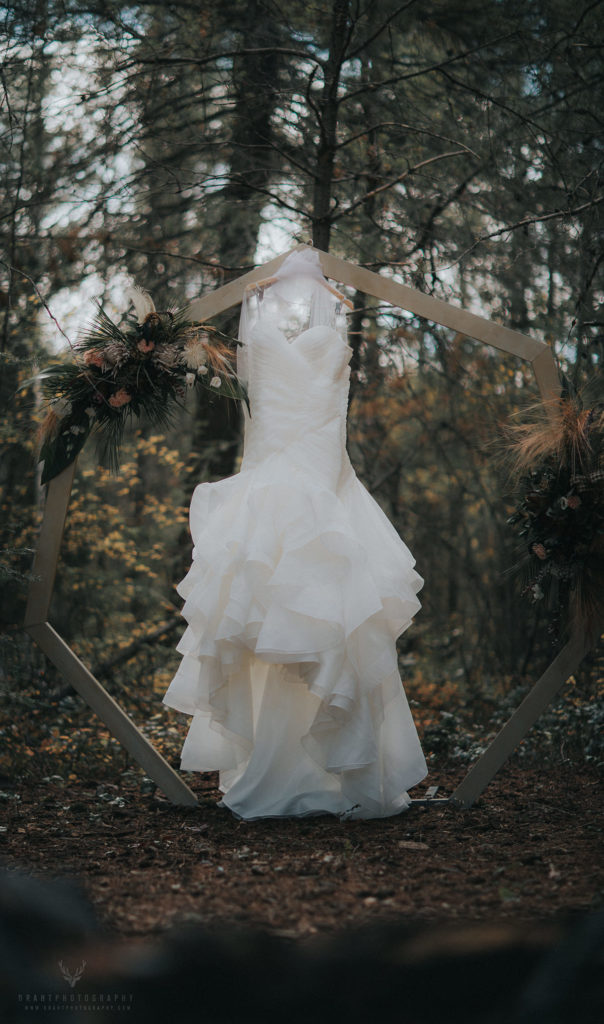 The fall leaves complimented it just perfectly. I love a good fall wedding.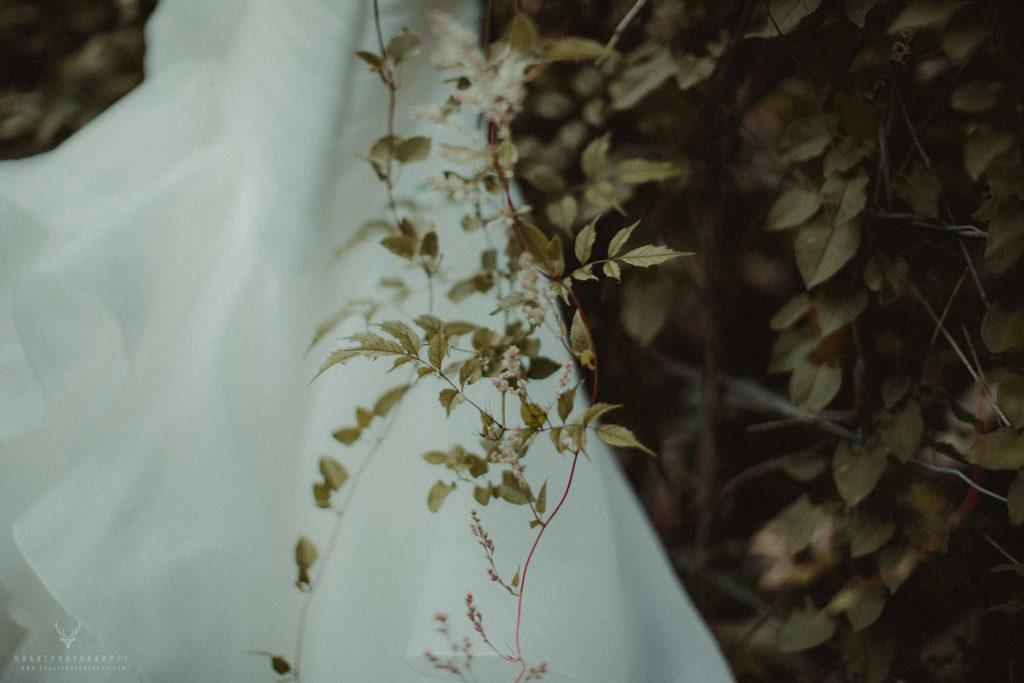 Then, the rings, and the flowers.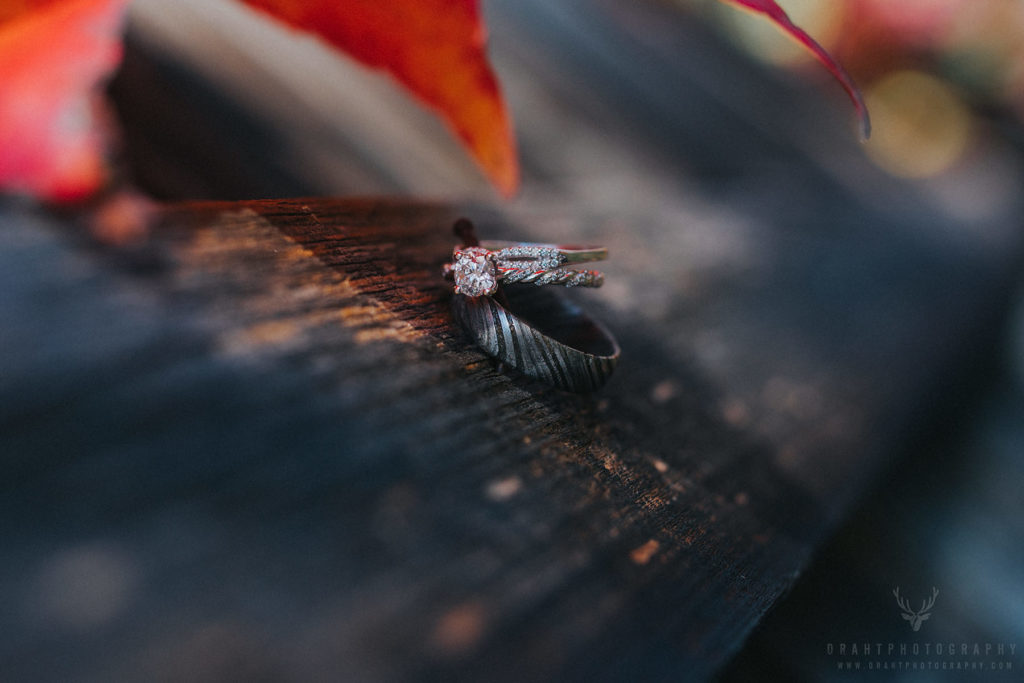 I found an old nail on a fence. The reflection of the fall leaves in the diamond completed the look.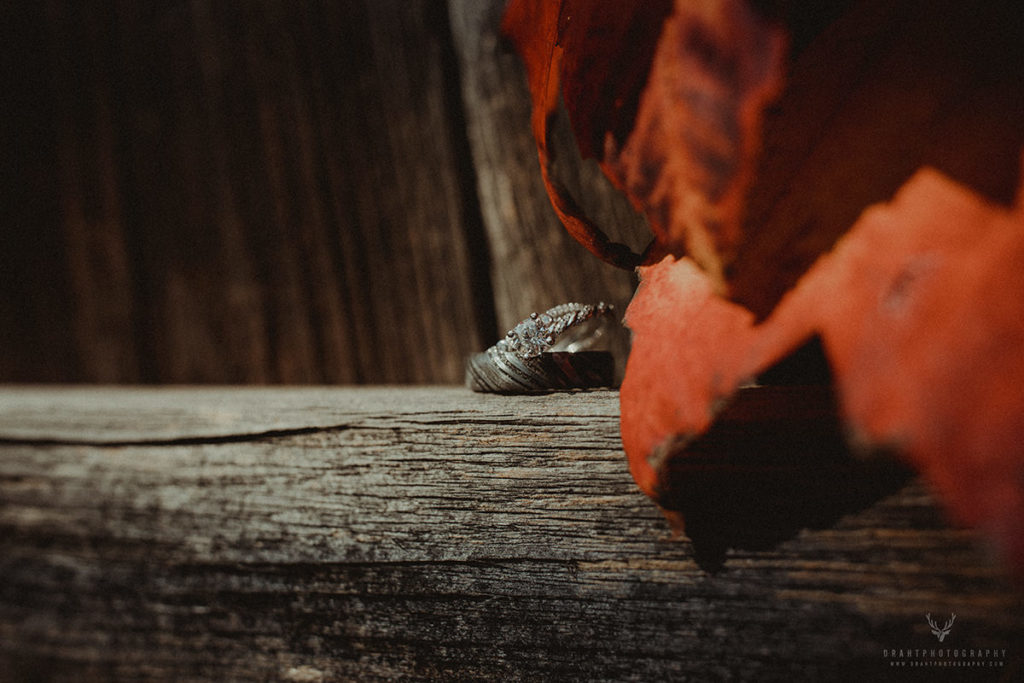 A shard of light, filtering through the trees, complimented the flowers.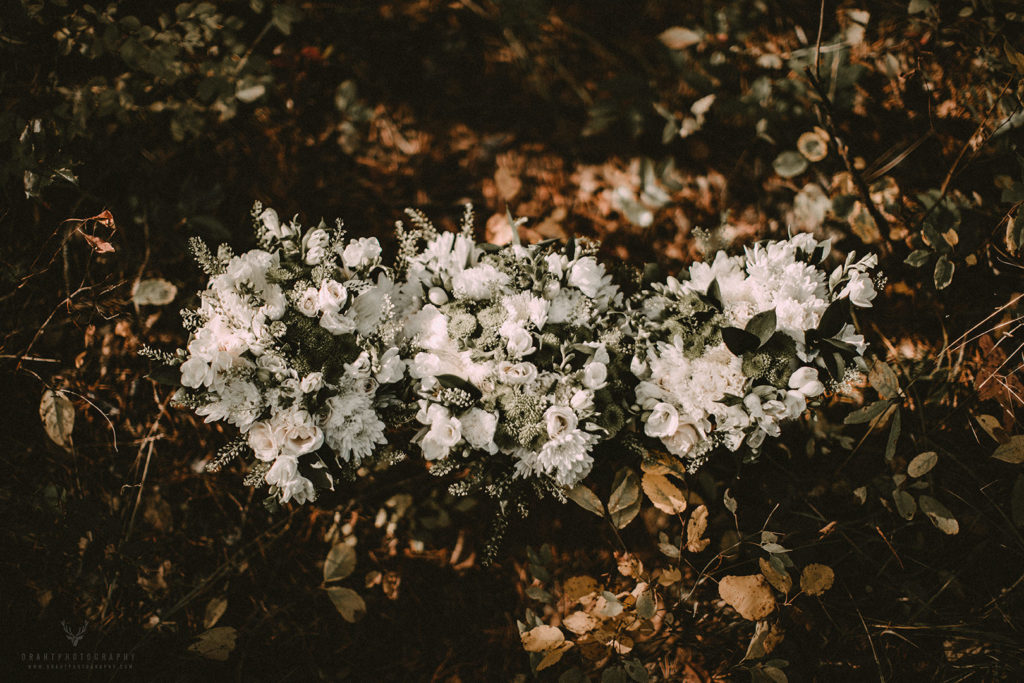 Inside, our groom was just getting ready. There's an old saying – Chekhov's gun – "If you say in the first chapter that there is a rifle hanging on the wall, in the second or third act it absolutely must be used."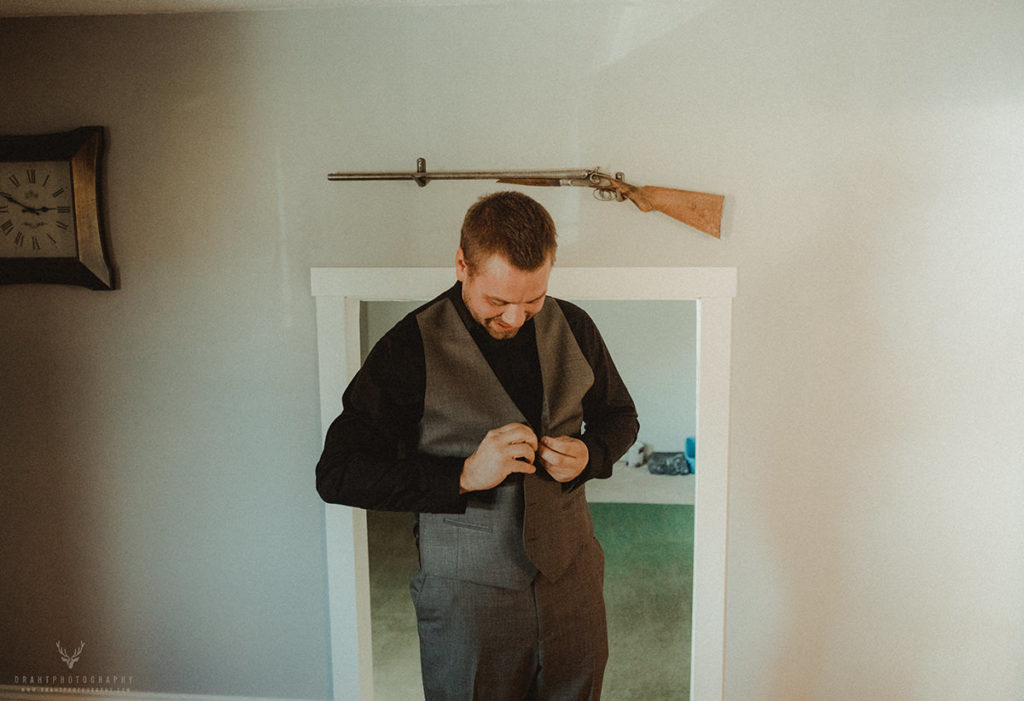 We used it.
Later.
A quick portrait, and I was on my way back to Camo.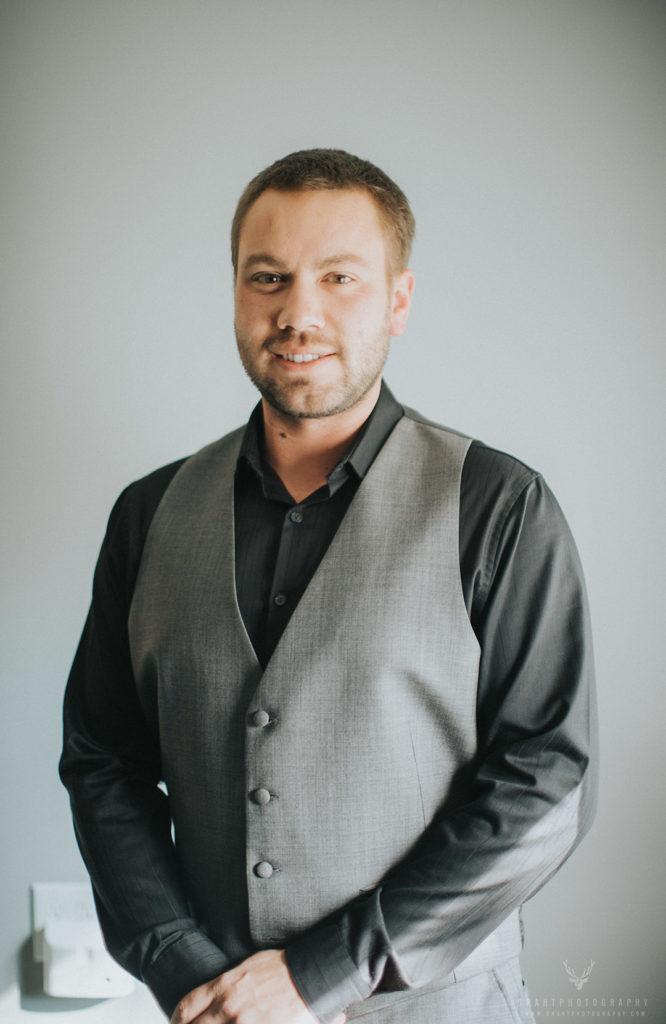 Back at the girls, Mom was helping with the dress.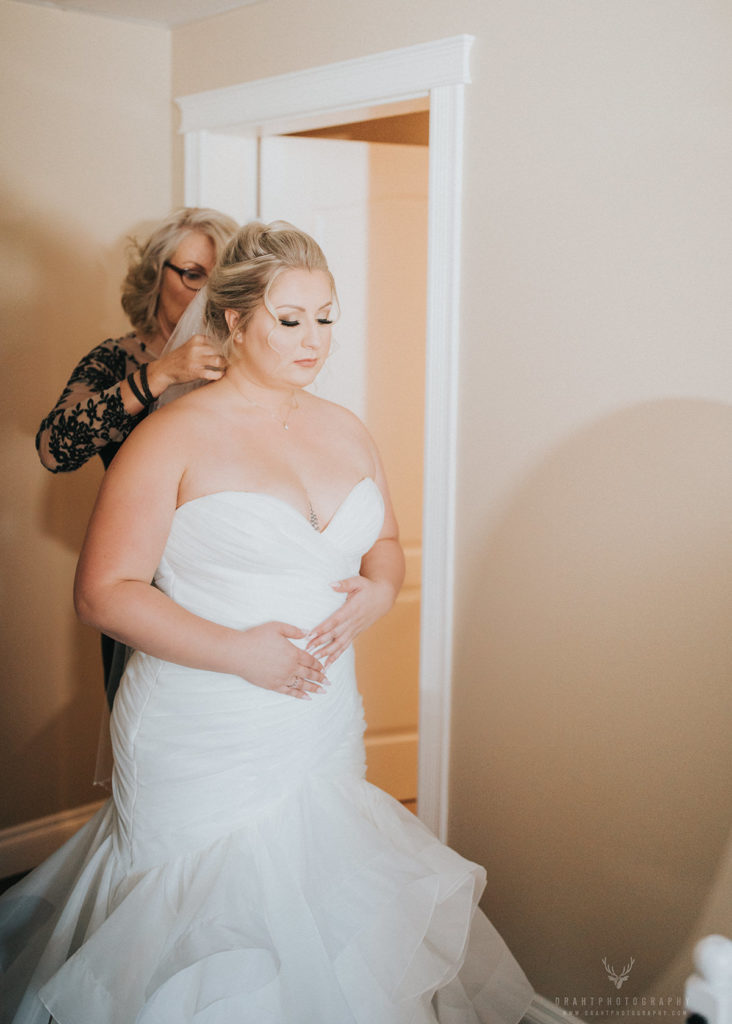 Of course, Dad approved. Daddy-daughter first looks are becoming a favourite thing of mine.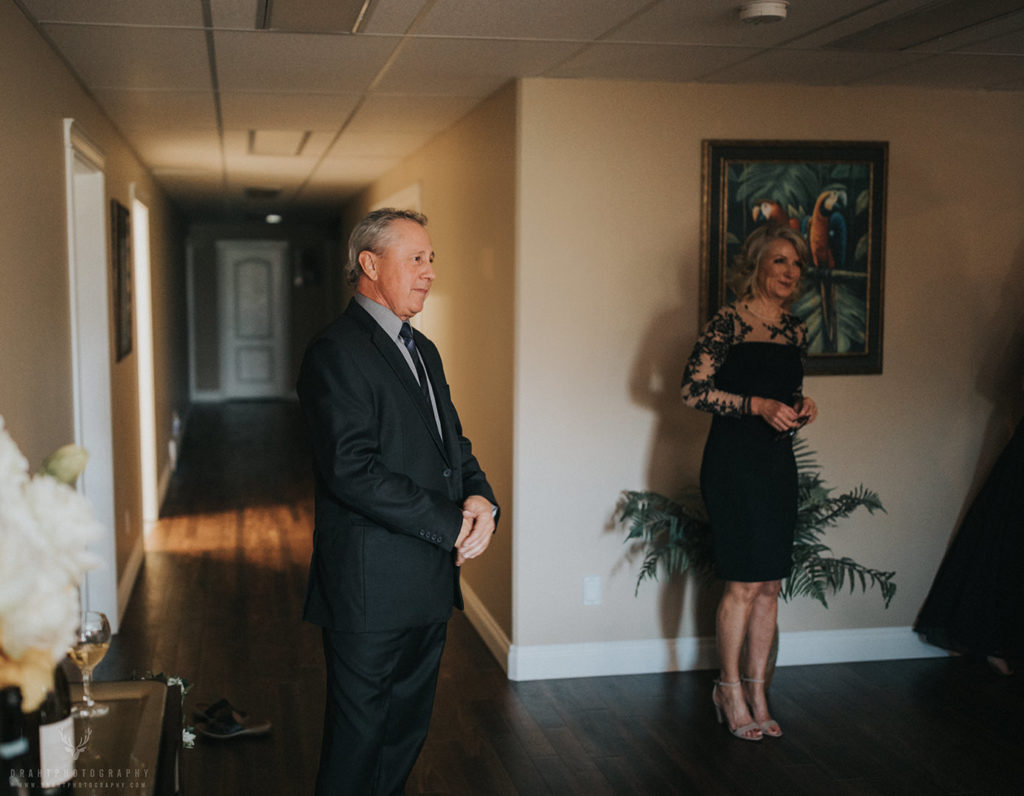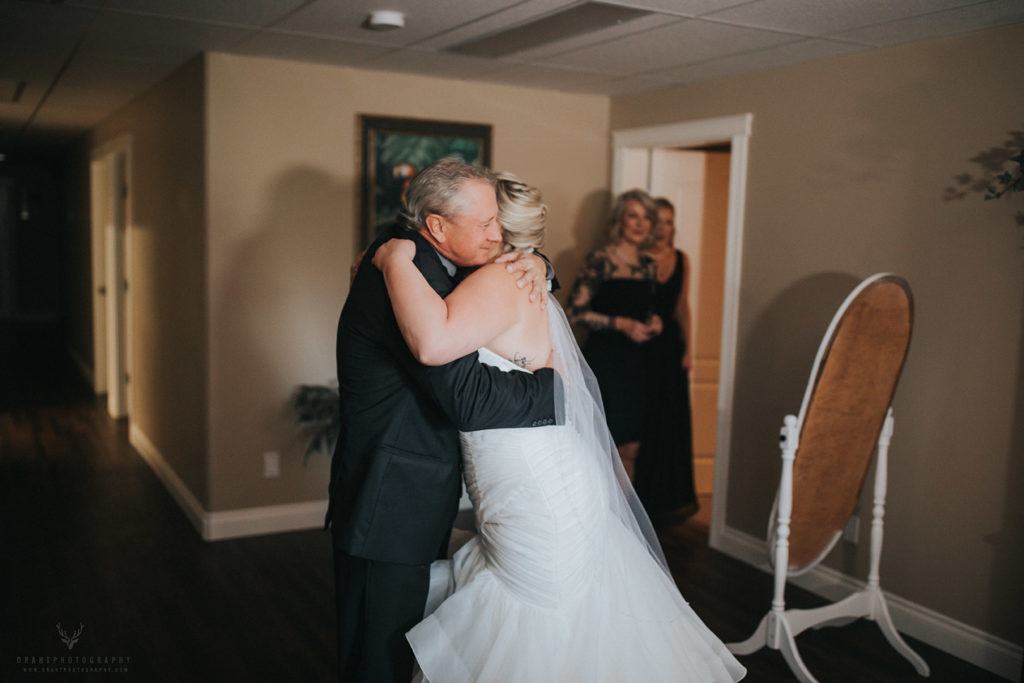 Just outside, we had a groom anxiously waiting for his new bride.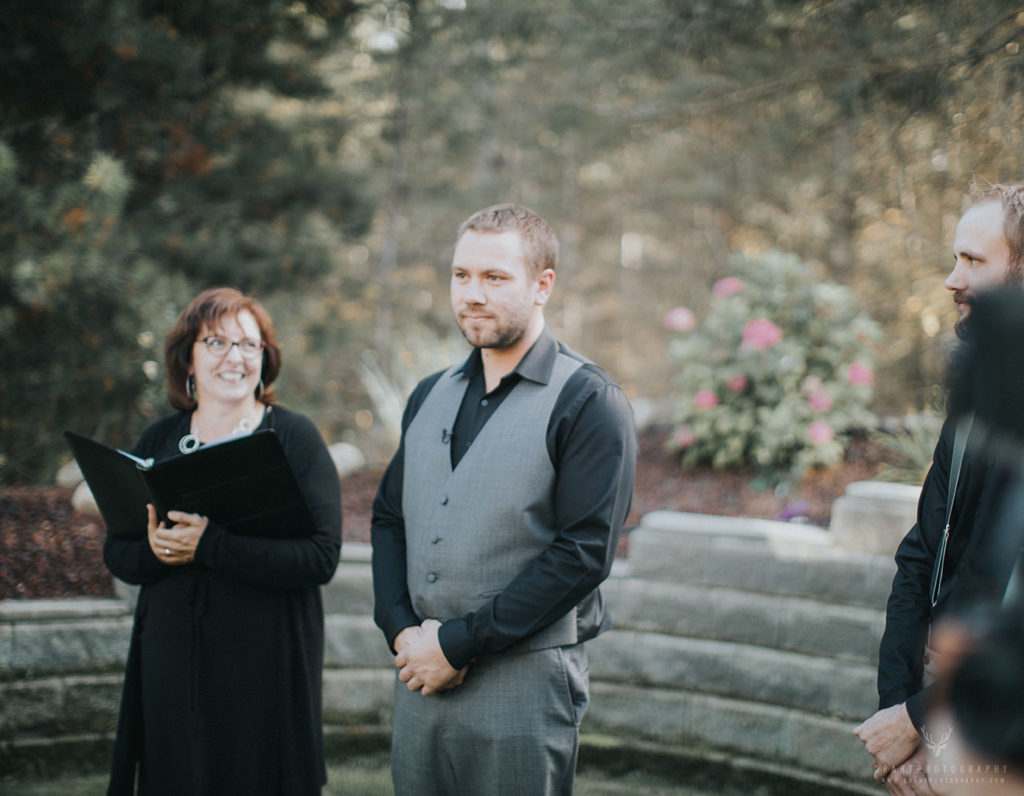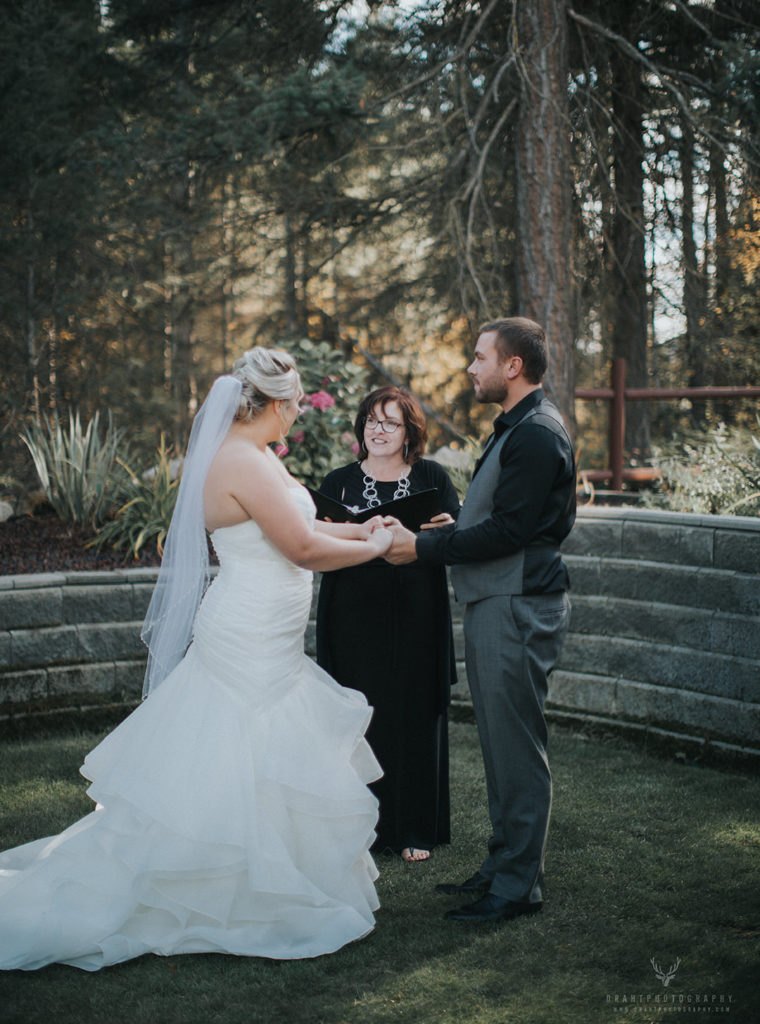 The ceremony was heartfelt, small,  and beautiful. Hand written vows ensured there wasn't a dry eye in the house.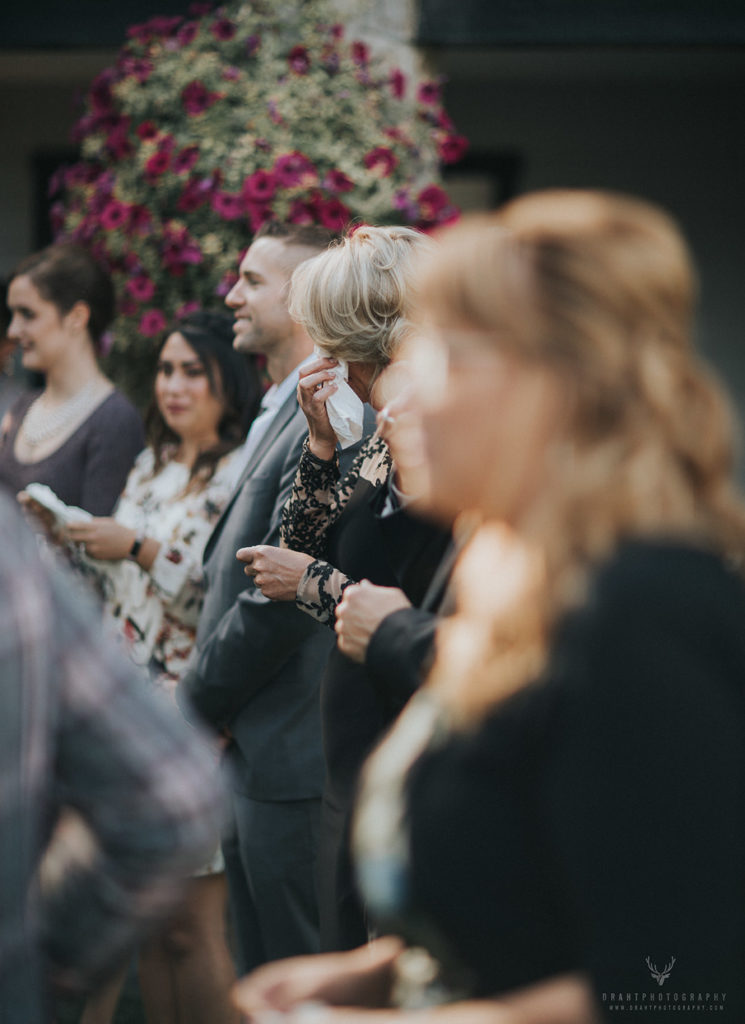 And then, Man and Wife.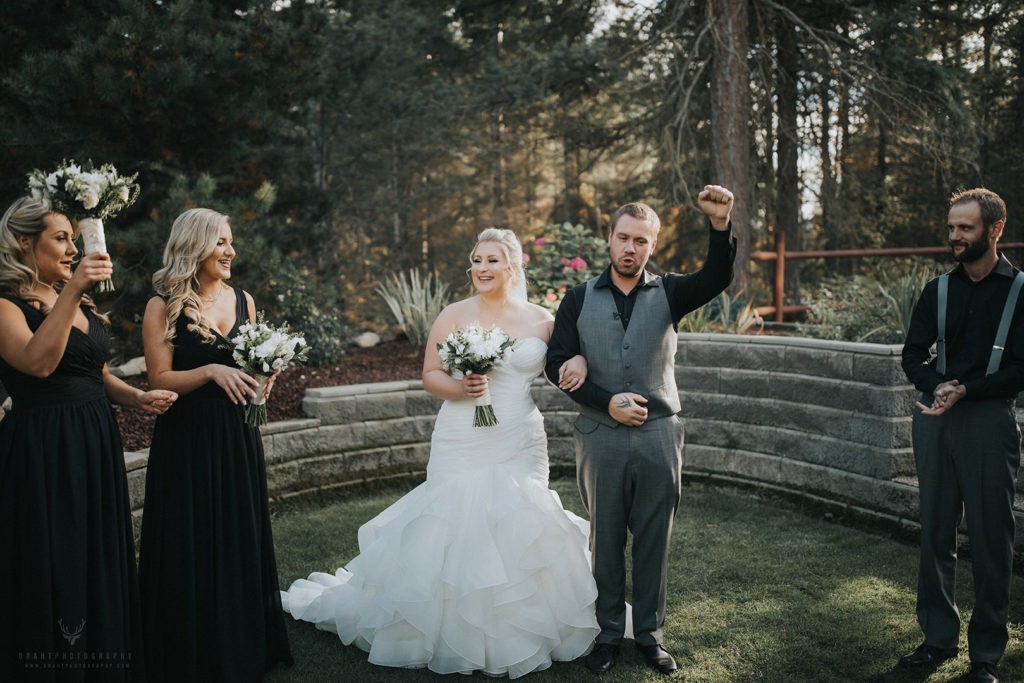 And champagne.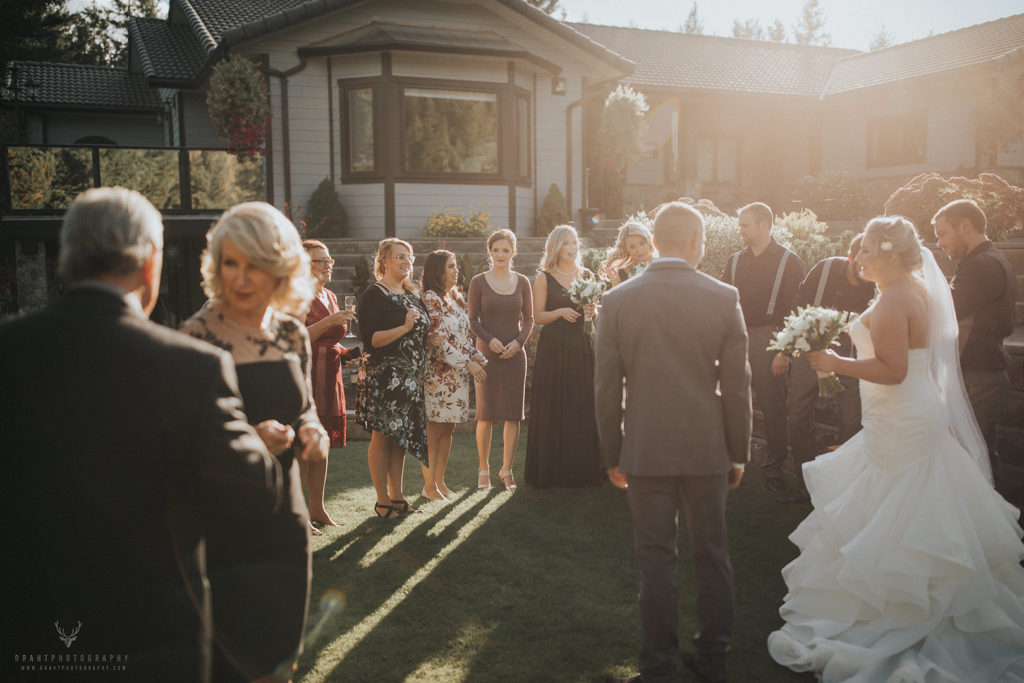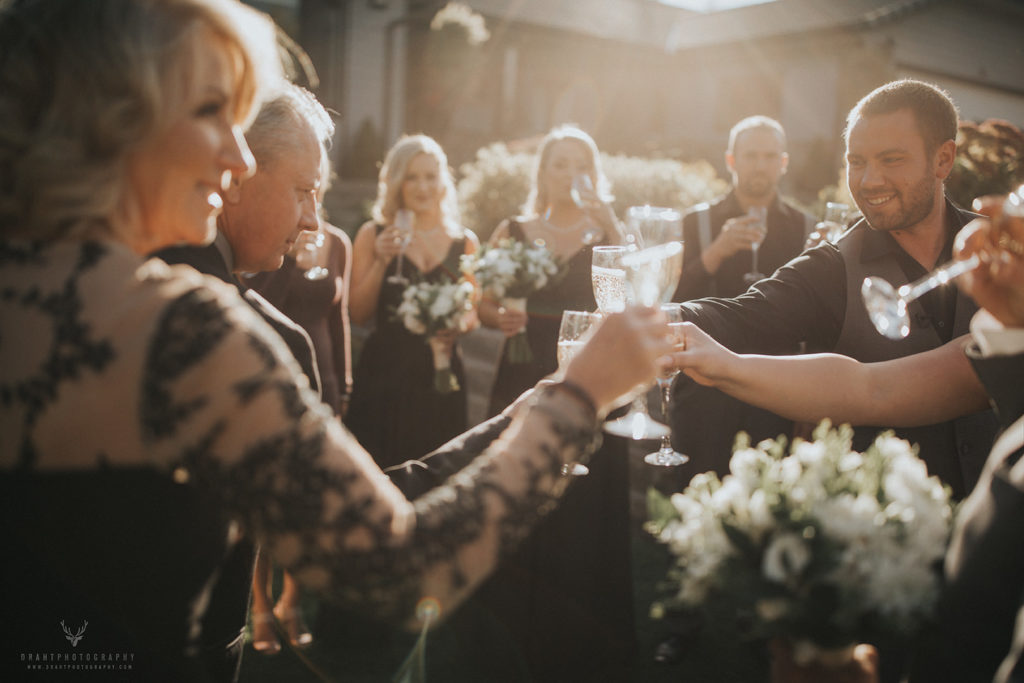 Family formals are always after the ceremony – no matter what the lighting is, that's always the situation. Otherwise they run off. Right after the family photos, I like to do bridal party photos. However, today the sun was just too perfect. We skipped warmup period and jumped into formals!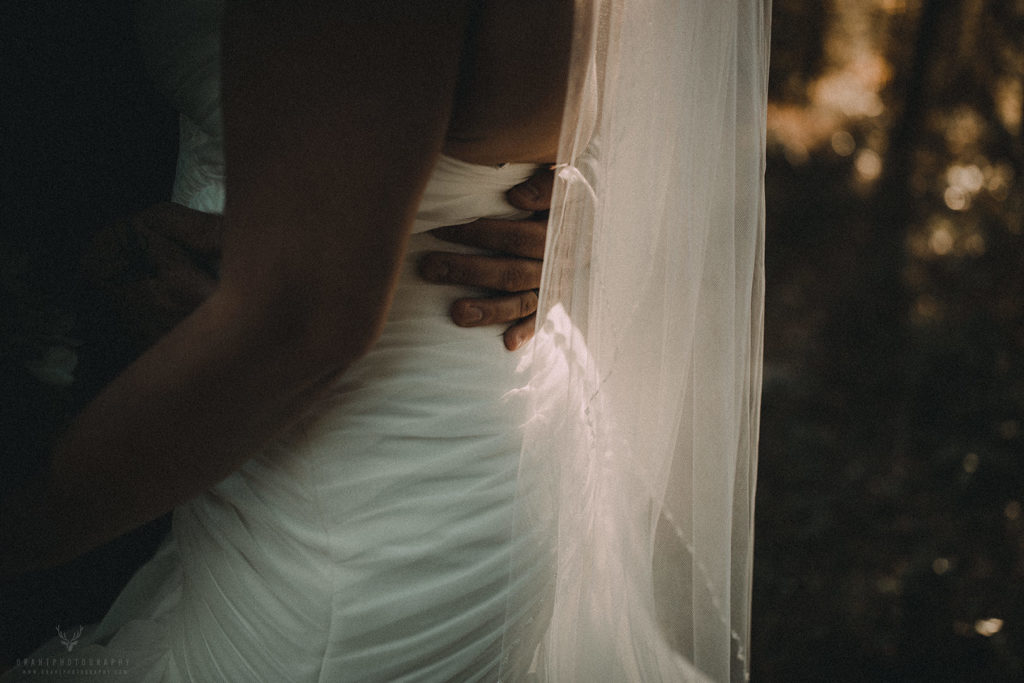 That's where you hold your girl to get that S shape. Posing is a very important part of being a photographer!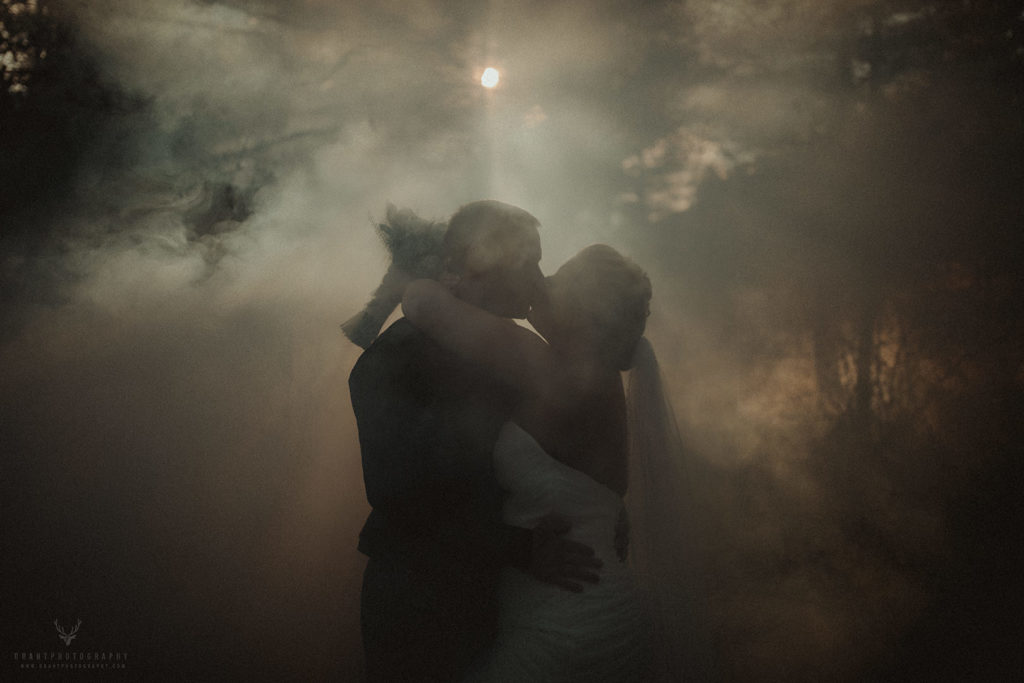 The sun filtered through the trees and spoilt us. Pale blue tones mixed in with bright oranges.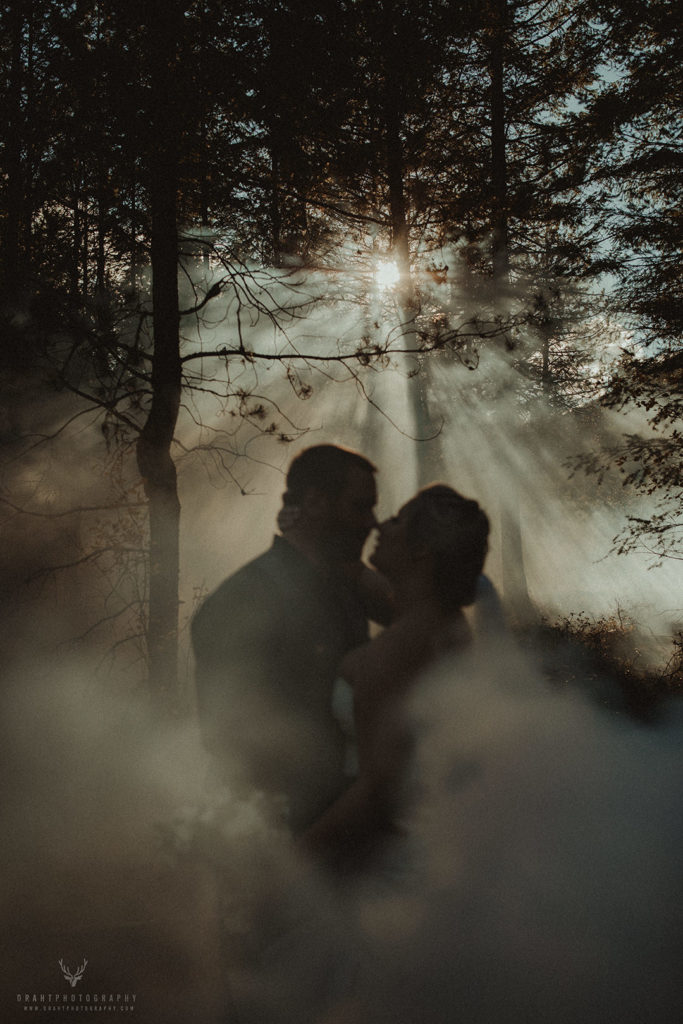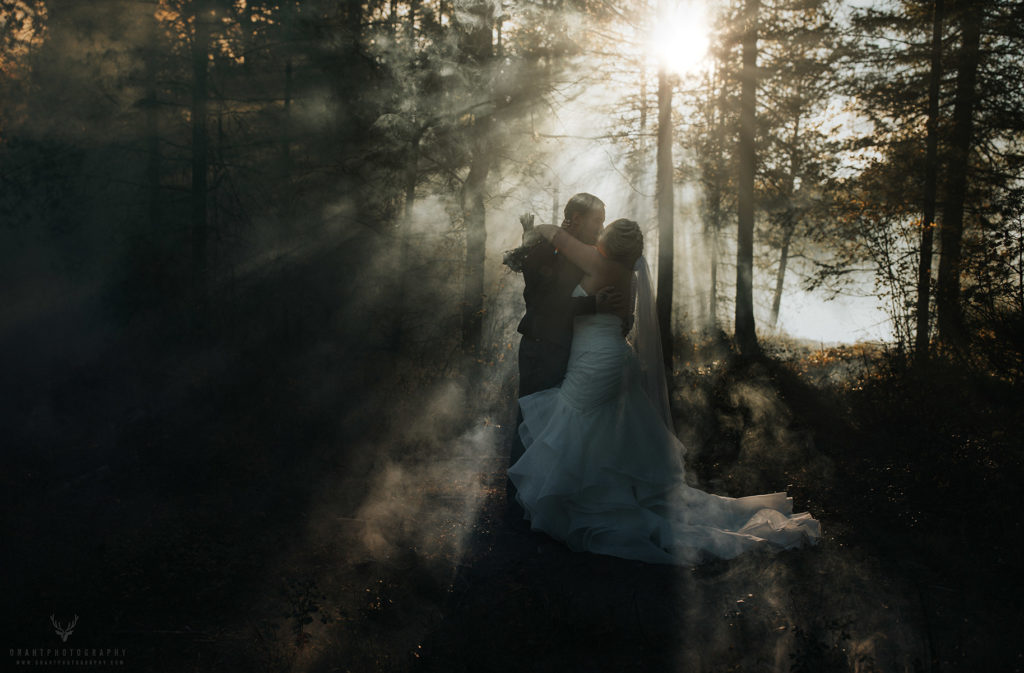 If you look closely, you can see how the smoke lingers around the foliage. Low lying haze is one of my favourite things. Time for some bridal party photos!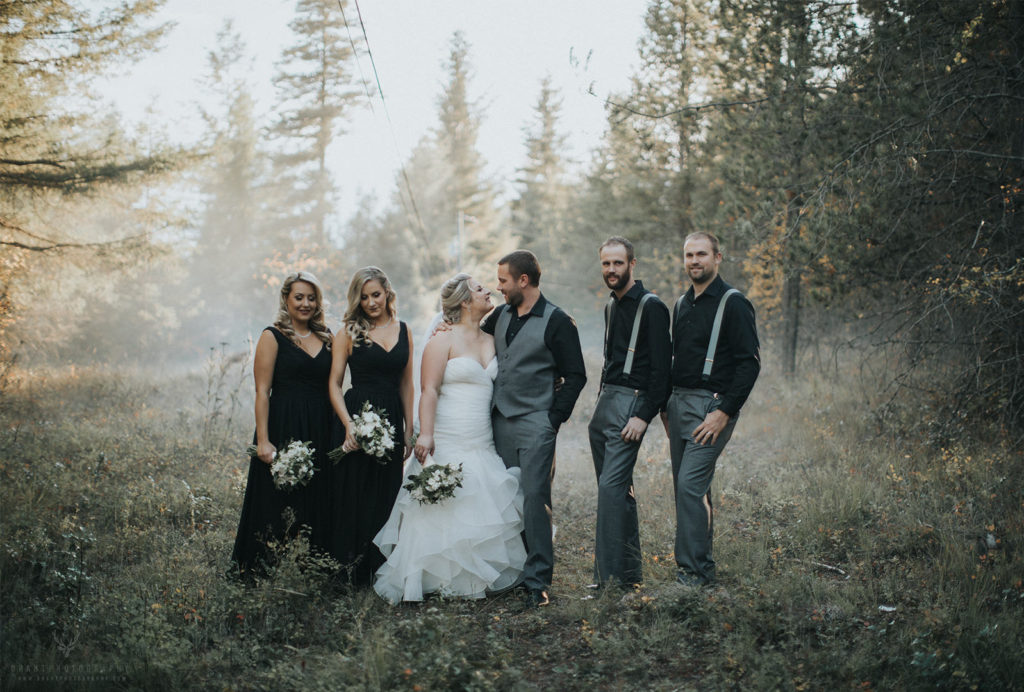 It was a fun crowd. I like getting those serious, formal shots, but I try to mix it up every time. Here they're going in for a group hug.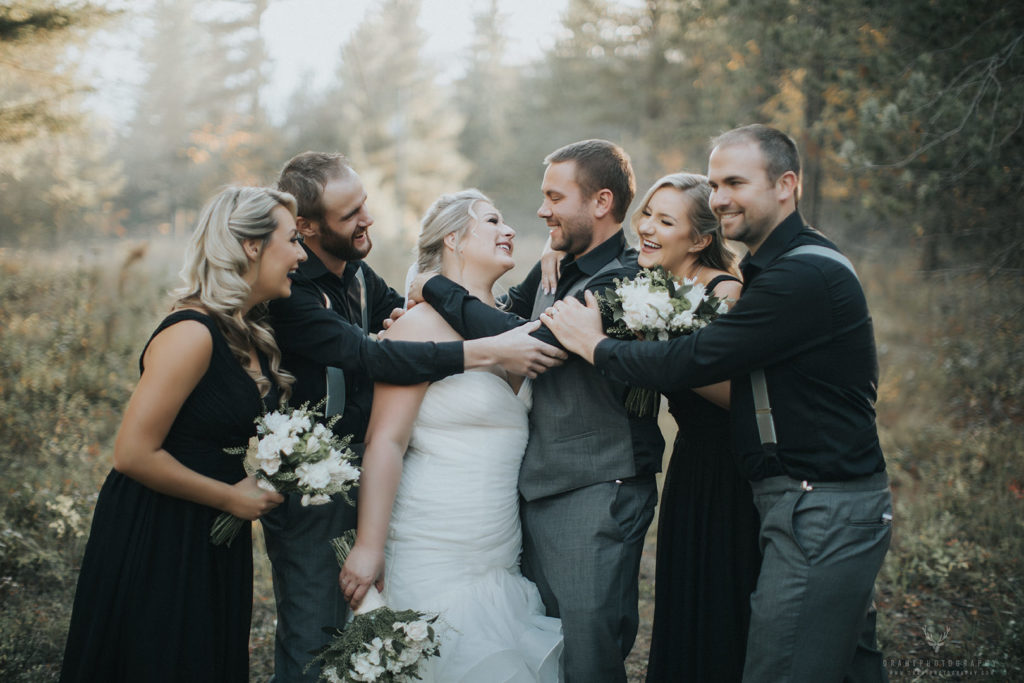 And rubbing the grooms face for good luck. Surprise!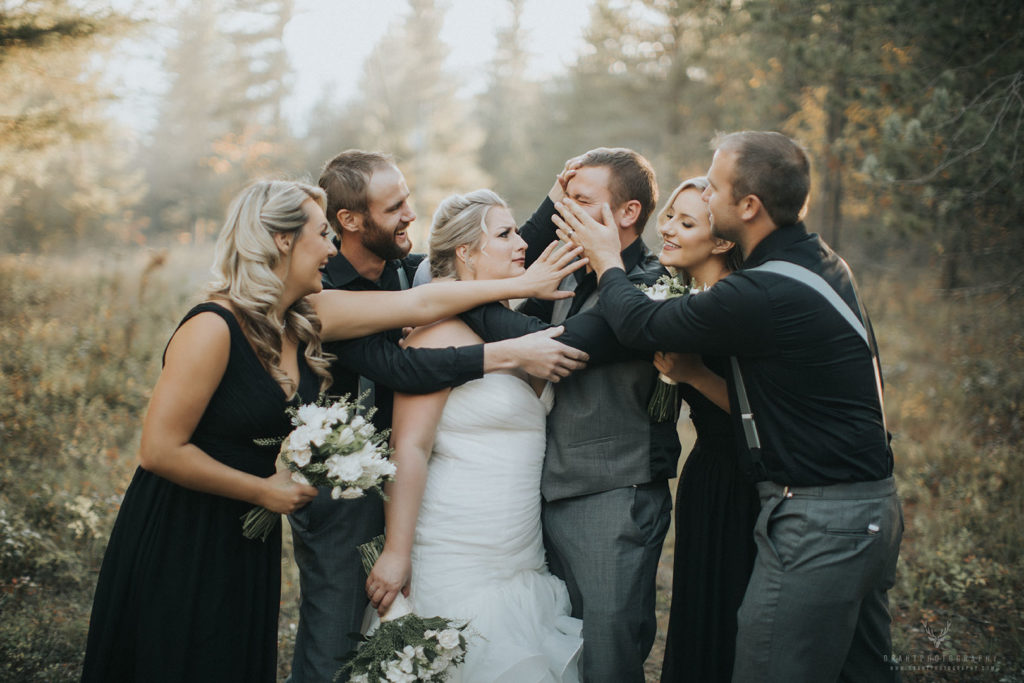 Let's take a moment to just appreciate how beautiful this dress is.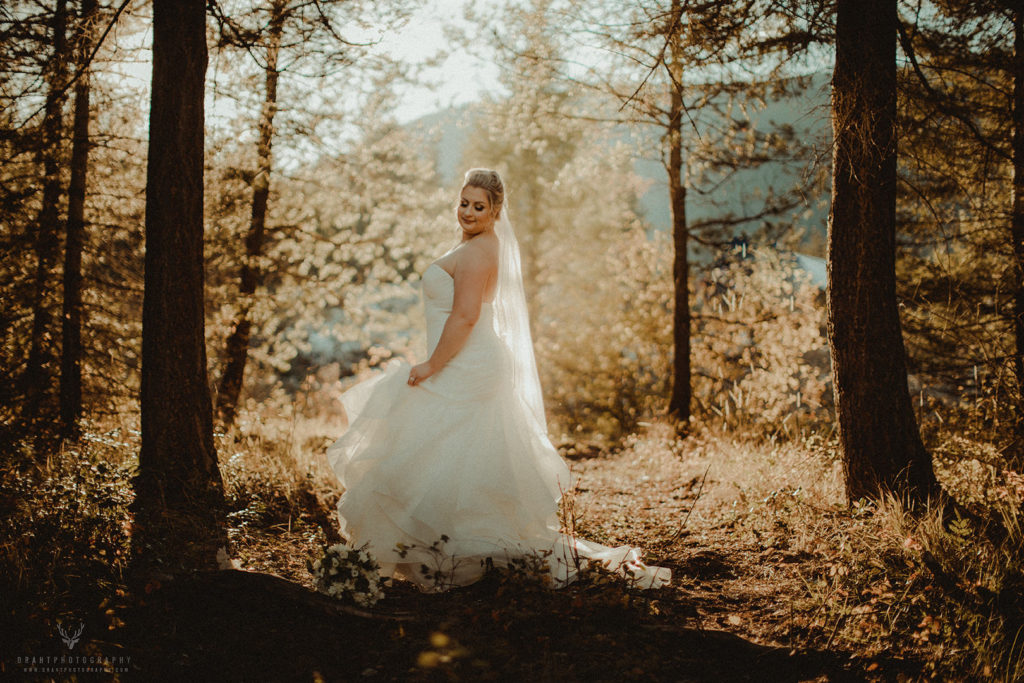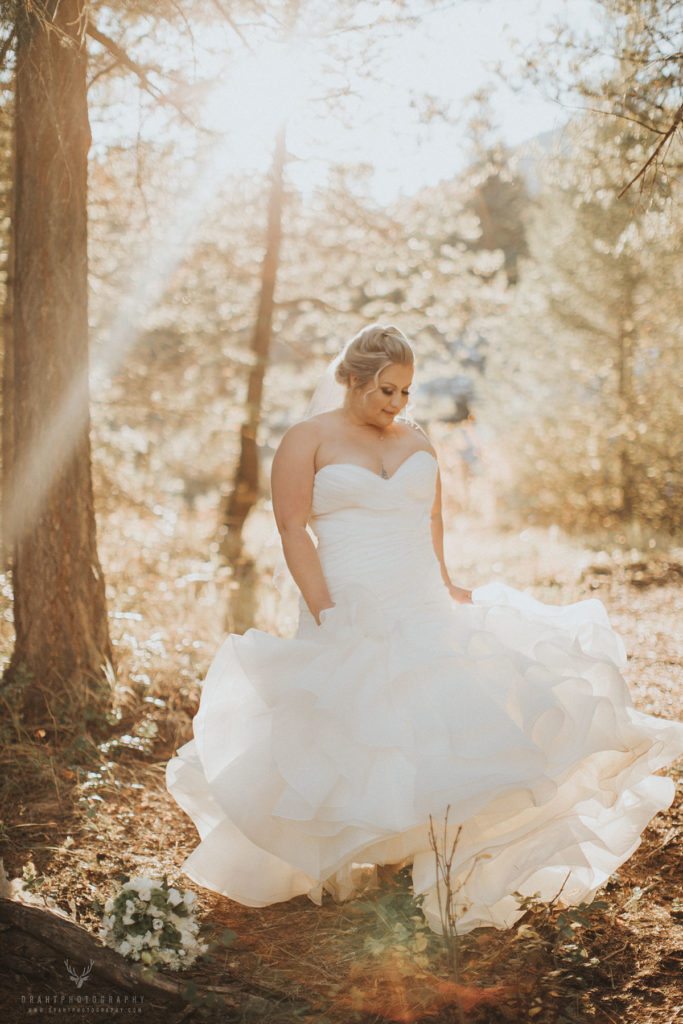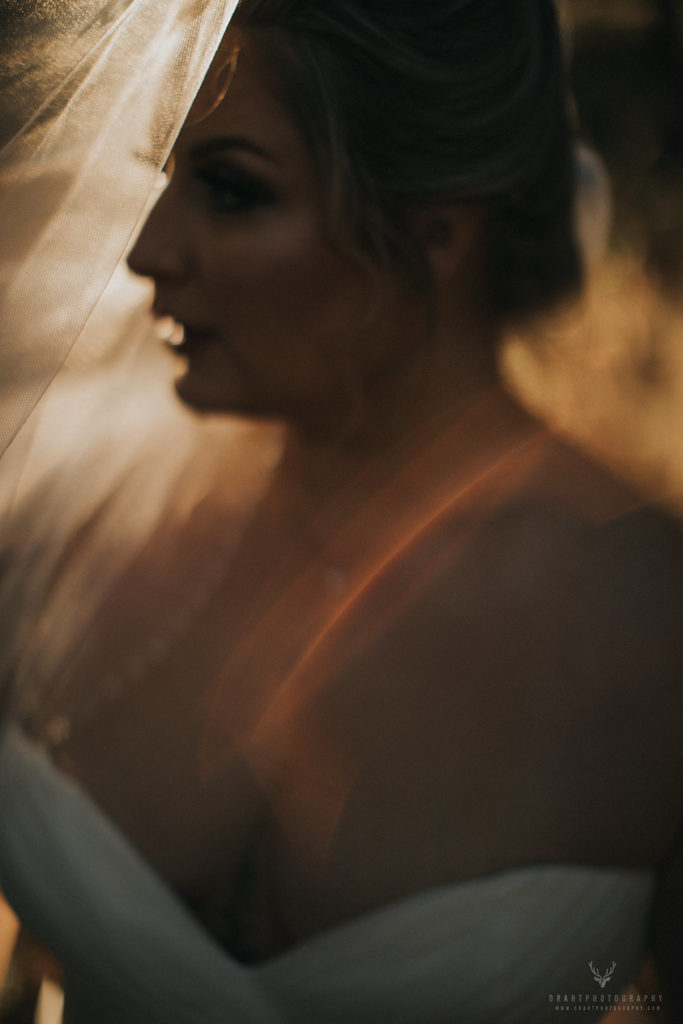 Lumby is an amazing place for formals. Forestry roads, elm trees, fields everywhere, and the best part – we always get everything to ourselves. Our couple had managed to find a beautiful old red hot red. It was mint inside and out. Even the paint didn't have a single rock chip in it. Mint. Of course, I don't get opportunities like this every day.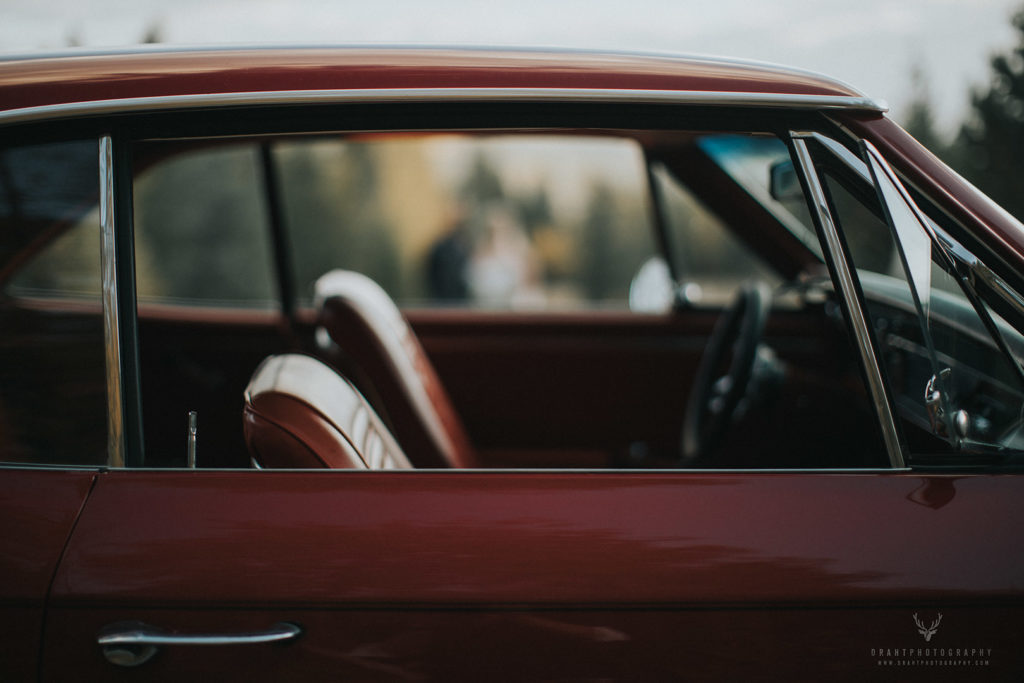 You can use a window for framing the shot, you know.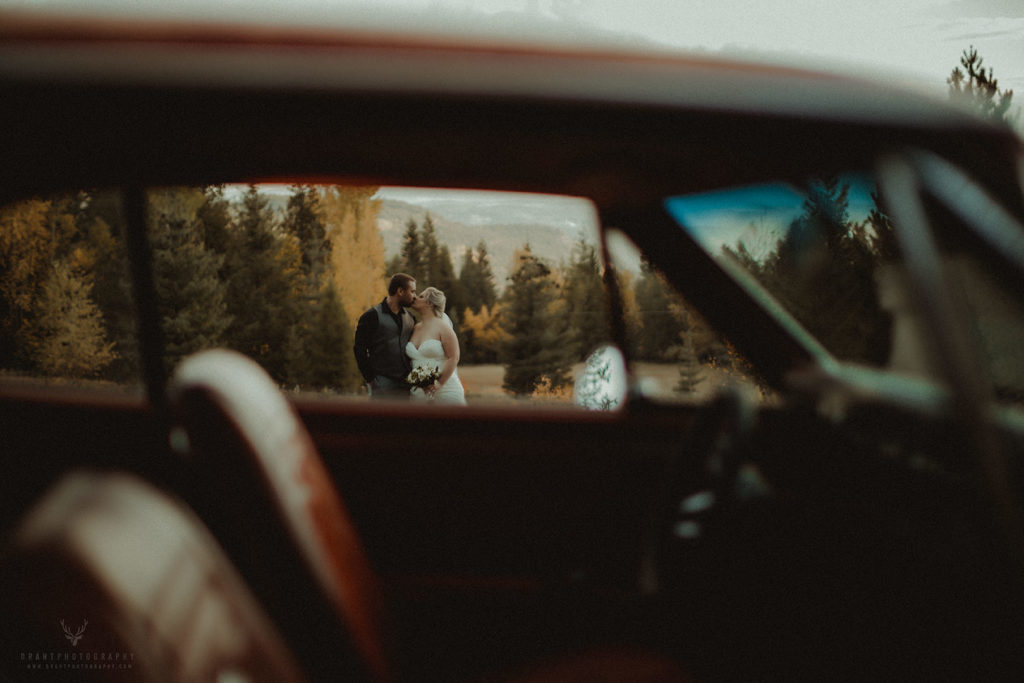 This is one of my favourites. Those old colours, the mountains, the tint of the window.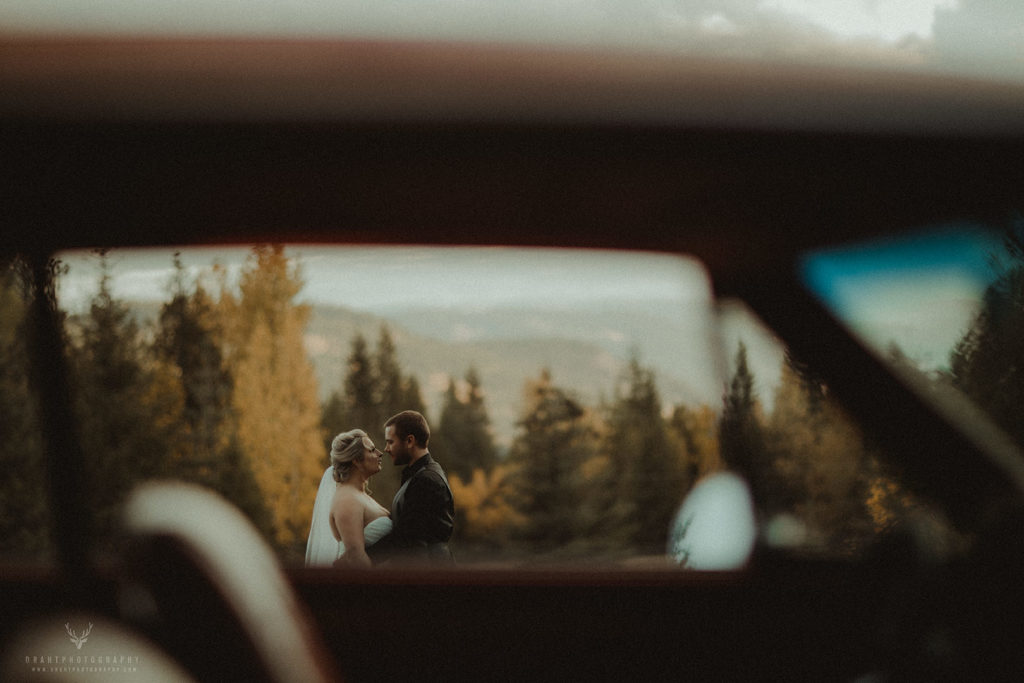 Of course, this wouldn't be a Draht Photography wedding if we didn't turn it up a few notches.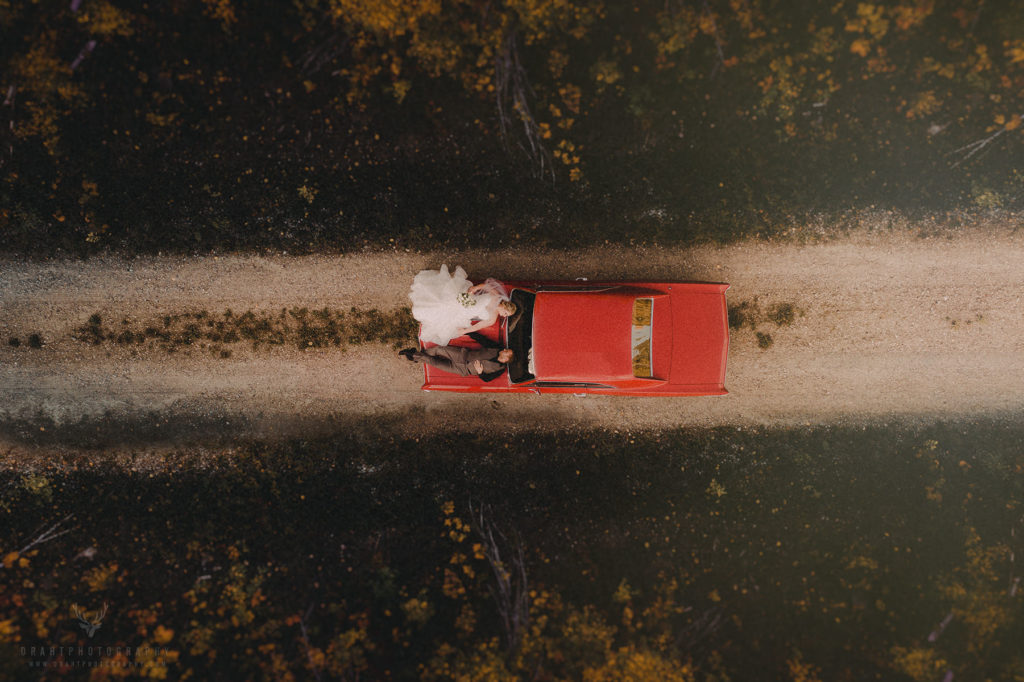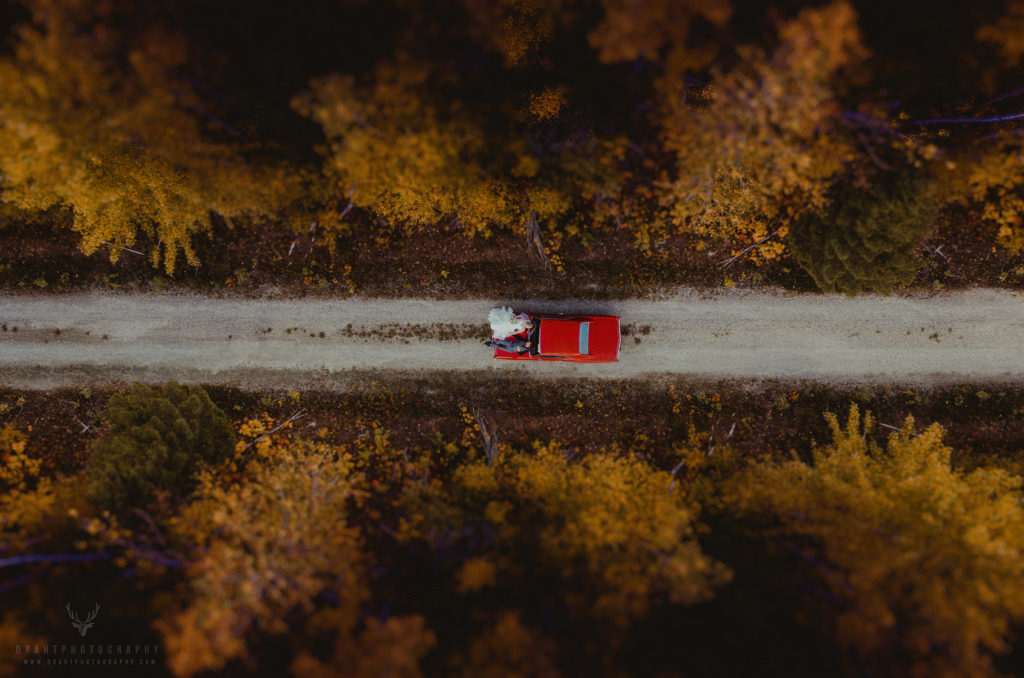 Remember that antique shotgun? We sure did!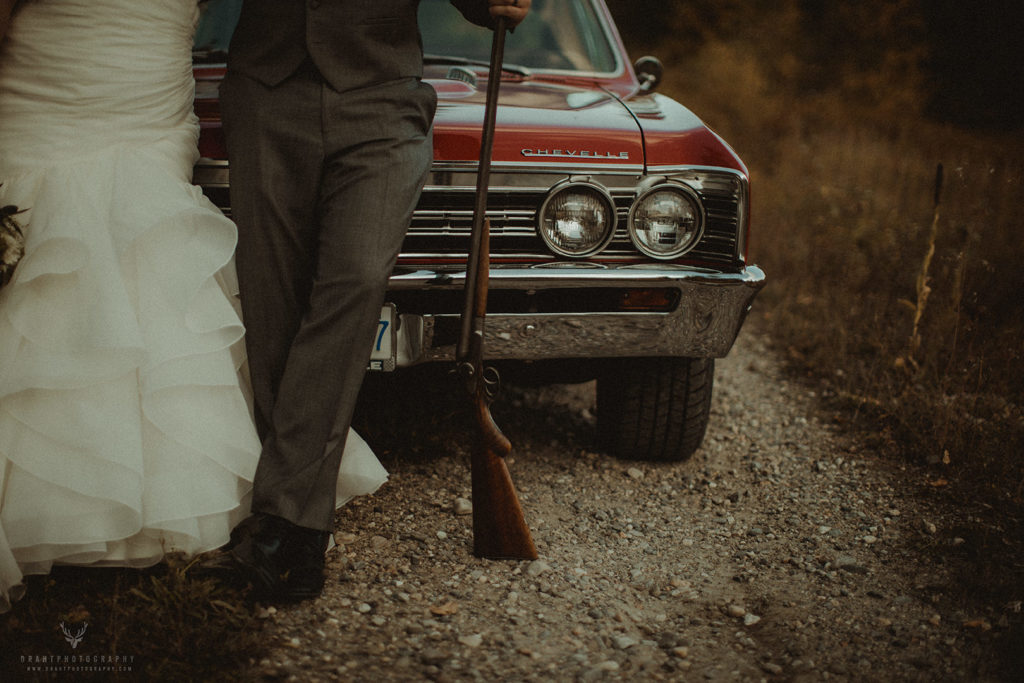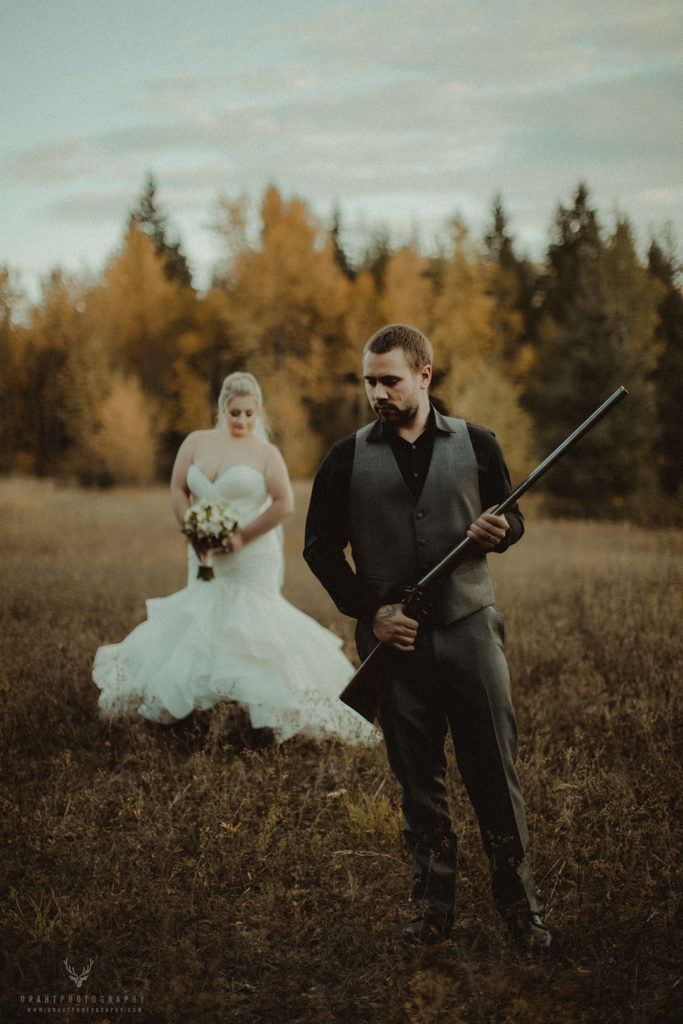 This couple, the trees, the leaves, and the lighting were just perfect. I was in photographer heaven.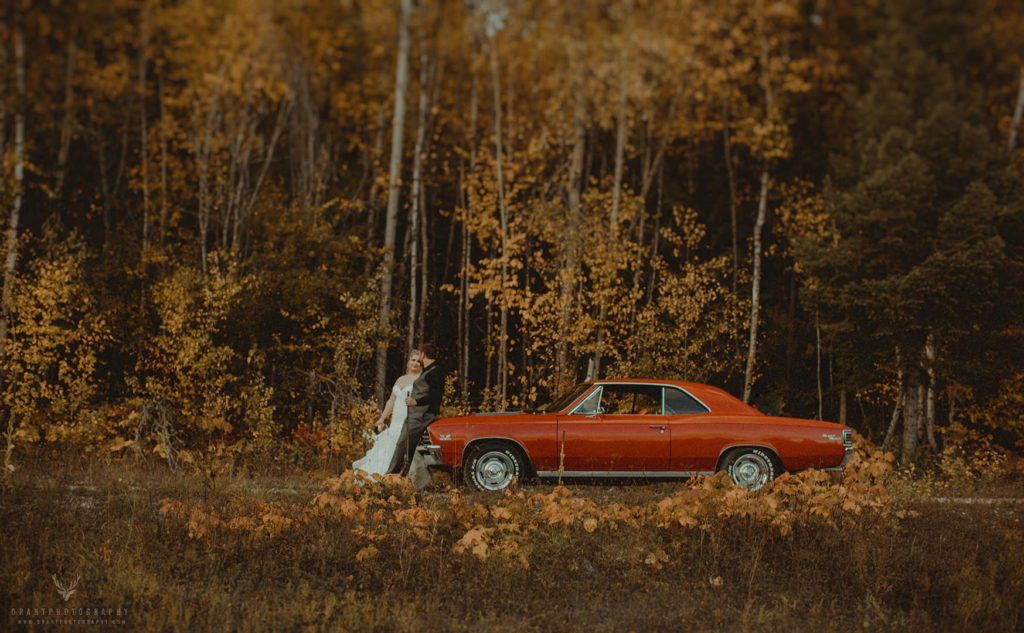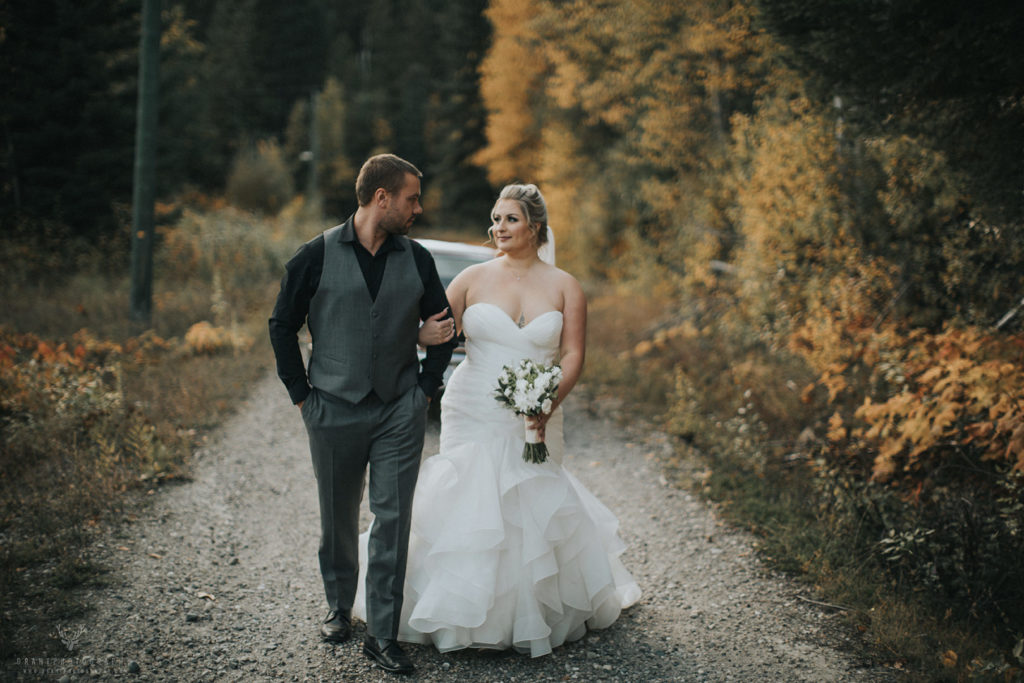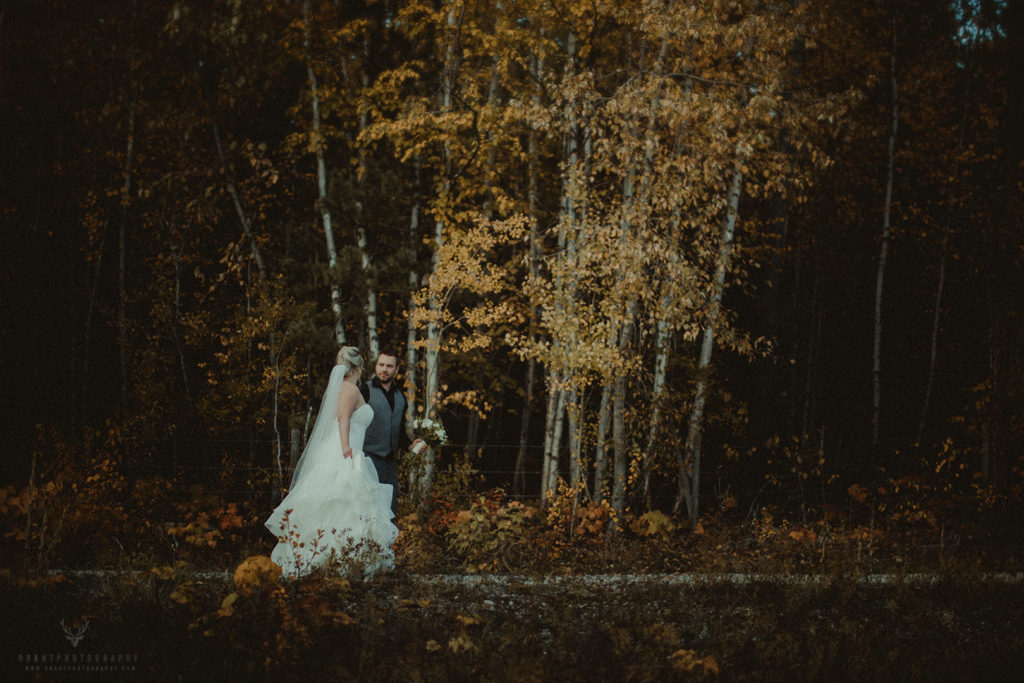 But we had to head back. It was a little past six, all our light had left us.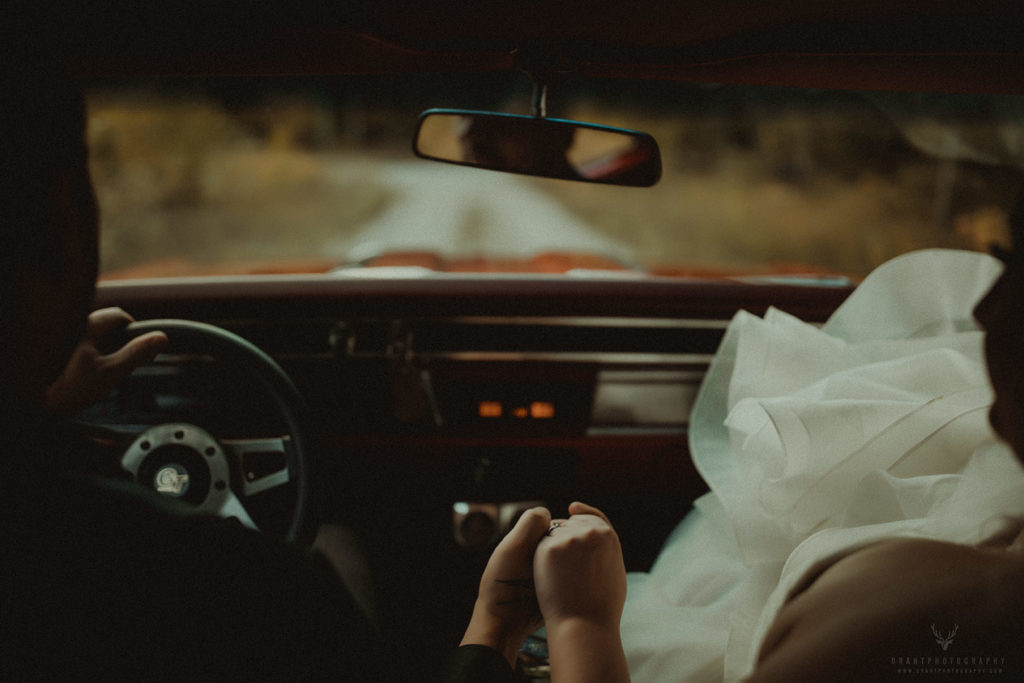 Back at Camo, the boys were enjoying cigars.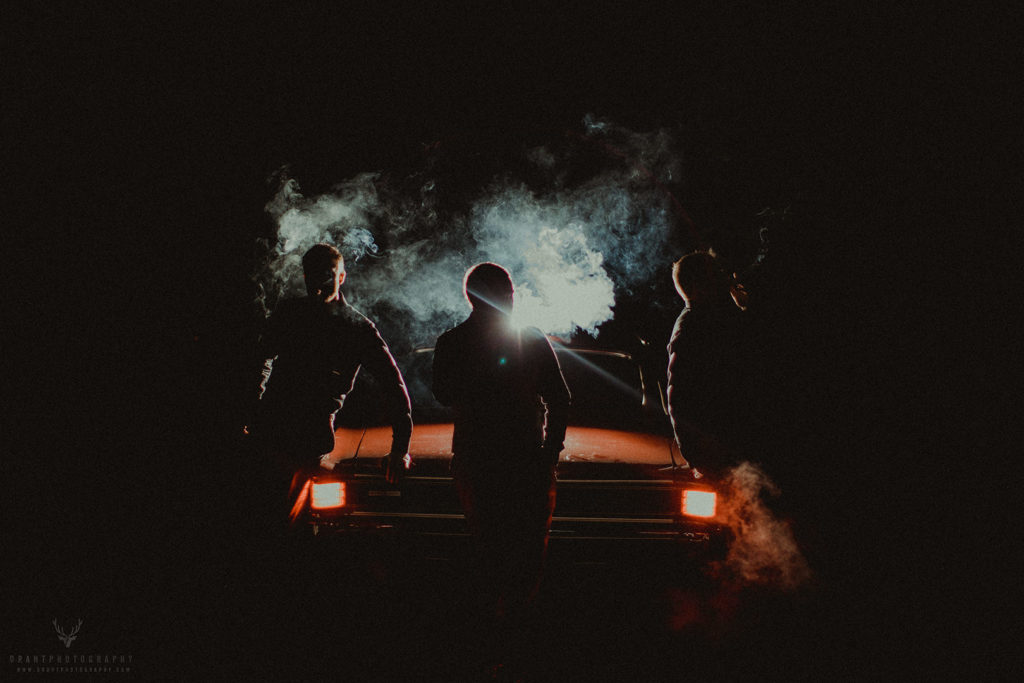 This couple told me they had never had a professional picture taken. Here, enjoy this! Just long-click on the image and you can save it to your phone.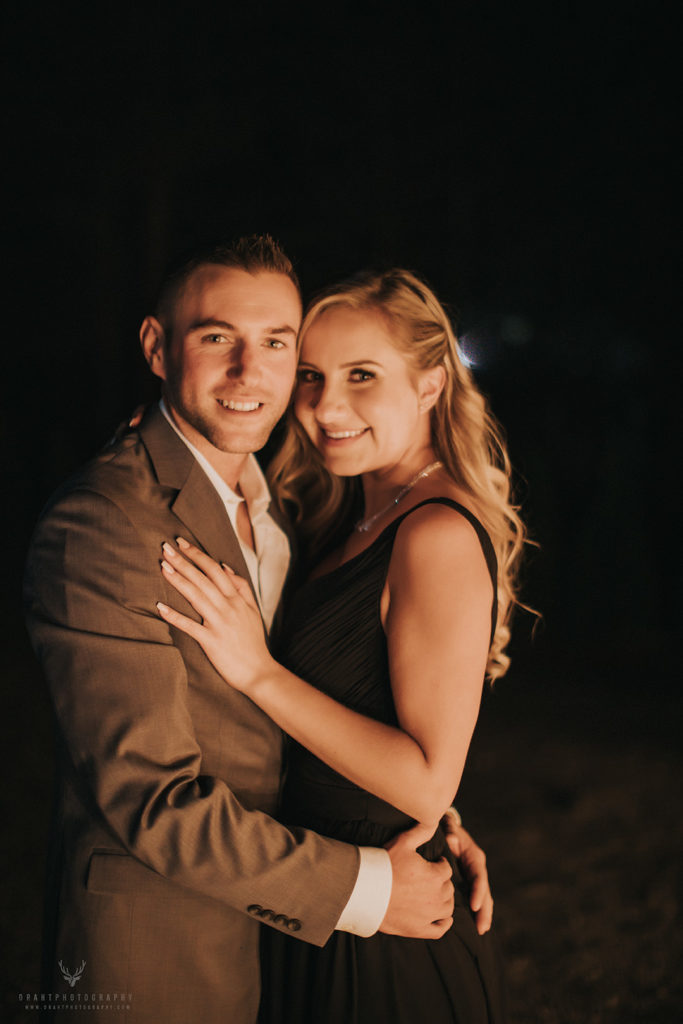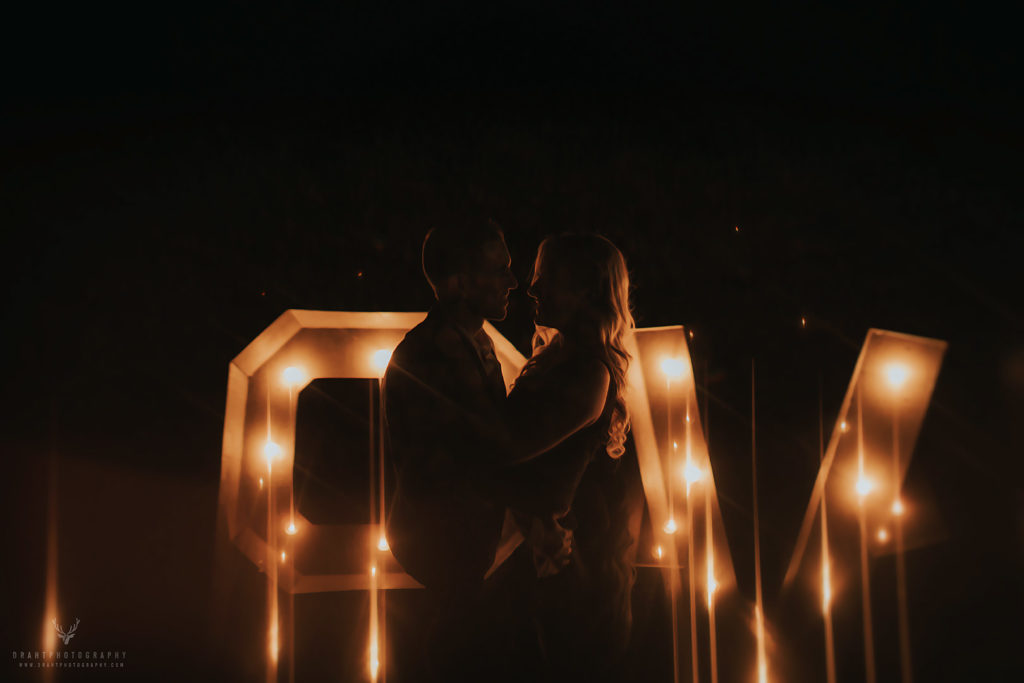 I used a prism in that second shot to offset the balance from the love sign. There's your artsy shot!
But this is where I leave you. This was a huge sampler – almost 50 photos! But the photos won't be ready for another three weeks. Maybe longer. This is just some of my favourite photos from the day.
If you'd like to keep a picture, even on mobile, just click it and it will open in a separate window. You can save it from there.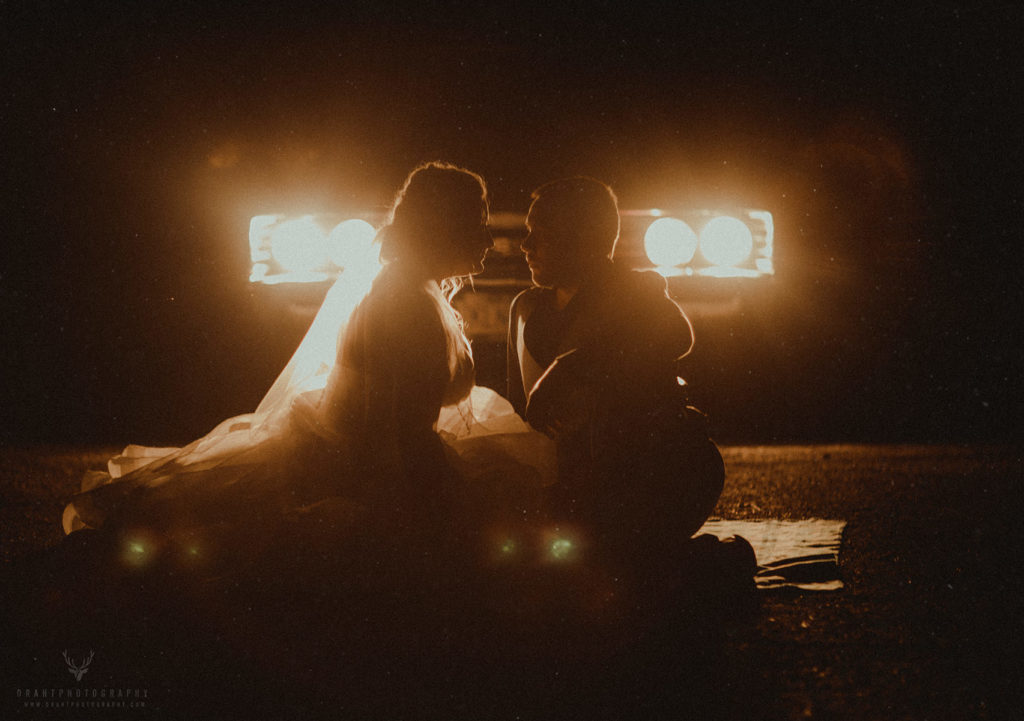 Thank you for reading this far. I put a lot of time and work into these sneak peeks so it's great that you've taken the time to read all this!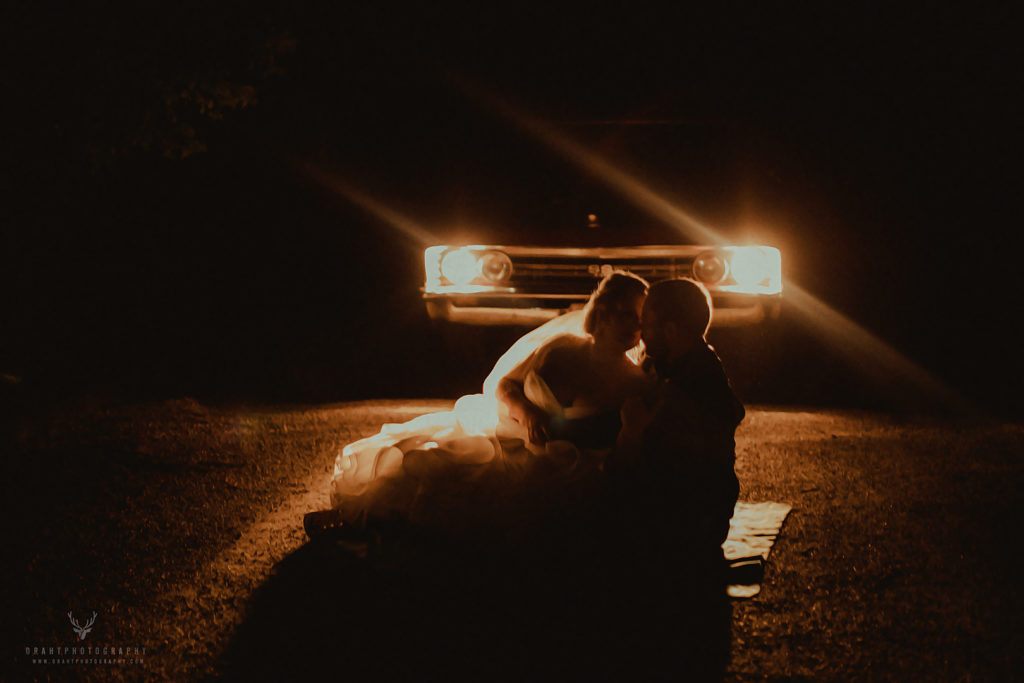 If you'd like to stay updated, feel free to follow me on Instagram, Facebook, Twitter, or Tumblr for frequent updates. Talk to you all in a few days!