T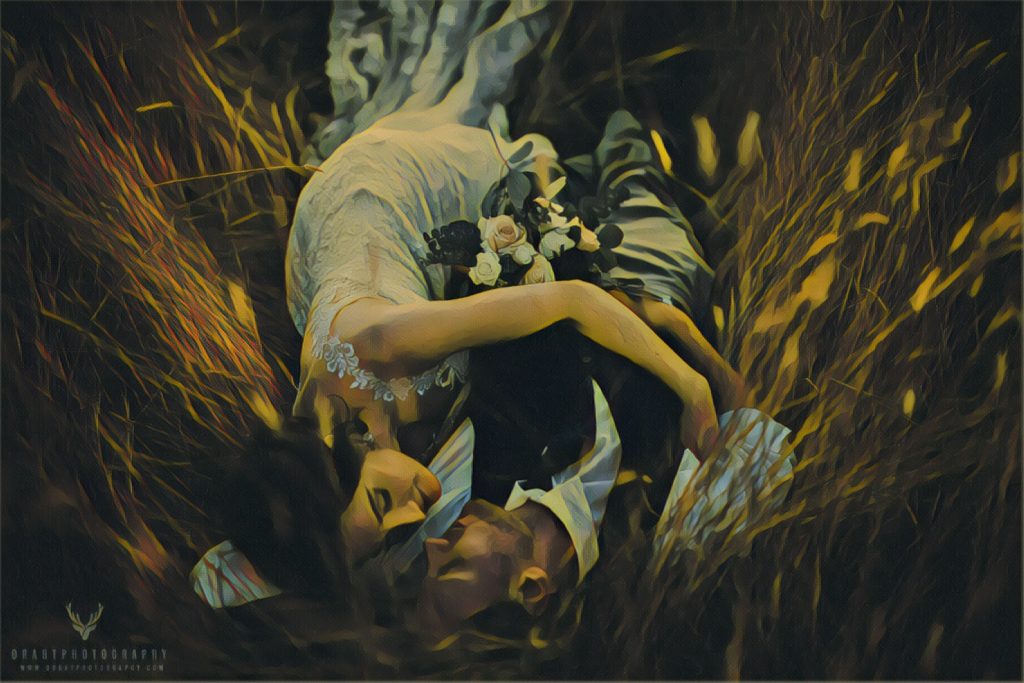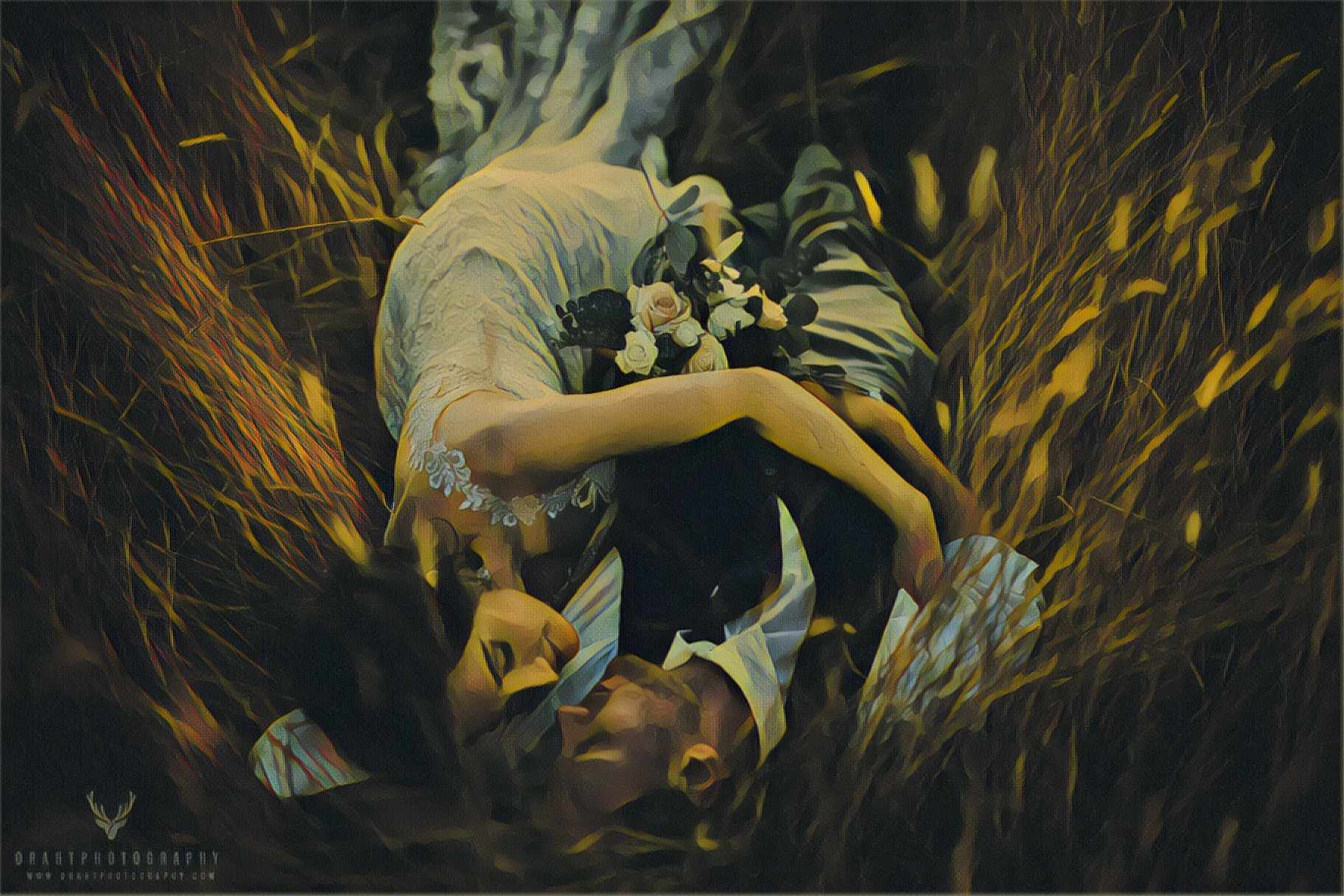 This is probably fairly different from what you're used to. We changed up the timeline, and the sunset sneak-away was the longest photo session of the day. It was beautiful and, as you could see from the pictures, wholly unique and original.
We start our morning with detail photos. Our venue today is Predator Ridge, one of my favourite places in Vernon to shoot. One of the huge reasons being – there's a lot of variety. Over 100k of hiking paths, I'm told. However, we begin with a ring shot. I've been playing with this concept for a while – find parts of a naturally fallen tree, because the cut is jagged. Then, place the rings in that cut.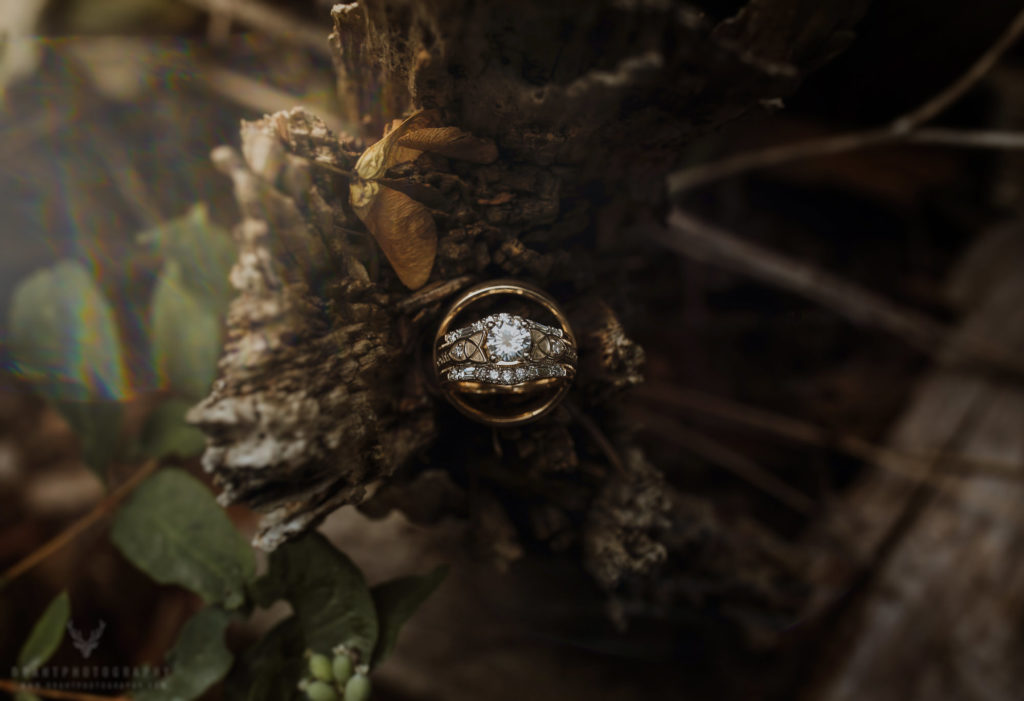 You can see the shards of wood pop out of focus when it gets closer. We call that foreground blur, and it's depth.
And this dress!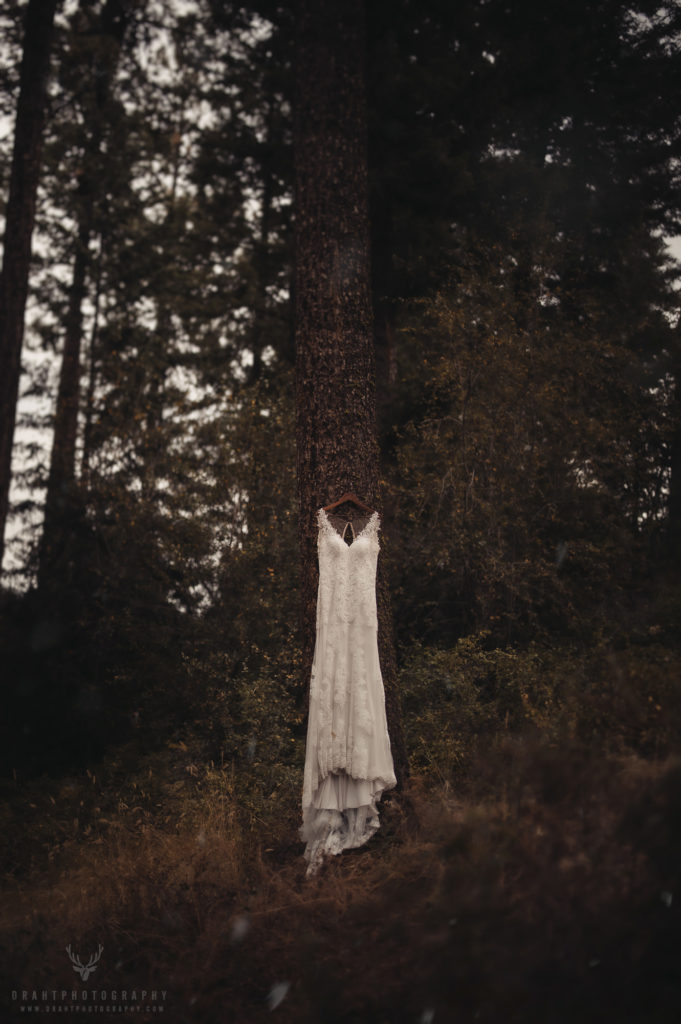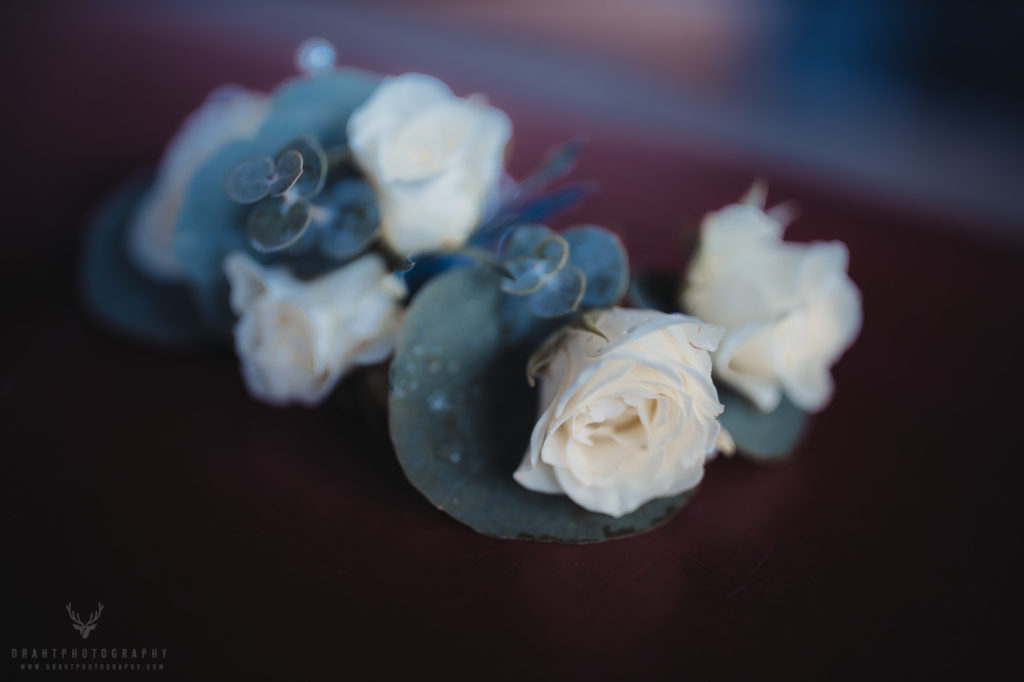 Over at the guy's cabin, it was a bustle of activity! Between cufflinks and boutineers, they had their hands full!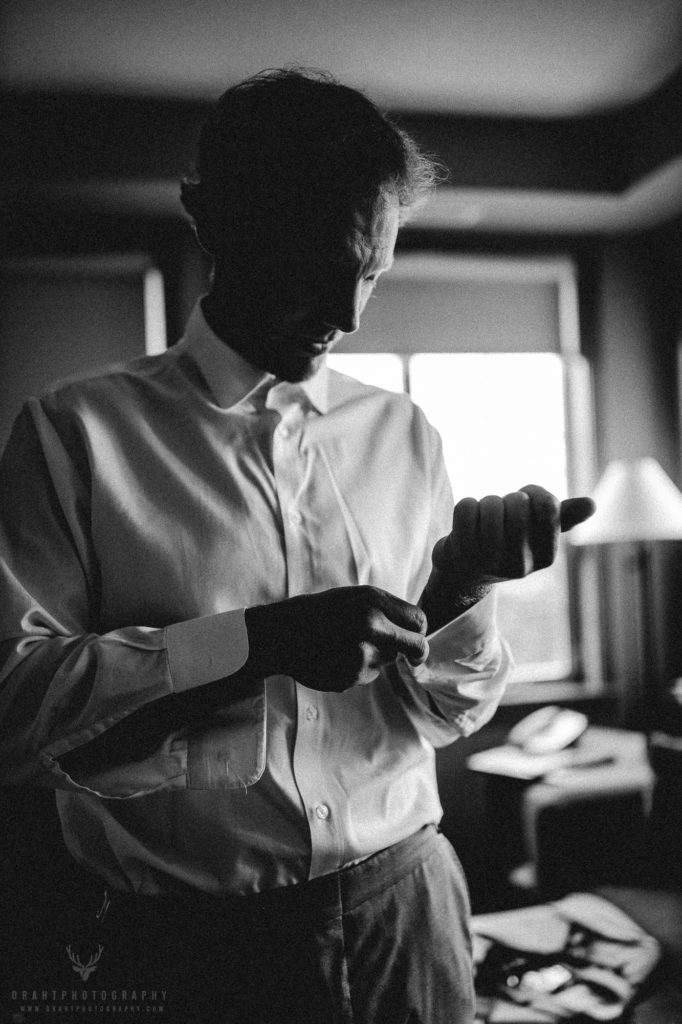 But soon enough, this fella was ready for his first look.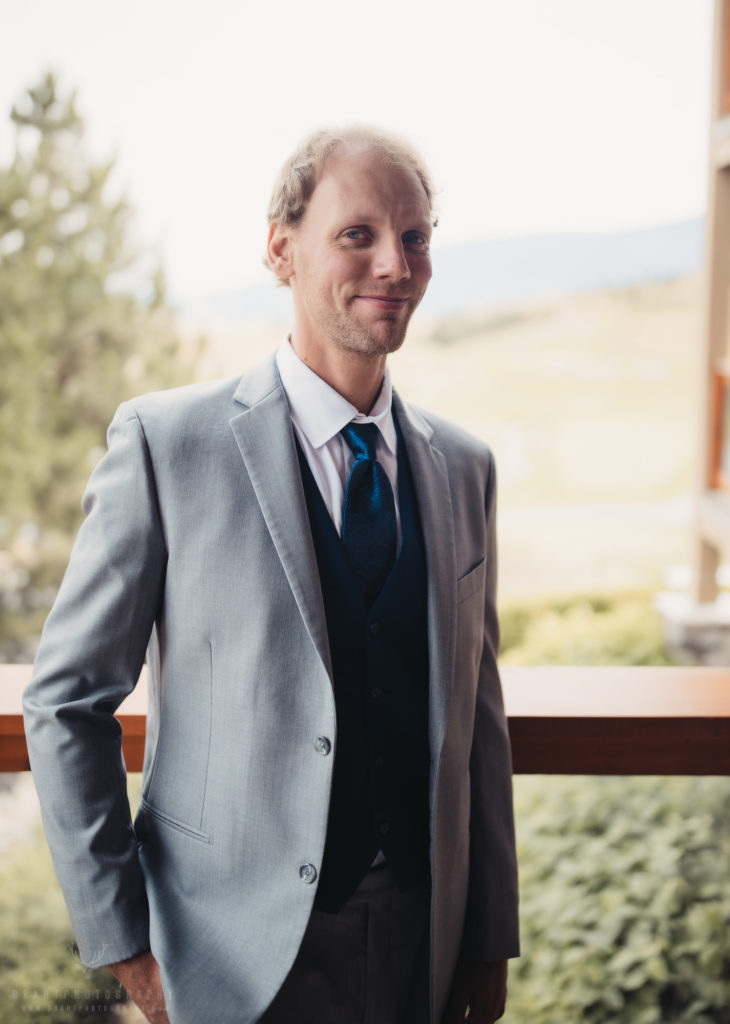 At the girls cabin, I arrived just in time for the last of the makeup, and the start of the wedding dress.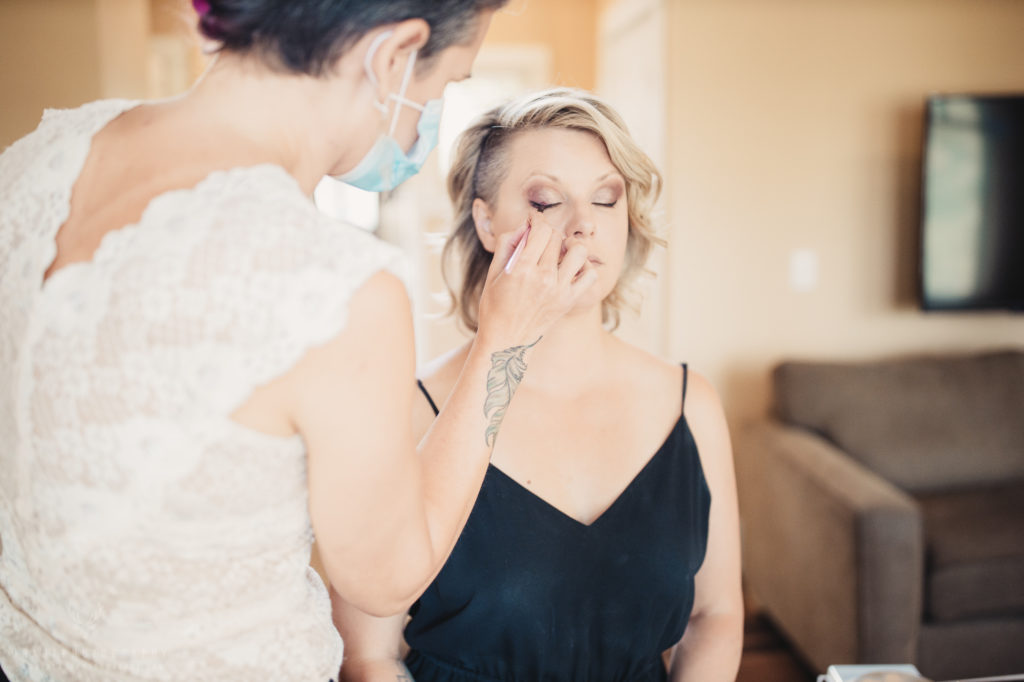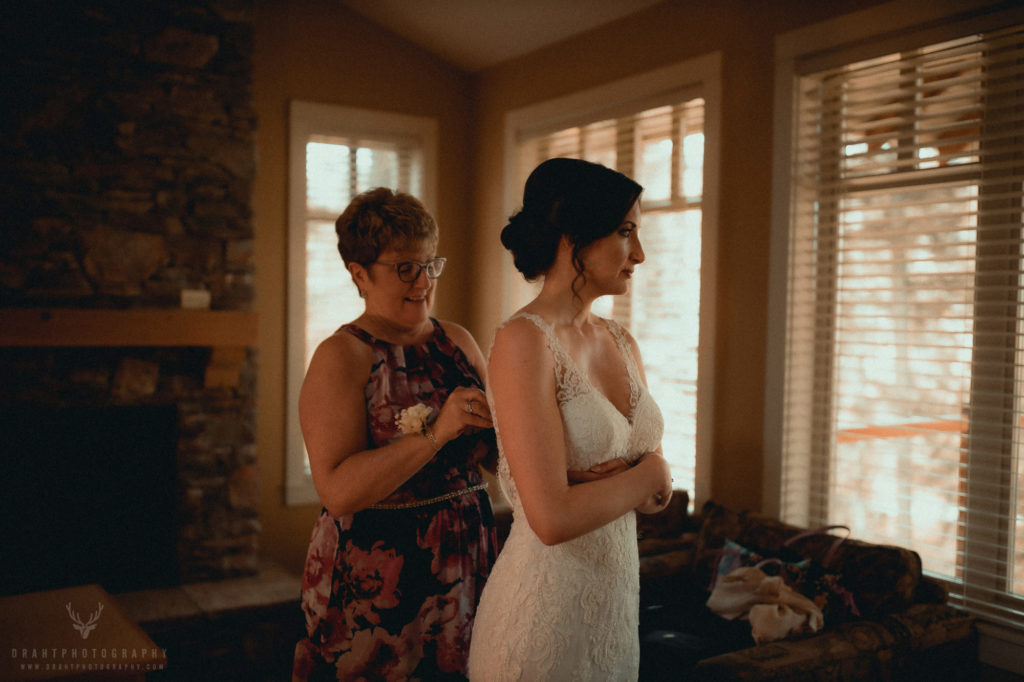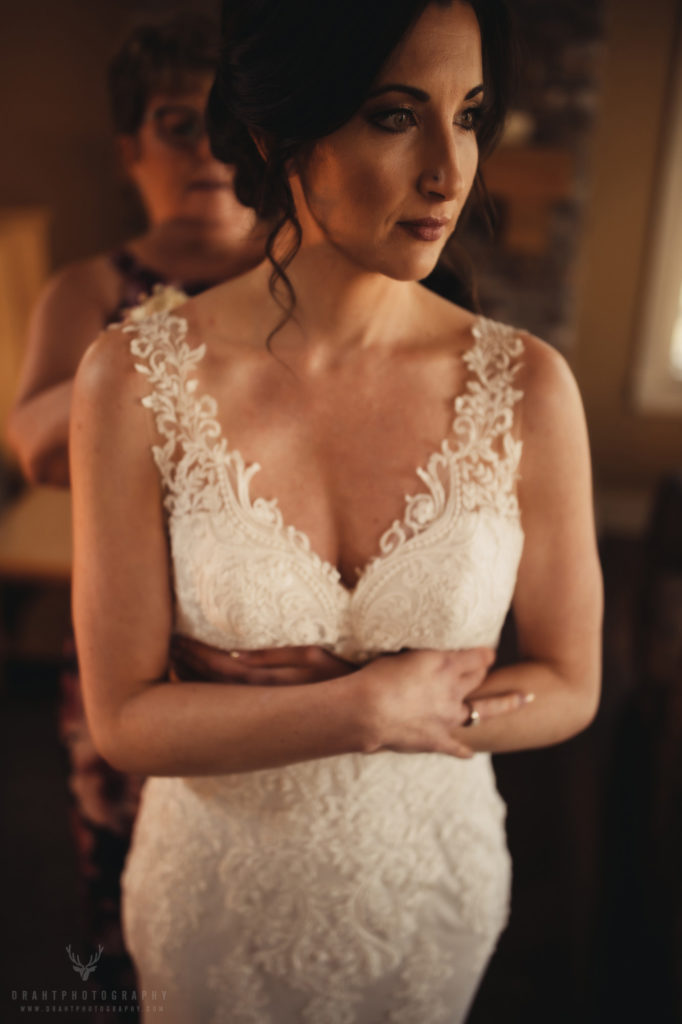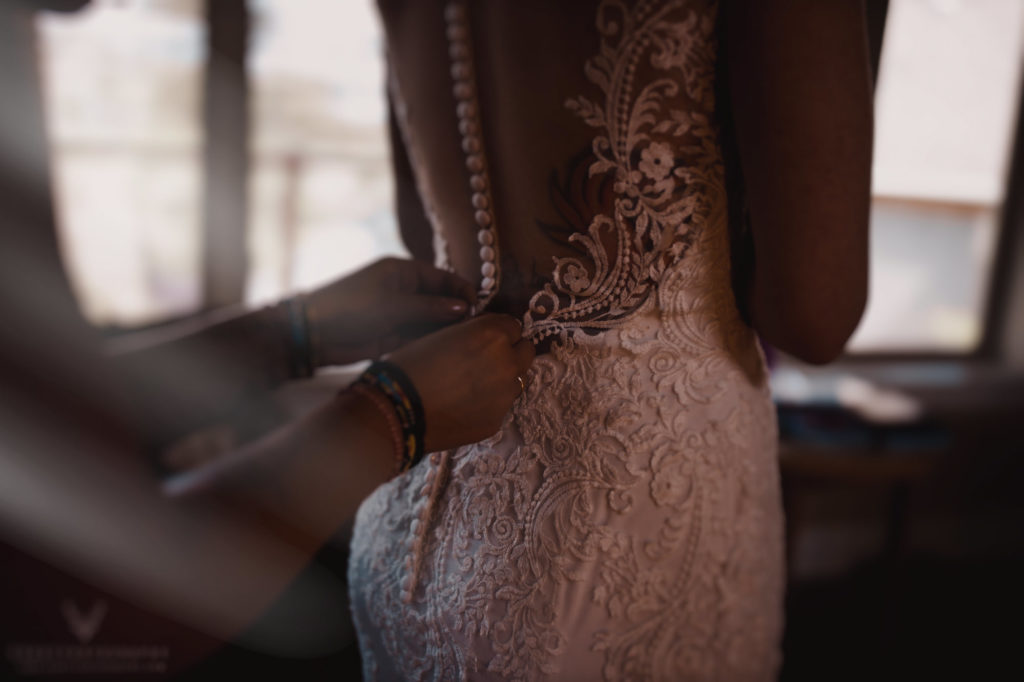 And soon, she was ready too. With a classically stylish dress, and a timeless vintage style updo.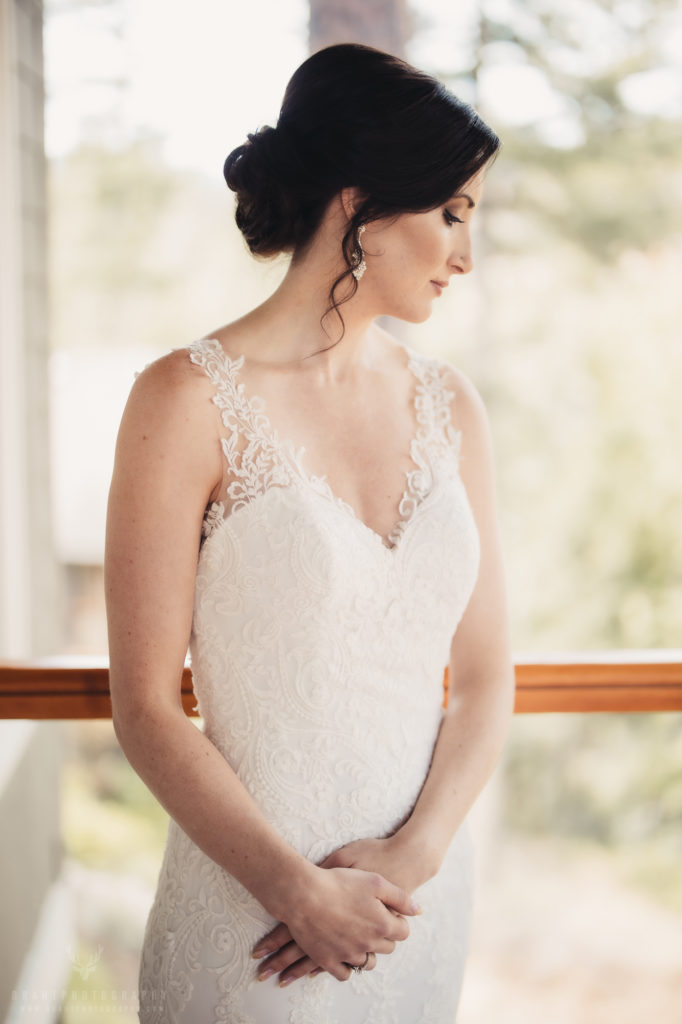 The first look with Dad was emotional.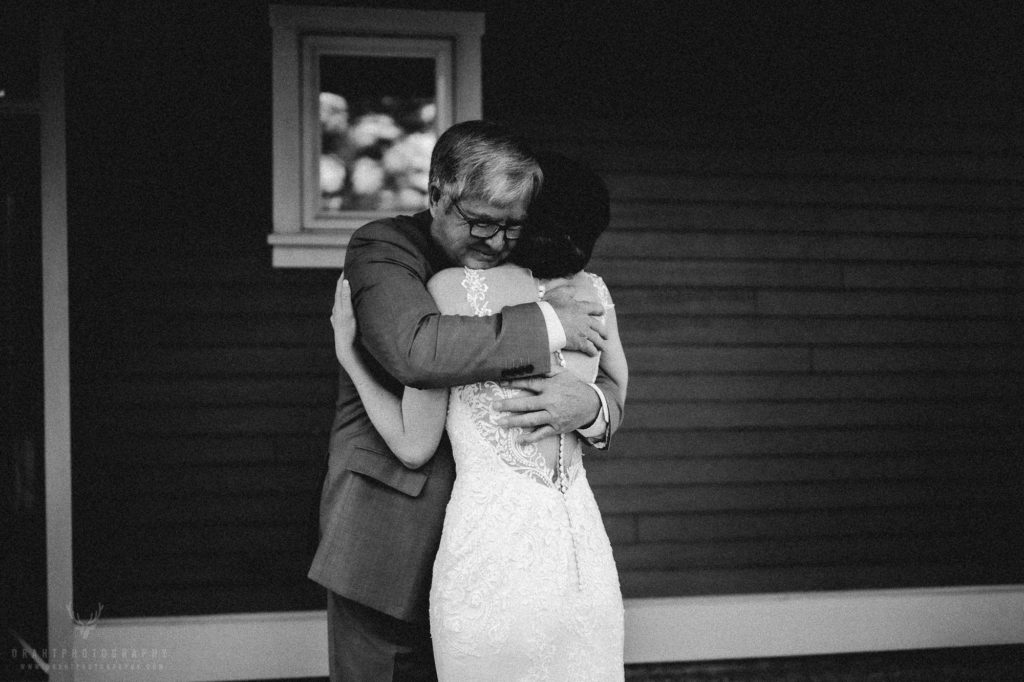 For the official first look, we picked a spot about a five minute golf cart ride away. The sun was overhead, so we knew we had to be careful with the shade. As it turned out, the long streaks of sun simply made it better.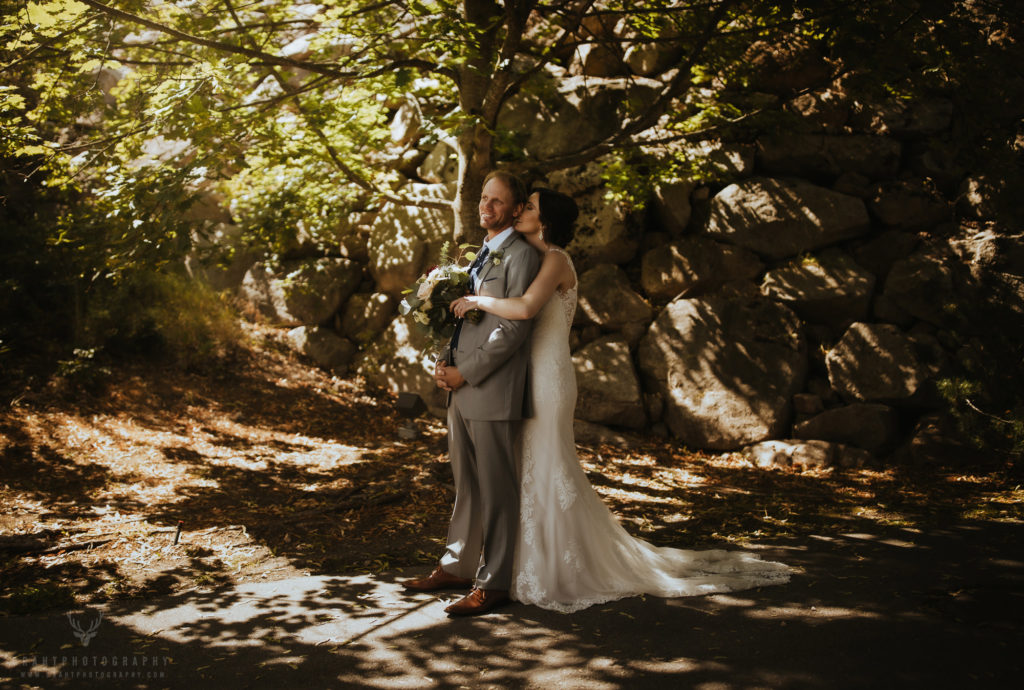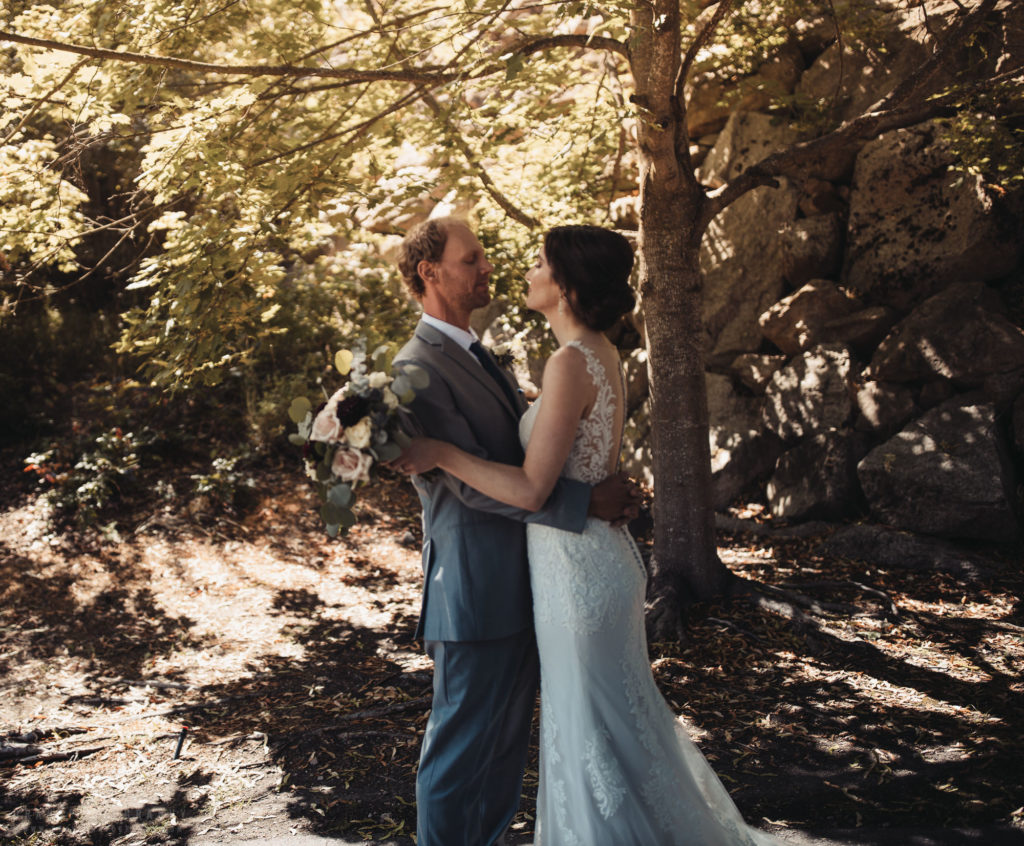 He absolutely couldn't believe his eyes. He kept looking down, then back up, in an effort to take it all in.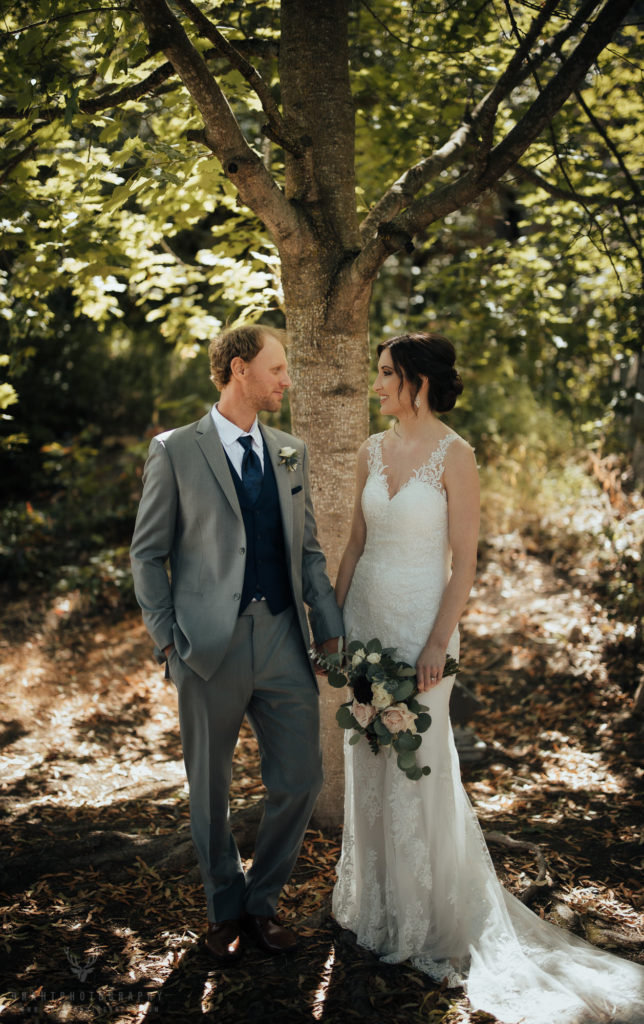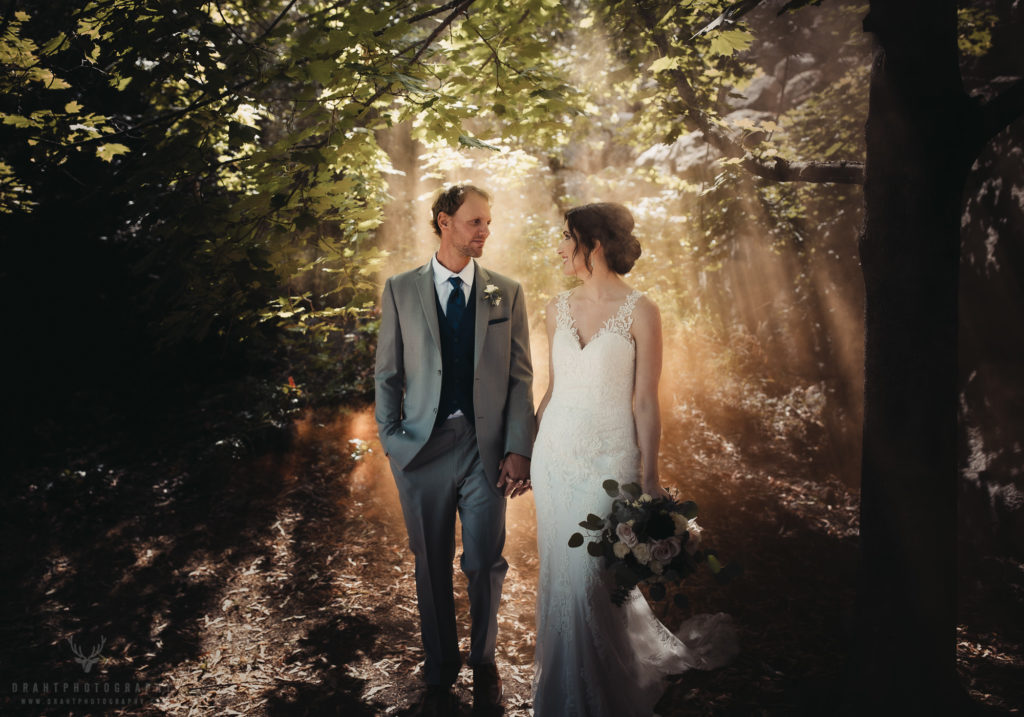 Bridal party photos were an absolute dream. Everyone was ready to party, the vibe was upbeat and fun. And just look at these flower arrangements!!!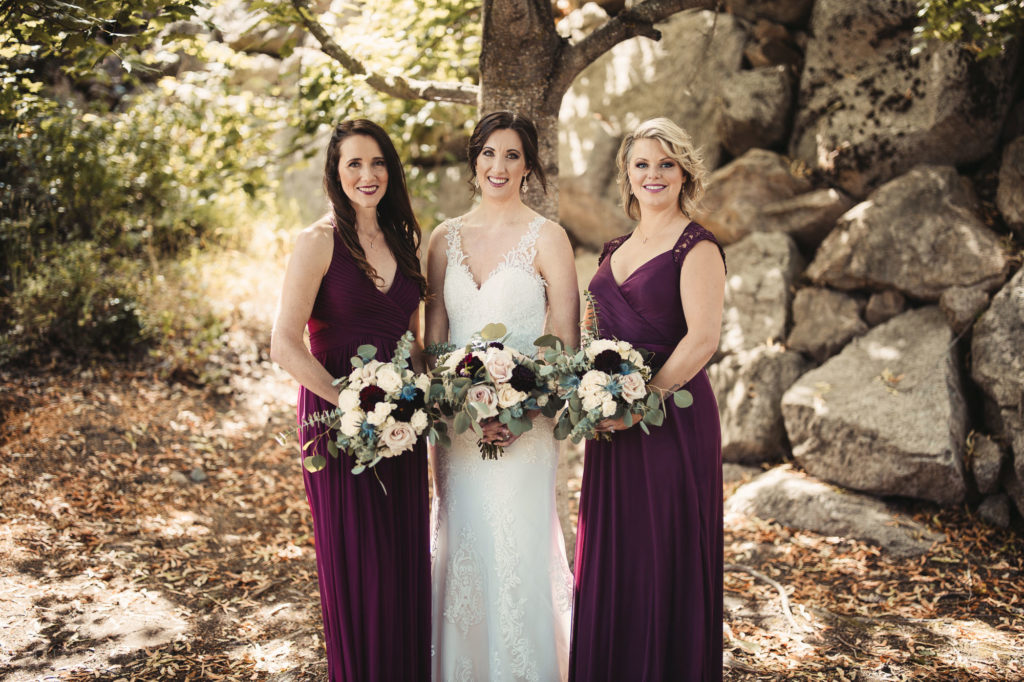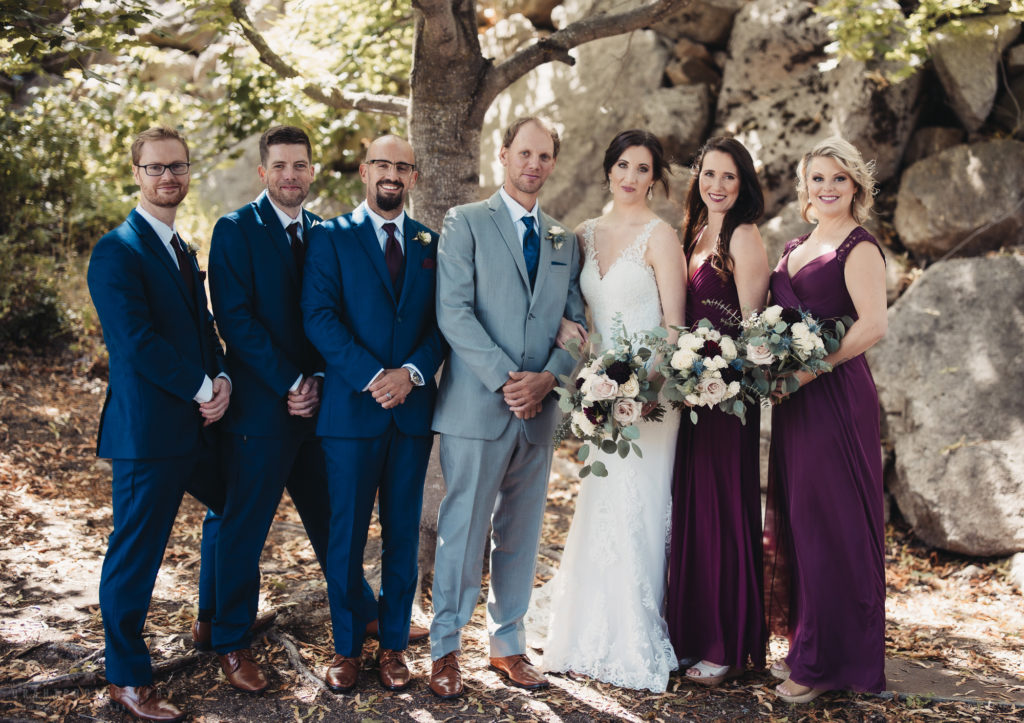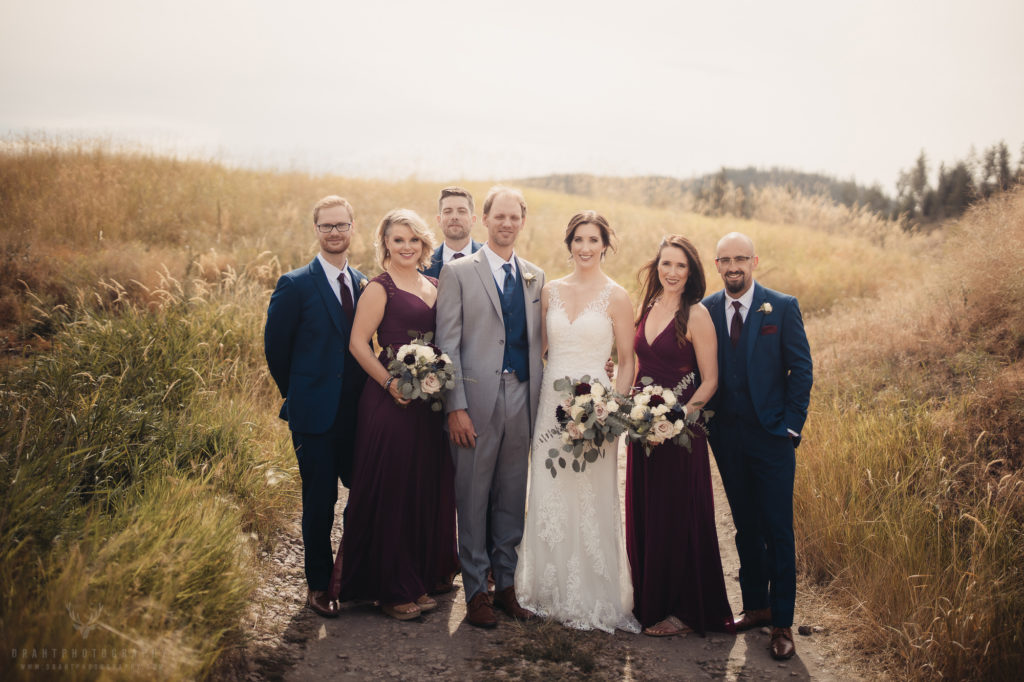 A quick rest, and then it was time for the ceremony!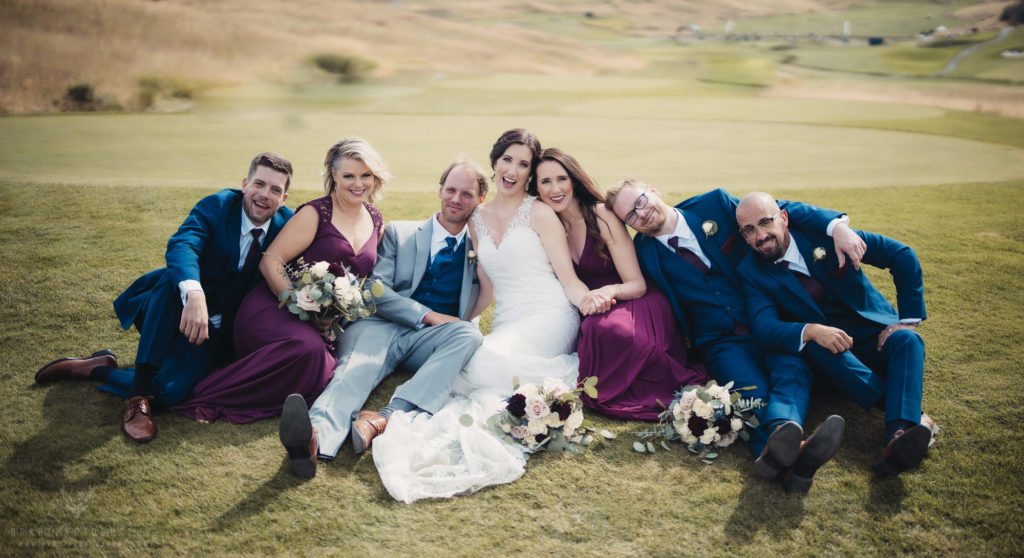 The ceremony was absolutely picturesque. Predator Ridge has an incredible view of rolling hills, wild grass, forests, and even the lake. It's a million dollar view, people come from all over the world to see it. And of course, that comes through in the photos.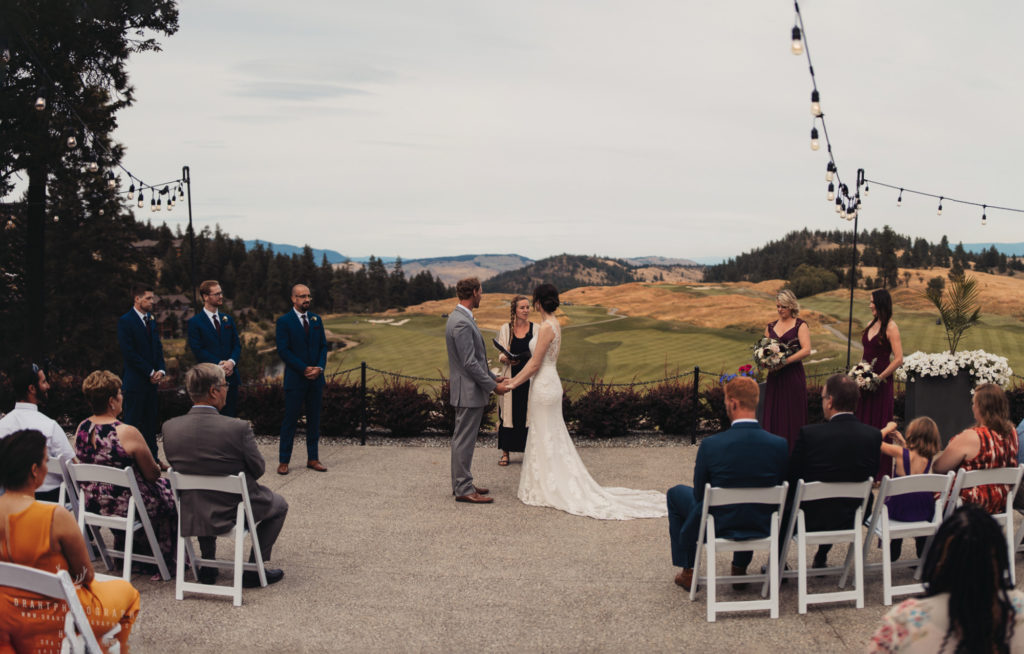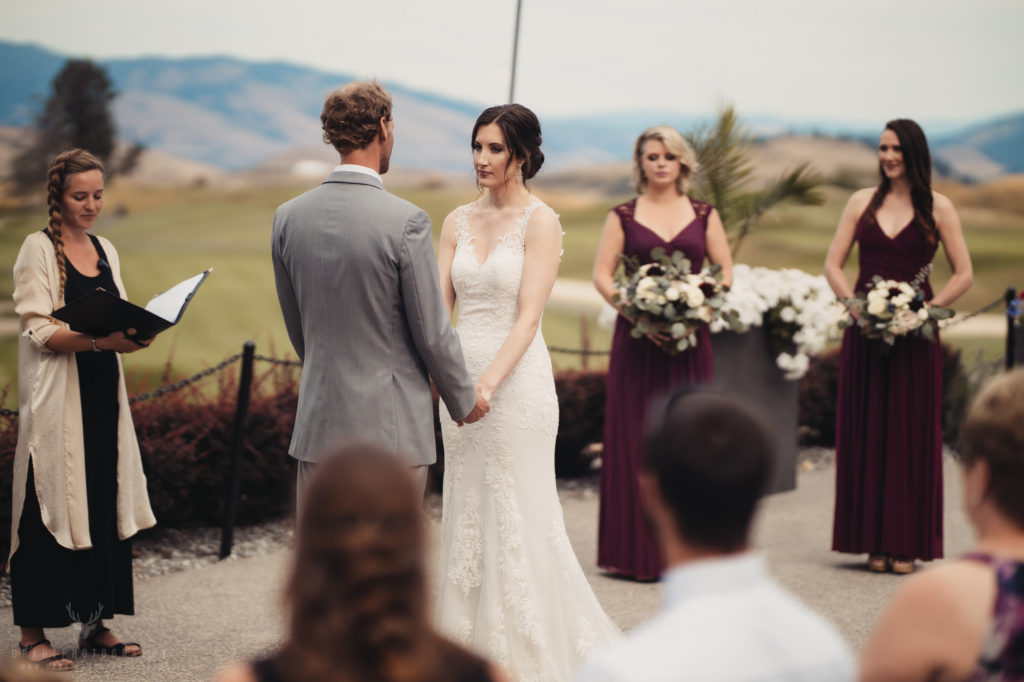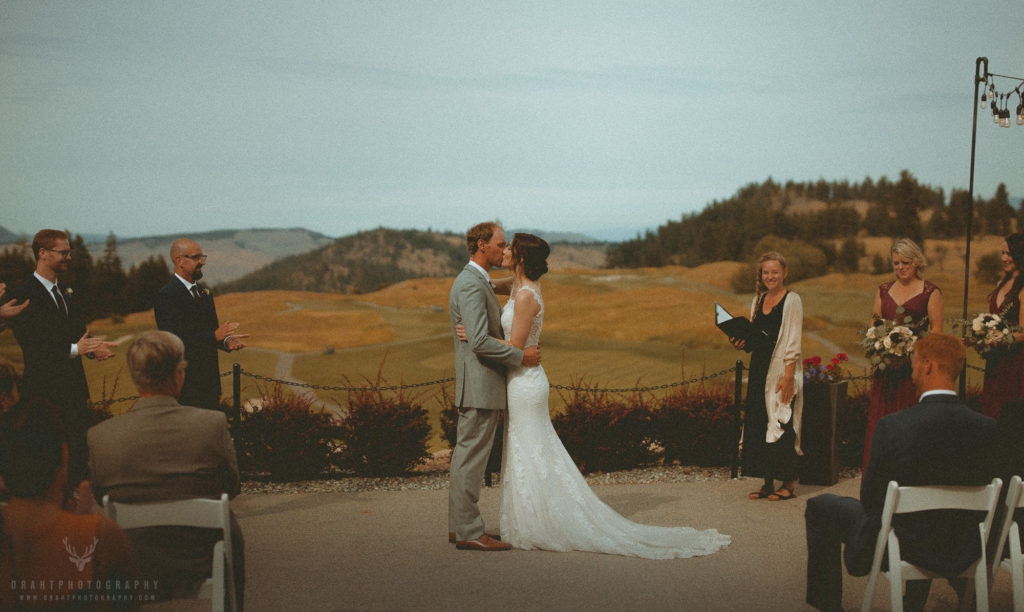 After the ceremony, appy hour had begun! I want to talk about the place settings. Of course, we did have a cake.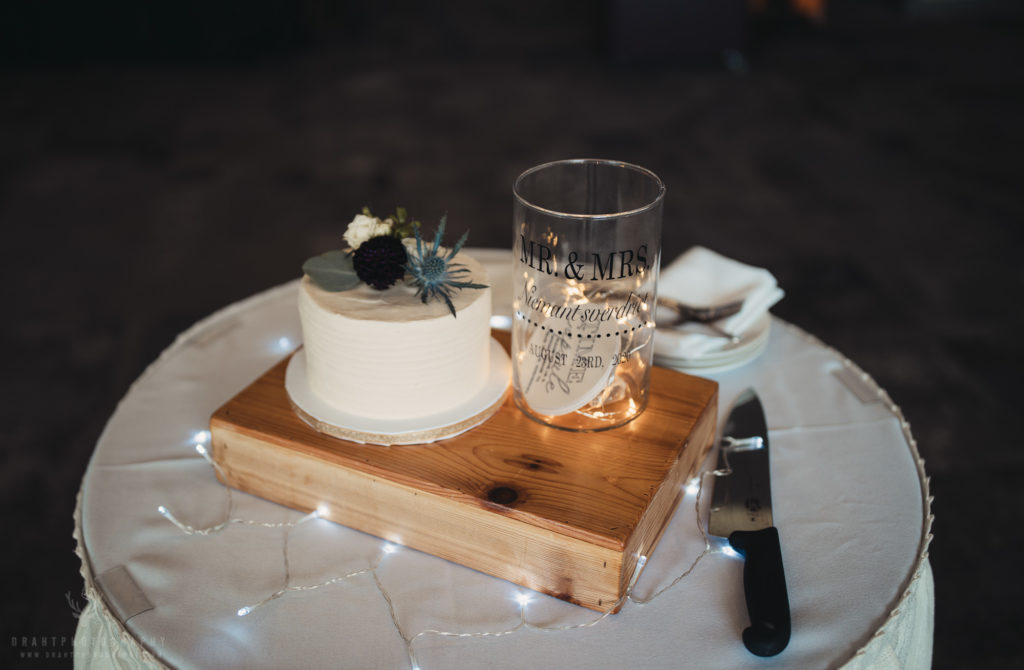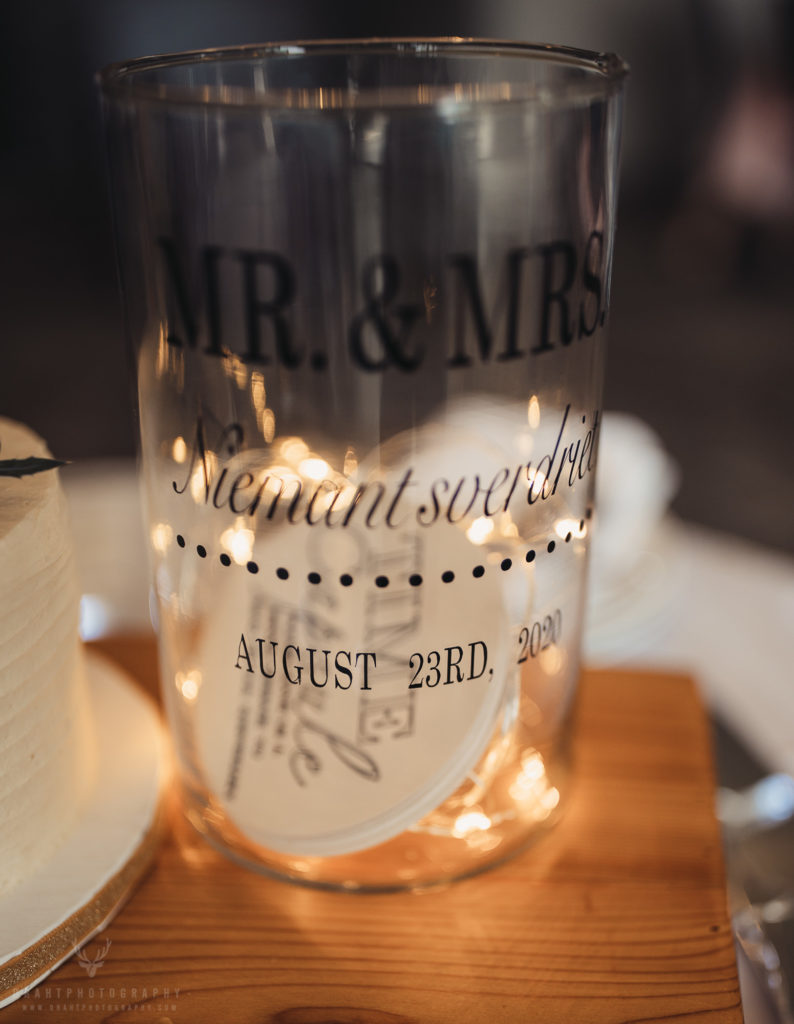 However, at the tables, we also had cupcakes.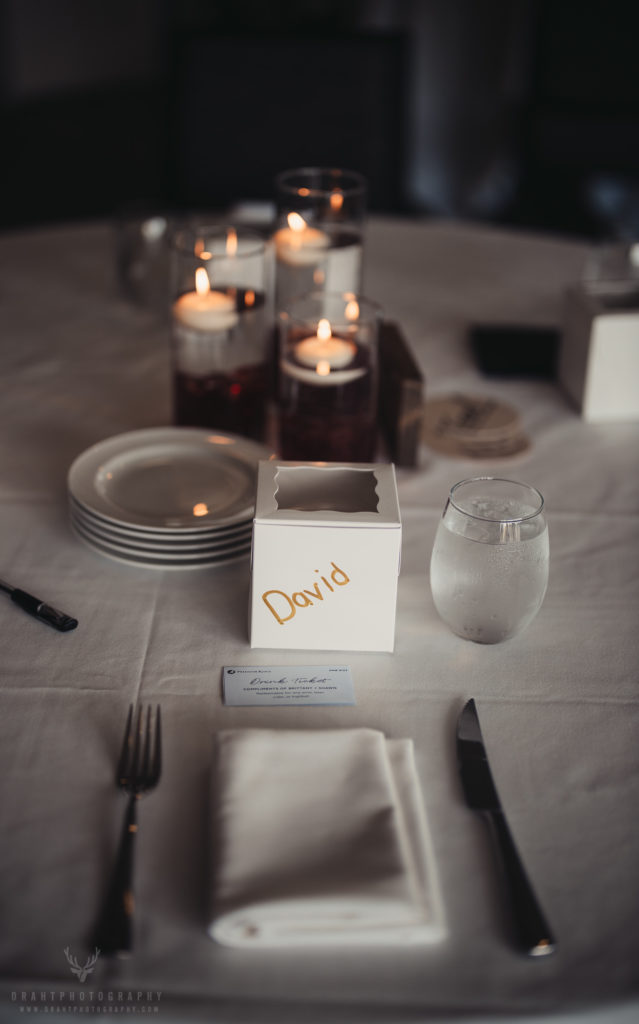 As you can see, each cupcake had our name written on it, as a place holder. Talk about details! Of course, not all of us could wait until the cake was cut to have a taste. It was rather tempting.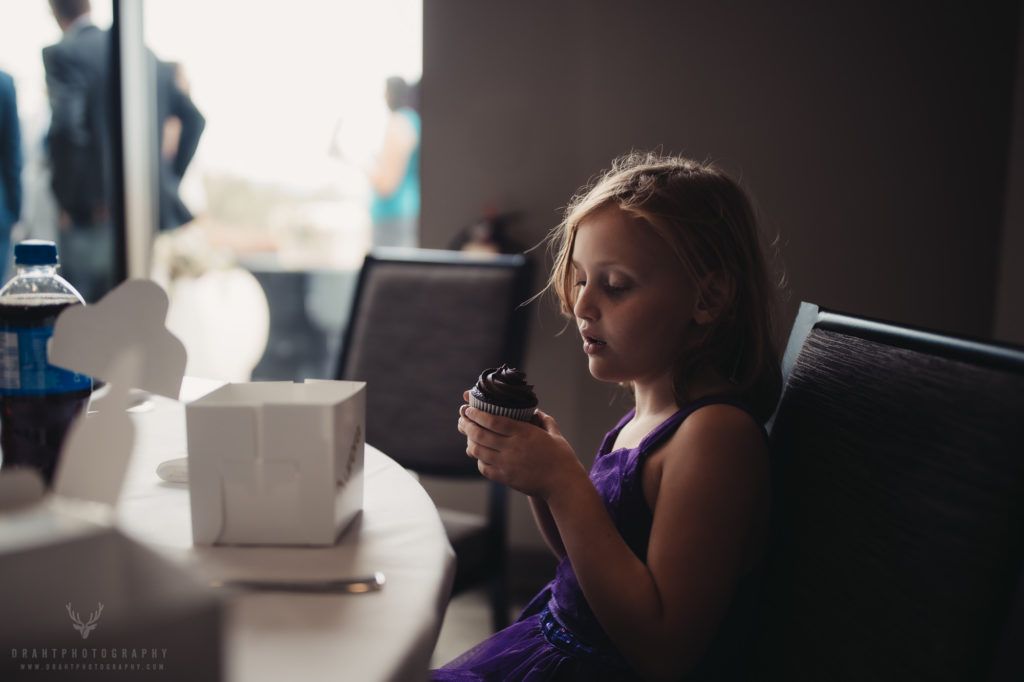 Everyone had a blast, from the incredible appies, the first dance, and the speeches, we had a full afternoon.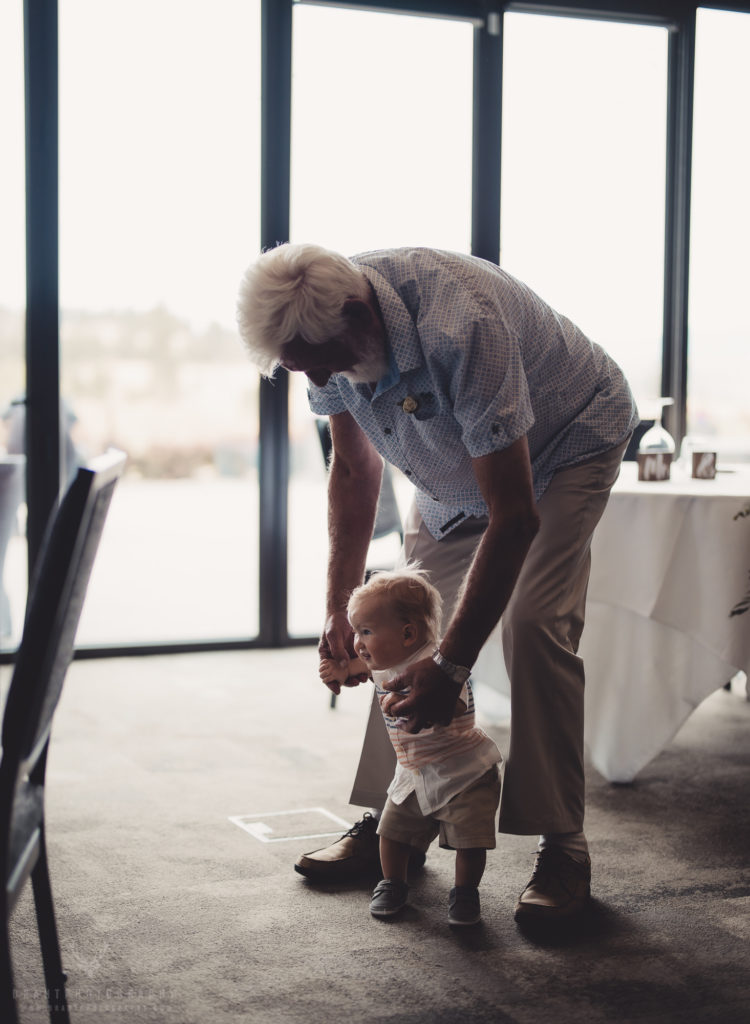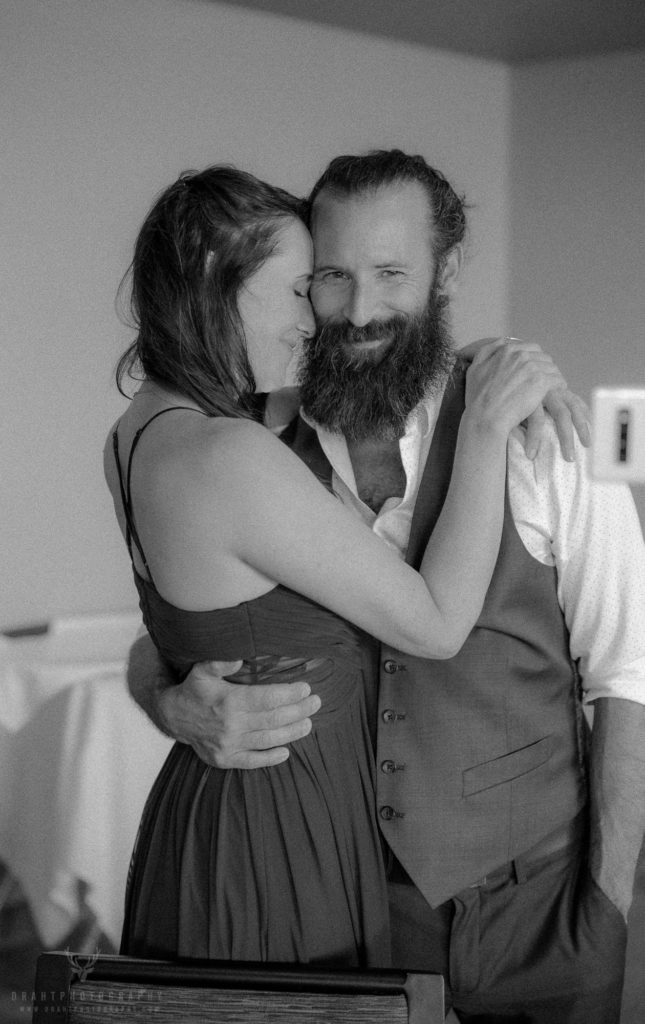 However, for this bride and groom, the evening had just begun. We had a plan to start taking pictures at 6:30pm. Normally, this is sunset sneakaway time. Usually, I get about ten or fifteen minutes for a sunset sneakaway. Not this time, this time I got an entire golf course and over an hour.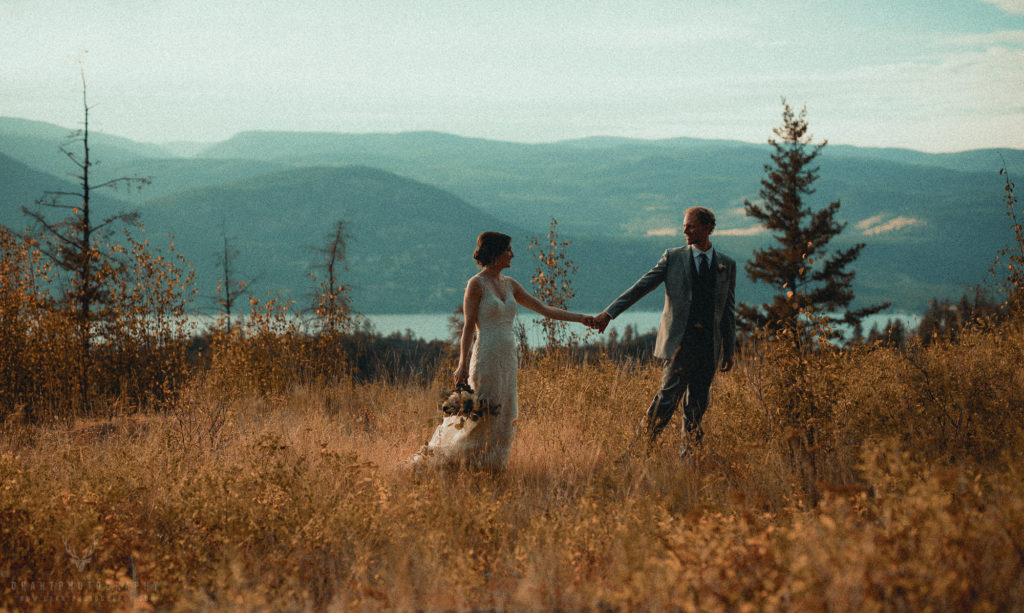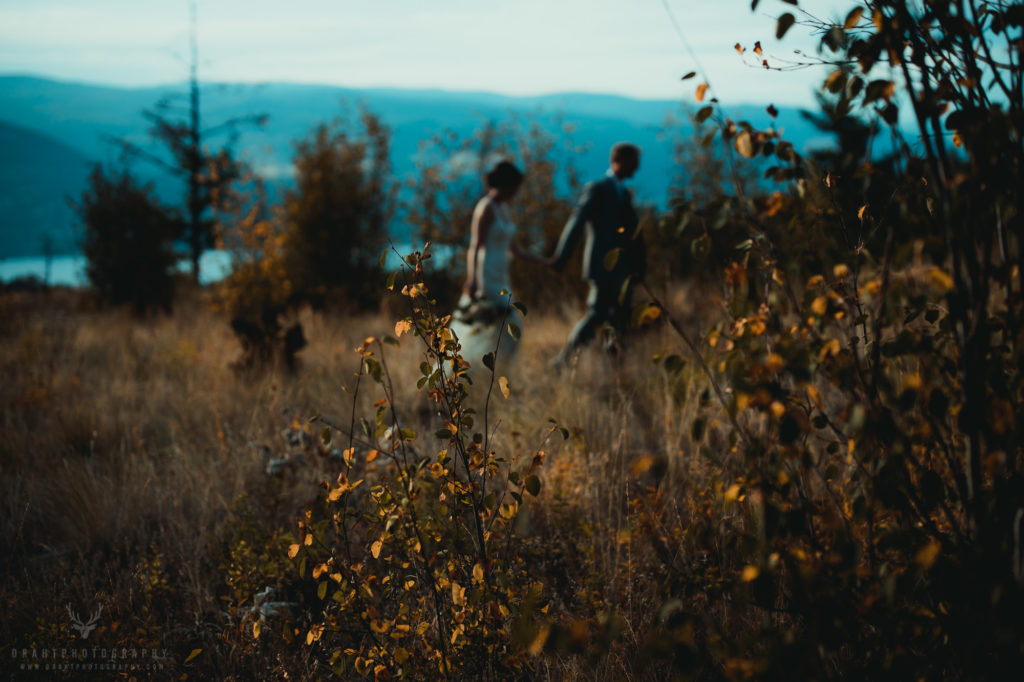 The sun filtered through, right behind us, giving all the tall natural grass a golden hue.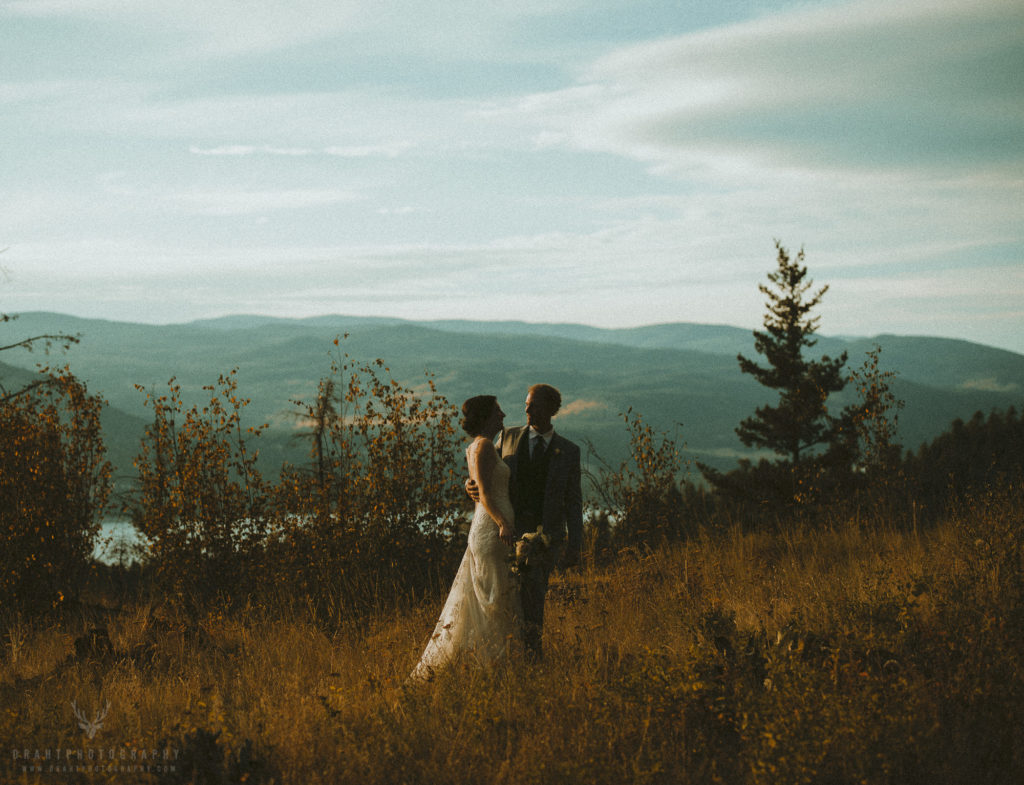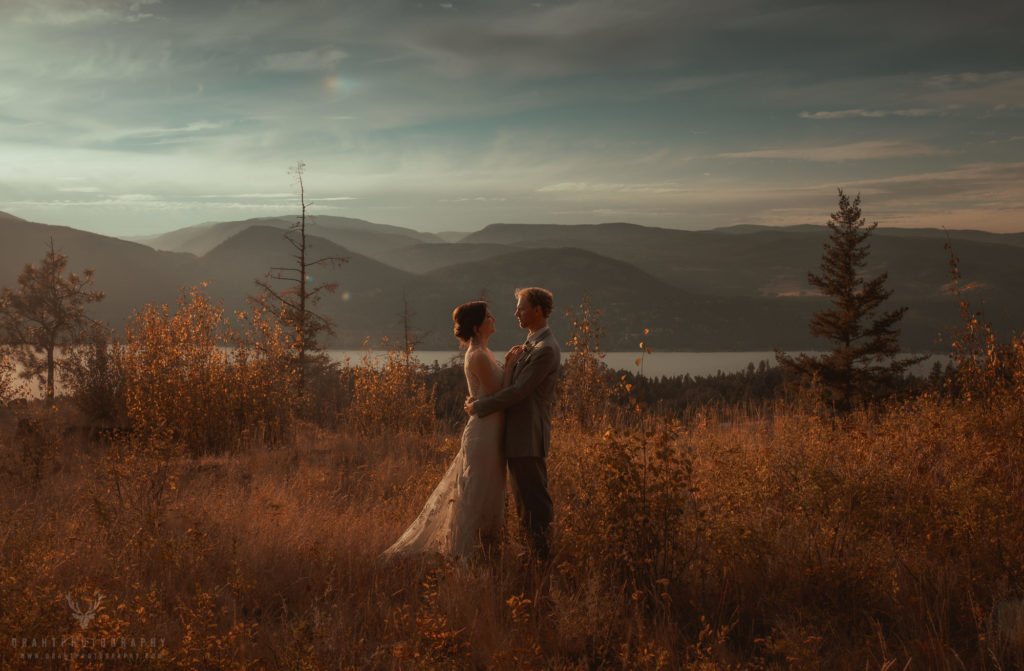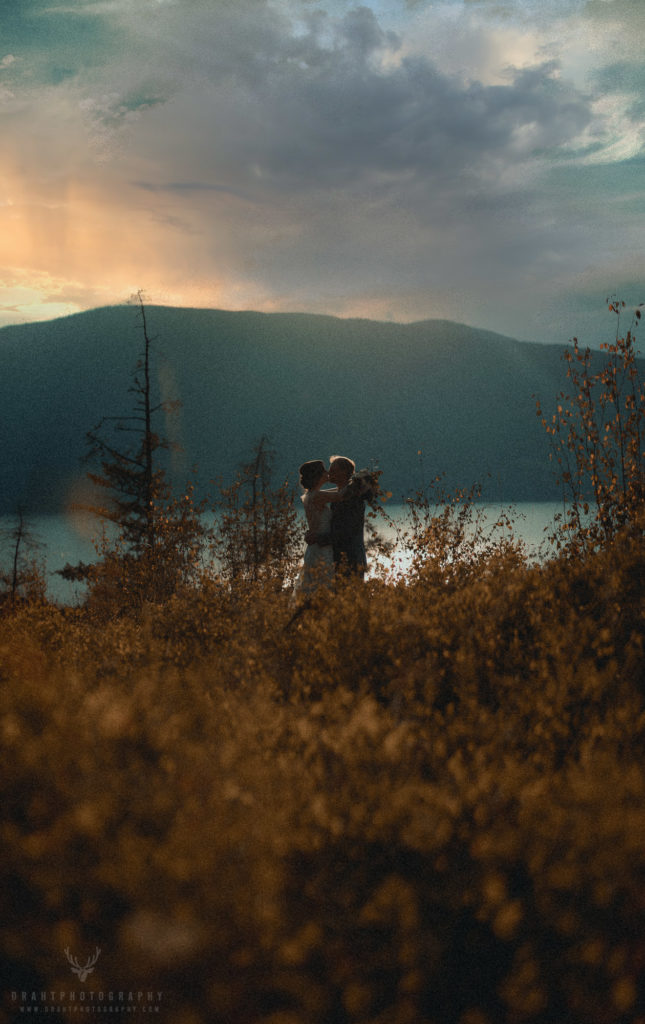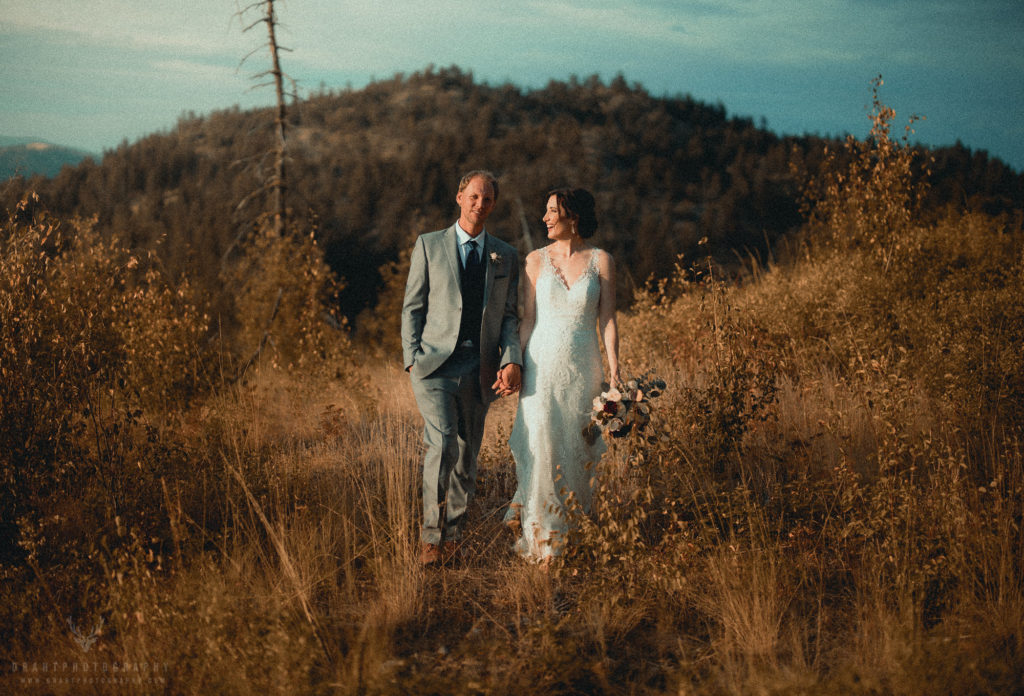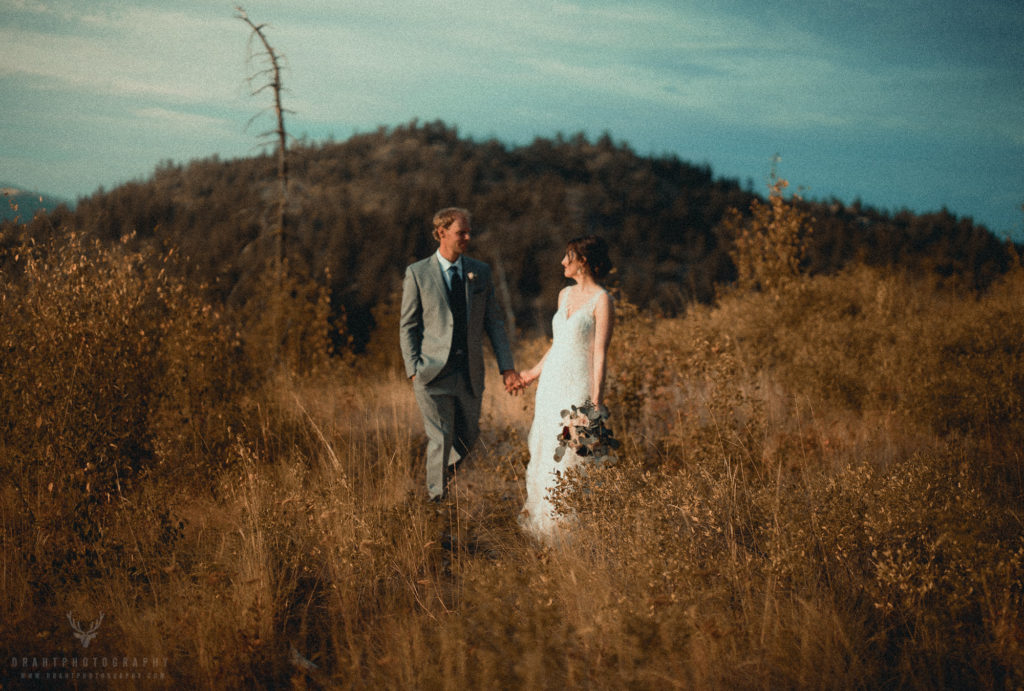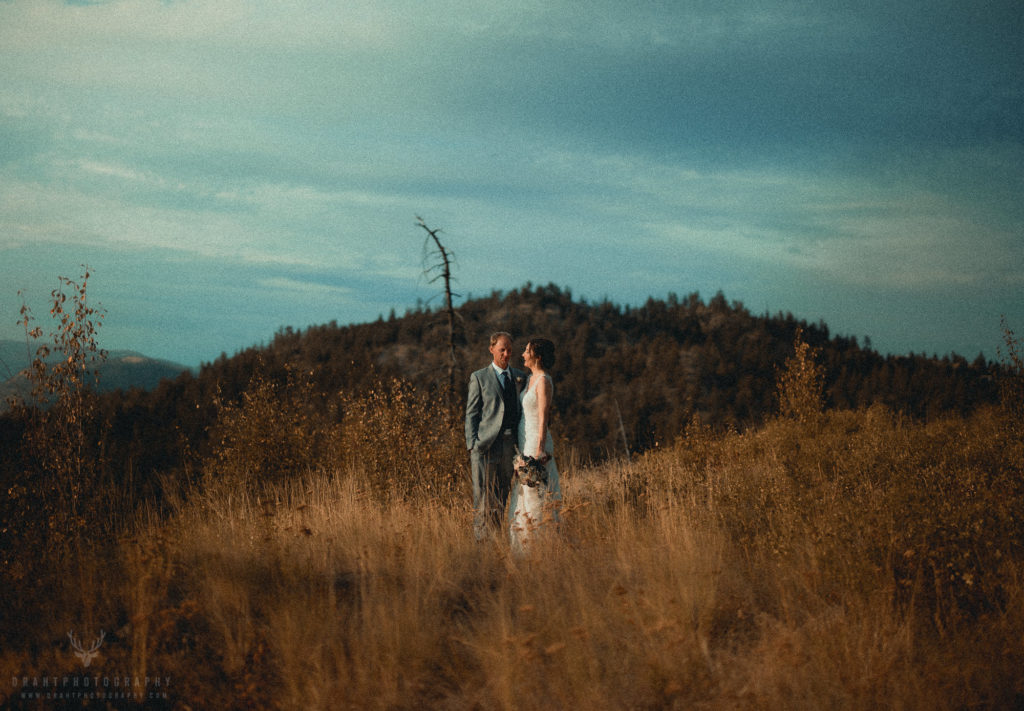 We caught the whole range. Gold, blues, dark deep shadows, and bright highlights. And the detail on this dress!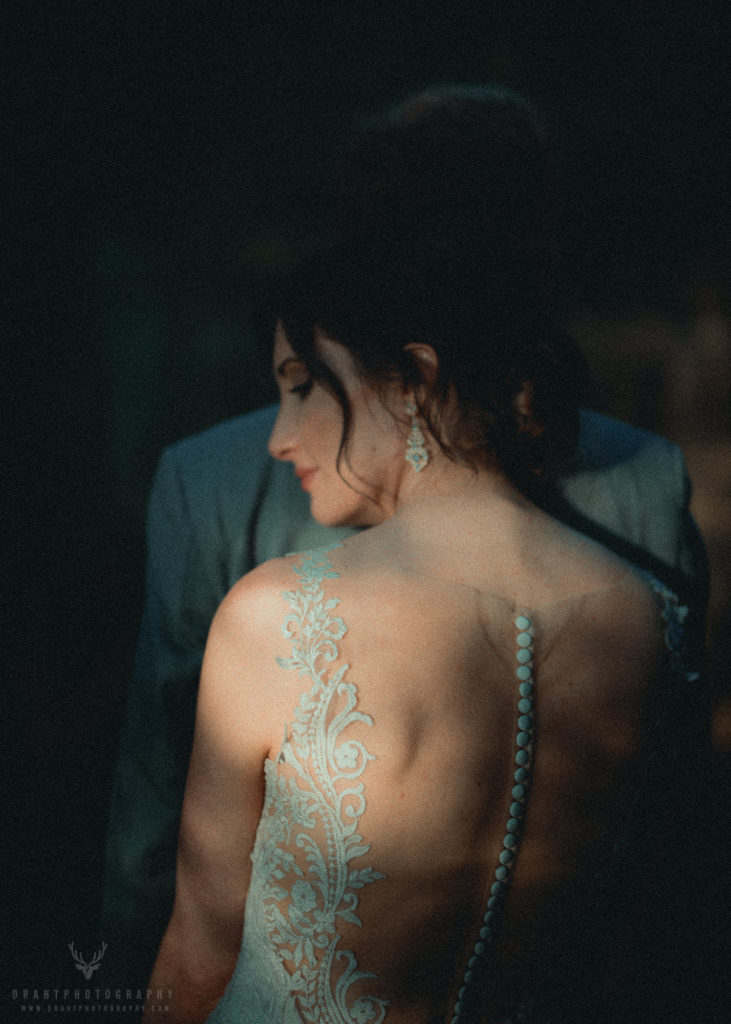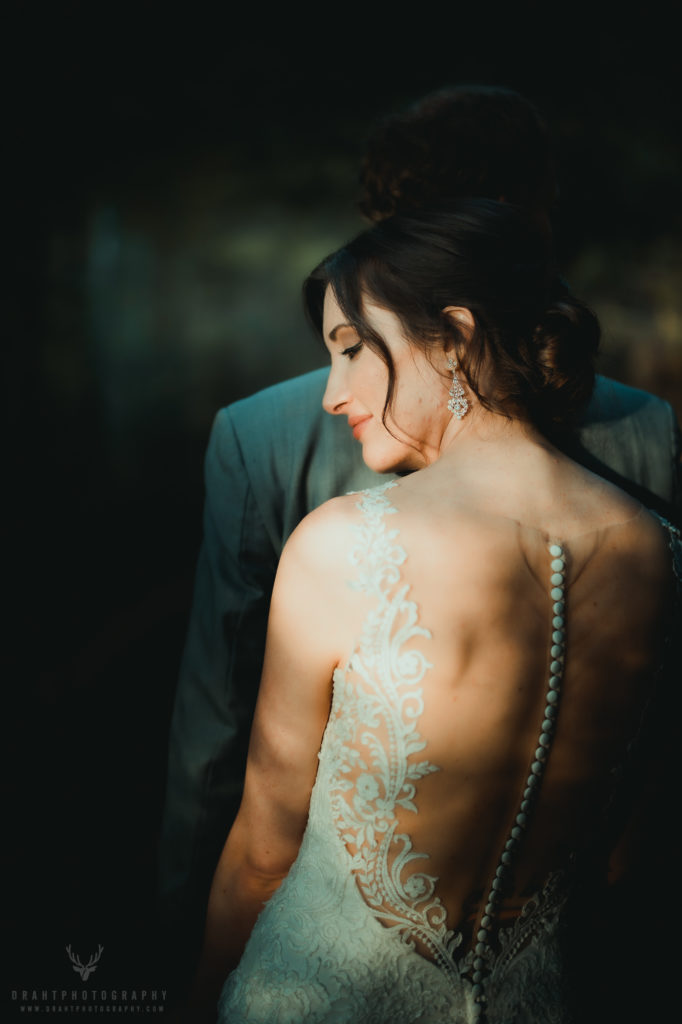 Unfortunately, this is where I'll have to leave you. This is a fairly large sampler, at 50 photos. There's more coming, though, in about two weeks. If you'd like to be notified when the album is ready to share, click here.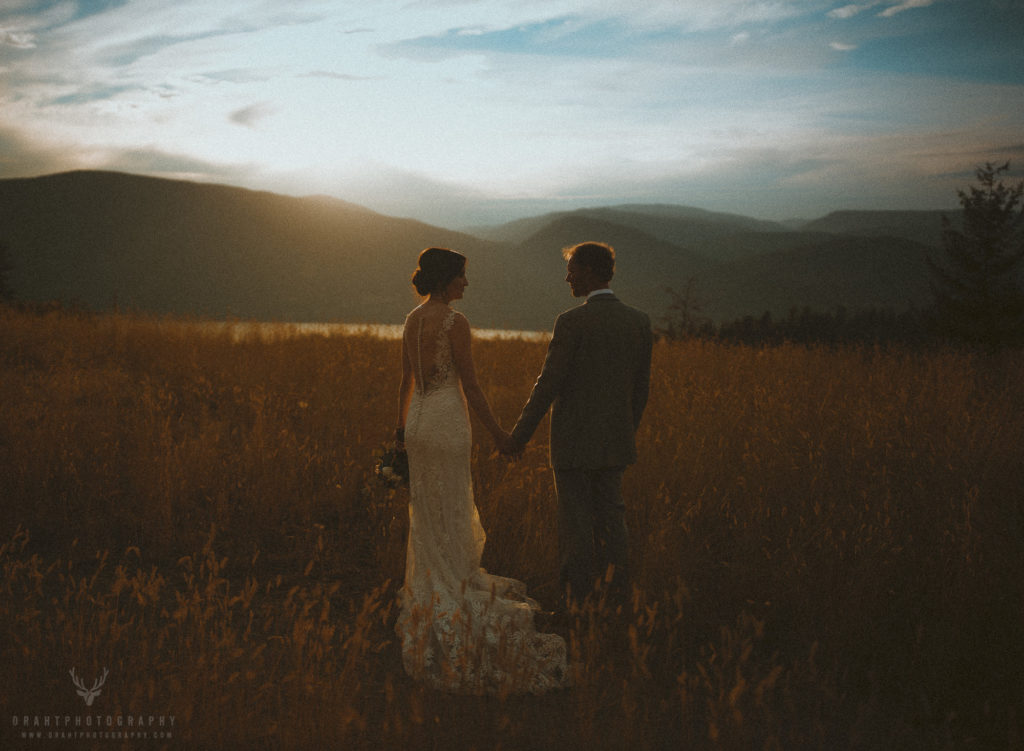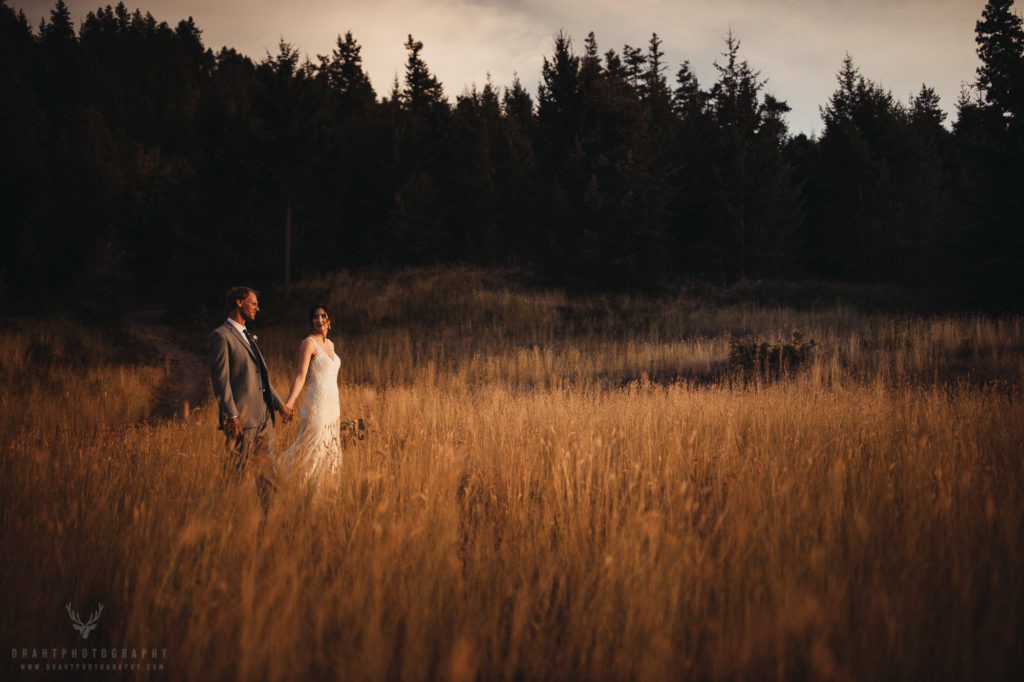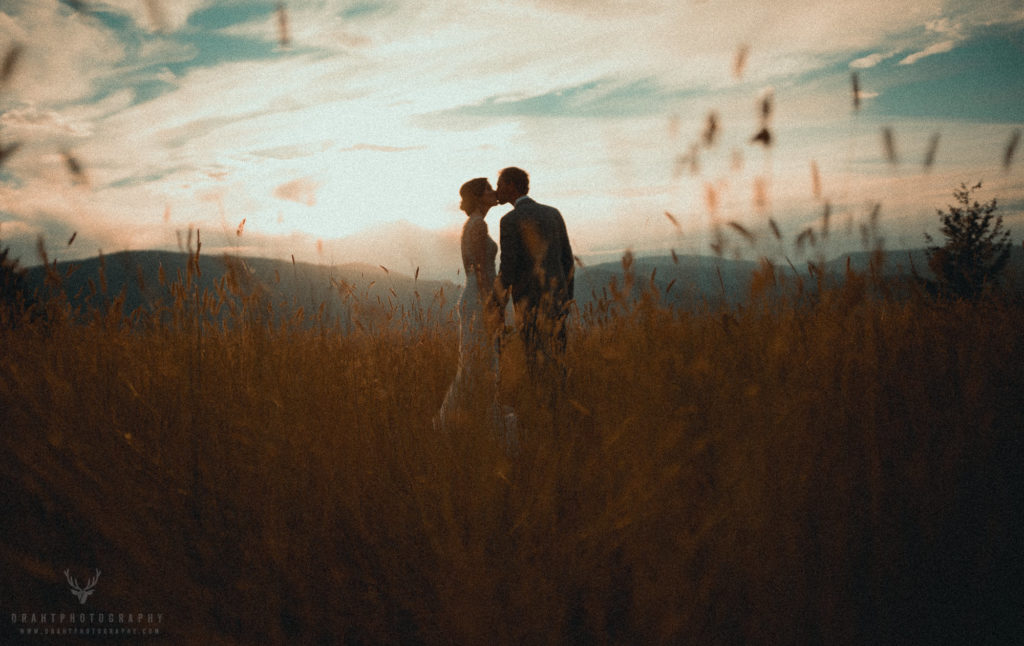 If you'd like to save any of these photos, you can simple long-press them on mobile, or right click them on computer, and it should be straightforward from there.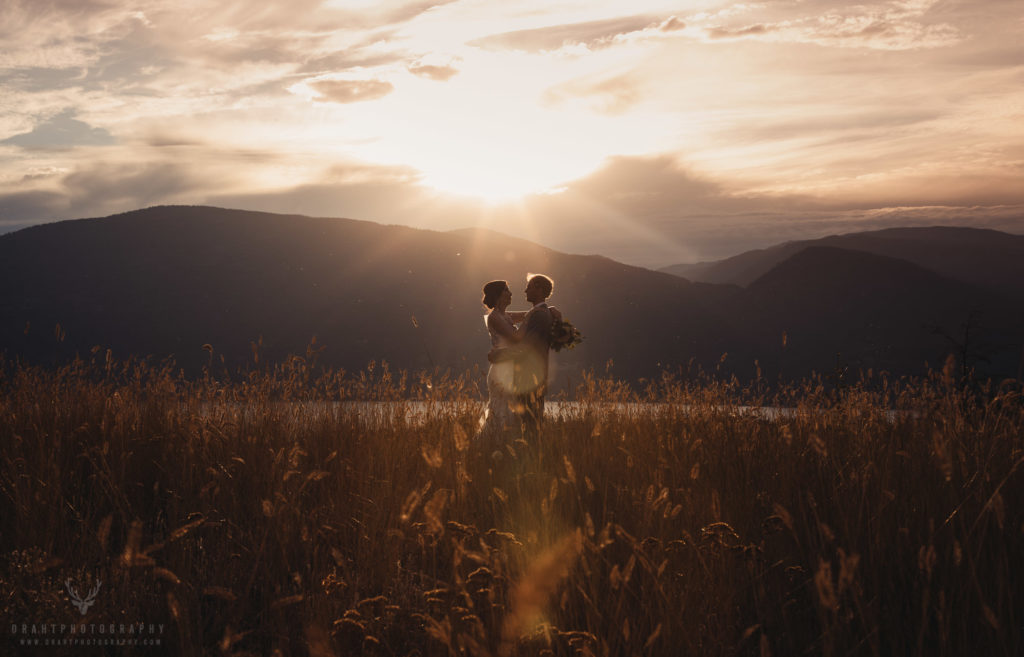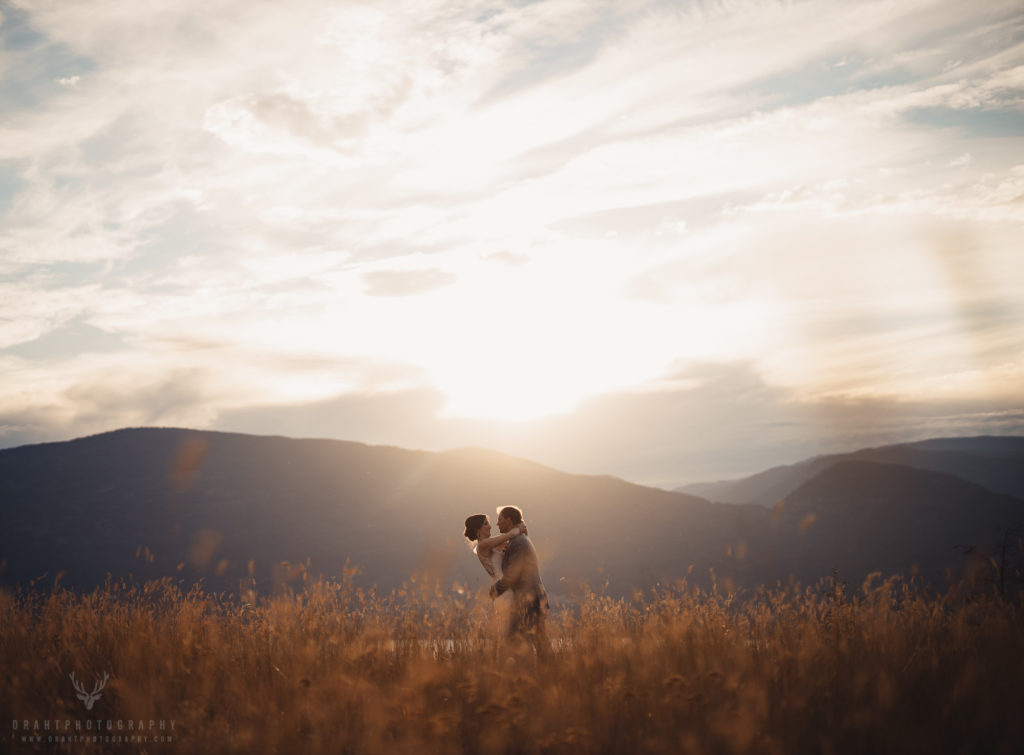 We have quite the album, with a lot of candids, some fairly artsy photos, and just so much nature. It was truly an unforgettable day.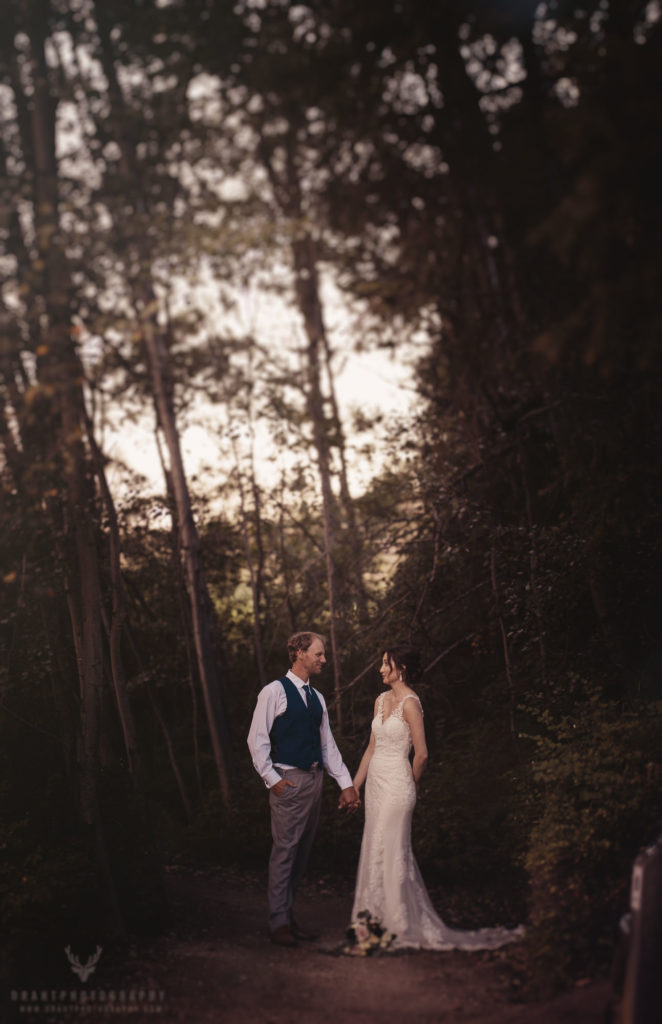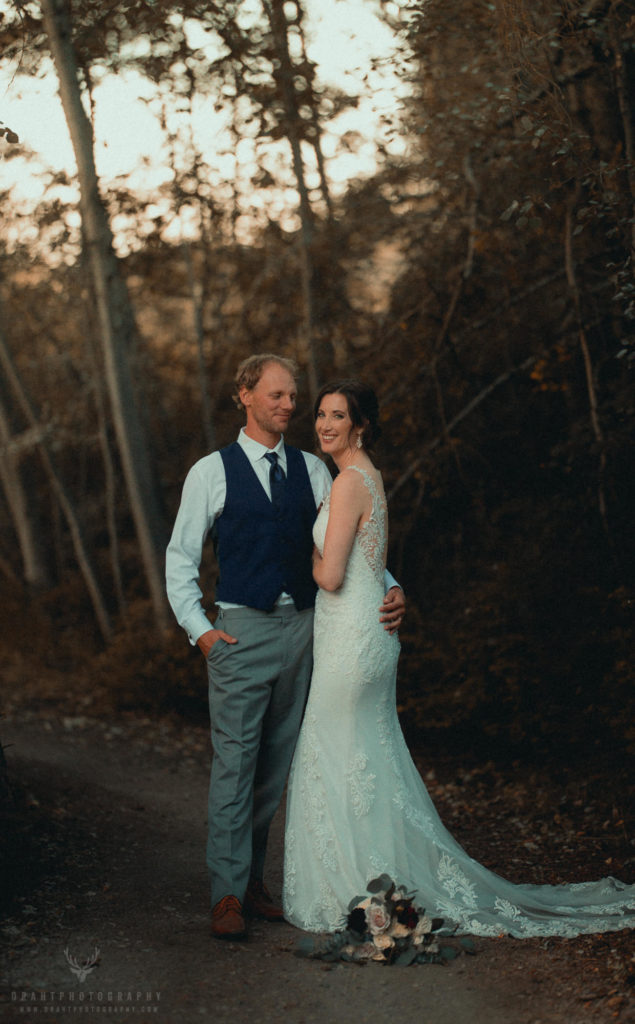 Thank you for reading this sneak peek! If you'd like to follow my updates, check my instagram, facebook, or tumblr. Talk to you soon!