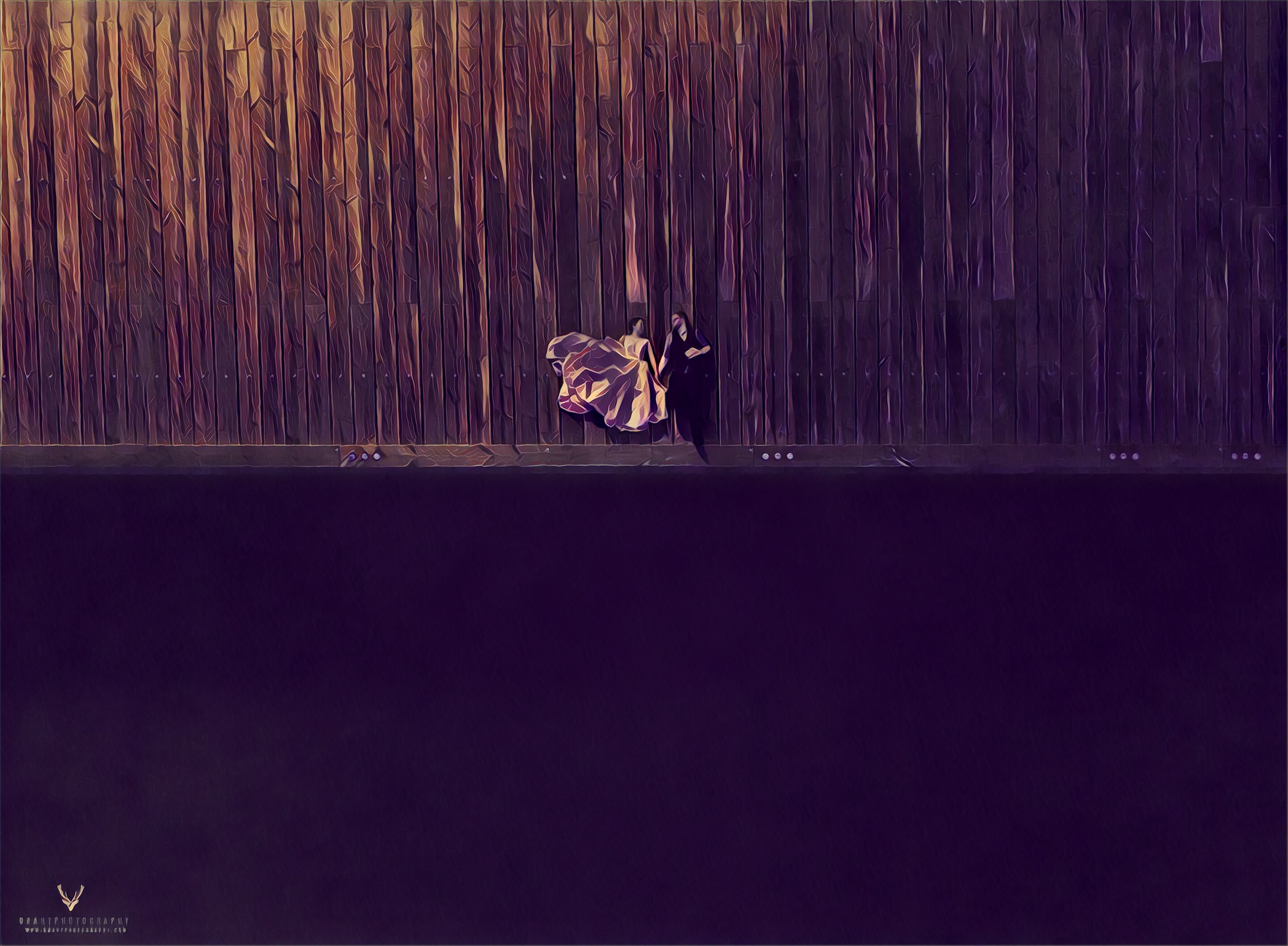 The Wedding by the Ocean Sampler
Quite the header image, hey? I've had a photo like that in my mind for a while. I love the ocean, and I love water, so docks are a natural draw to me. This wedding took place at the yacht house too, a...
T
Q
Quite the header image, hey? I've had a photo like that in my mind for a while. I love the ocean, and I love water, so docks are a natural draw to me. This wedding took place at the yacht house too, all the walls facing outwards were made of glass. It was a surreal experience.
I should also mention, this is the first wedding I've vlogged. Click here to see it. It's a little rough right now, but I'm hoping it will become something that will add a brand new dimension to my photography.
We started out, of course with our ring and dress shots. These are custom-made ring cases, and only a hint of the thought and time that went into this wedding.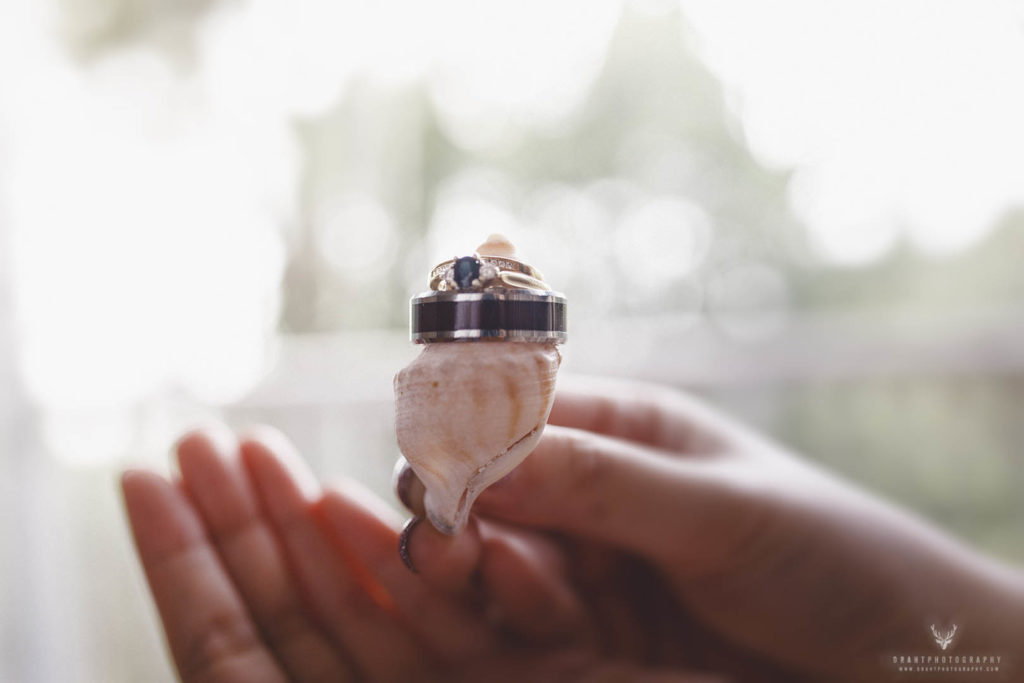 Anyone who's been reading this blog for any amount of time knows how much I love the big dresses. There are technical reasons, of course. It opens you to silhouettes, you can use back flash with them, it's fantastic primary colour theory texture.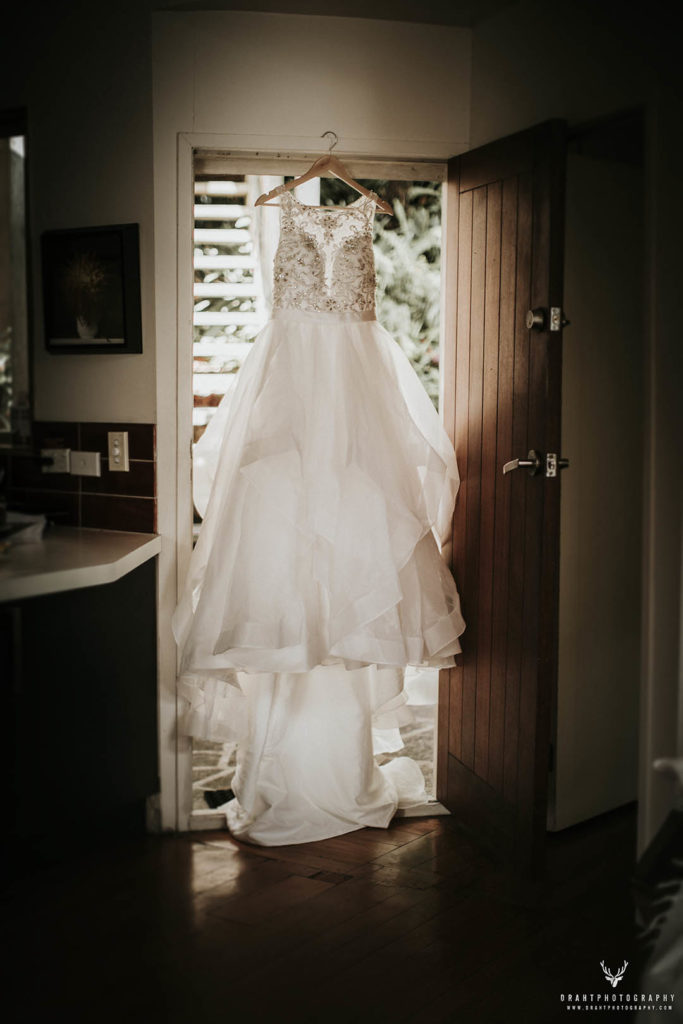 Even if that were not the case, I'd still be smitten with this dress.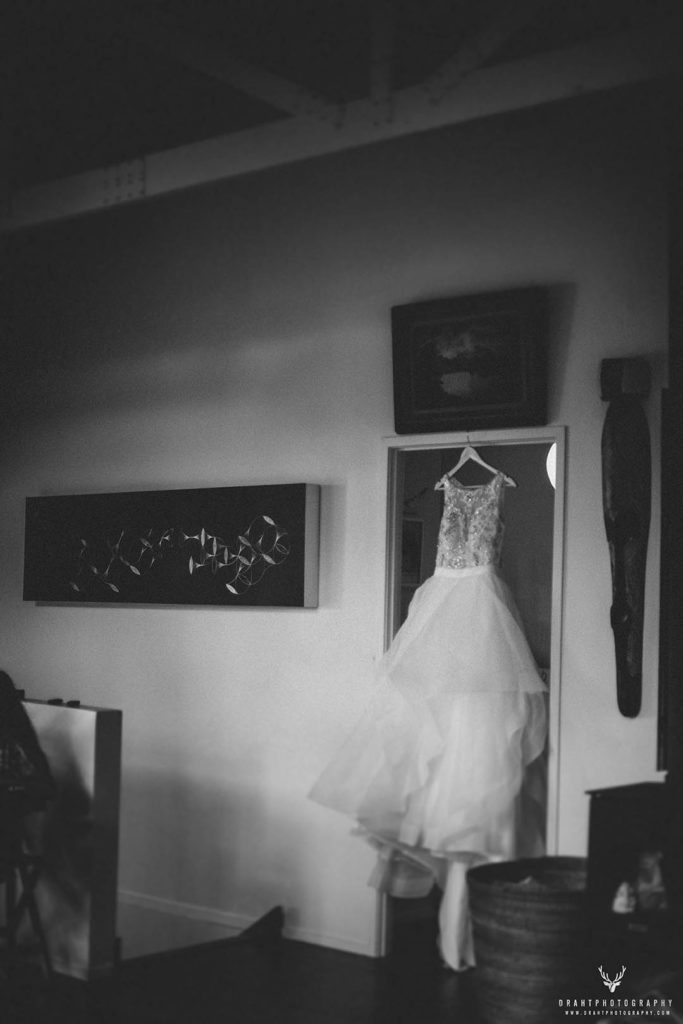 The AirBNB was incredible too. I could hear the cicadas, and the birds outside anywhere in the house. The floor-to-ceiling windows opened, exposing every room to the cool outside breezes. There were a few decks, with a view of the bay where the tide had just come out.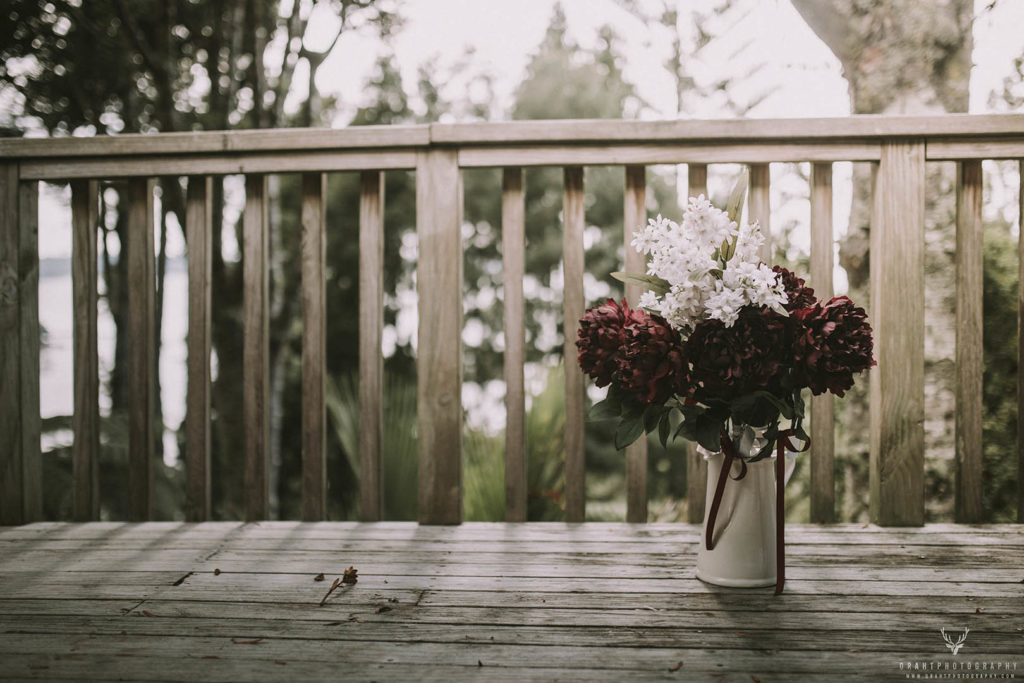 Then, of course, there was the venue. Everyone pitched in to make sure it was decorated from floor to ceiling.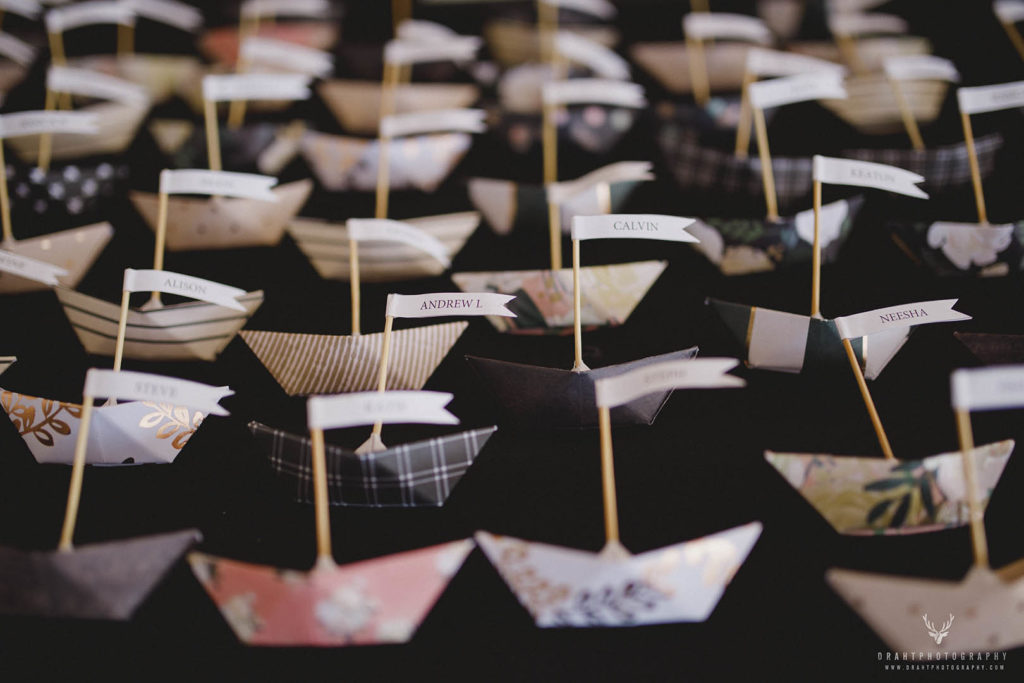 For every guest, we had a hand-folded paper boat. On the opposite side of the name was the table number. Looks at those little flags!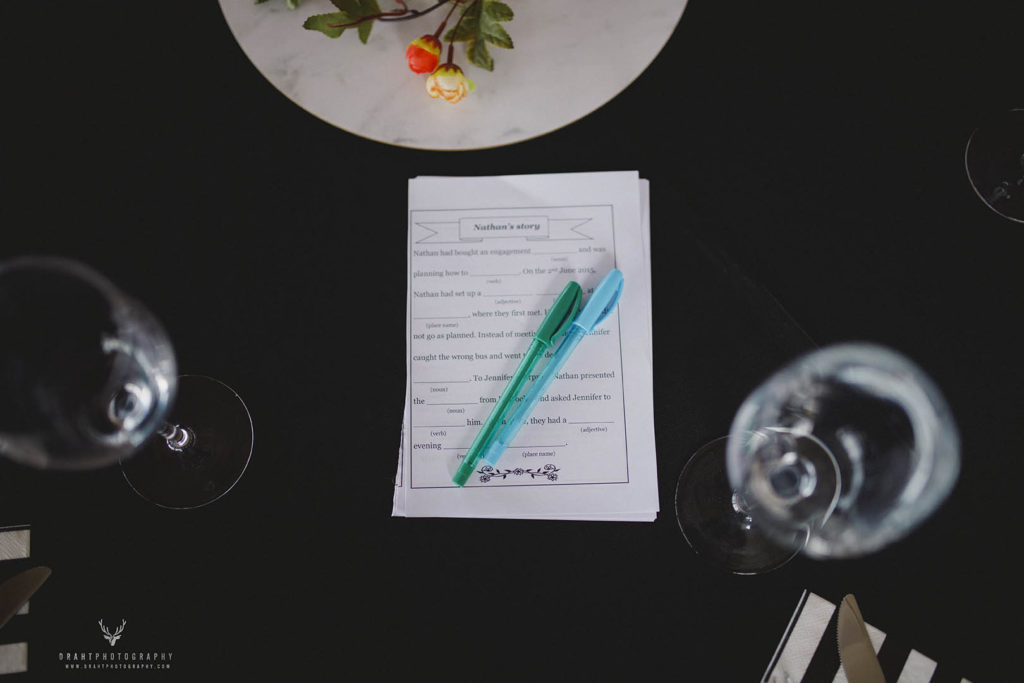 On the tables, we had fun fill-in-the-blanks games. This proved to be very popular. Later, when I sat down at one of the bridesmaid's tables, they all read my their very creative stories.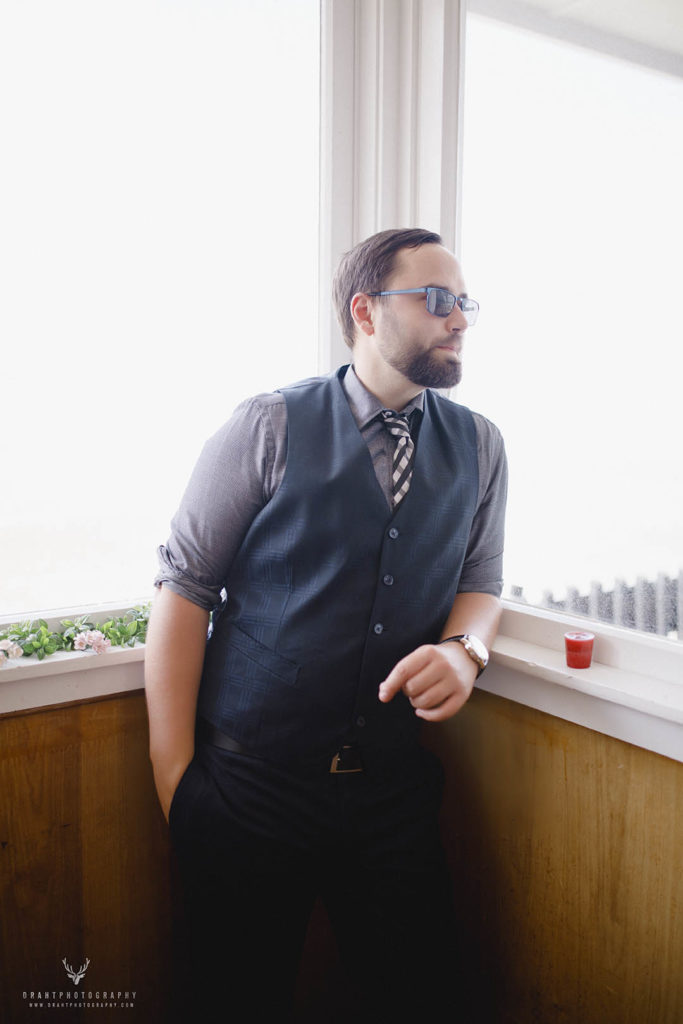 After chatting with groom for a bit, I made my way back to the girl's house.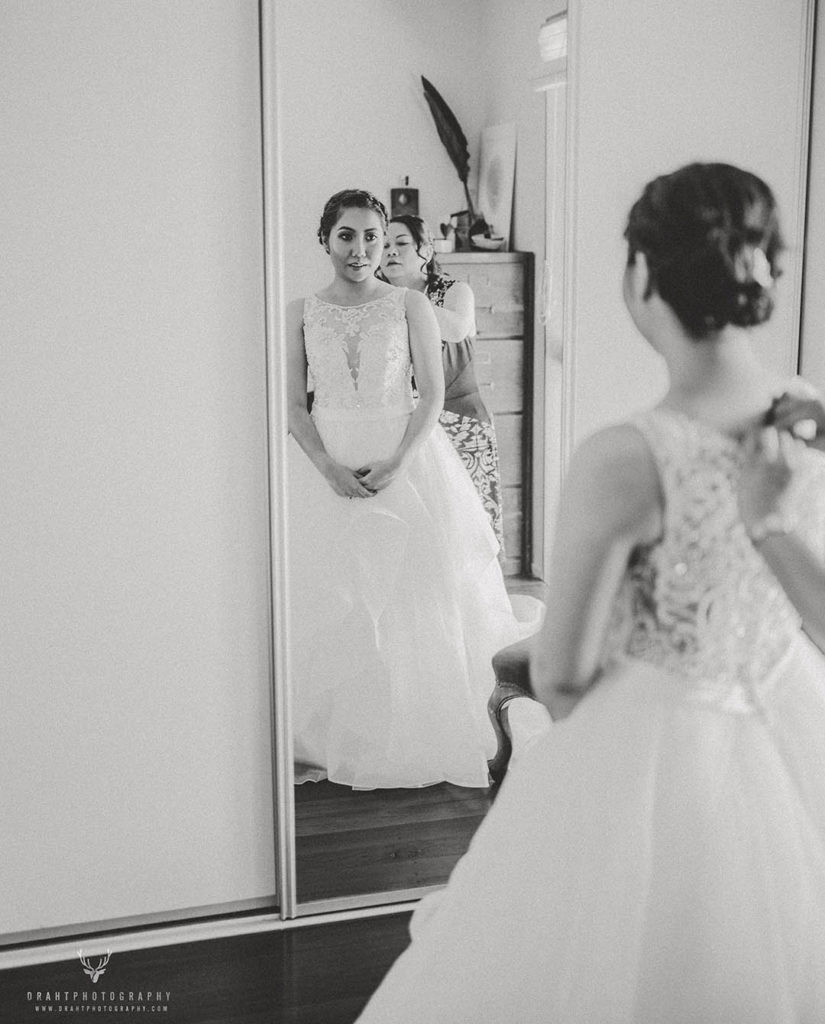 Our bride's mother was busy helping her with her dress. Earlier, in the kitchen, she chatted with me about how this day reminded her of her own wedding.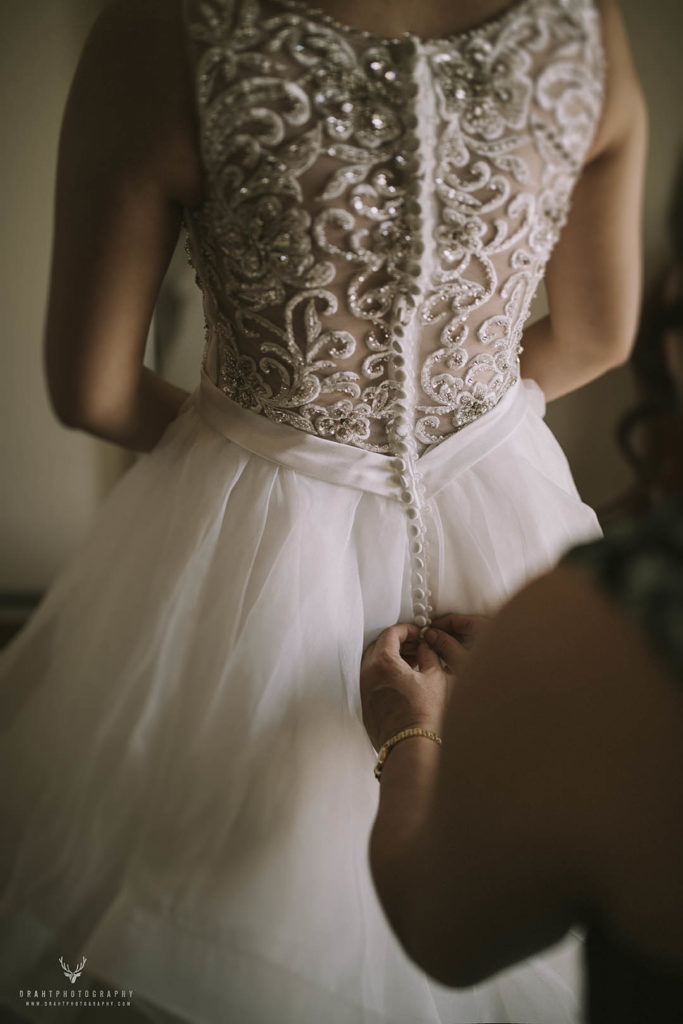 As a photographer, I love the dresses that take a while to button up. More opportunities for photos. And we had some incredible ones.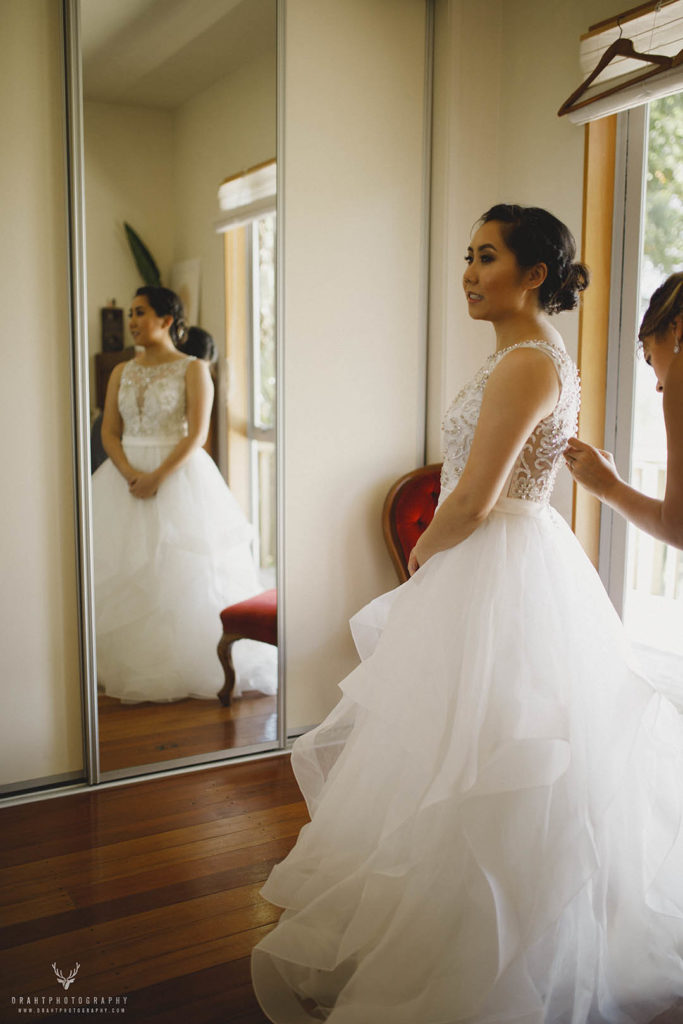 Keep in mind, this is a sampler – it's a sneak peek of a few a my favourite photos. There are many, many more photos, but this is a highlight of the day. Expect a lot more photos in a few weeks! There's a link you can click at the bottom to be put on the notify list for when the photos are done.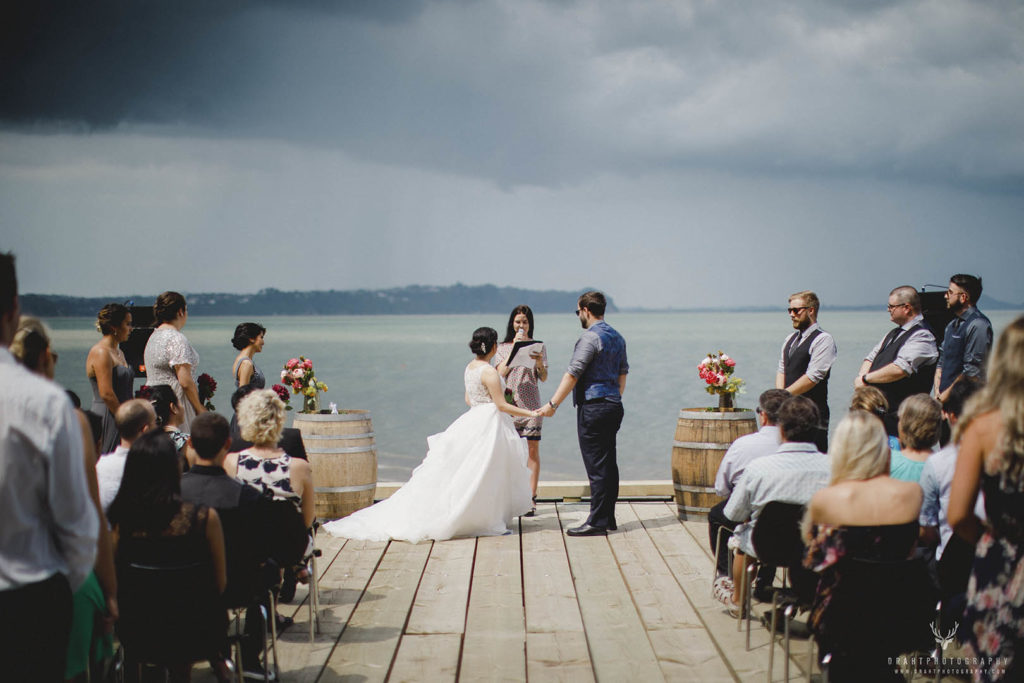 The ceremony was incredible. A helpful cloud covered the sun just in time to provide a much-needed breeze. With the dock and the ocean backdrop, there is not a single think I could ask for to make the photos better.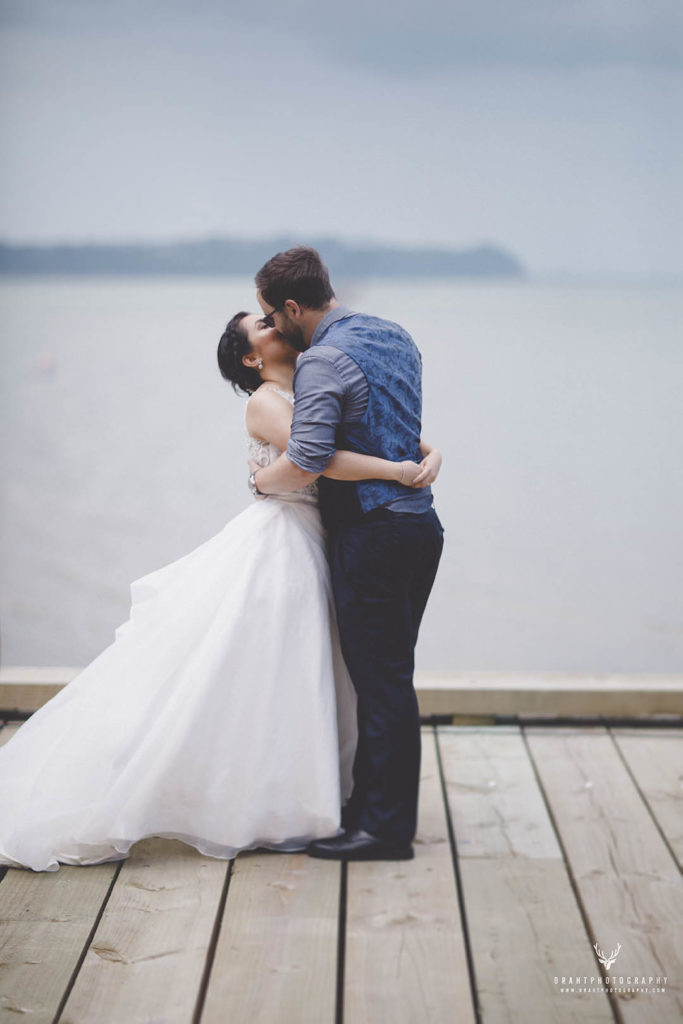 After we had finished up, it was time for family photos. Then, bridal party photos. The bridesmaids, of course, were simply gorgeous. The rock, and flush greens made for good colour contrast and an amazing backdrop.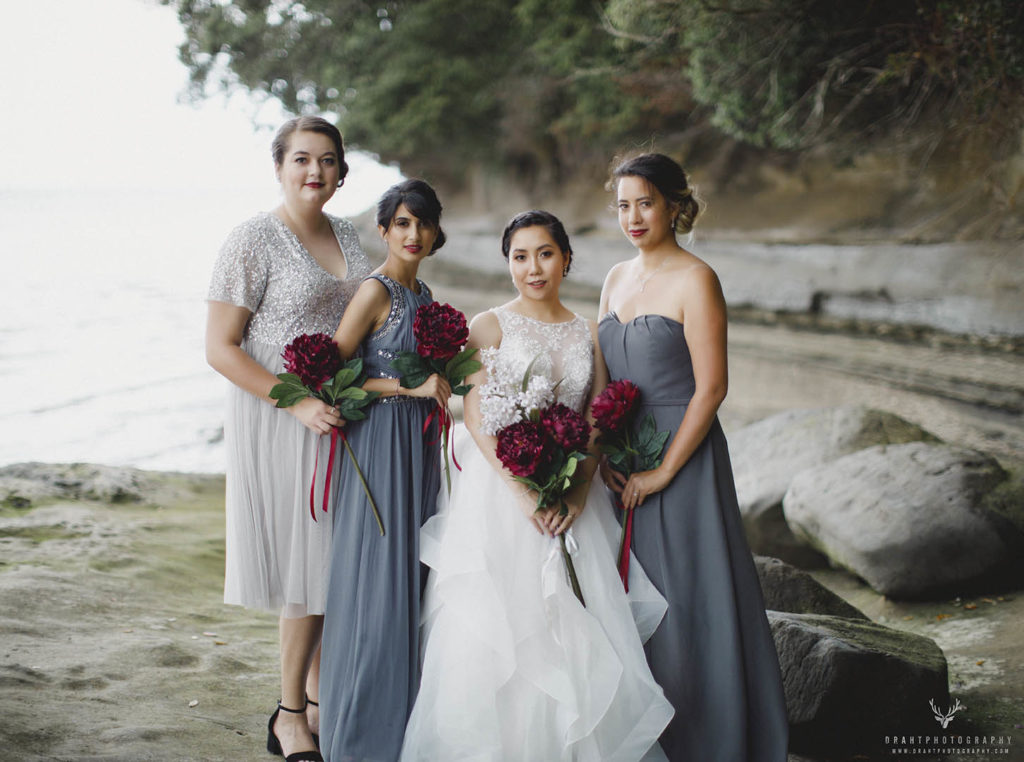 The boys were looking like an album cover.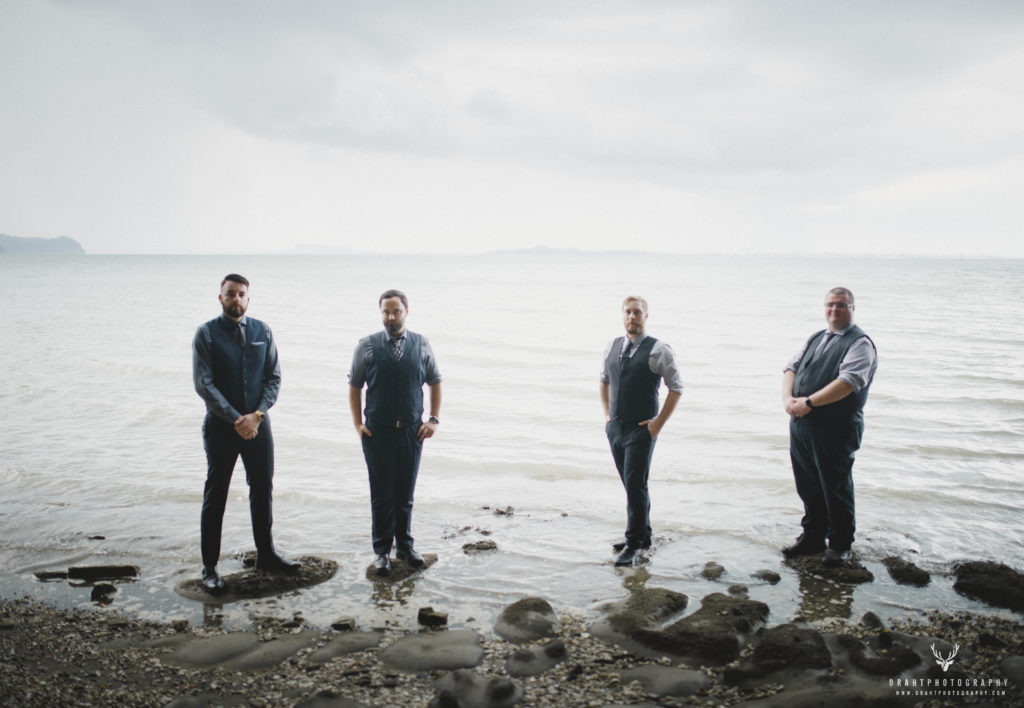 After, it was my favourite time – time for photos with the three of us! We piled into my tiny rental Ford Focus, and took off to find a park. We learned, there are parks every 30 feet here.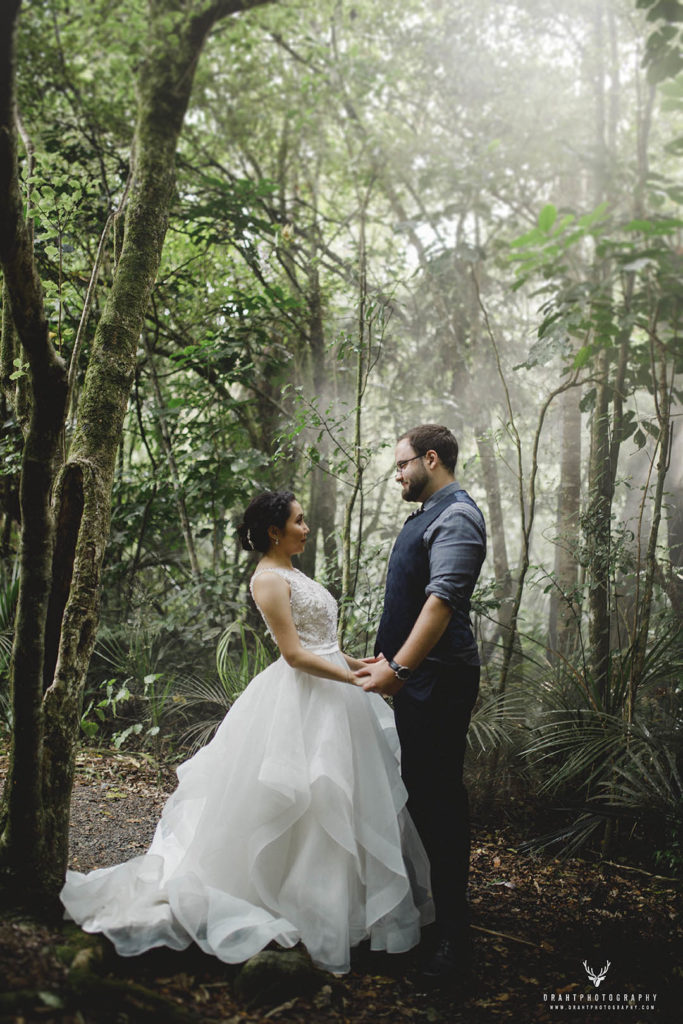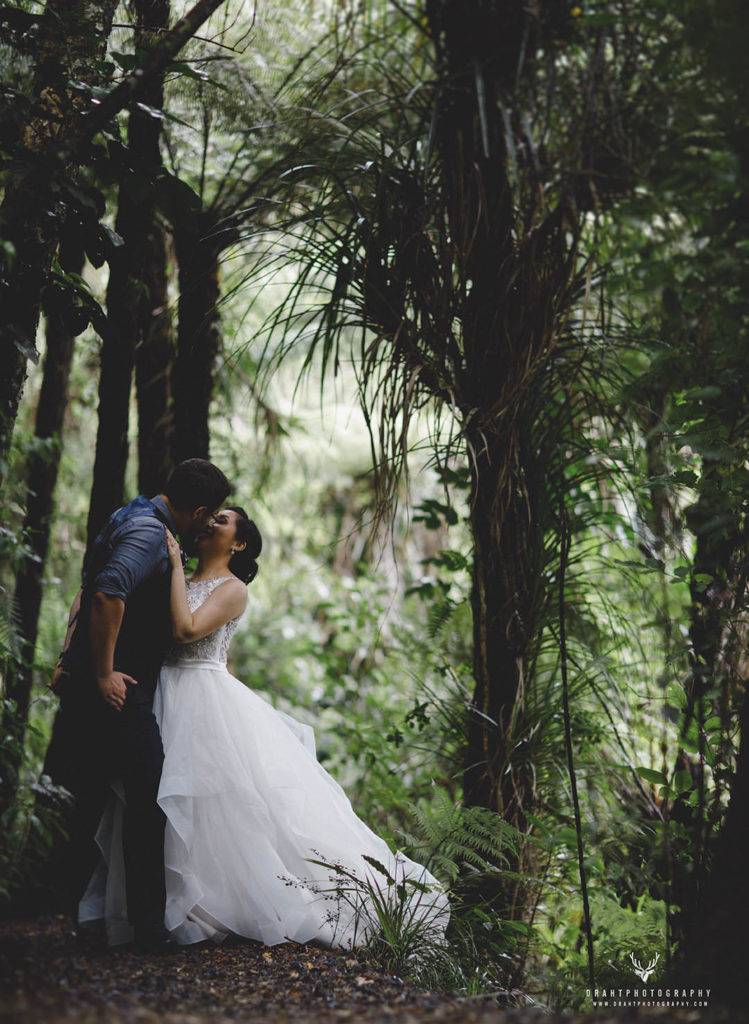 We drove back to the reception, where everything had come together.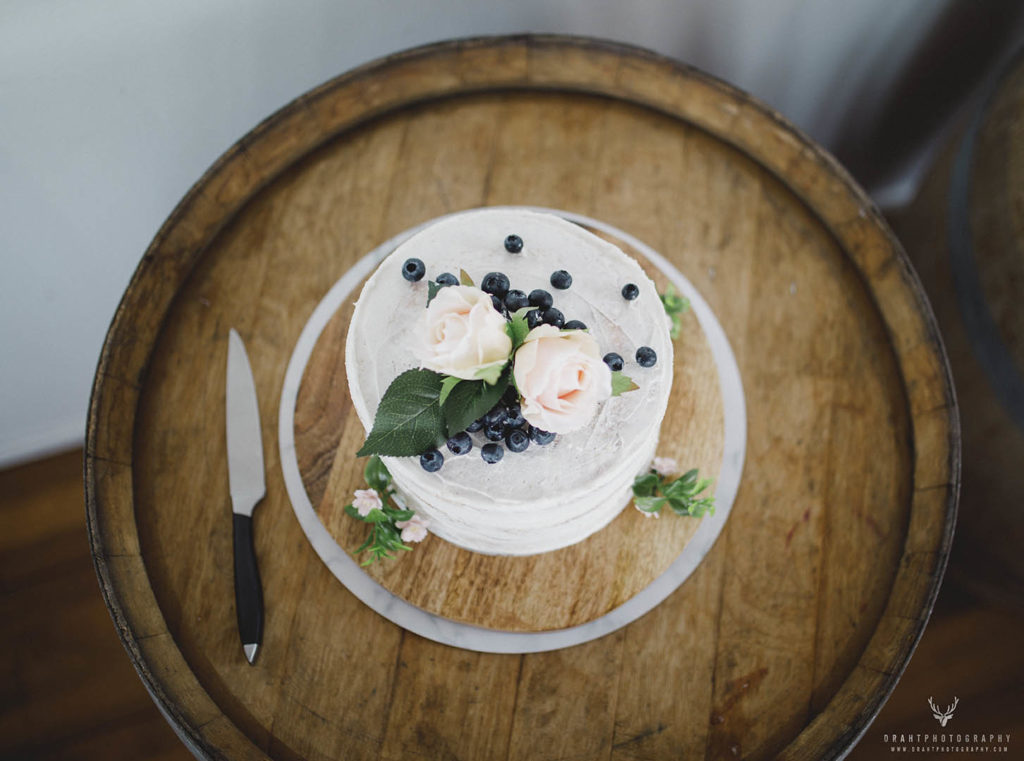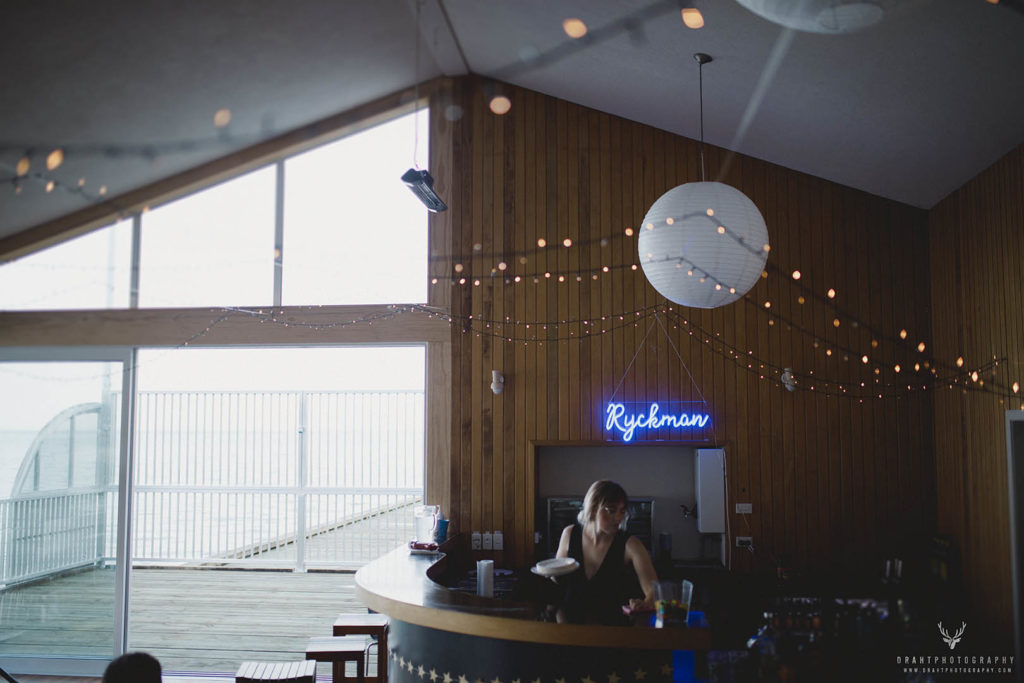 The decorations were lovely. It had an old-world charm about it. These two were adorable too. She promptly sat on his lap, and they exchanges loving glances frequently throughout the speeches. Which were hilarious.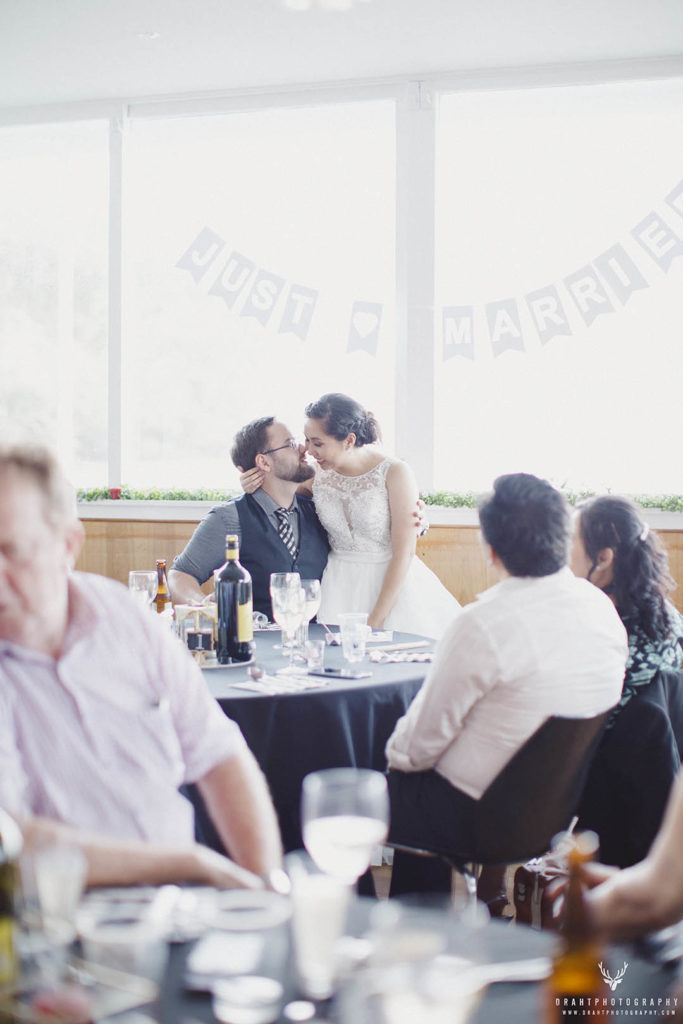 I really can't say enough great things about these two. I'm always dragging couples along to try to get more pictures. By the time I start shooting a wedding, I've got a good idea in my head of what I'm looking for. I can get the shots I'm looking for – but sometimes it involves stealing a couple during a sunset, or a quick session where we run away just after eating. Soon after this, I grabbed them for a few more pictures outside. Not only did they agree to it, but they were enthusiastic. It's not every day my enthusiasm is matched!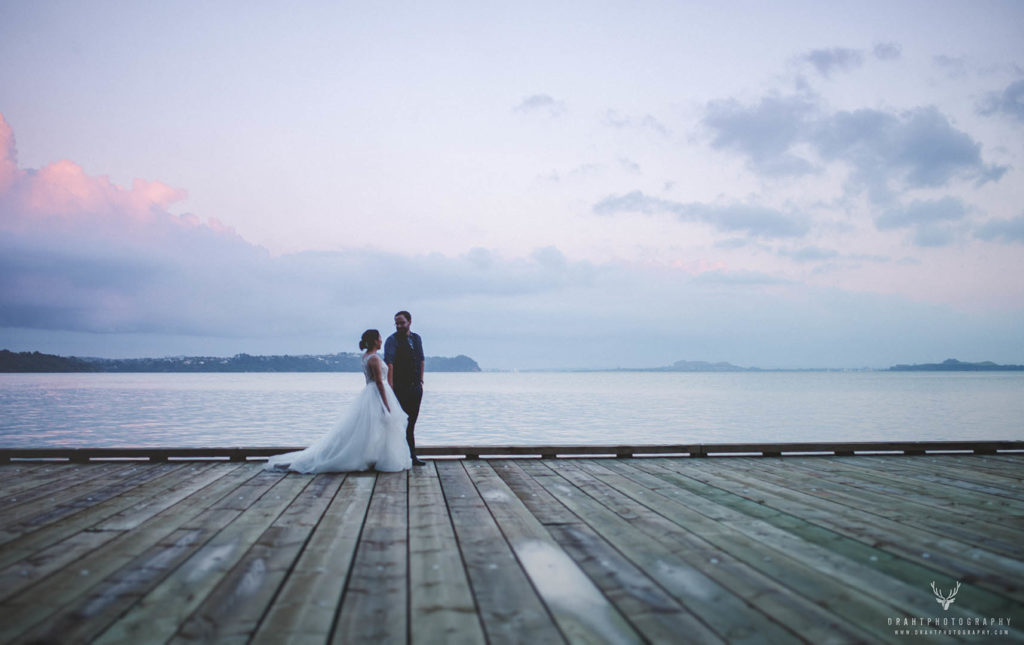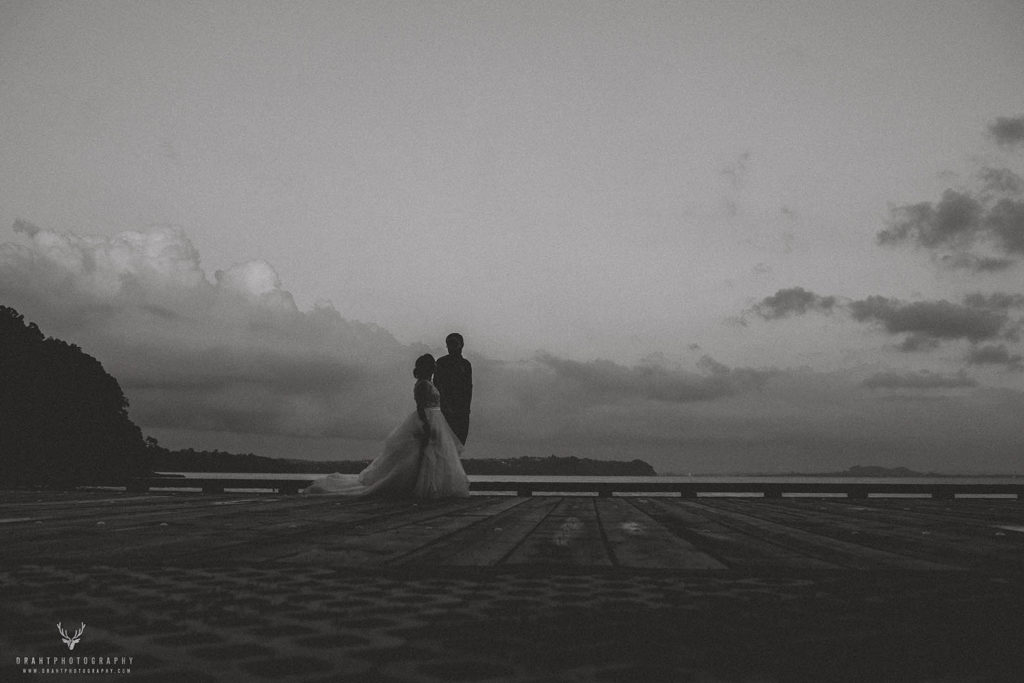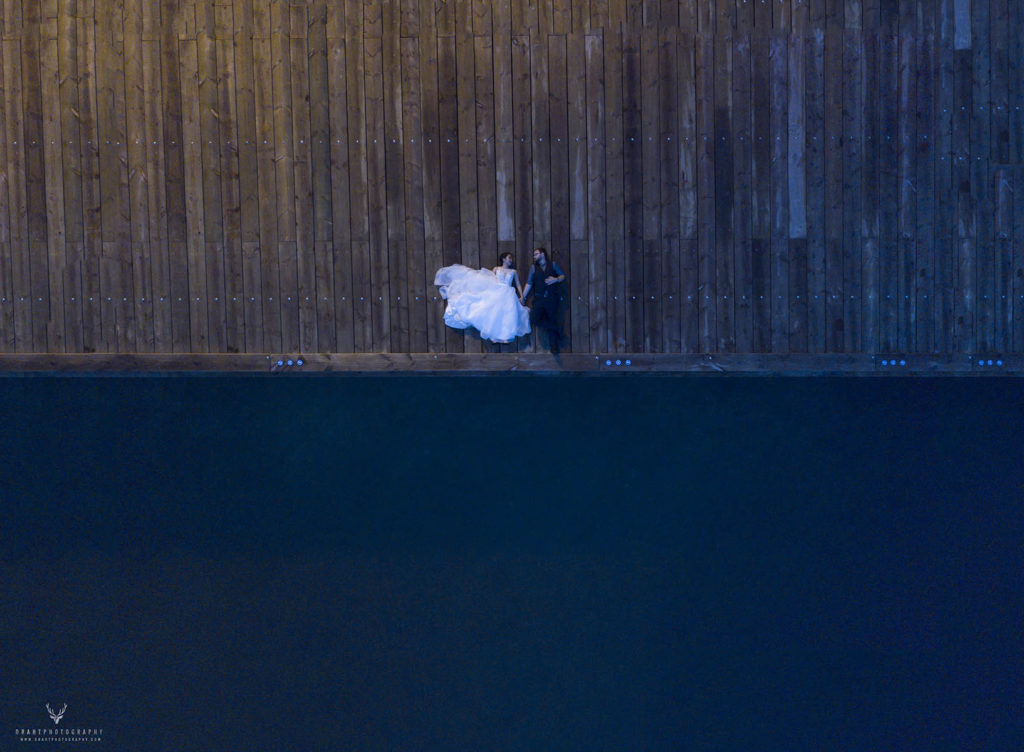 To say I'm pleased with the results would be a gross understatement. I'm absolutely thrilled with everything about the day. It couldn't have been more perfect.
We weren't done yet! It was time for a sparkler exit.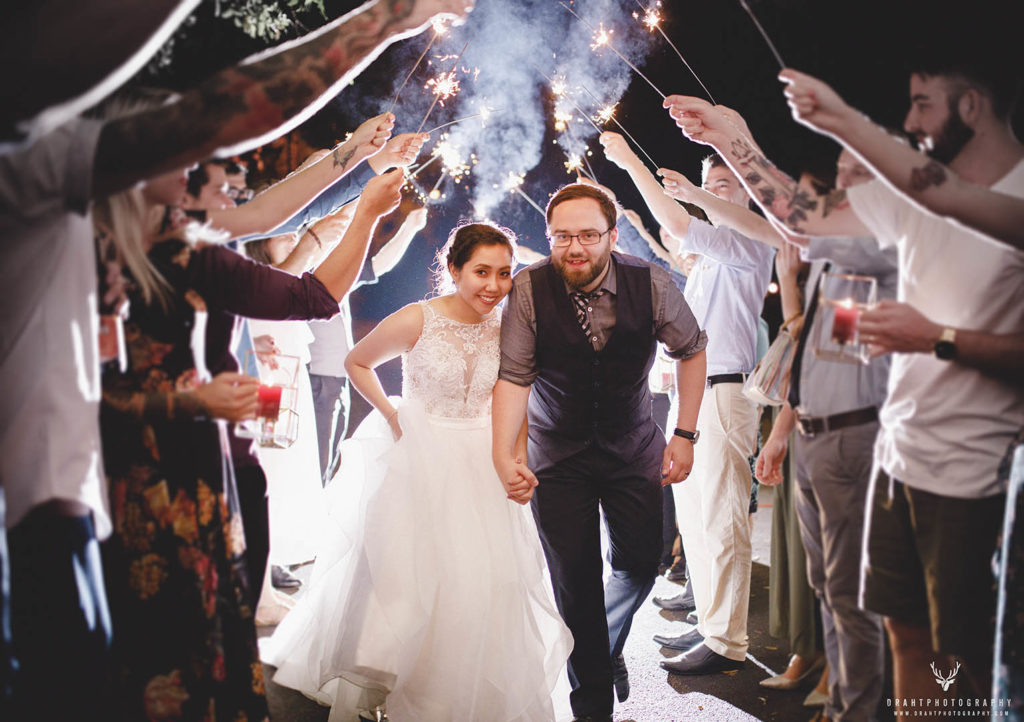 And so this is where I'm going to have to end this sampler. I have a lot more photos I'd like to show you, but you've got to wait a few weeks. There's tearful moments, and candid expressions that make me laugh out loud. This is just a sampler, a sneak peek. Just some of my favourite photos from this incredible day.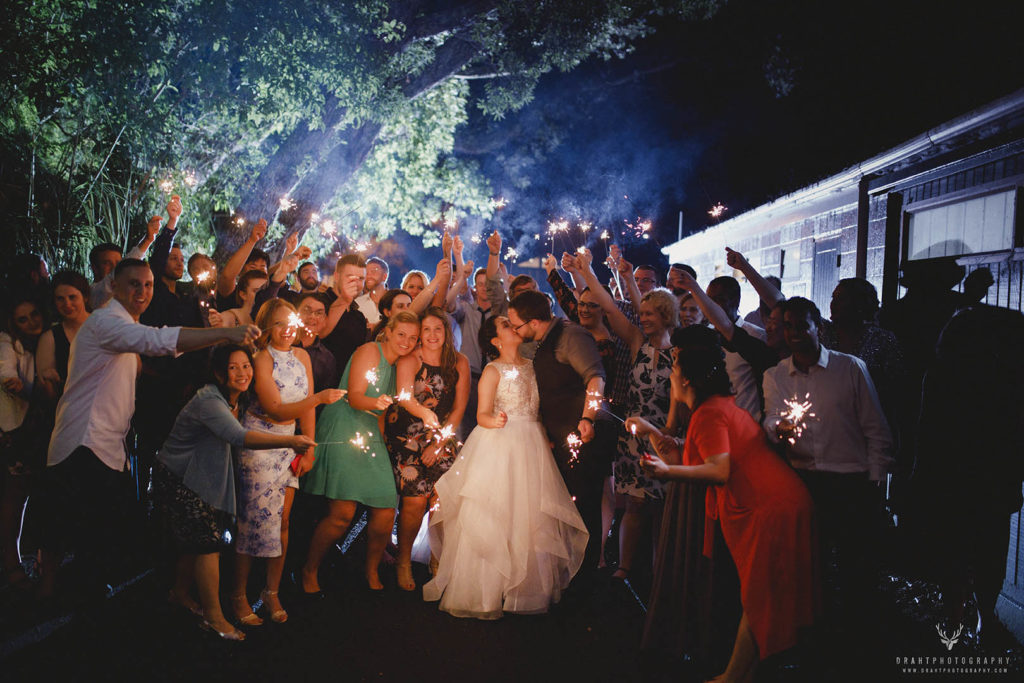 If you personally know the bride and groom, feel free to contact me by clicking here. Let me know who you are, along with the bride and groom's name, and I'll make sure you get a link to the finished album!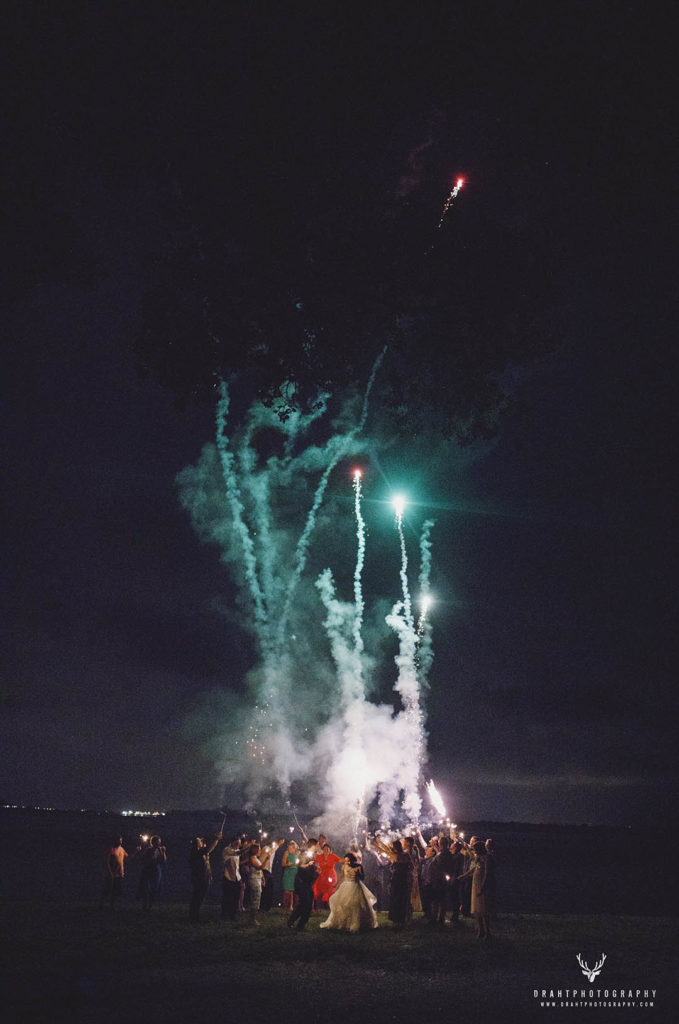 If you know someone who'd like to see this sneak peek, feel free to click one of the share buttons on the top or  bottom of this entry, to share and tag them! Although I try to get the word out, a lot of family members and amazing bridesmaids and groomsmen don't know about these samplers!
Thank you for reading this far. I put a lot of time and work into these sneak peeks so it's great that you've taken the time to read all this!
If you'd like to keep a picture, even on mobile, just click it and it will open in a separate window. You can save it from there.
Lastly, if you'd like to stay updated, feel free to follow me on Instagram, facebook, twitter, or Tumblr for frequent updates. Talk to you all in a few days!