I
It was either that or the winter wonderland wedding. I feel that's been done before.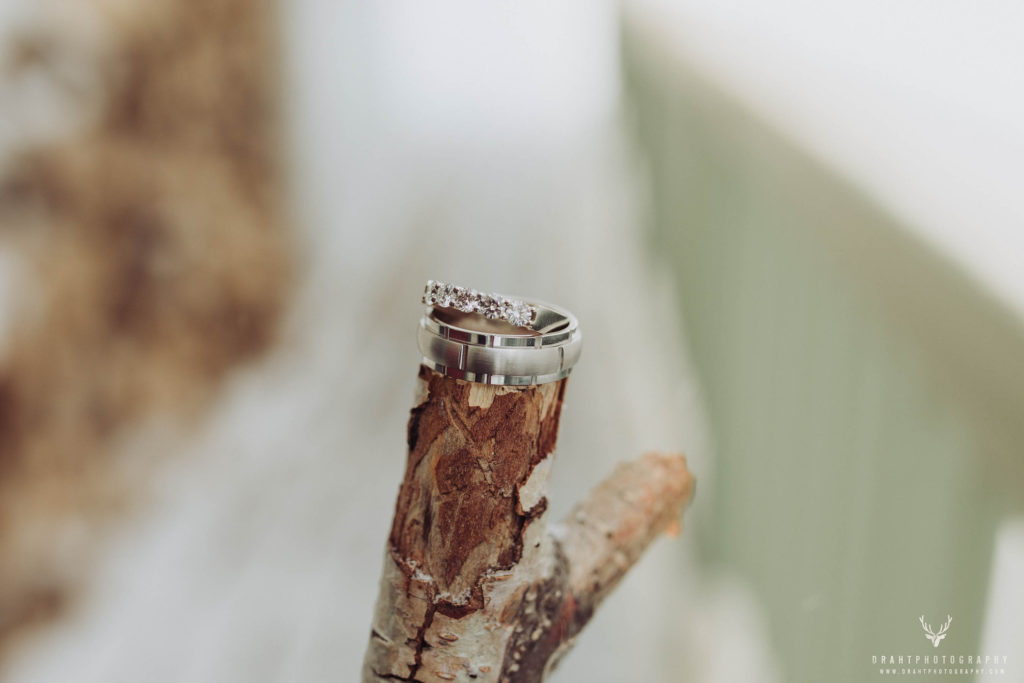 Regardless, we start out at Silver Star Resort. Our bride had rented out a beautiful chateau that we had full access to. Three floors, and vaulted ceilings. My favourite. If you haven't been to silver star yet, it's incredible. A short drive from Vernon, and a slightly longer drive from Kelowna, it's widely considered one of the best ski hills in the world. Peppered with charming little shops and activities, it's a great place to spend a week.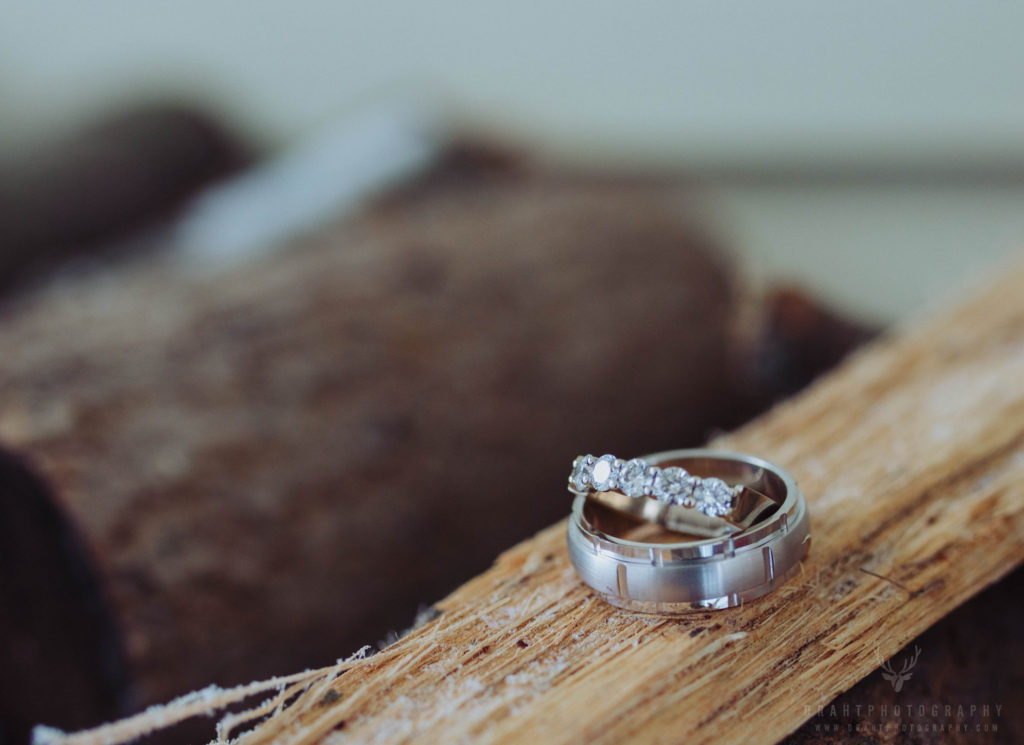 Later, that's where we'd find our reception. It was brilliant. From front to back door, the house was packed with friends and relatives. One of my favourite kinds of receptions – skipping directly to the afterparty.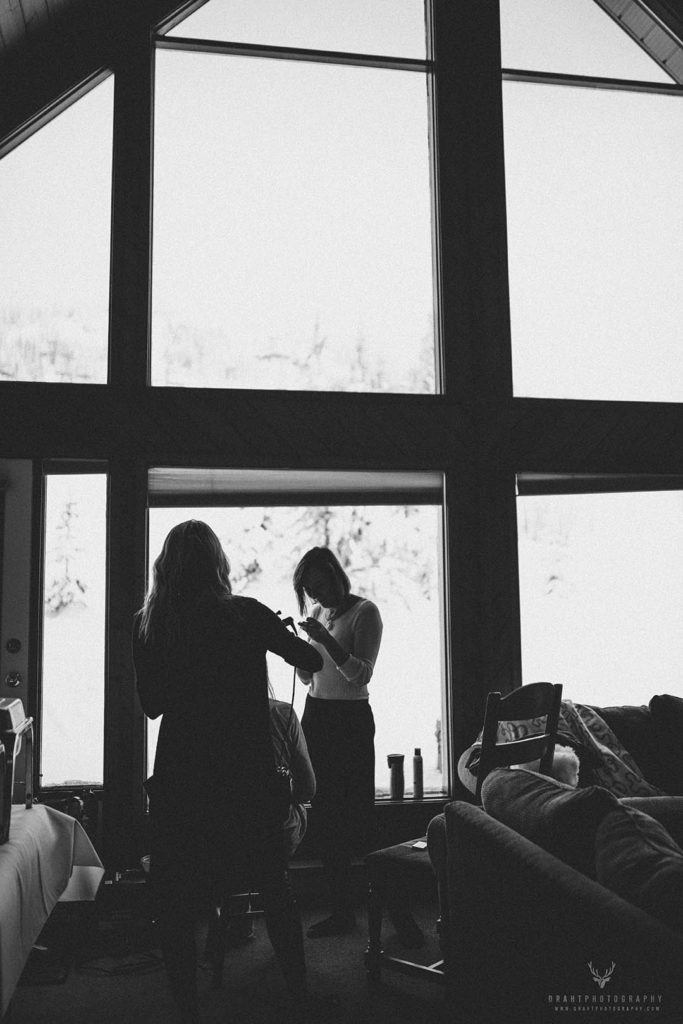 But we get ahead of ourselves. The lovely Katrina Suderman was busy making sure the hair looked just perfect. Throughout the day and snow, those curls held. Good work Katrina! Of course, these things take a little time, and we might have kept the horses waiting. I'm consoled in the fact that I rarely keep horses waiting. I'll consider this a one off. The lady had no trouble stallion a few minutes for us, as the mane goal was to get the bride to the venue on time. I've trot to hand it to her, she did her job well.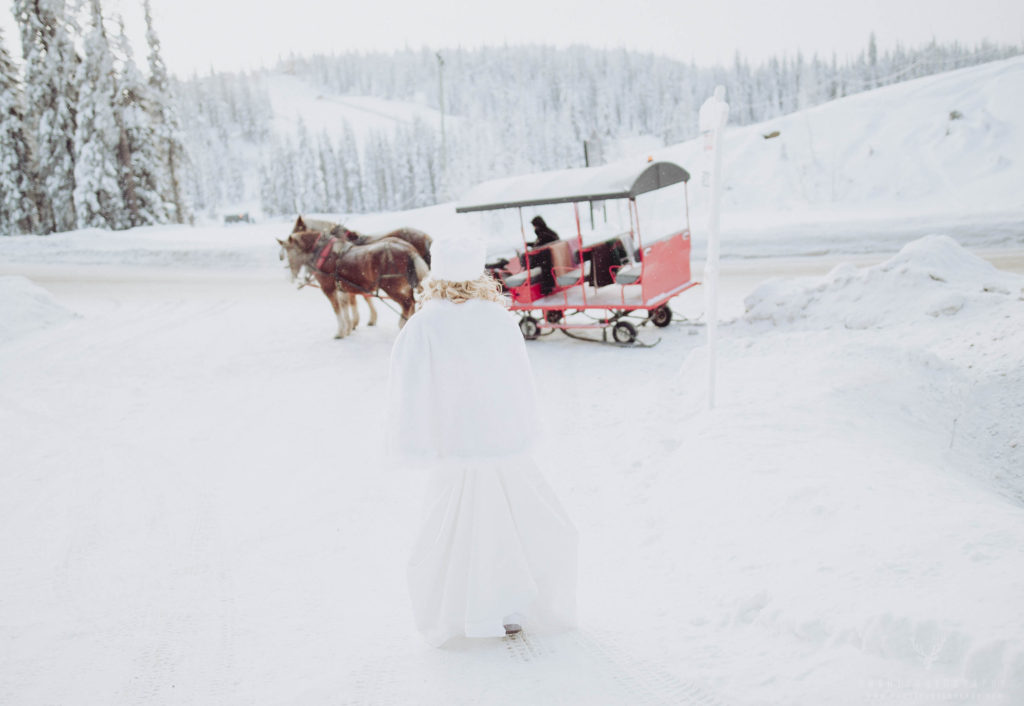 Fun fact: The above chariot is rated at exactly two horsepower.
Keep in mind, this is a sampler. It's a few of the photos before the big album release, in about two weeks. Previews are important, they show you the basic idea of what I think the album is going to look like. Plus, it's exciting seeing your photos the day after, isn't it?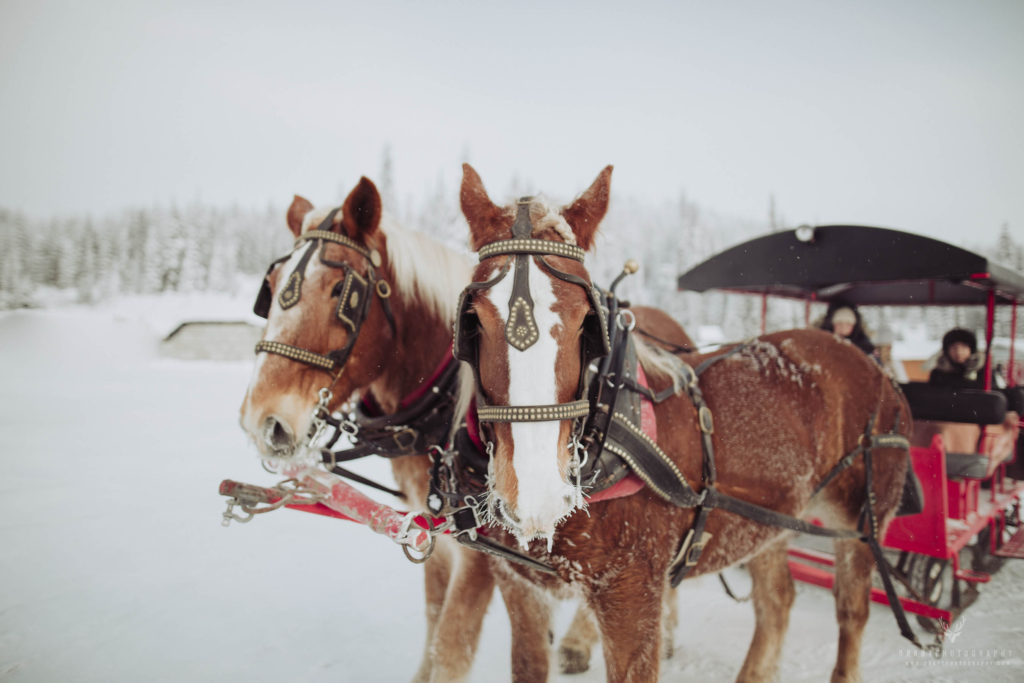 If you're not a horse fan, you mustang out with the wrong people. My apologies. I'm not trying to stirrup any negativity here.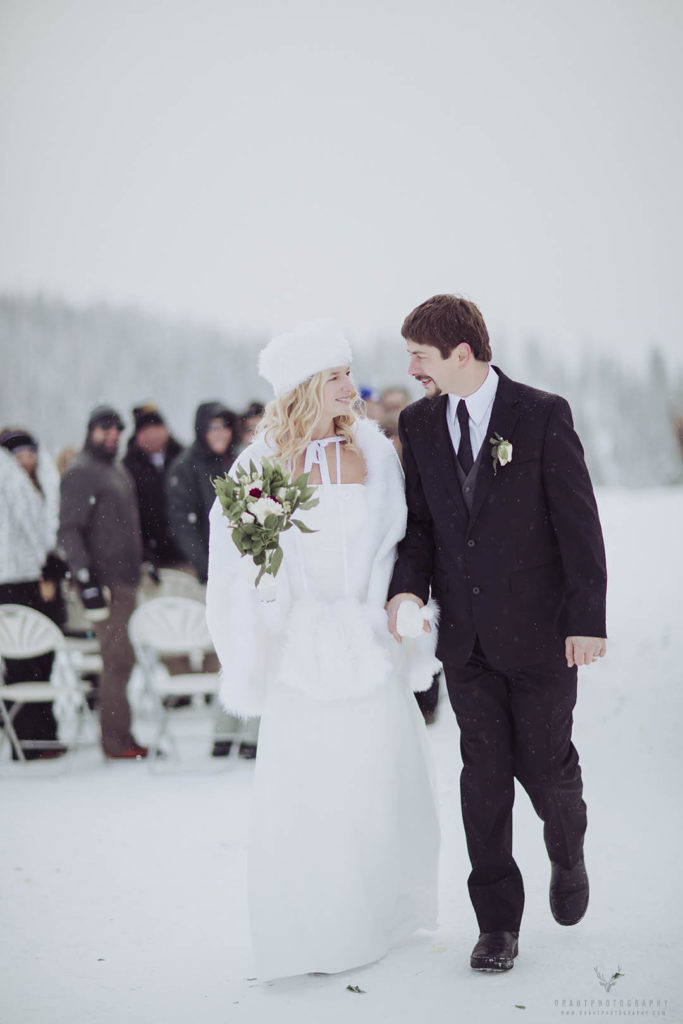 The photos were stunning – a light snow falling on the bride and groom as they said their vows. Blankets were party favours. We meant to have bubbles too, but they froze. Later, those bubbles would make a glorious comeback at our house party reception.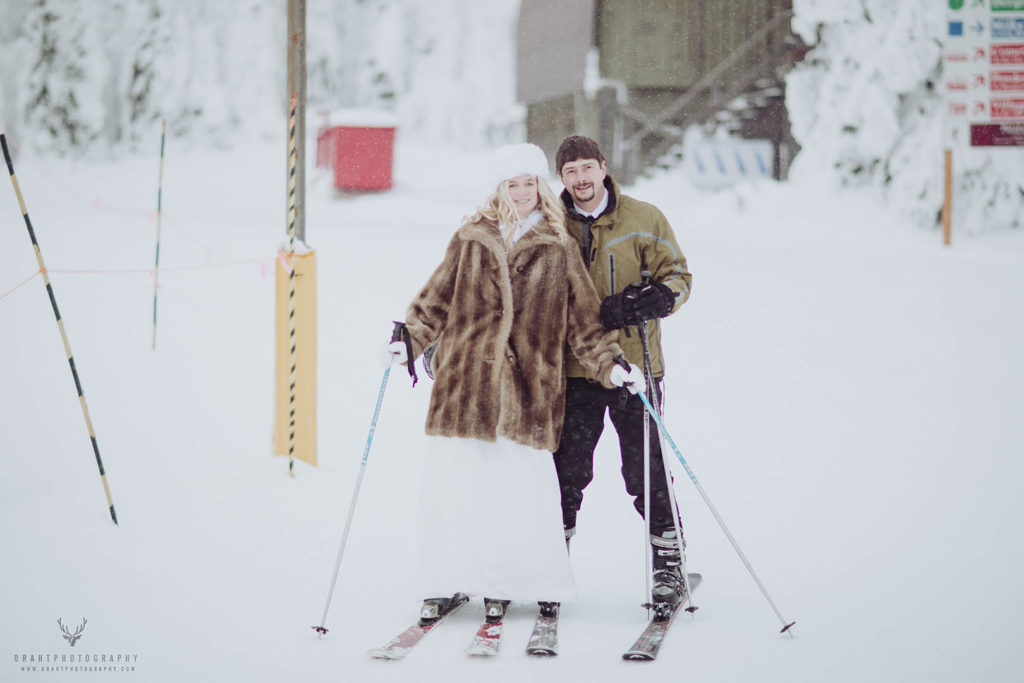 As tradition dictates, it was now time to ski down the hill.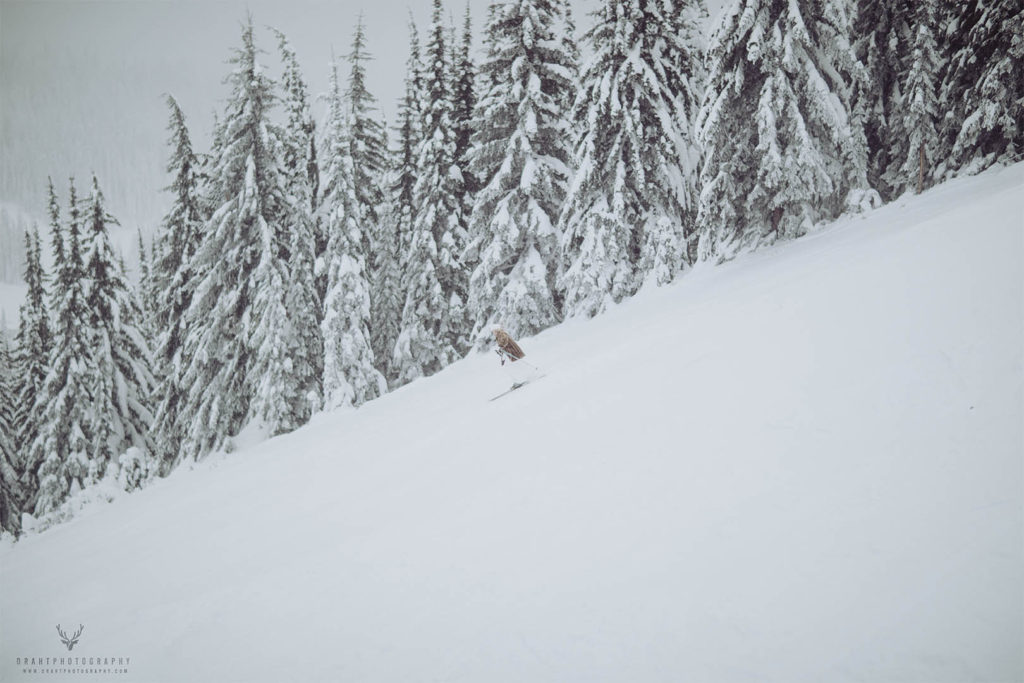 I had neglected to bring skis that day, so I photographed the run from the chairlift. Huge props to the folks at Silver Star – they were so welcoming and bent over backwards to give us permission to shoot and ski.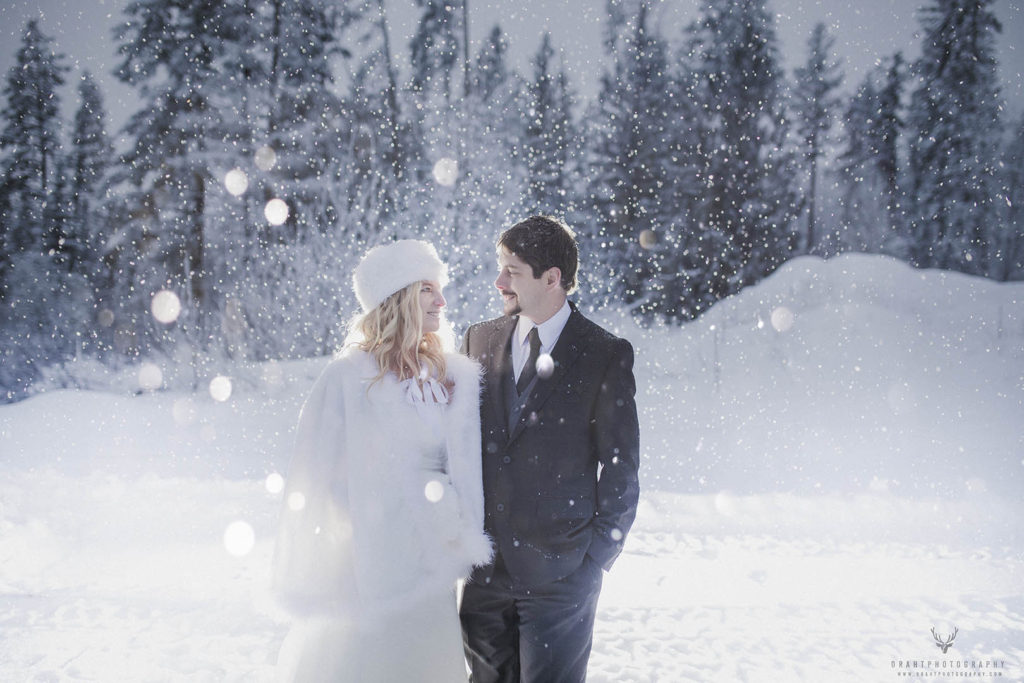 We took off into the snow afterwards. I wanted my headliner. I rarely get to photograph in the snow, so I was out to take full advantage.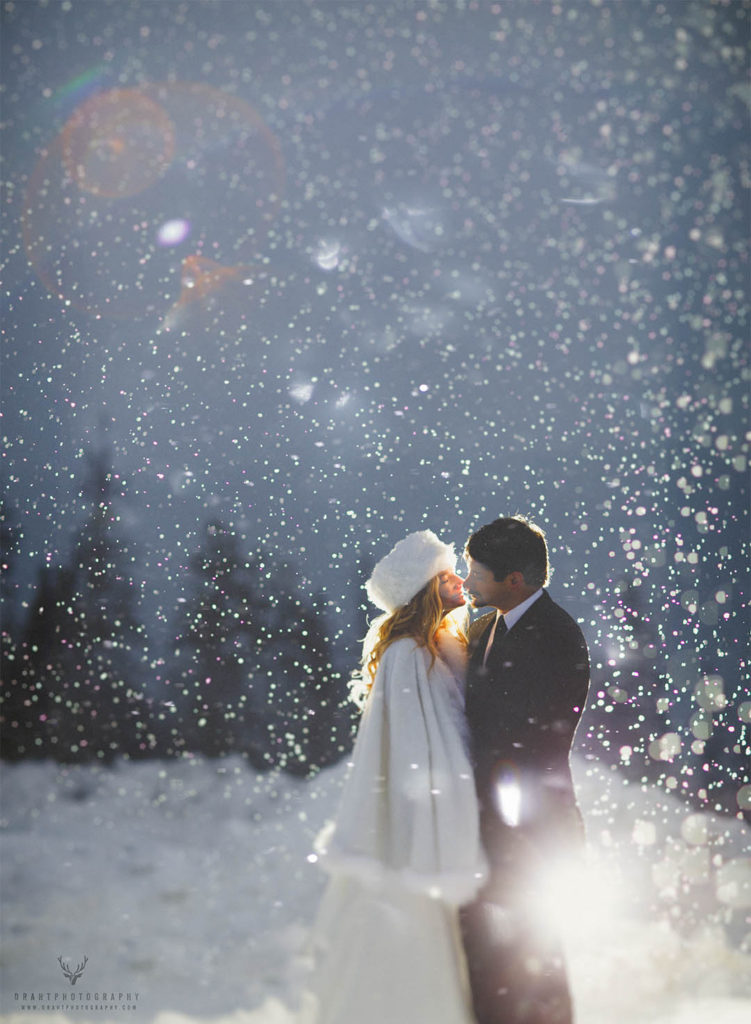 And I did. As the sun set, we got some amazing headliners. If you look closely, you'll notice the out of focus snowflakes at the top are in an octagon shape. That's because the of shape of the aperture blades. They also look multicoloured. That's not photoshop! If the snow flakes are small enough, they shimmer. This gives them those beautiful refractive tendancies. Everything came together for us yesterday. I was a happy photographer that day, and an even happier photographer once I got the photos onto my computer.
So I guess that's all for now. 😀 Feel free to follow me on Instagram, facebook, twitter, or Tumblr for frequent updates. Talk to you all in a few days!
Don't forget, classes start on Jan 4. If you'd like to sign up or learn more, click here: bit.ly/2h4u6Dc. Places are filling up quickly.