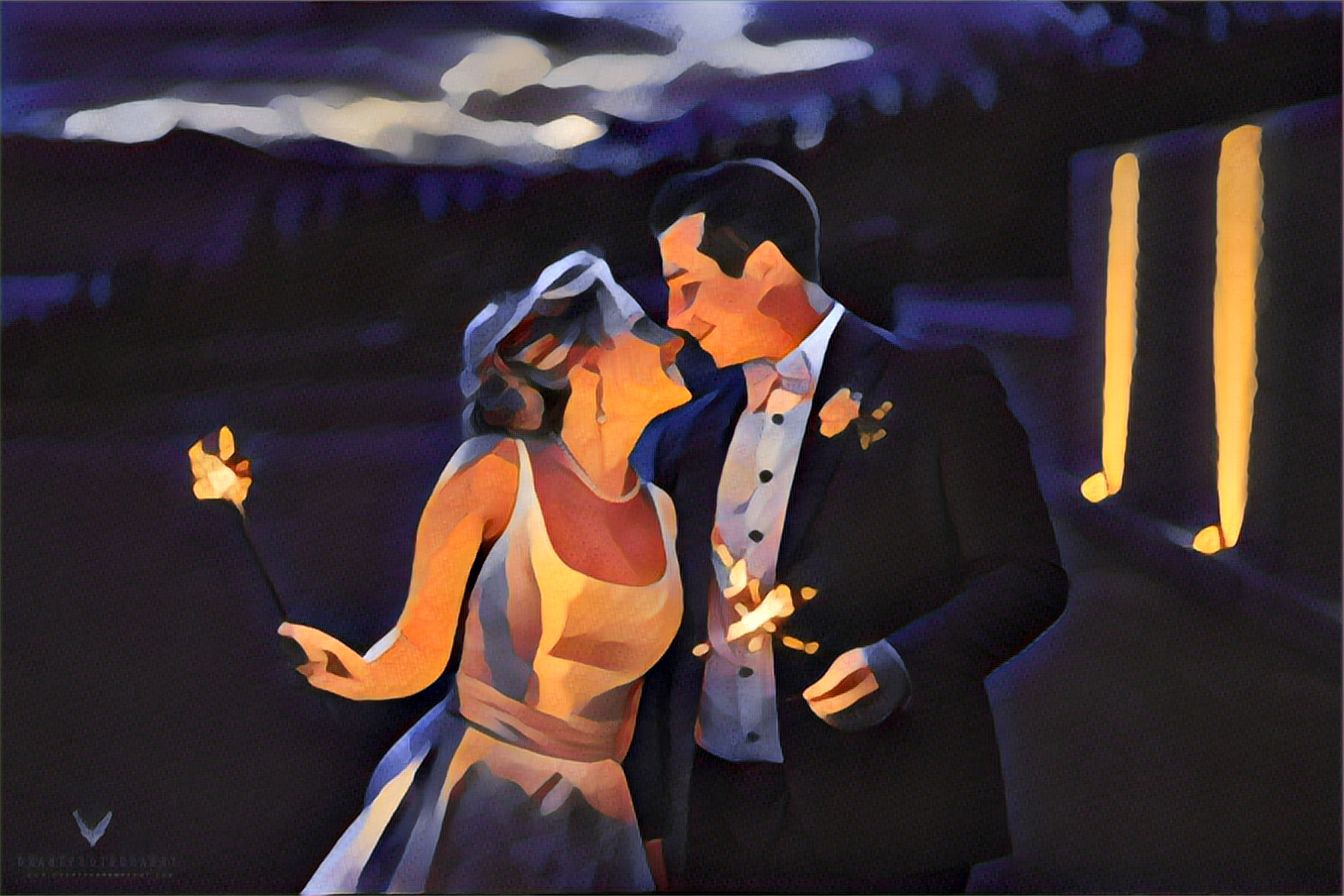 The Mountain Fresh Wedding at 50th Parallel Estate Winery Sampler
This wedding is unique, classy, and scenic. We start out at one of premier wedding destinations in Canada, Predator Ridge, and end up in the heart of wine country, the illustrious 50th Pa...
T
T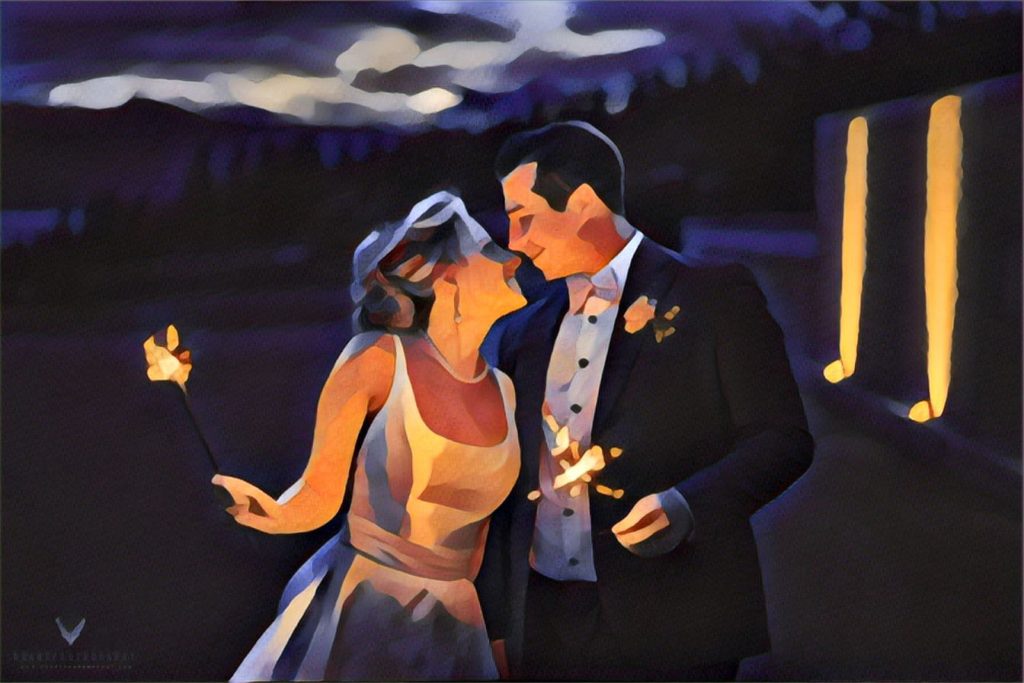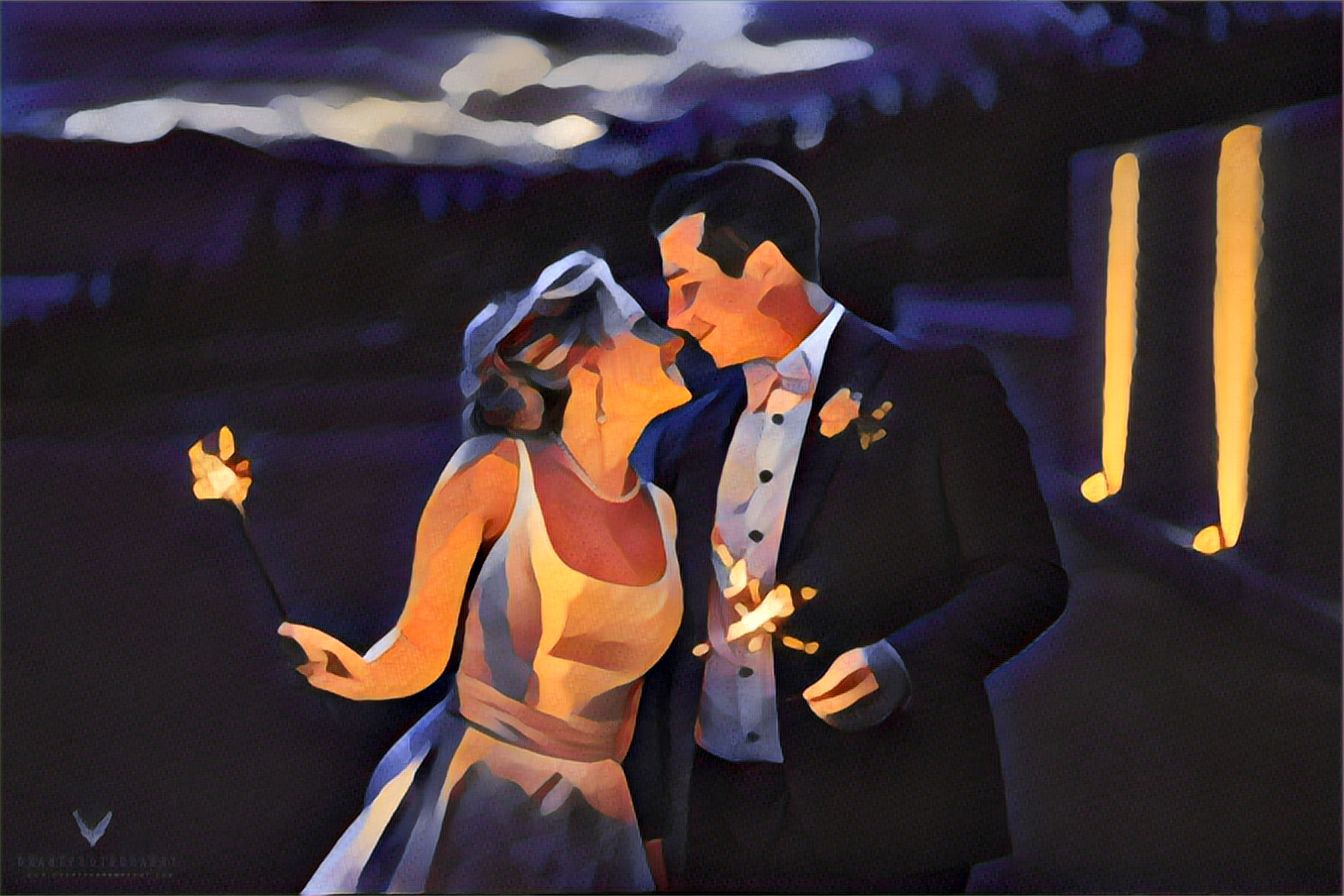 This wedding is unique, classy, and scenic. We start out at one of premier wedding destinations in Canada, Predator Ridge, and end up in the heart of wine country, the illustrious 50th Parallel Estate Winery.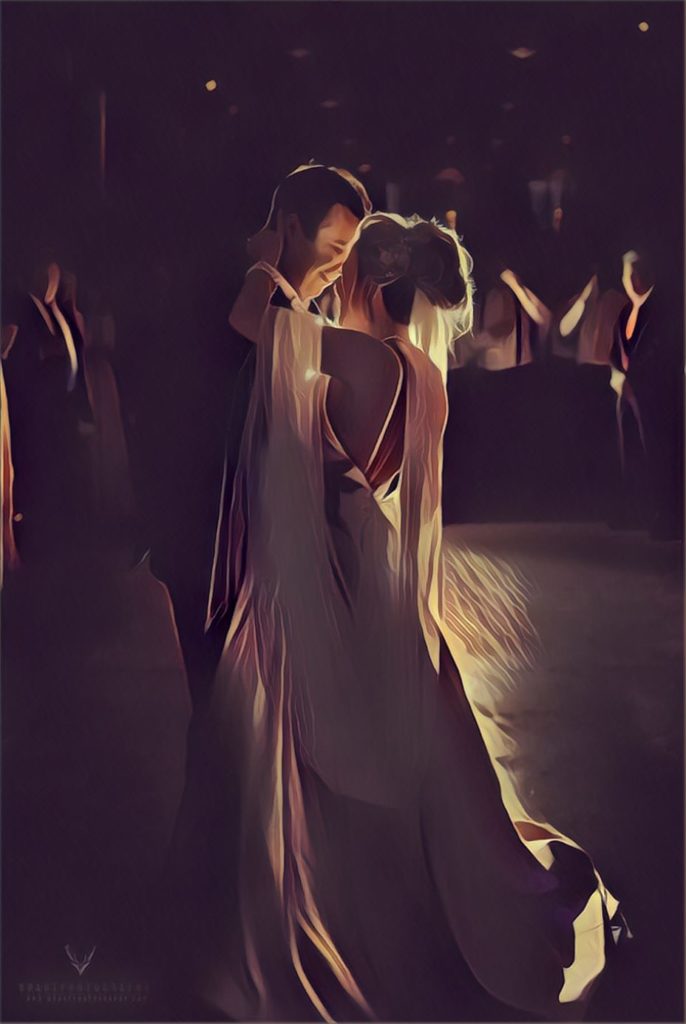 That was my other choice for a header image. The first dance in between all the wine barrels and in front of the crowd was quite the scene, and it was tough to choose between them. In the end I went with the evening photo, though. It's simpler.
We start out, as always, with detail shots. I found a stump and picked a little bouquet of wild flowers to decorate the ring with.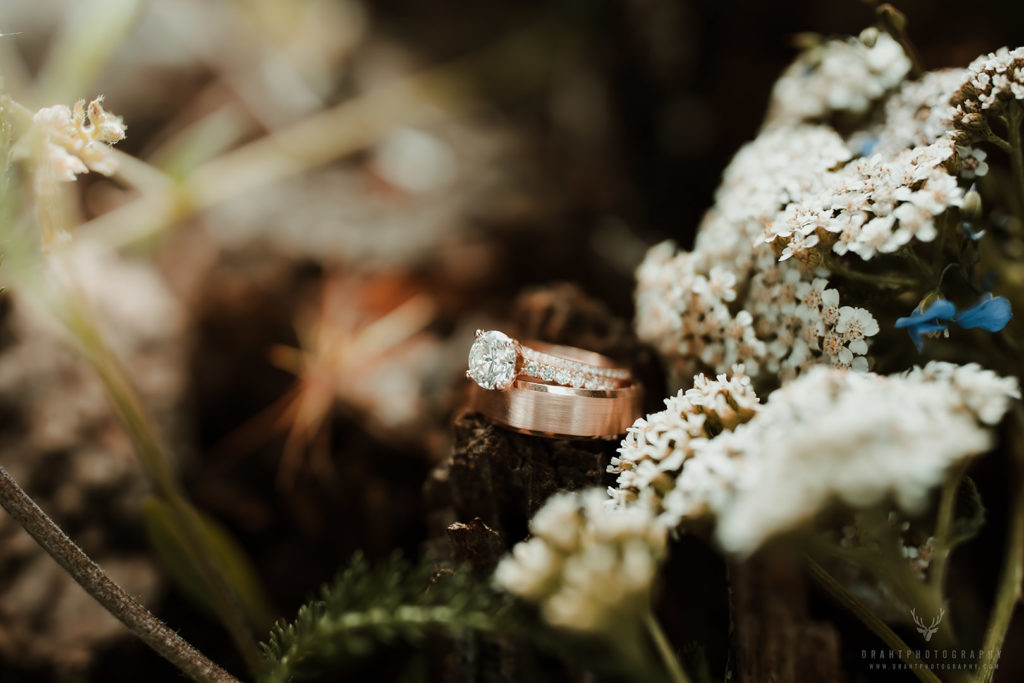 I've been planning this dress shot for a while. The girls were getting ready at Sparkling Hill, a famous KurSpa. However, since they don't book weddings there, I rarely get to shoot on the hill often.
This bannister always caught my attention – I can let the dress hang over it, get some good perspective, and maybe some reflection.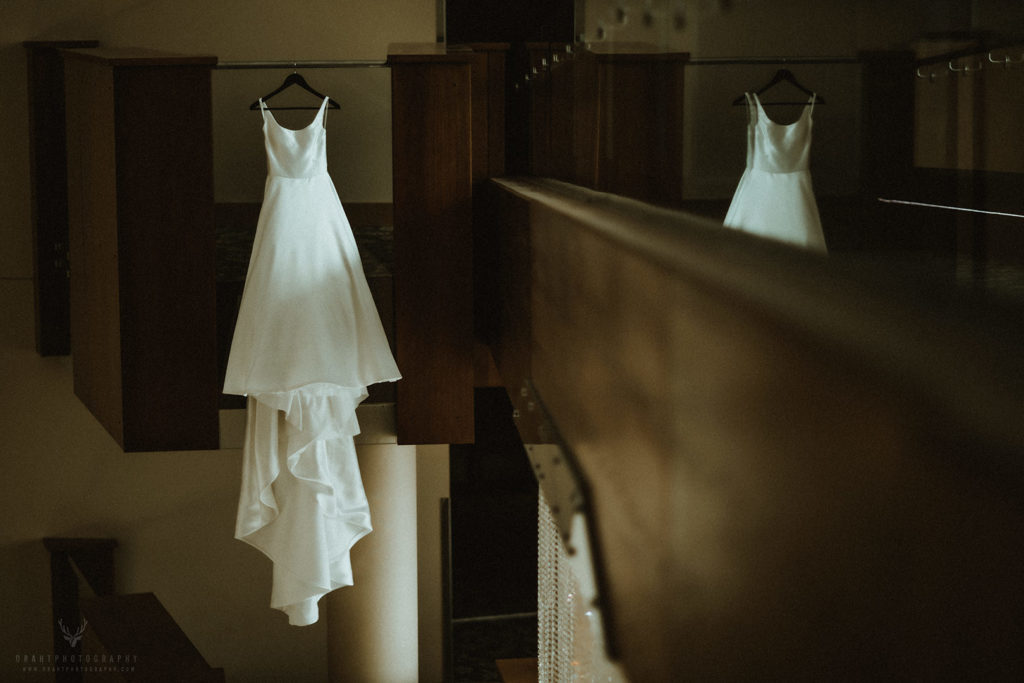 Over at Predator Ridge, they had already set out all my details to be photographed, so I arranged them out on the deck.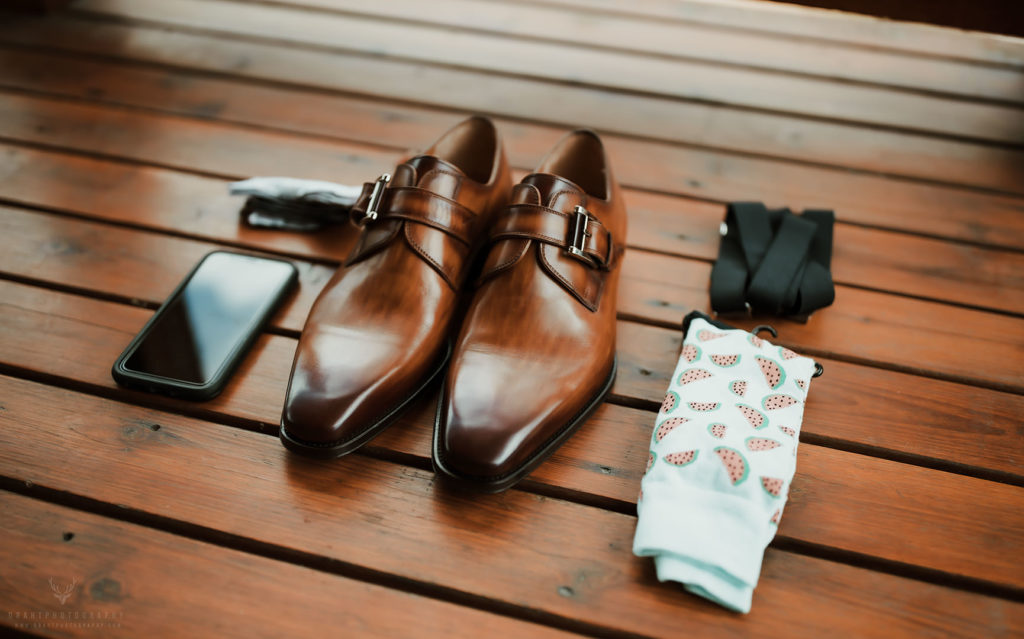 Pro Tip: For your wedding party, don't rent a hotel room. Rent a whole cabin. The cabins at Predator Ridge are spacious and quiet, and take to photos quite nicely.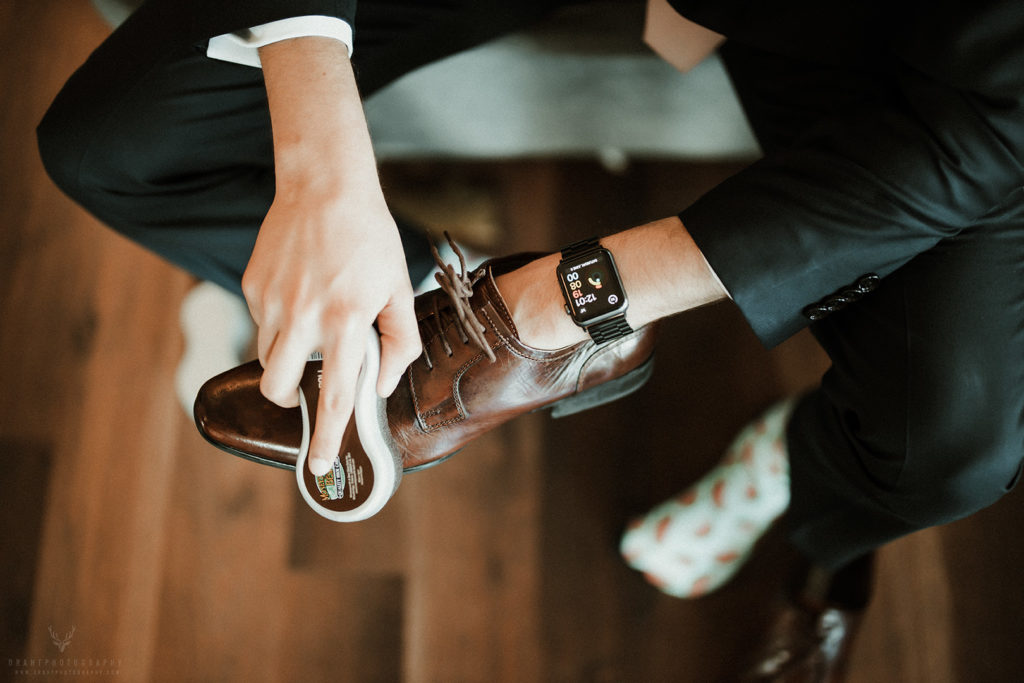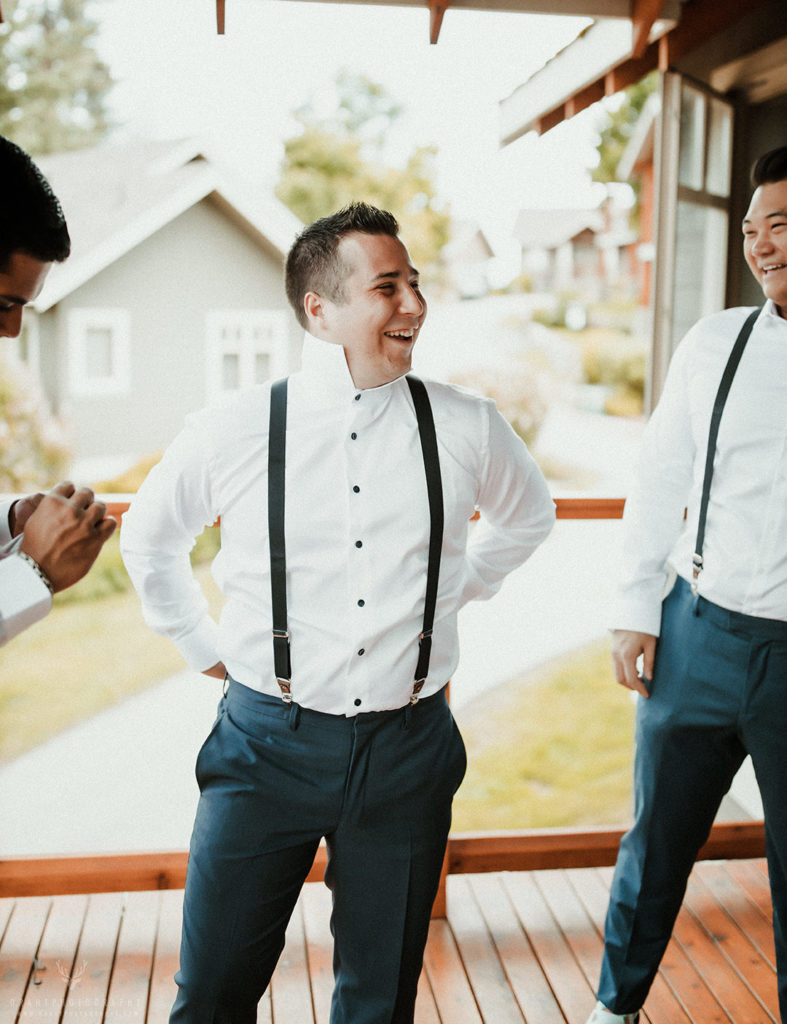 After much belt-tying, bow ties, and pants getting hiked up too high, and too low, we were ready!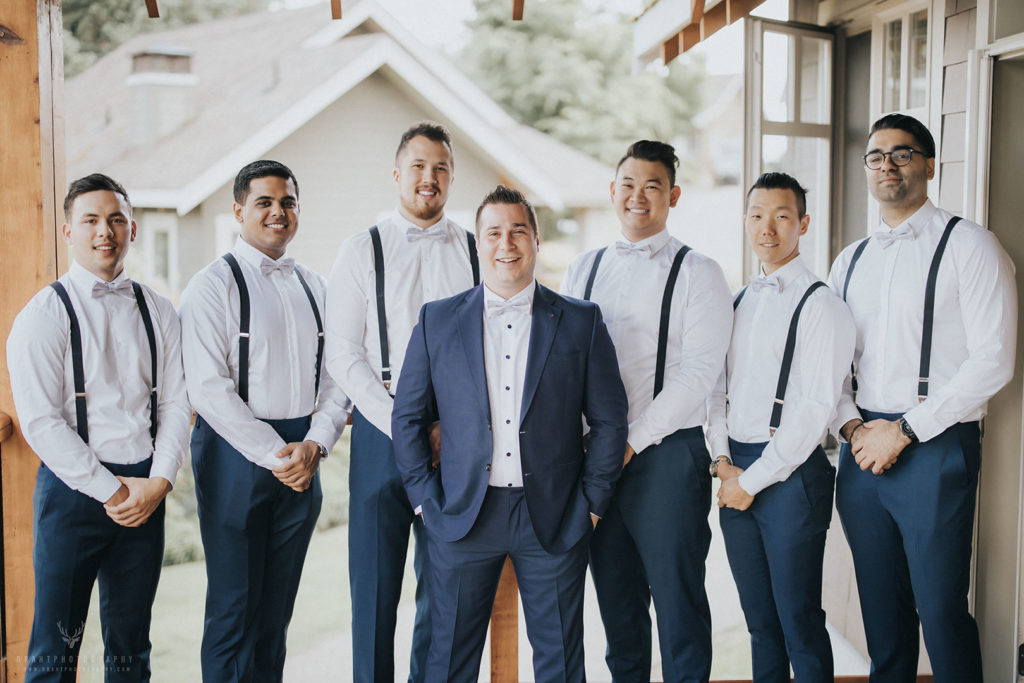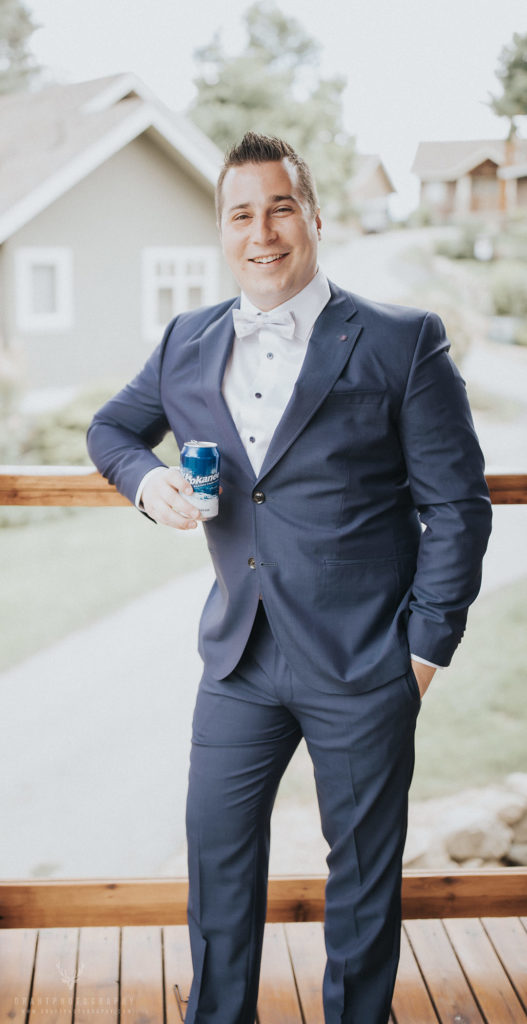 All the boys looked mountain-fresh. Back at Sparkling Hill, so did the girls. I grabbed some candids, and then a nice group shot on a chair.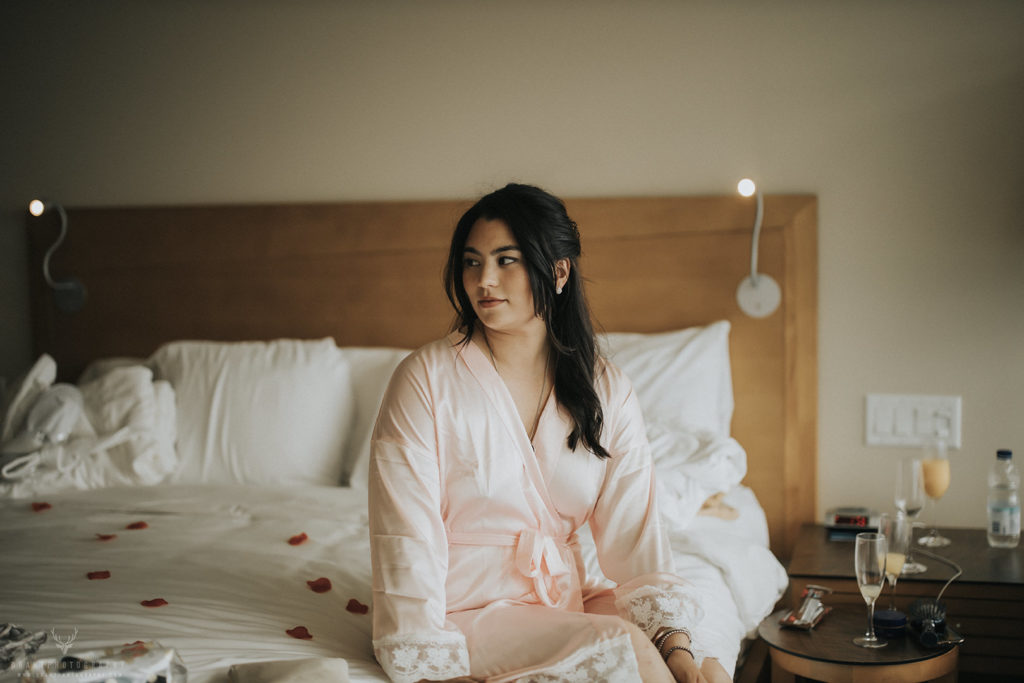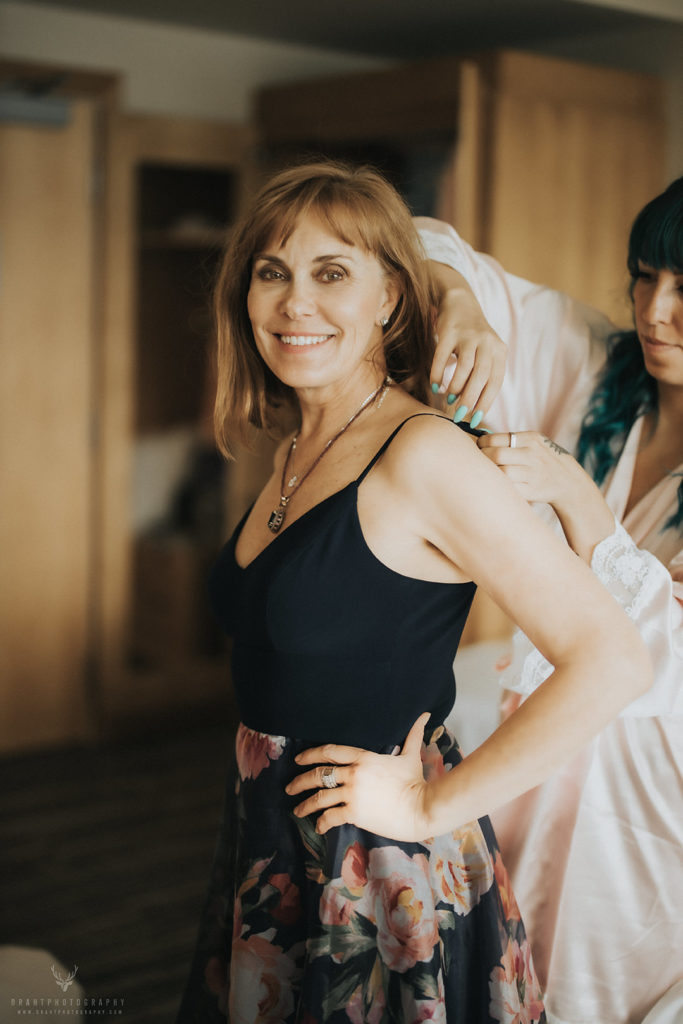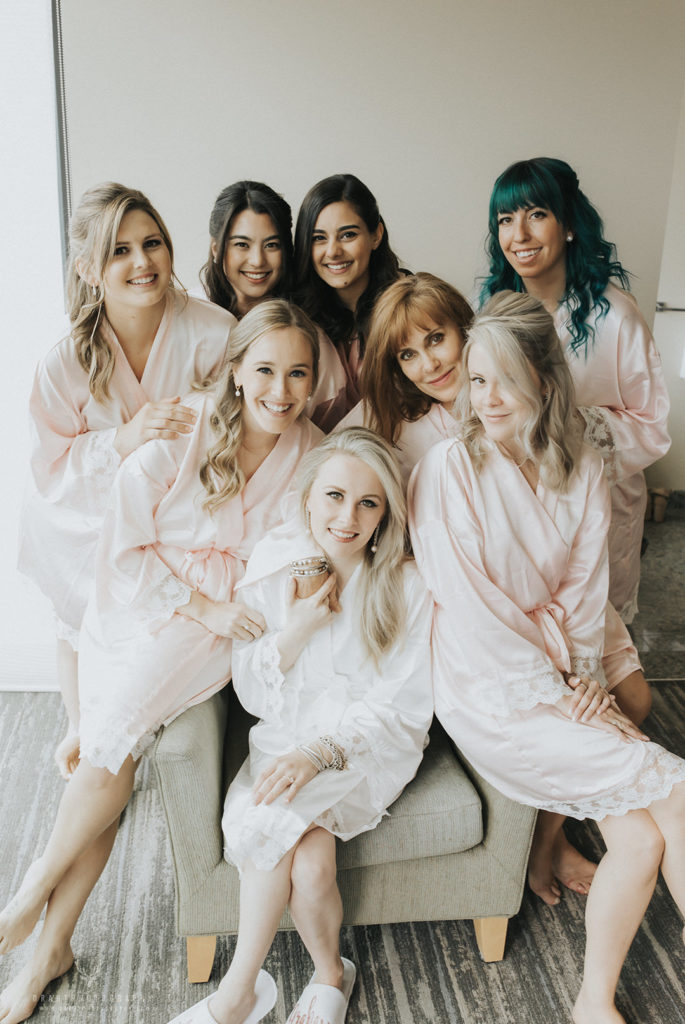 It was time to put on the dress. The mood was a little trepidacious as the moment grew closer.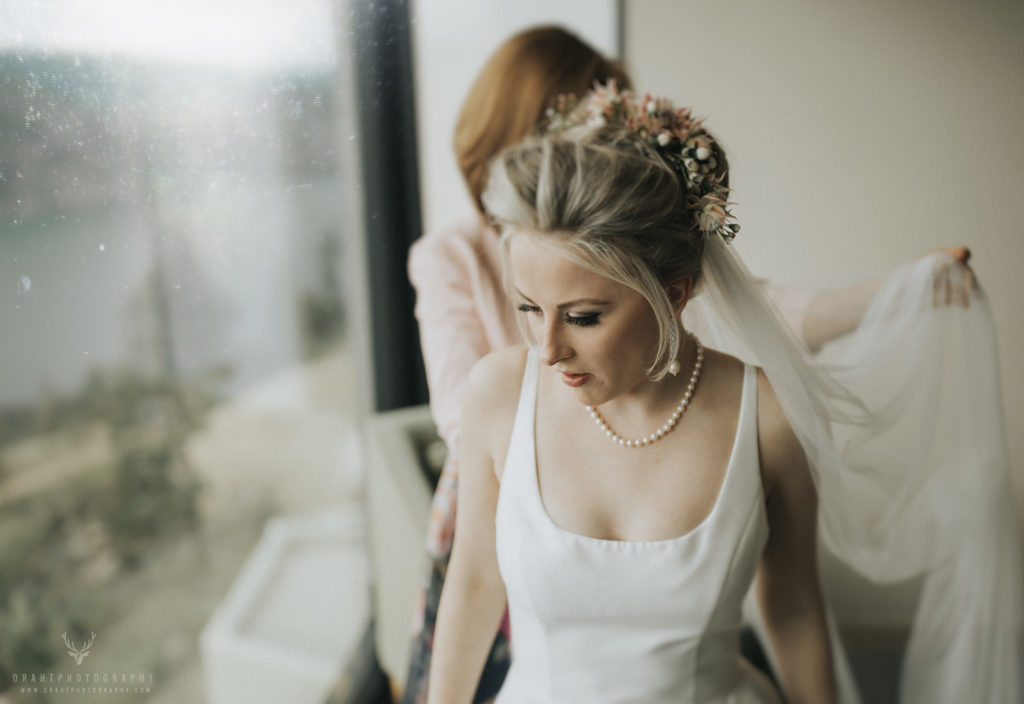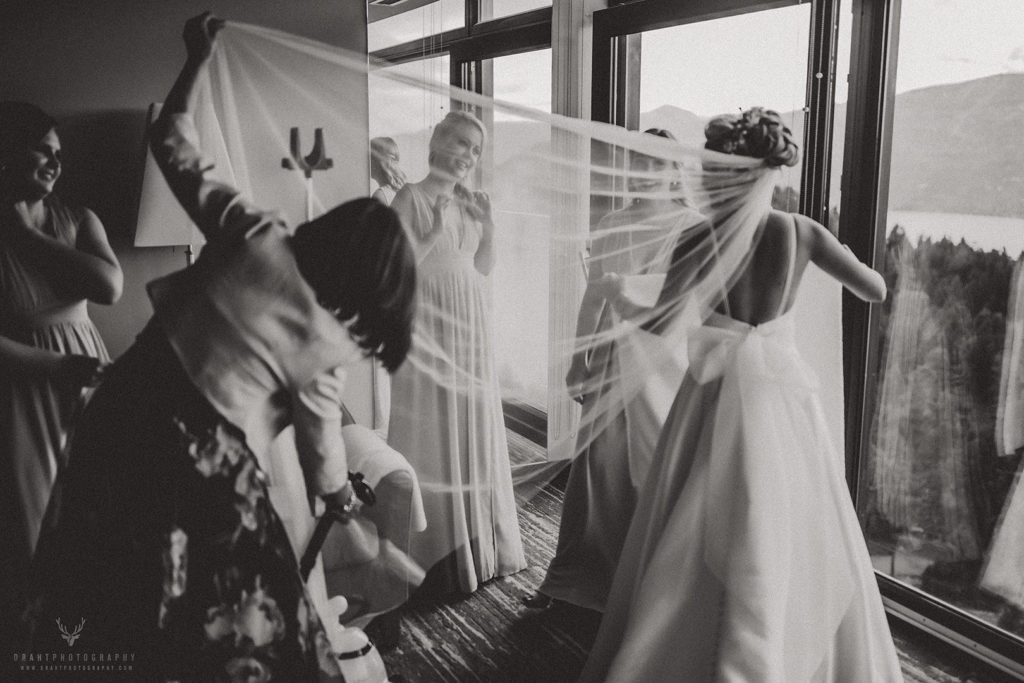 Up at 50th Parallel, busses were busy shuttling people up to the Infinity Event Pad. It's quite the scene – a large lookout, with stunning views of the vineyard and lakes. Timing was perfect. The ceremony was at 3:30, just as the sun began its descent behind the hills.

The ceremony was absolutely touching. Not a dry eye in the house as this groom first laid eyes on his brand new bride.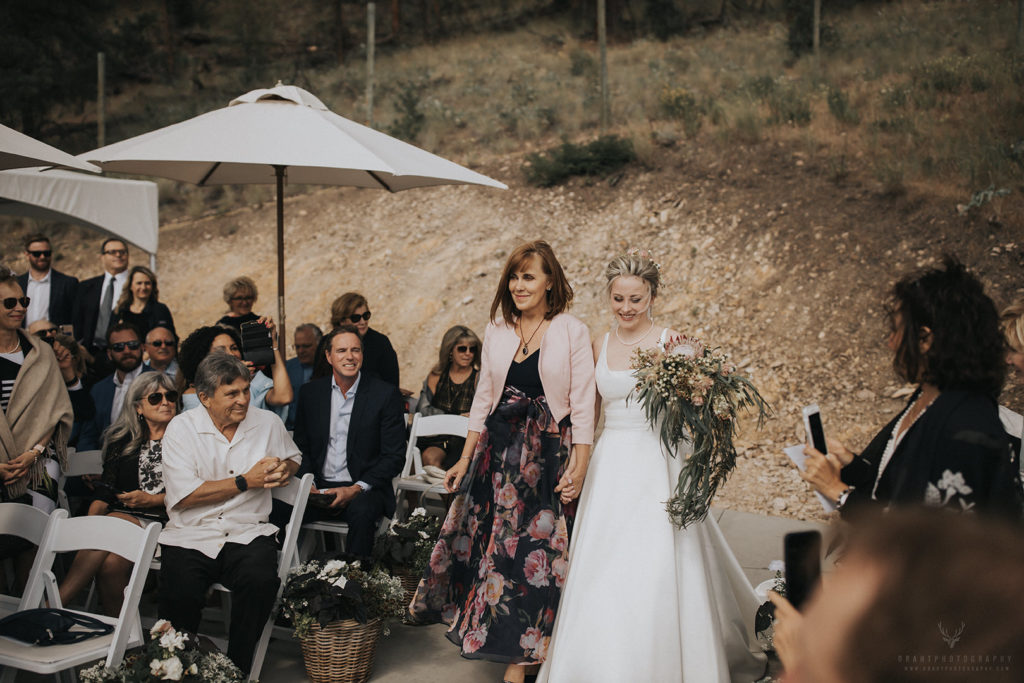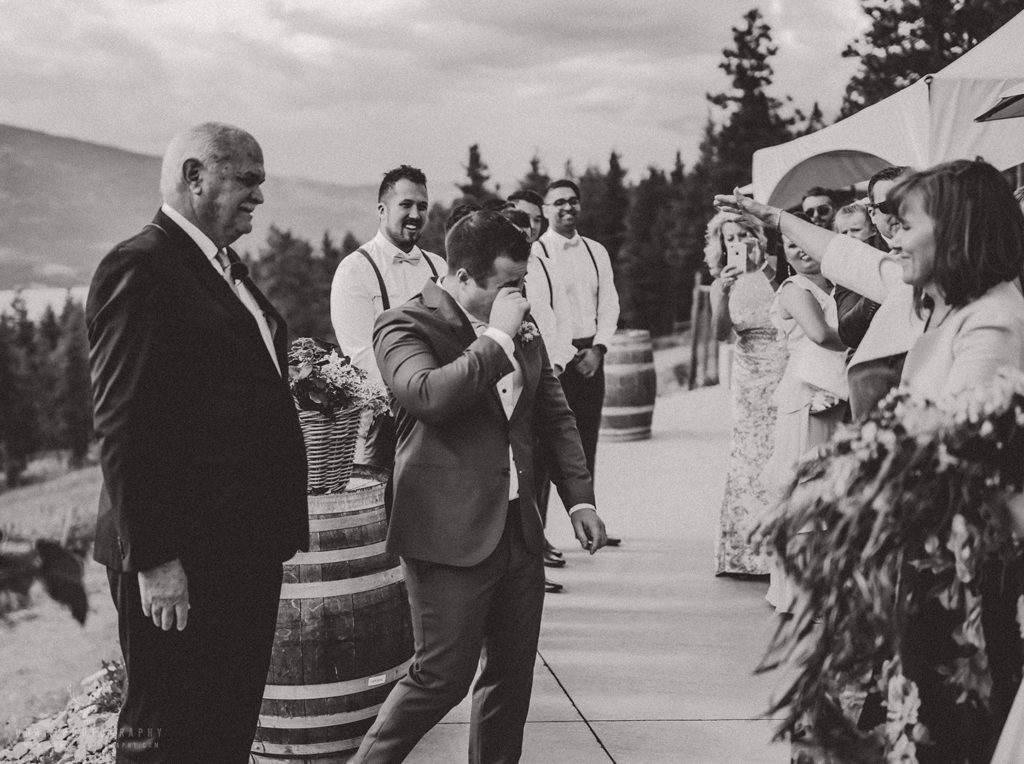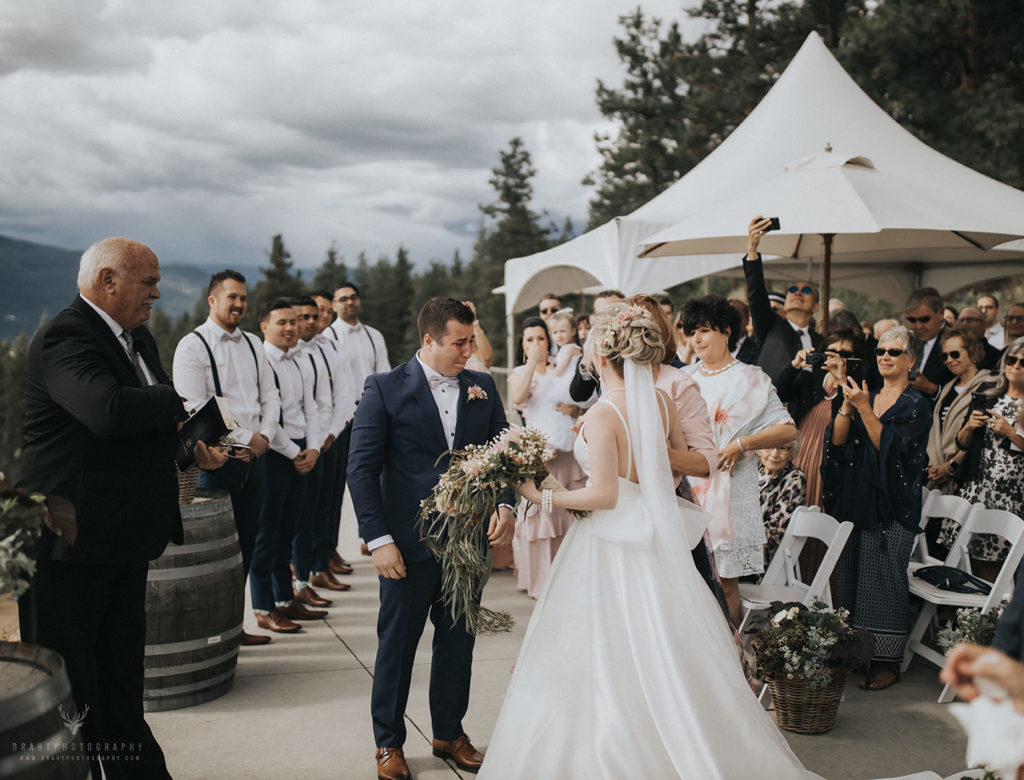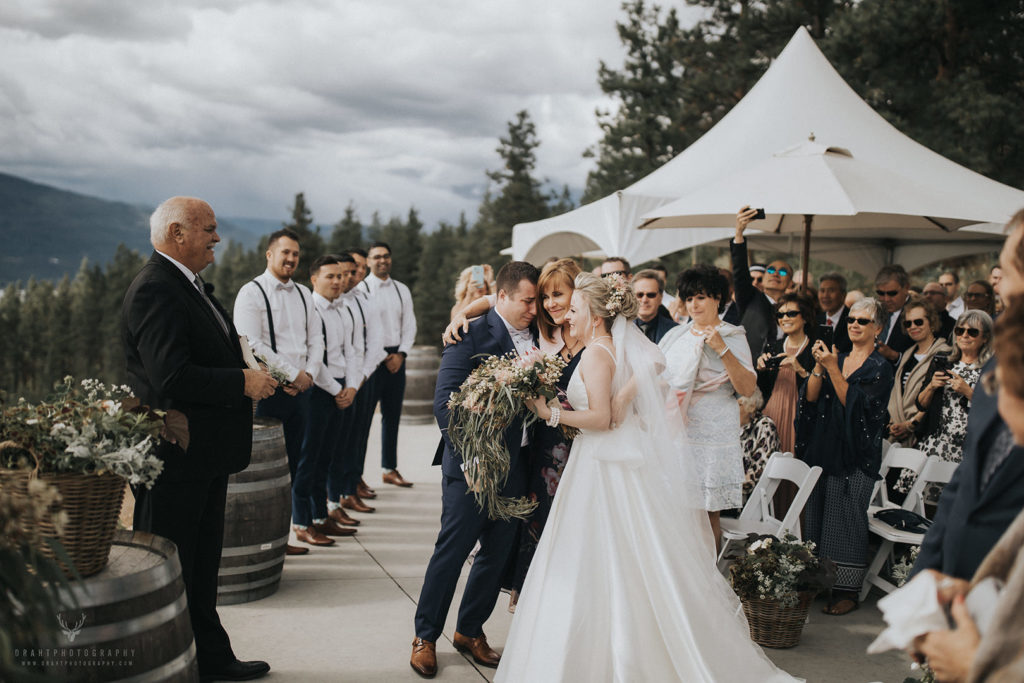 It was breathtaking. The clouds rolled in from the east, as a dear family friend conducted this heartfelt service.

If you're wondering why this sampler came out at 2:00am, that's 24 images I stitched together and overlaid to show you how wide and beautiful this vista is. It still didn't do it justice. Every guest present was absolutely hypnotized by it.
You can click on any image for a higher-resolution image.
And then, this kiss.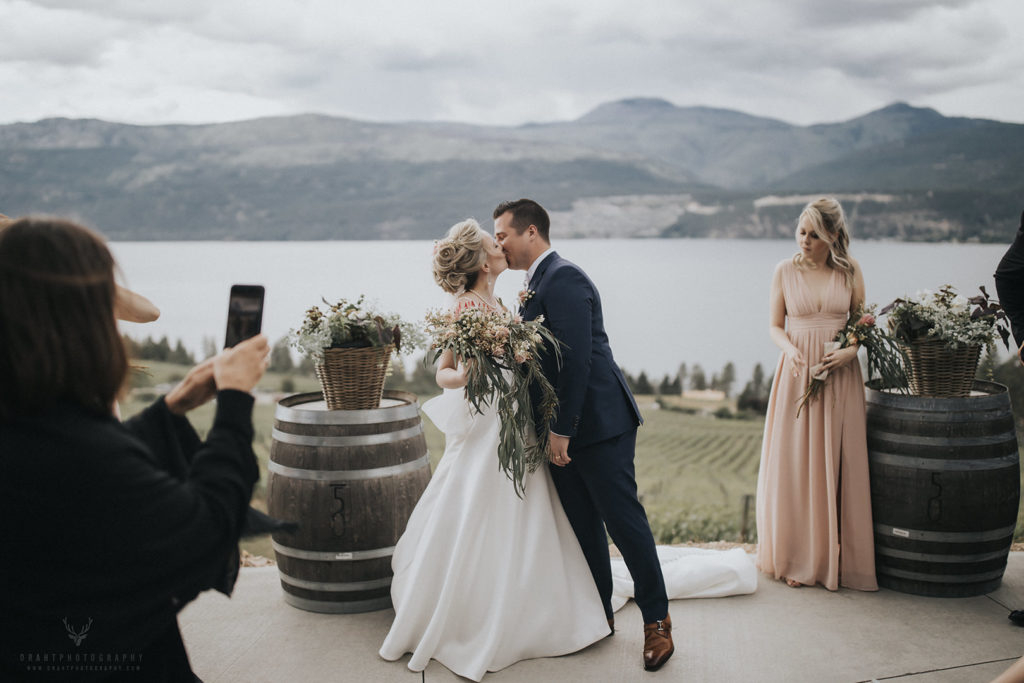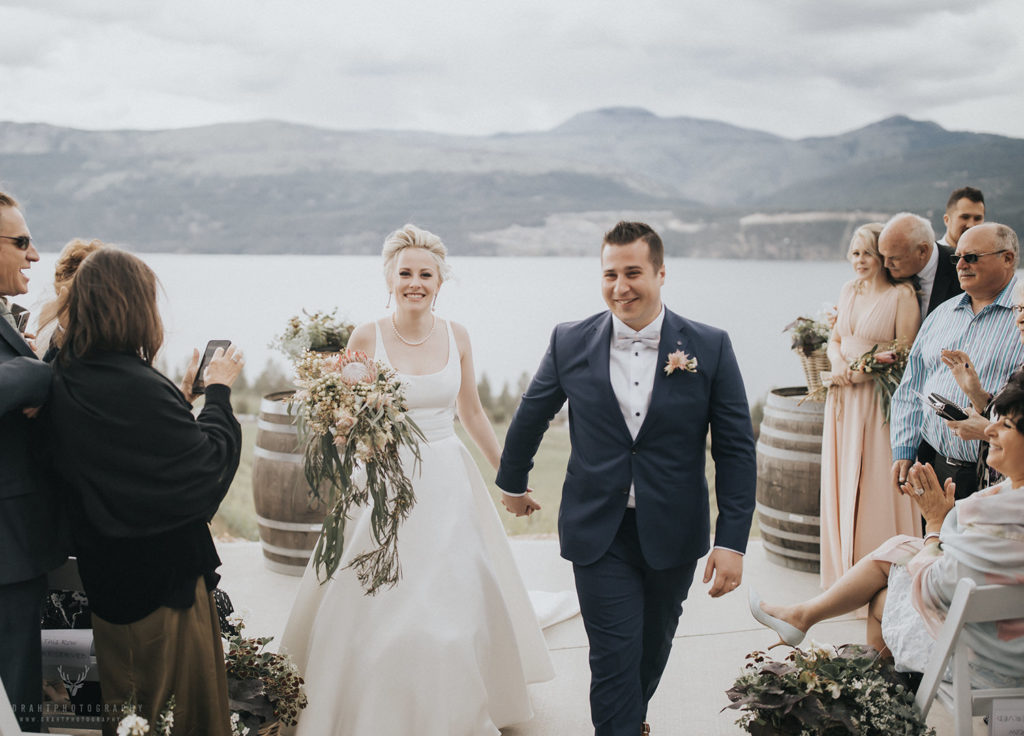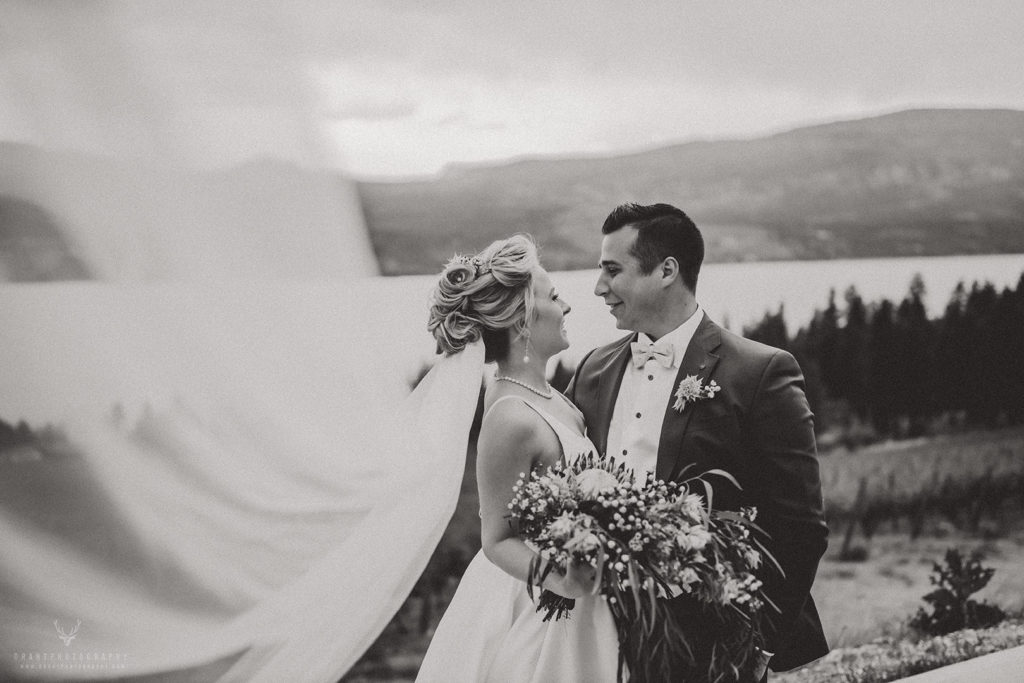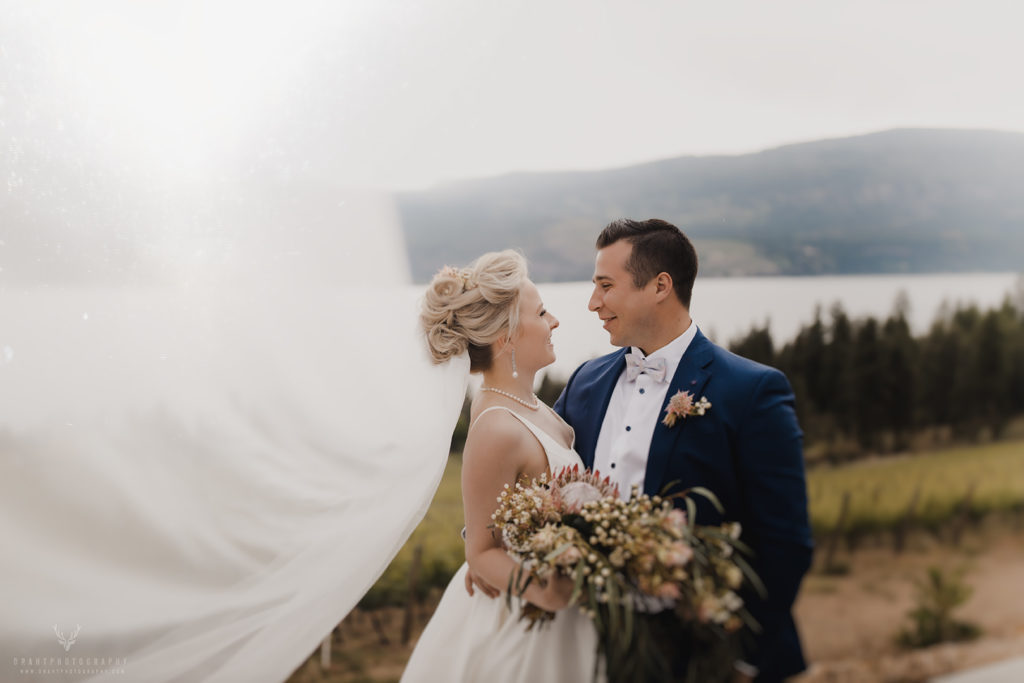 After the family photos, we got some very serious photos of the bridal party. I'd say everyone nailed these formals.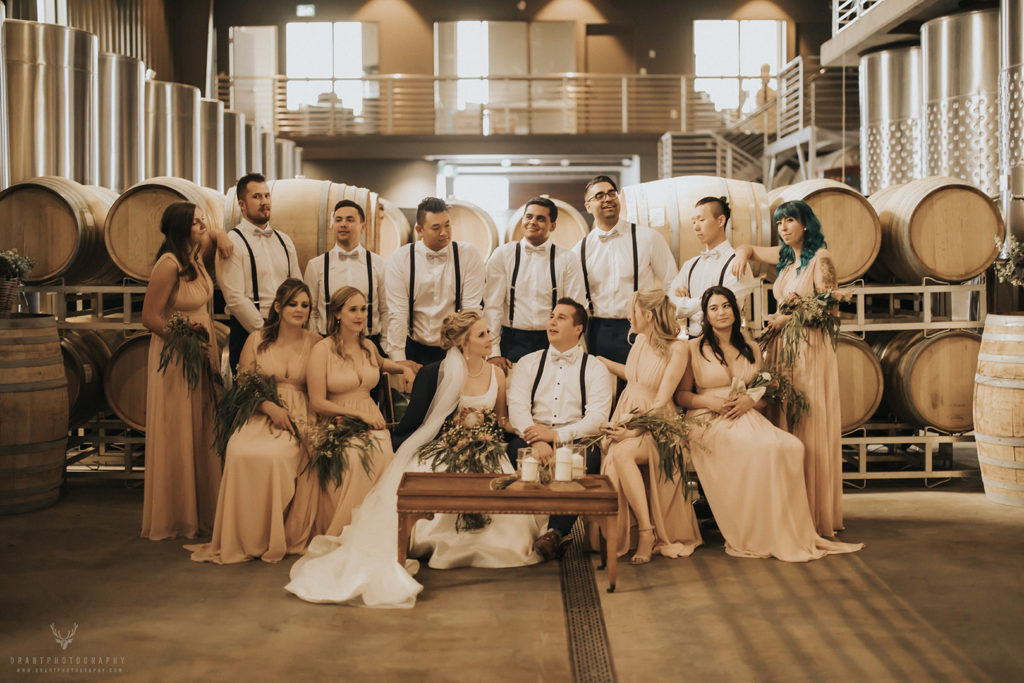 That's in the wine room of 50th Parallel. Of any winery in the Okanagan, this is the best setup I've seen. Full stop.
The bridal party nailed it – this is why big bridal parties are fun! It's a party, and you just keep it going the whole day. Can anyone tell me what movie the setup below is from?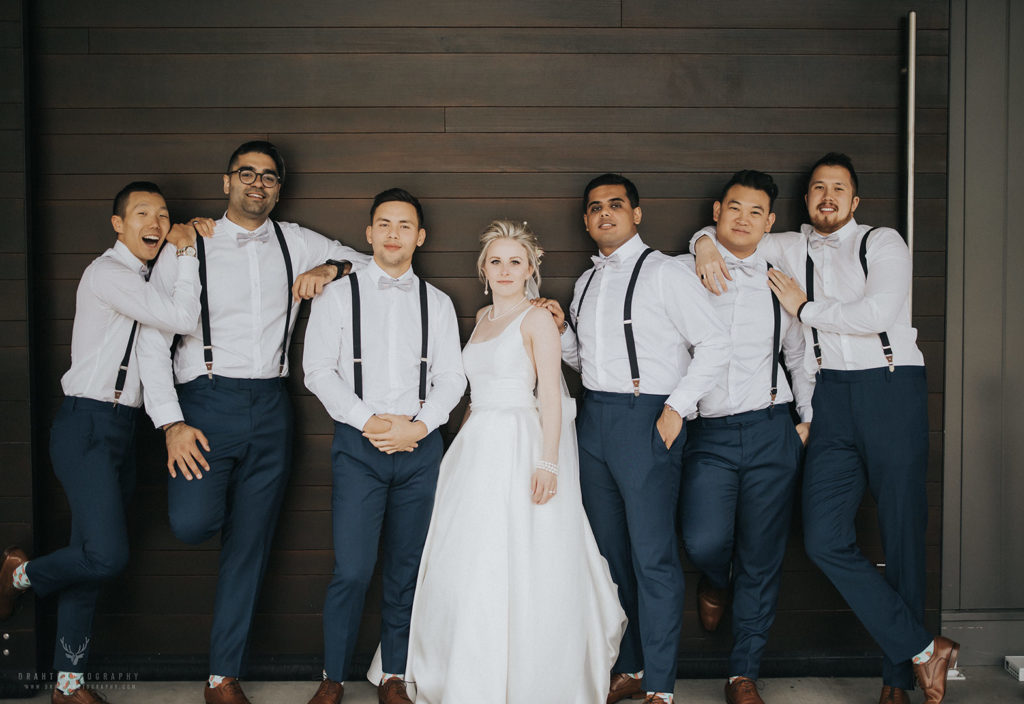 And it just keeps getting better!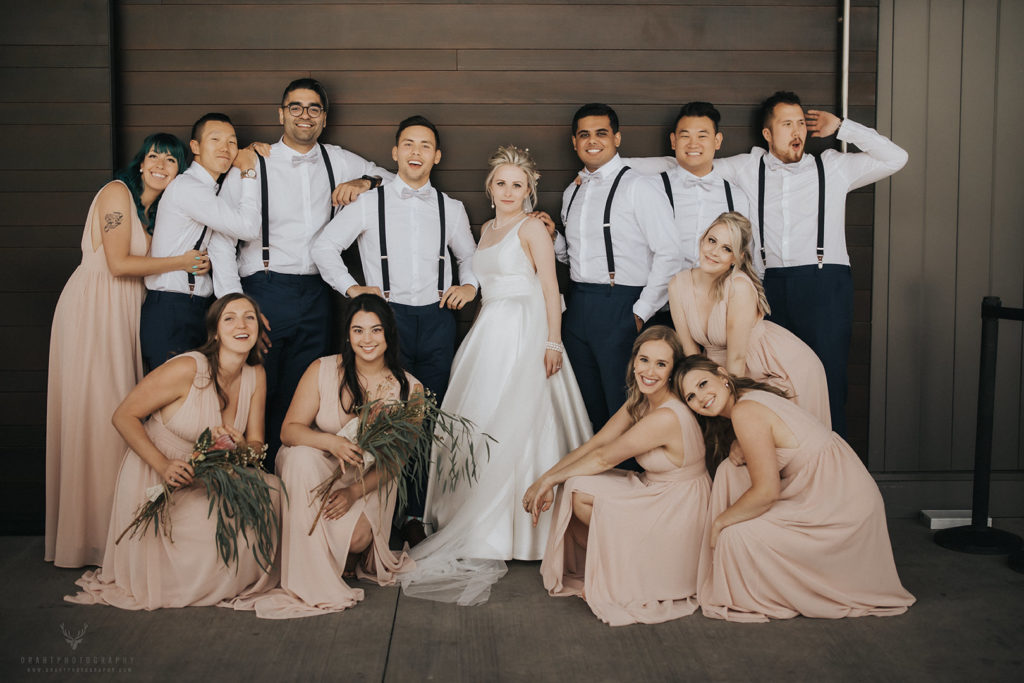 And better.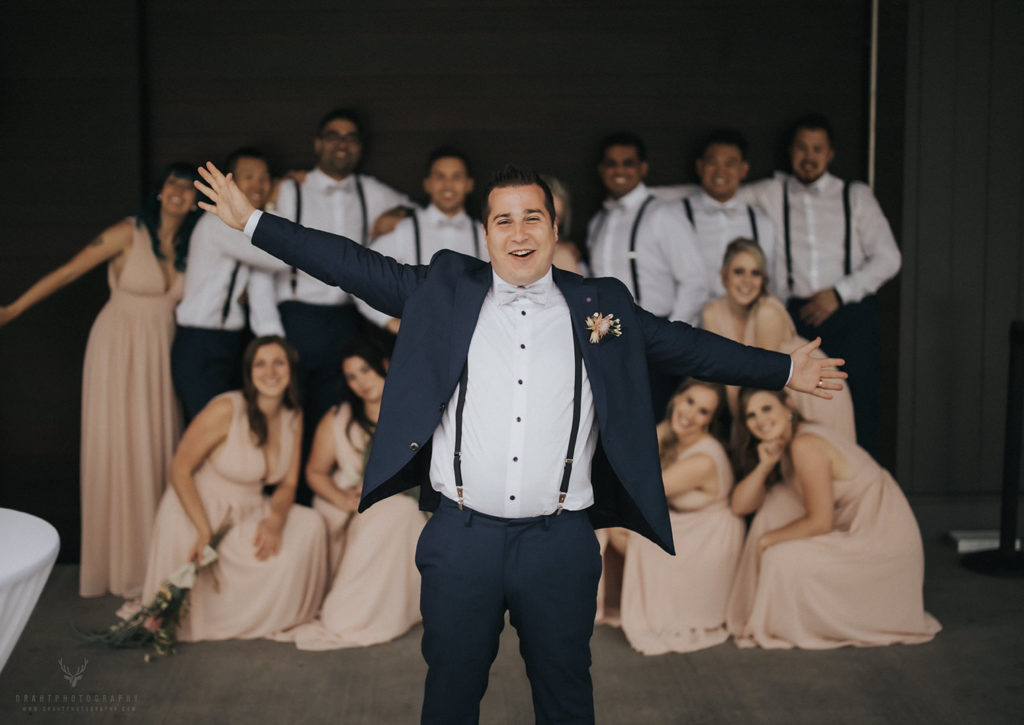 Let's take a quick moment to talk about the decor.
It. Was. Jaw. Dropping.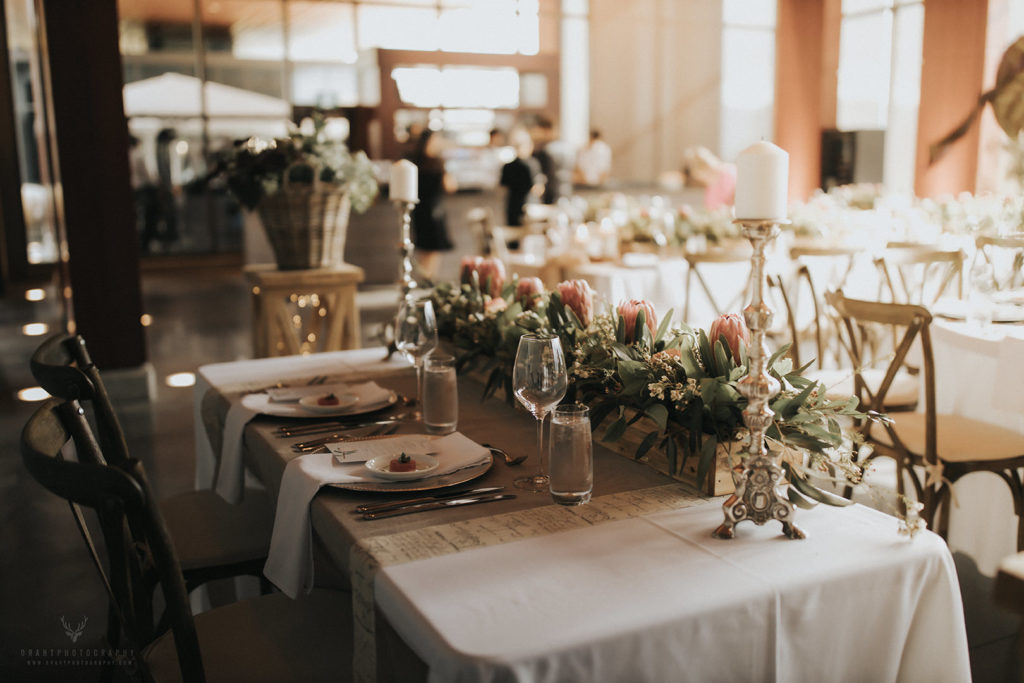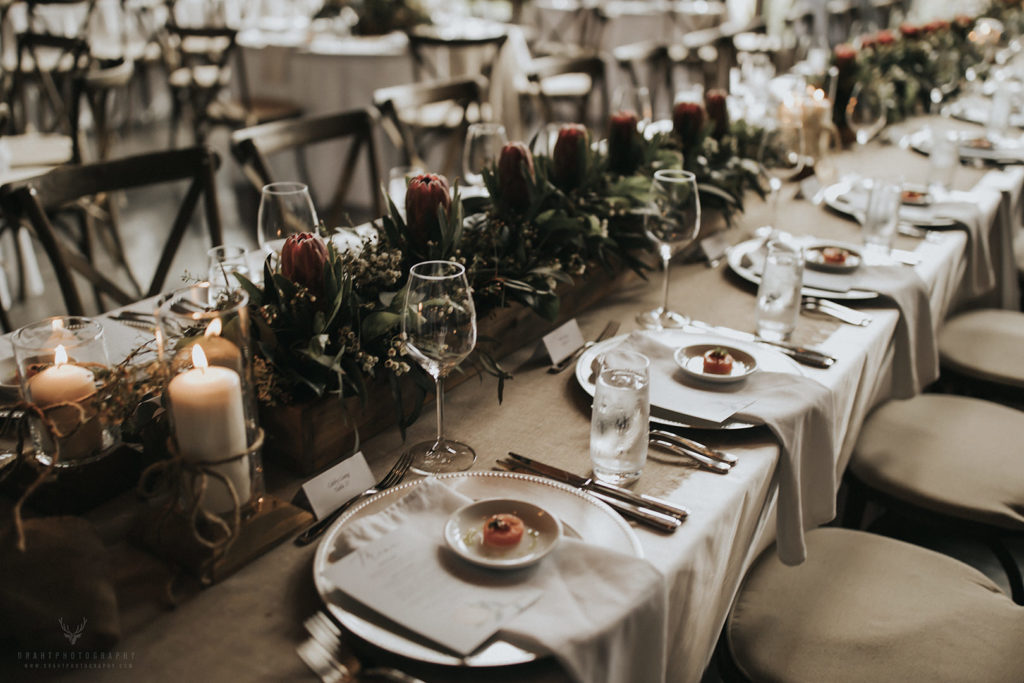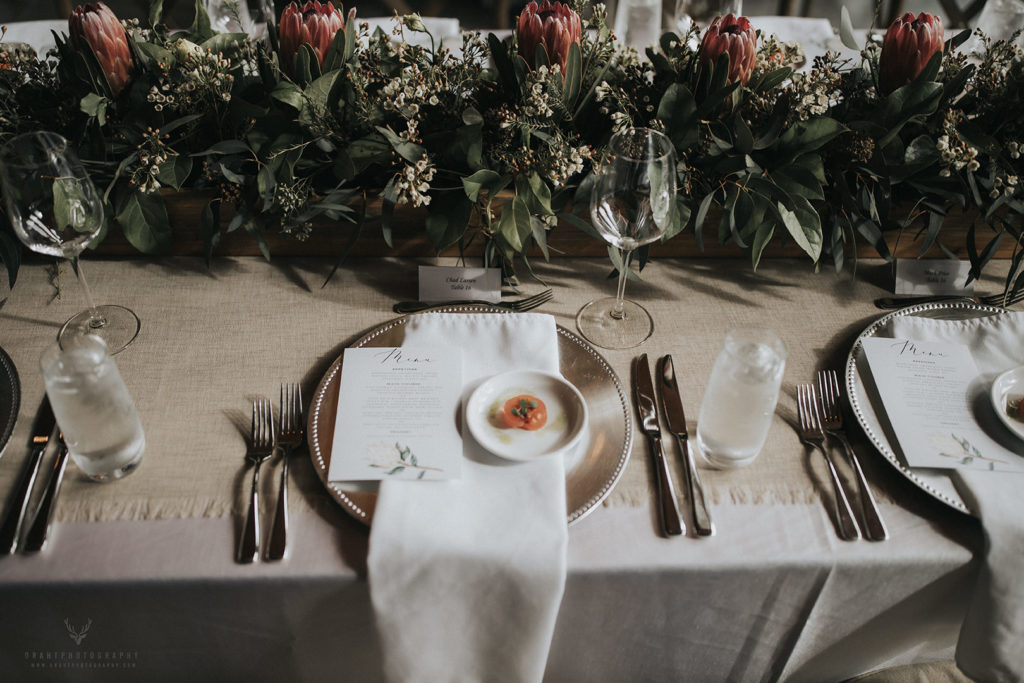 Those flowers were actually arranged by the brides mother. Those flowers are native to South-Africa. They actually dry like that. It's like nothing I've seen.
While we're tossing out praise, I want to take a moment to recognize the DJ, The Flyin' Hawaiian as he's known. This guy is always on the ball, and makes sure everyone can be heard during the ceremony and the reception.
But most importantly, this guy knows how to make a dance floor go wild. Props, Krucial K!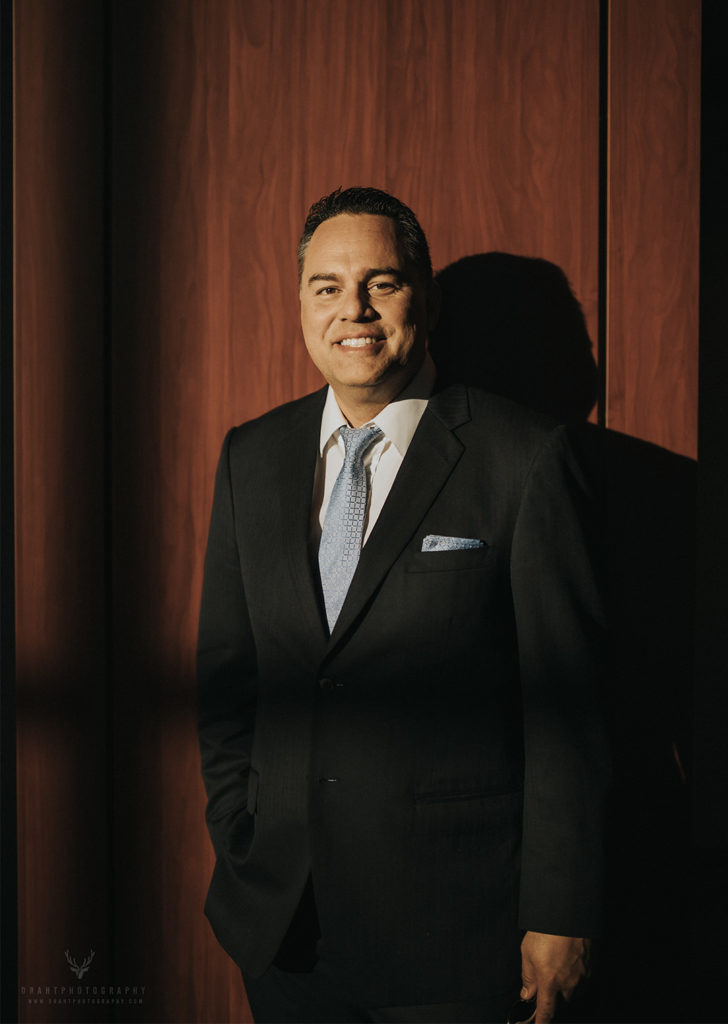 The rest of the evening was a blur. I always make sure I'm in the thick of it – I love it when guests ask me to take photos! That means a big album, and I'm certain our bride and groom want as big of a wedding album as possible! I certainly don't mind taking your photo with your cell phone for instant gratification though. 🙂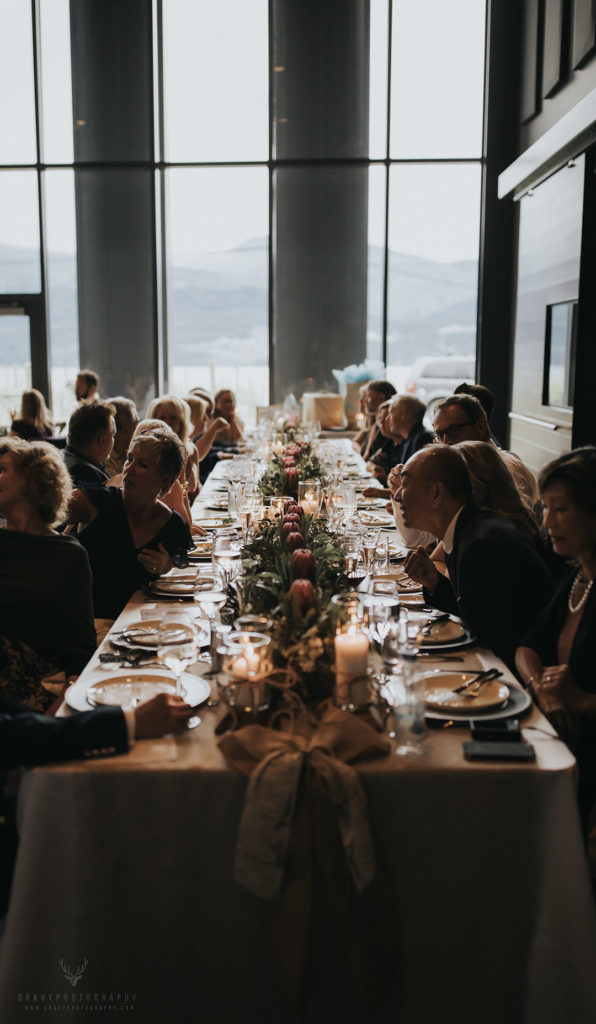 Unfortunately, though, this is where I'll have to leave you. Keep in mind, this isn't all the photos. This is a whopper of a sampler though, 48 of the photos taken today. We really took advantage of the best the Okanagan has to offer, from Sparkling Hills, to Predator Ridge, and 50th Parallel Estate.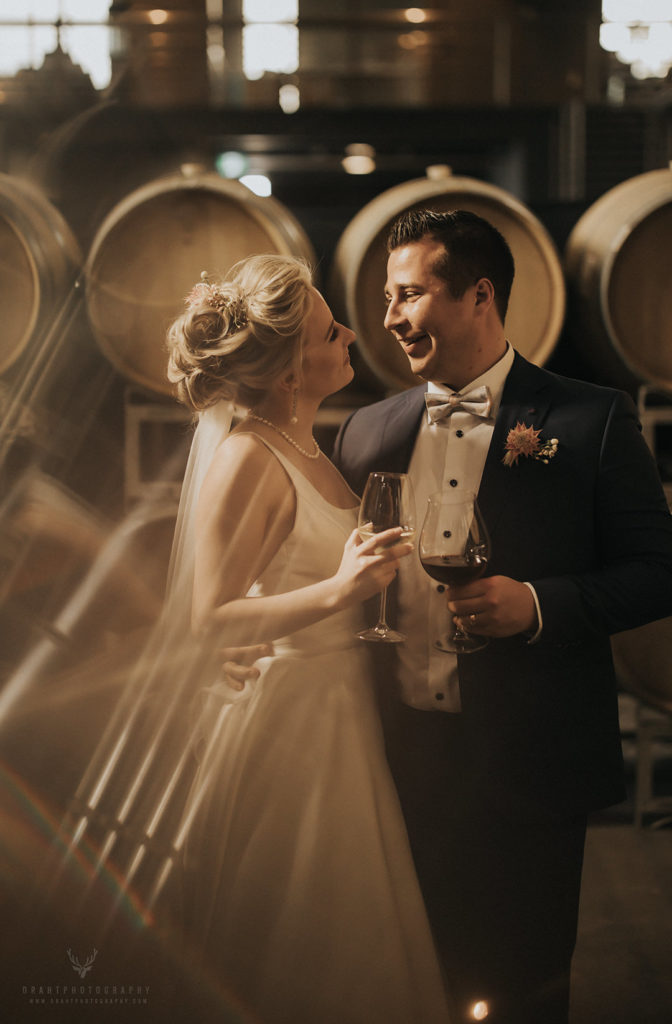 If you'd like to register to receive access to the photos once they're done, please register here.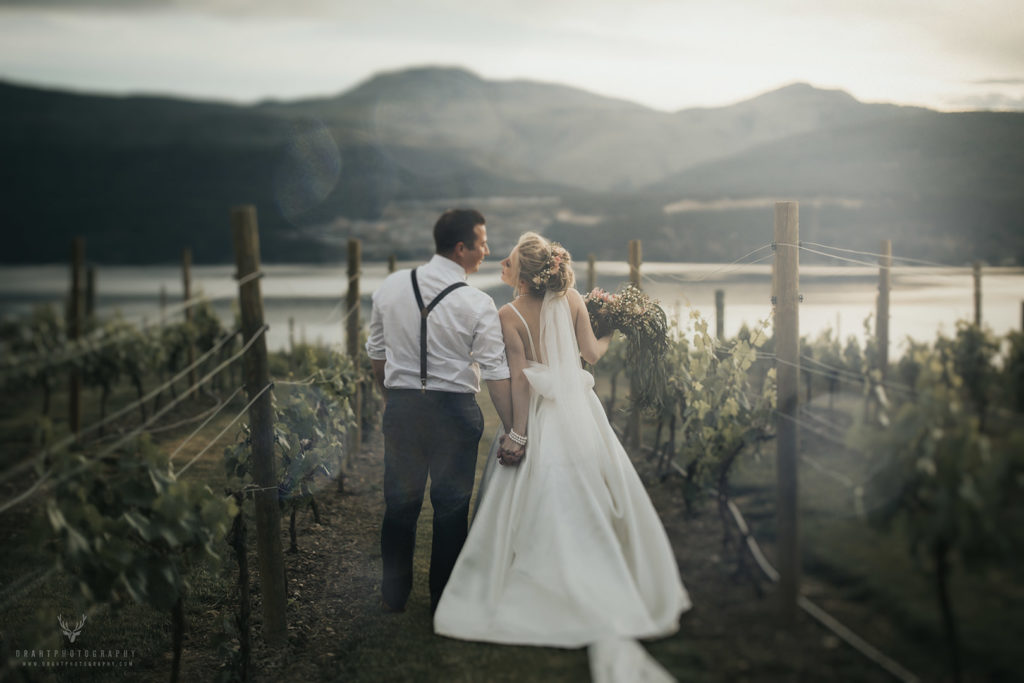 If you'd like to save any of these photos, simply long press on them on your cell phone, or right click on them on your computer. Then select, "Open in new tab" – you'll be able to save from there.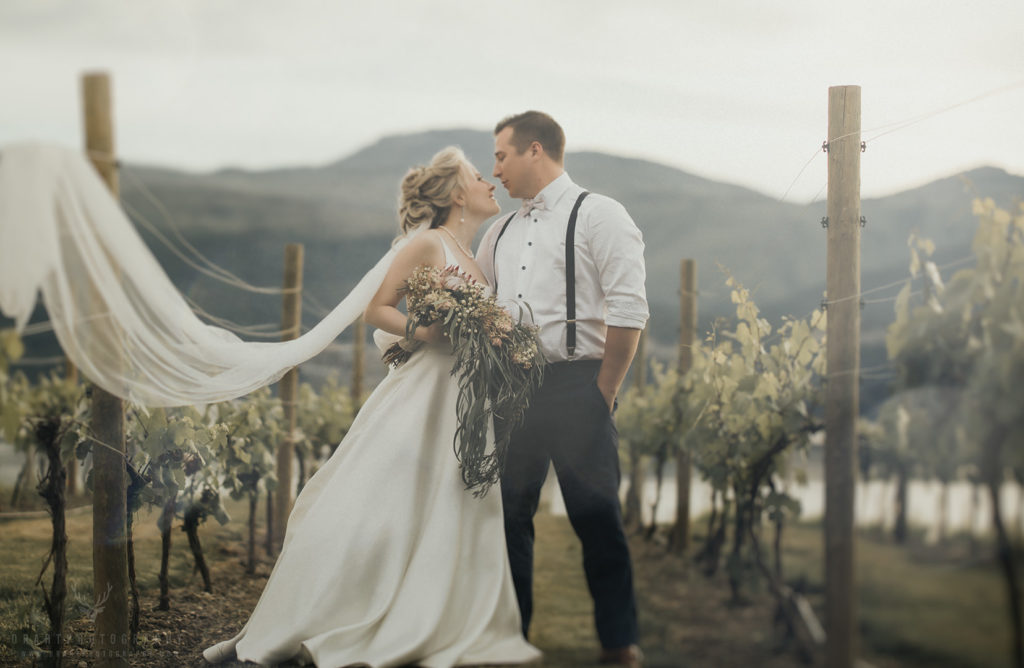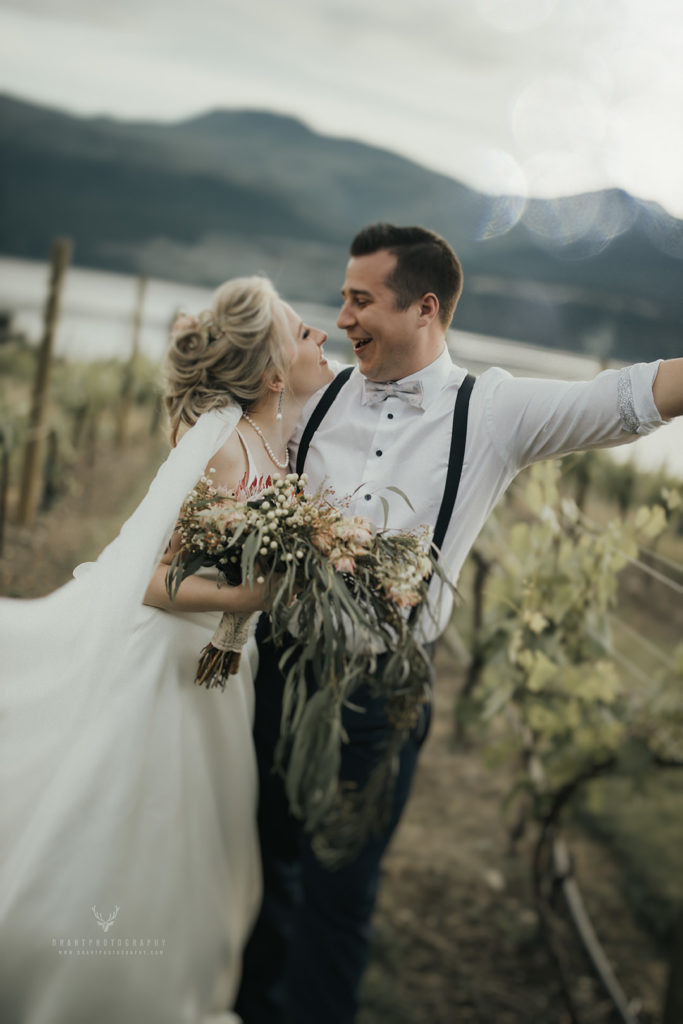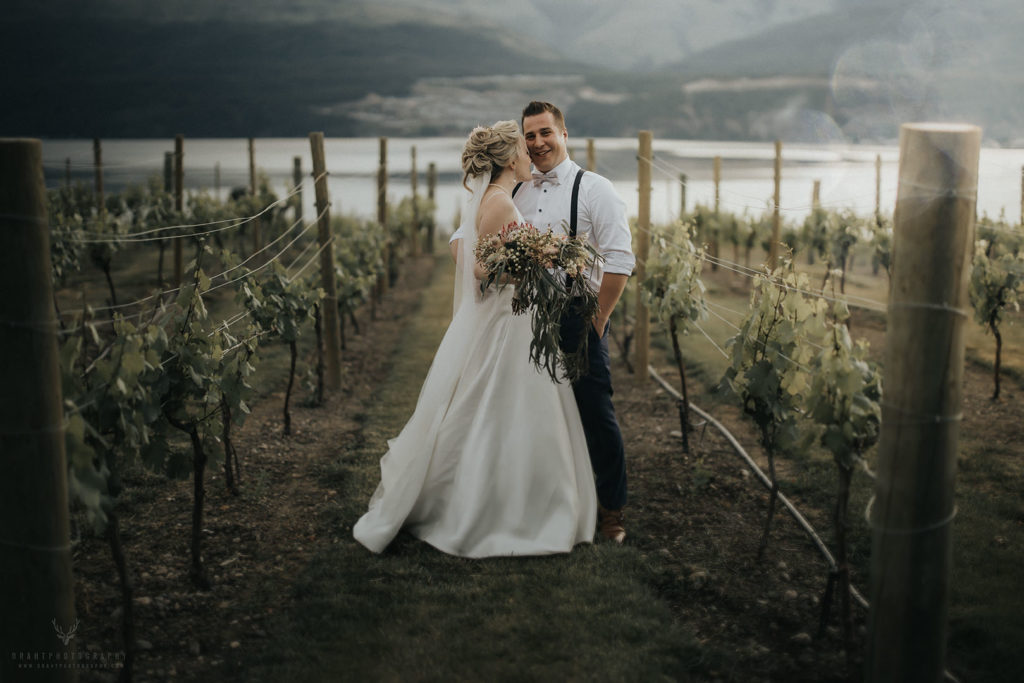 Thank you for reading this far. I put a lot of time and work into these sneak peeks (It's 2:00am I write this!) so it's great that you've taken the time to read all this!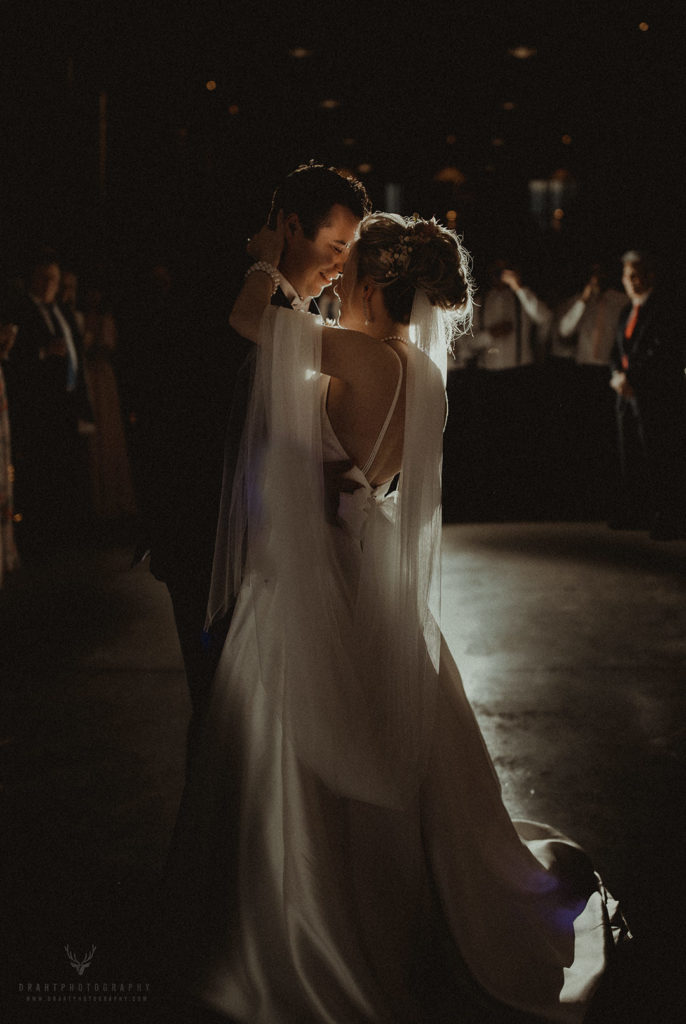 Lastly, if you'd like to stay updated, feel free to follow me on Instagram, Facebook, Twitter, or Tumblr for frequent updates. Talk to you all in a few days!